Speaking fluent Spanish, although a plus, is not always necessary when visiting Buenos Aires, Argentina. Many people speak a little English and it's possible to get by with survival Spanish. However, taking guided tours in Spanish can be frustrating if you or your travel companions don't understand upper-level Spanish. Fortunately, in Buenos Aires, there are several great tours given in English. Here are the English tours not to be missed when visiting BA.
BA Free Tour
Begin your time in Buenos Aires with a free walking tour with BA Free Tour. The tours are given in English by knowledgeable and friendly porteños (people from Buenos Aires). The guides work on tips, the intent being that customers can pay what they think the tour is worth. That means that this tour fits within any budget, even if you're backpacking on a dime.
There are two tours offered: the City Tour of downtown in the morning and the Aristocratic Tour of Retiro and Recoleta in the afternoon. If you can only fit in one tour, the City Tour is not to be missed, as you'll walk to and learn about the Palacio del Congreso, Casa Rosada, Plaza de Mayo, Catedral Metropolitana, and El Obelisco. (This tour includes many of the sights recommended in this article: What to Do & Where to Eat in Downtown.) While the tour doesn't go into any of these buildings, you'll have a better idea of where things are and can decide where you want to revisit after the tour.
If you're already familiar with downtown but want to learn why Buenos Aires is nicknamed "Paris of South America," join the Aristocratic Tour. Learn about the mansions around Plaza San Martín and down Alvear Street, many of which are now embassies, consulates, and government buildings.
In both tours, the guides talk about Argentine history and culture in a fun and interesting way. They even teach you porteño words and hand gestures. With BA Free Tour, you're sure to find yourself laughing and having a great time with the other tourists.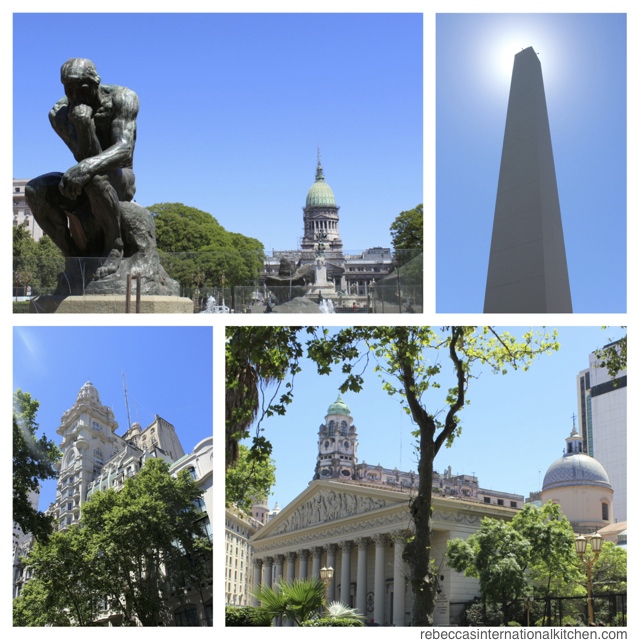 Buenos Aires Free Tour
Website
No reservations necessary; just show up and look for the guide in the green BA Free Tour shirt.

Buenos Aires Free City Tour
Mondays to Saturdays at 11:00 a.m.
Duration: 2 1/2 hours
Meeting point: Rivadavia Ave. and Rodriguez Peña St. in the Plaza del Congreso 

City Free Tour 2: The Aristocratic
Mondays to Saturdays at 5:00 p.m.
Duration: 2 hours
Meeting point: Sante Fe Ave. and Maipu St. in Plaza San Martín beside the San Martín monument 



graffitimundo Tours
graffitimundo is a non-profit organization that gives walking and biking graffiti tours around Buenos Aires. I recommend the North City Tour, which starts in the neighborhood of Colegiales and finishes in Palermo Soho. This tour is a great introduction to the world of graffiti and street art in Buenos Aires, and is a great way to see parts of BA off the beaten track.
The graffitimundo guides speak fluent English and are incredibly knowledgable about the urban art scene in Buenos Aires. In addition to talking about the murals and street artists, they tie in and discuss Argentine history, politics, and culture. By the end of the tour, you will be able to recognize different types of graffiti and street art, as well as prominent street artists such as Jaz, Ever, Pum Pum, Stencil Land, Gaulicho, and Nerf.
If you're looking for a fun biking tour of the city, graffitimundo and Biking Buenos Aires collaborate each Sunday for a biking tour that begins and ends in Palermo. This tour overlaps with the North City Tour, so I would recommend choosing one or the other. To check out a different area of Buenos Aires, consider joining graffitimundo's South City Tour, which visits La Boca, Barracas, and ends in San Telmo.
I highly recommend the graffitimundo tours, whether you're just visiting Buenos Aires for a week or living here. It was some of the best money I spent while living Argentina as it forever changed how I looked at graffiti and street art in Buenos Aires and in other cities around in the world.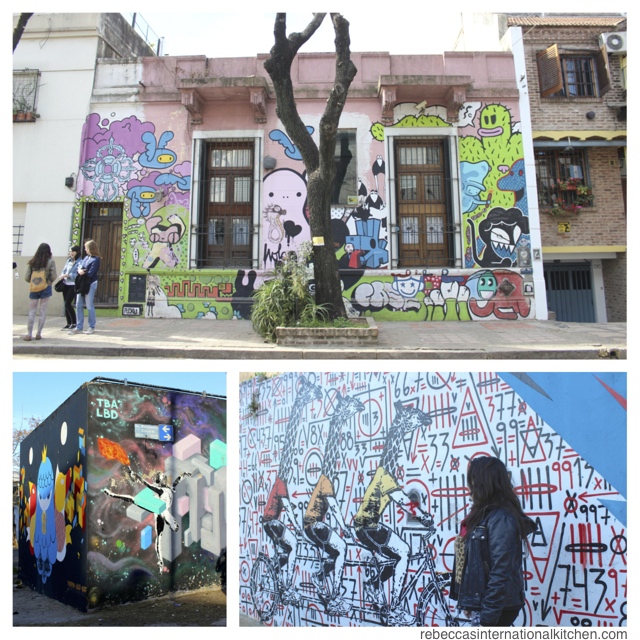 graffitimundo
graffitimundo.com/
Tel: 0054 911 3683 3219
Email: info@graffitimundo.com
Flickr: www.flickr.com/photos/graffitimundo/with/8761174843/
Facebook: www.facebook.com/graffitimundo
Instagram: instagram.com/graffitimundo
Twitter: twitter.com/graffitimundo
All tours are in English
Private Tours are also available



North City Tour
Every Wednesday, Thursday, Friday & Saturday from 3:00 p.m. to 6:00 p.m.
$25 USD per person


South City Tour
Every Tuesday from 11:00 a.m. to 1:30 p.m.
$25 USD per person 

Bike Tour
Every Sunday starting at 3:00 p.m. (lasts 3-4 hours)
$45 USD per person (includes bike hire, helmet, & refreshments) 



Casa Rosada (Pink House)
Due to its unusual pink color, Casa Rosada is one of the most recognizable buildings in Argentina. Like the White House in Washington D.C., Casa Rosada is where the President's Office is located; however, unlike the White House, Casa Rosada is not the permanent residence for Argentine presidents.
I highly recommend visiting Casa Rosada on the weekend, when free tours in English and Spanish are offered throughout the day. On the tour, you will learn about the history of Casa Rosada and get to see the spectacular interior, including the opulent Salón Blanco, the Palm Tree Patio, and The Hall of Busts. You even get to walk through the President's Office. My favorite part was visiting the presidential balcony where parts of the movie-musical Evita were filmed.
Visiting Casa Rosada is a must-do. It's a beautiful building, gorgeously decorated, and the home to many works of art. Plus, the tour is interesting, free, bilingual, and a great way to learn about Argentina. If you're visiting Buenos Aires during the busy tourist season, arrive early or plan to wait 30-45 minutes.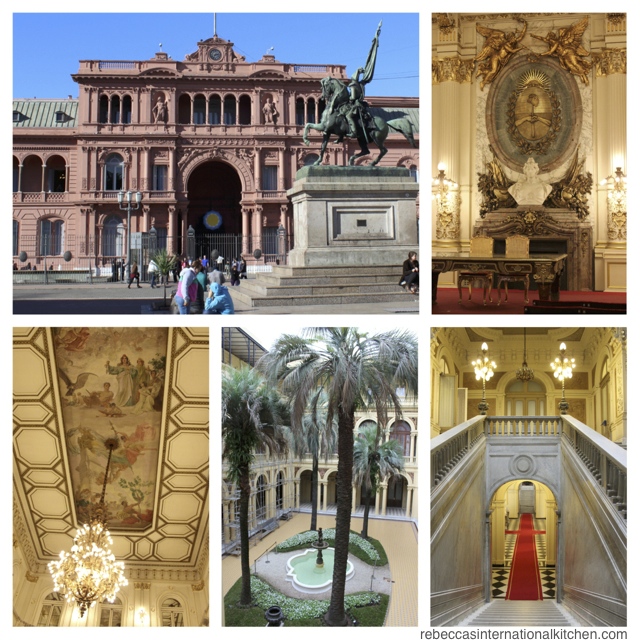 Casa Rosada
Balcarce 50
www.casarosada.gov.ar/
Email: museovisitasguiadas@presidencia.gov.ar
Tel: (5411) 4344-3600
Free Guided Tours (Spanish, English and Portuguese)
Saturdays, Sundays and holidays from 10:00 a.m. to 6:00 p.m.
Tours given every 10 minutes.
Duration: 60 minutes
Palacio Barolo (Barolo Palace)
For the best view of the city, go on an afternoon or evening bilingual tour of Palacio Barolo, where the guide will take you into the lighthouse at the very top of the building. From there, you can see the Palacio del Congreso, the Obelisk, and buildings that seem to go on forever. This is where you can truly get a feel for how enormous and sprawling this city really is. During the night tour, the guide turns on the light, so powerful that it can be seen in Montevideo, Uruguay.
In addition to the unbeatable view, the tour of Palacio Barolo is very interesting, as this is quite a remarkable building. The building was constructed to be an office building with spaces for rent; however, it was also intended to serve as a safe place to bring Dante Alighieri's remains from Italy. It was completed in 1923, and though arrangements were made, Dante Alighieri's remains stayed in Ravenna.
Due to the architect's design, the building serves as a memorial to Dante and his Divine Comedy, and references to this work can be found throughout. When you first enter Palacio Barolo, you are entering Hell, complete with condor, snake, and dragon lamps and nine arches that represent the nine circles of hell. There are quotes written in Latin around the building, as well as a sculpture of Dante's body being carried by an eagle into heaven. As you ascend to the top of the building, you make your way closer to heaven. The building's 22 floors correspond to the number of stanzas in the Divine Comedy, while the building's 100 meters refers to the 100 cantos of the work. Subtle designs turn out to be demonic faces when closely inspected, and the guide does a wonderful job of pointing out these details and more during the tour.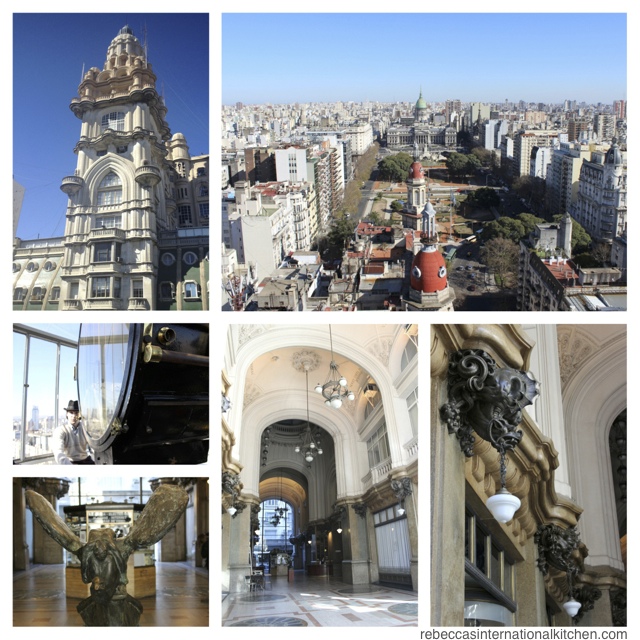 Palacio Barolo
Avenida de Mayo 1370
www.palaciobarolotours.com.ar/
Tel: (5411) 4381 1885

Day Tours
Mondays and Thursdays at 4:00, 5:00, 6:00, and 7:00 p.m.
Saturdays at 3:00, 4:00, 5:00, and 6:00 p.m.
Duration: 45 minutes
Admission: AR$135 

Evening Tours
Wednesdays, Fridays, and Saturdays at 8:00 p.m.
Thursdays at 8:30 p.m.
Admission: AR$260
Includes Wine Tasting 




Also offered is an occasional 2-Hour Tour for Photographers.
Teatro Colón (Colón Theatre)
To say that this theatre is beautiful would be a gross understatement. With its multi-colored marble entryway, opulent chandeliers, and massive stage, Teatro Colón is an incredible work of art. Though construction began in 1890, it wasn't completed until nearly 20 years (and 3 architects) later in 1908.
I loved going on the guided English tour, as the guide really brought the stories of the theatre to life and helped me to appreciate all the work that went in to its construction and renovation. Now, I want to return to experience an opera, ballet, or concert at Teatro Colón, especially since it is known as having the most exceptional acoustics in the world. With nearly 2,500 seats, as well as standing room for an additional 500 people, thousands can attend the world-class shows held there. Tickets are reasonably priced and can be booked online. Tickets for the English tour sell out fast, so plan on purchasing tickets early in the morning for later in the afternoon.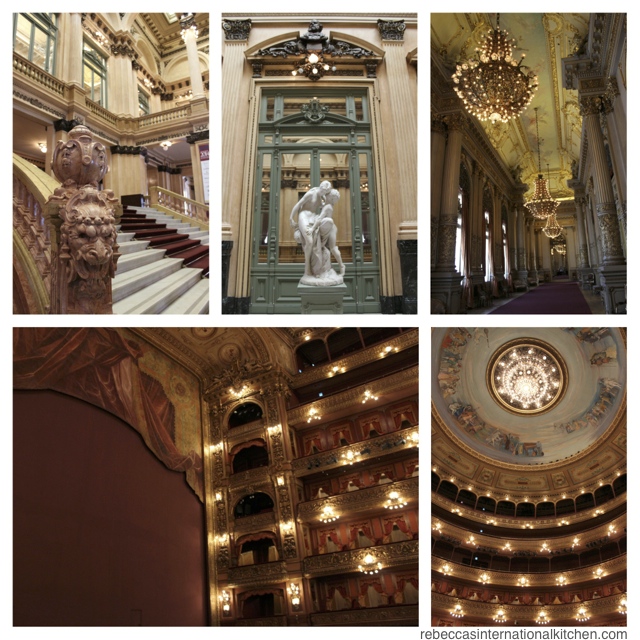 Teatro Colón
Tucumán 1171 (Pasaje de Carruajes)
www.teatrocolon.org.ar/
Email: visitasguiadas@teatrocolon.org.ar
Tel: (5411) 4378-7127
Open daily from 9:00 a.m. to 5:00 p.m.
Tours last about 50 minutes.
Cementerio de la Recoleta (Recoleta Cemetery)
Internationally recognized as one of the world's most beautiful cemeteries, the Cementerio de la Recoleta (Recoleta Cemetery) is the final resting place for the most well-known names in Argentina. Besides being the final resting place for Eva Duarte Perón, the cemetery holds many of Argentina's presidents, writers, artists, scientists, and other important figures. The 14-acre cemetery holds over 6,000 mausoleums laid out in blocks, so that walking around the cemetery feels like walking around a small city. A map or a tour guide is necessary to find your way around.
To learn more about the interesting stories behind those buried in the Recoleta Cemetery, I highly recommend going on the English tour given for free every Tuesday and Thursday. My favorite story is that of young Rufina Cambaceres; urban legends are told that she may have been buried alive. (Her grave is the top left picture.) The guide also discusses the importance of different historical figures buried in Recoleta and is available to answer any questions about Buenos Aires and the Recoleta Cemetery.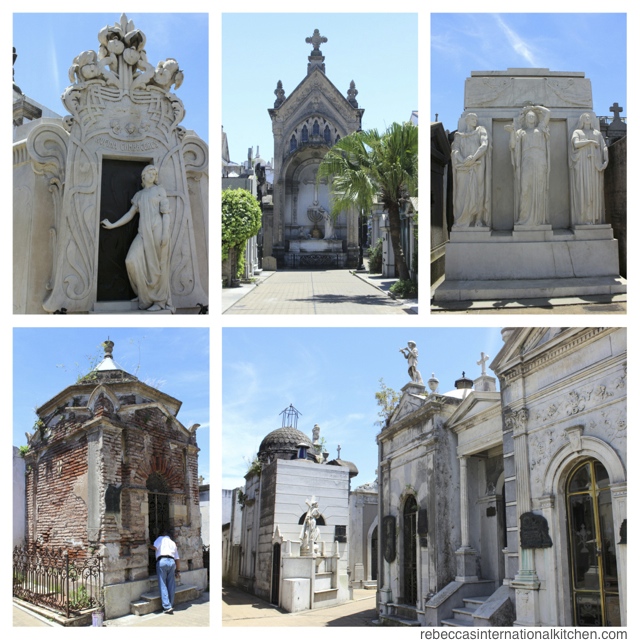 Cementerio de la Recoleta
Junin 1790, Buenos Aires 1116
www.cementeriorecoleta.com.ar/
Tel: (5411) 4804-7040
Open every day from 7:00 a.m. to 5:45 p.m.
Free admission
Free English tours are offered on Tuesdays and Thursdays at 11:00 a.m.
Maps can be purchased at the entrance (AR$15).
Planning a trip? Check out all my articles about Buenos Aires here!