Updated October 28, 2015
There is so much to see and do during Christmastime in New York City. Festive window displays, spectacular Christmas shows, and buzzing holiday markets; there are more opportunities to shop, eat, and be merry November through January than any other time of the year in the city. Read all about my NYC Christmas favorites to help you make the most of the holiday season in New York.
Christmas Decorations & Window Displays
Walking around New York to see the Christmas decorations and window displays, squeezing between people, and standing on tip-toes, is all part of the New York Christmas Experience. If you only have one night to see all the displays, put on your walking shoes, layer up in your warmest clothing, and get going!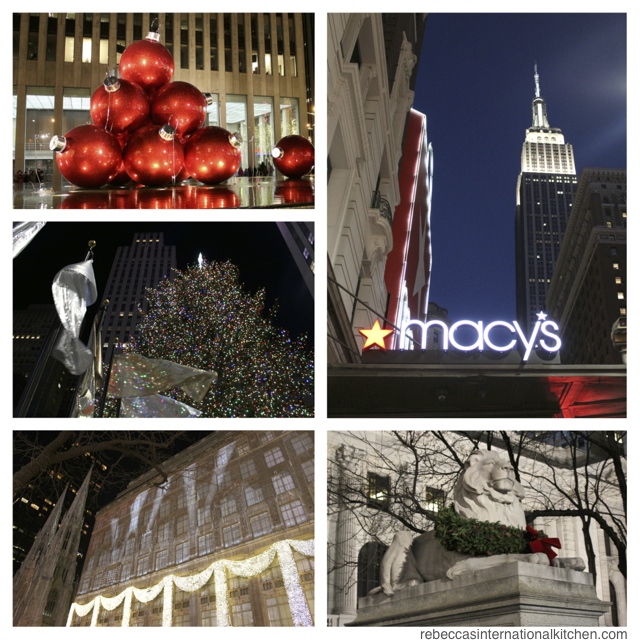 Here's a possible route to make sure you don't miss anything:
Start at Macy's to see their lavish window displays; don't miss the interior decorations as well. Also, if you have children with you, they can write and mail a letter to Santa inside. 151 West 34th Street (& Broadway)
Jog over to see the window displays at Lord & Taylor. 424 5th Avenue (& 39th St)
Continue up 5th Avenue to give the lions a hug at the New York Public Library. 5th Avenue at 42nd St 
Walk through Bryant Park's Winter Village to see their beautiful Christmas tree, skating rink, and holiday market.
Continue walking along 6th Avenue to see the various street decorations.
Gently push your way through the crowds in Rockefeller Plaza to see the magnificent 80 foot tall Christmas tree, adorned with 45,000 lights. 45 Rockefeller Plaza
Walk across the street to Saks Fifth Avenue for their light and music show, then scooch closer to see their windows. 611 5th Avenue
Continue up Fifth Avenue to see the window displays at Henri Bendel, Tiffany & Co., and Bergdorf Goodman. 5th Avenue between 58th St and 59th St
Do a little Christmas shopping at FAO Schwarz and the underground Apple Store. 5th Avenue between 55th St and 58th St
Make your way to the Barneys New York window displays. 660 Madison Avenue (& 61st St)
Finally, backtrack just a bit to see the window displays at Bloomingdale's. 1000 3rd Avenue (between 59th St and 60th St)
Complete your Christmas Experience with a Serendipitous Hot Chocolate at Serendipity 3. 225 East 60th Street
To plan your own route, see my map at the bottom of this article.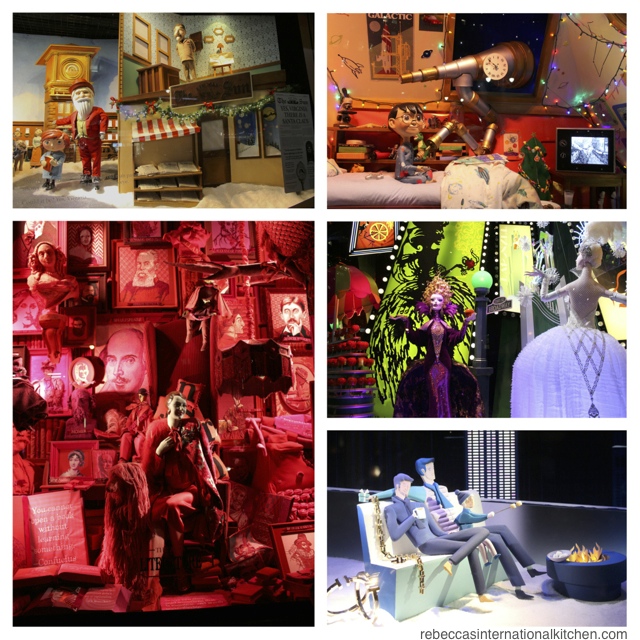 Holiday Performances & Exhibits
George Balanchine's The Nutcracker – New York City Ballet
I grew up watching the 1993 movie version of The Nutcracker starring Macaulay Culkin and the New York City Ballet, so in a way, I've been watching this same show my entire life. Seeing the live performance my first Christmas in New York was a truly magical experience. New York is where the tradition of watching the Nutcracker at Christmastime started in the United States in 1954, and it hasn't stopped drawing packed houses since.
The classic story, told through Balanchine's choreography and Tchaikovsky's score, is a tale that can be enjoyed by the whole family, year after year. From the child dancers to the Land of Sweets, the growing Christmas tree to the falling snow, children are sure to be enchanted. Adults too! There is nothing like watching the principals' and admiring their perfect technique. The lavish costumes, the beautiful David H. Koch Theater at the Lincoln Center, and the incredible symphony, all add to the magic, making this a Christmas experience not to be missed.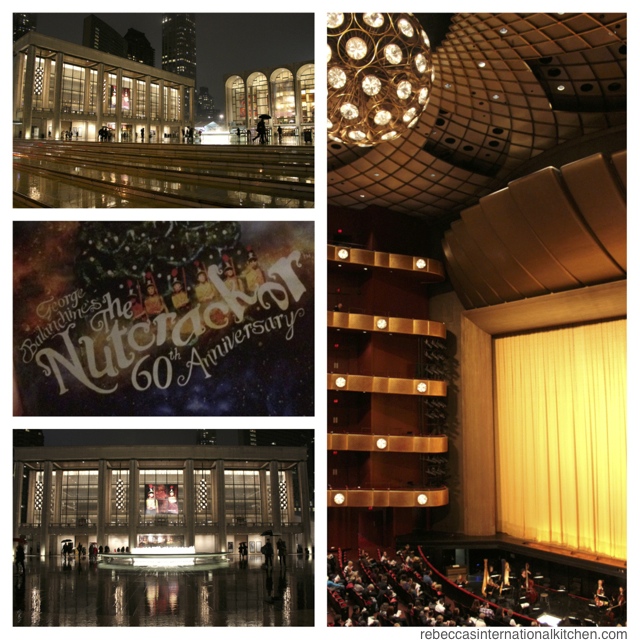 George Balanchine's The Nutcracker – New York City Ballet
Lincoln Center
David H. Koch Theater
Website
Performances from November 27th to January 3rd
Radio City Christmas Spectacular
Radio City Music Hall and the Christmas Spectacular have been synonymous since the Rockettes' first performance in 1932. Full of fantastic music and lively dance numbers, families continue coming back each Christmas. Favorite numbers include the "Parade of Wooden Soldiers," the "12 Days of Christmas," and "New York at Christmastime." The show magically transports the audience all the way from the theatre to the Santa's Workshop in the North Pole, to the Living Nativity in Bethlehem, and back to New York. From original songs to favorite classics, you're sure to be humming along and enjoying every minute!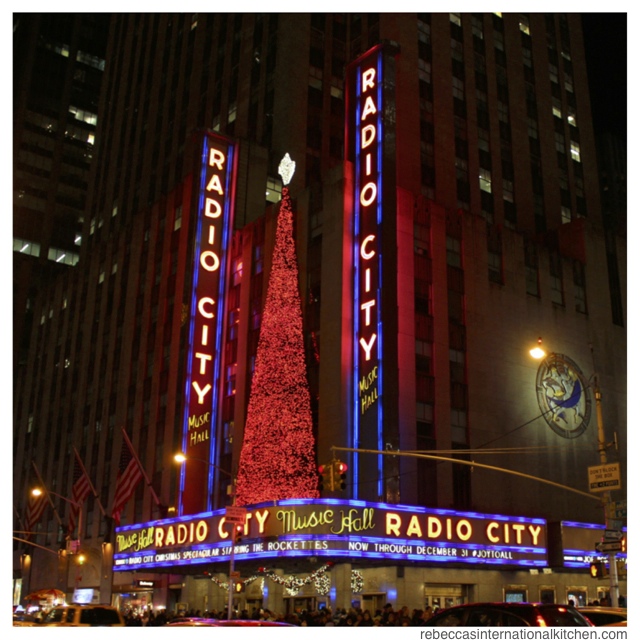 Radio City Christmas Spectacular
Radio City Music Hall
1260 Avenue of the Americas
Website
Performances from November 13th to January 3rd
Holiday Train Show – New York Botanical Garden
The Holiday Train Show is perfect for anyone who loves New York, architecture, plants, and, of course, trains. Each year, the New York Botanical Garden transforms the Haupt Conservatory into the city of New York in miniature. A quarter of a mile of track and about 20 G-scale trains wind over, under, and between more than 150 New York landmarks, all constructed out of plant materials. Favorite landmarks include the Brooklyn Bridge, the Statue of Liberty, Grand Central Terminal, Rockefeller Center, the Empire State Building, the Chrysler Building, and even the JFK airport. There are also many historic homes, museums, and cathedrals.
This exhibit is a great place to bring the whole family during the day, as there are other train-related activities for kids as well. For those who want a fun date night out without the kiddos, visit during one of the popular Bar Car Nights and see the exhibit, complimentary cocktail in hand. The on-site cafe offers quick and delicious dinner options, including Prosciutto & Fresh Ricotta Flatbread, Mirin Poached Salmon, Pork Belly Sliders, and the Street Car Reuben. Bar Car Nights also include performances by various artists, such as fire dancers, ice sculpting artists, and jazz musicians.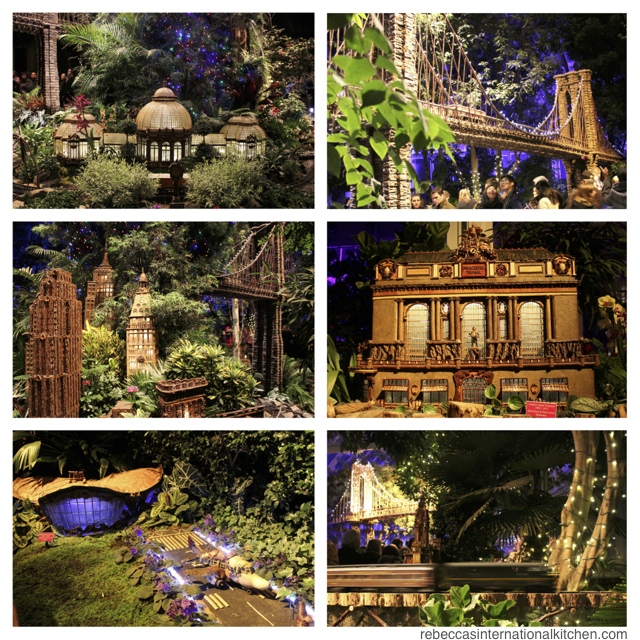 Holiday Train Show
New York Botanical Garden
Website
Open from November 21st through January 18th
Tips: Choose the earliest entry for the Holiday Train Show as possible, as people tend to stick around inside, making the later time slots more crowded. Dress warm, as you'll have to walk outside to get between the various buildings. You can take the train from Grand Central Station to the Botanical Garden Station, or you can take the subway+bus.
Holiday Markets & Fairs
Winter Village at Bryant Park
Winter Village at Bryant Park is undoubtedly one of my favorite holiday markets. While there are fewer vendors than at other markets (about 125), the booths are larger, fancier, and more spread out. The vendors also seem of a higher caliber, with unique gifts not found anywhere else.
While a few of the markets can feel like a large maze with everyone cramped together, Winter Village at Bryant Park feels more open and spacious. There are many tables and chairs spread throughout the park for sitting, dining, and relaxing. There's even a couple of restaurants to choose from, and of course, tons of food vendors.
Another aspect that makes this market different is the free admission ice skating rink–the only one in New York City. Either bring your own skates or rent skates for $15 ($19 during peak season). It's usually less crowded than the rink at Rockefeller Plaza, and the giant Christmas tree and surrounding cityscape make it just as Christmasy. While the market is only open until January 3, 2016, the skating rink will be open until March 6.
This market gets my vote. If you can only go to one holiday market this Christmas in New York, don't miss Winter Village at Bryant Park.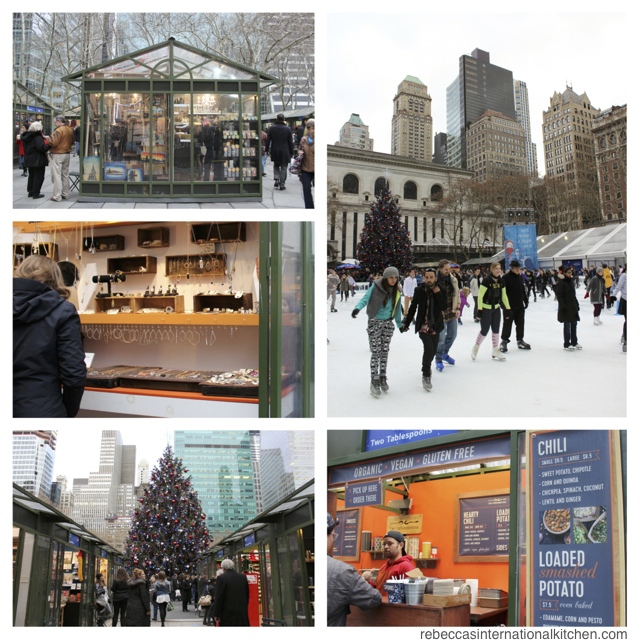 Winter Village at Bryant Park – Holiday Shops & Skating Rink
Sixth Ave and 42nd Street
Website


Holiday Shops
October 21st through January 4th
Open Weekdays from 11:00 a.m. to 8:00 p.m.
Open Saturdays from 10:00 a.m. to 9:00 p.m.
Open Sundays from 10:00 a.m. to 6:00 p.m. 

Skating Rink
October 21st through March 1st
Open daily from 8:00 a.m. to 10 p.m. 



Grand Central Holiday Fair
The Grand Central Holiday Fair is another classic favorite. Located inside Grand Central Terminal's stunning Vanderbilt Hall, this is one of the fanciest holiday fairs in New York City. It is also a great way to escape the cold, as the entire terminal is toasty warm. While there are fewer booths at this fair (about 75), the quality of the merchandise is top-notch. From candles and gift items to jewelry and women's hats, this is a great place to do some holiday shopping.
After visiting the holiday fair, don't forget to visit the numerous shops in Grand Central Terminal. There's also a large food court for an easy and quick lunch.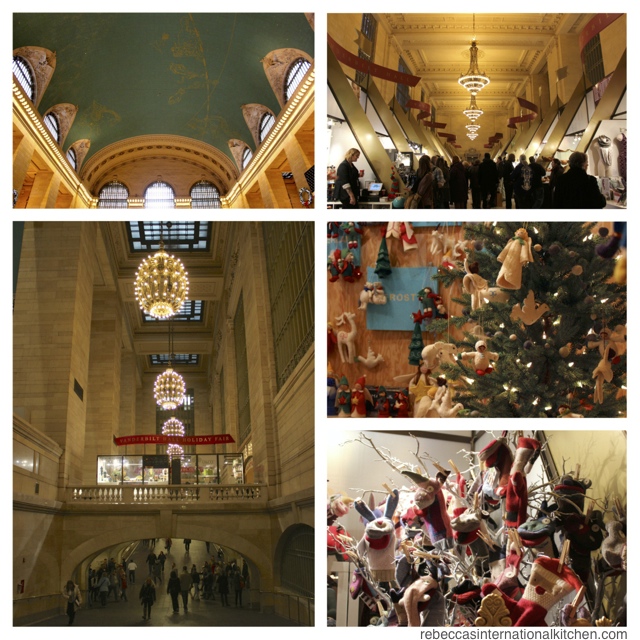 Grand Central Holiday Fair
89 E 42nd St
Vanderbilt Hall
Website
December 11th through December 24th
Open Mondays to Saturdays from 10:00 a.m. to 8:00 p.m.
Open Sundays from 11:00 a.m. to 7:00 p.m.
Open Christmas Eve from 10:00 a.m. to 6:00 p.m.
Closed Thanksgiving
Union Square Holiday Market
The holiday market in Union Square is among the largest in New York City, with nearly 200 booths, and is a favorite place to shop for tourists and locals alike. Stop by to look at the some of the city's best selection of art, jewelry, home décor, clothing, and winter accessories. You'll be certain to find a wide variety of Christmas gifts, from ornaments, cards, and bath soaps to puzzles, games, and puppets. Be sure to take a break from shopping to taste some of the terrific food and drinks available, such as soup bowls, crépes, and specialty hot chocolate.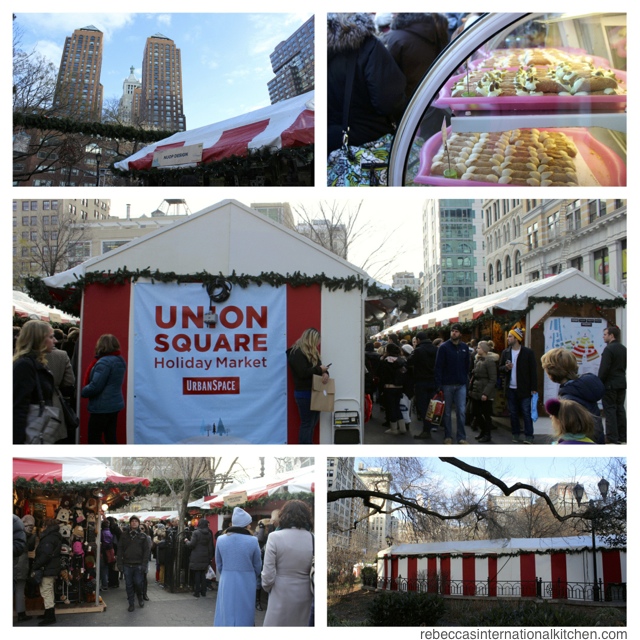 Union Square Holiday Market
14th St and Union Square West/Broadway
Website
November 20th through December 24th
Open Weekdays from 11:00 a.m. to 8:00 p.m.
Open Saturdays from 10:00 a.m. to 8:00 p.m.
Open Sundays from 11:00 a.m. to 7:00 p.m.
Closed Thanksgiving
Read my article Best Holiday Markets & Fairs in New York City (2015-2016) for information about even more holiday markets, as well as details about my favorite vendors at each location.
What are your New York City Christmas favorites?