Figuring out the best way to get around Mendoza is tricky. There are a lot of choices of varying expenses. Renting a car, going with a tour group, and hiring a driver all have their pros and cons; I've tried them all and have experienced varying degrees of success. So when I heard about the hop-on/hop-off bus that visits a circuit of wineries each day, I was interested in giving it a try as well. I wanted to see what the experience would be like for tourists who visit Mendoza but don't speak Spanish. Not to give away the ending, but the entire experience was pretty terrible.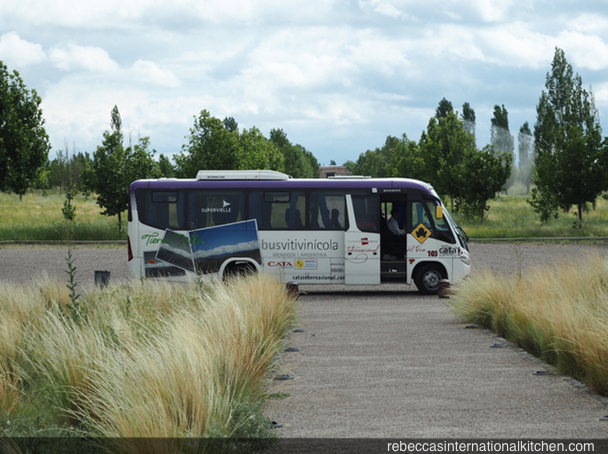 busvitivinícola
The first clue to how suboptimal this experience is for English speakers is in the name: busvitivinícola. Quite a mouthful, so I refer to it as the wine bus; however, a lesson learned is that if you can't say the name, this is probably not the right choice for you.
Misleading Pamphlet
Most people find out about the wine bus from the stacks of pamphlets at their hotel or at the tourism information centers in Mendoza. The pamphlet is colorful and appealing, has many English phrases sprinkled throughout, and depicts little American flags everywhere, deftly luring in English speaking tourists with promises of winery tours in English. However, I discovered that the pamphlet is far from accurate — just because there is an American flag at a certain time doesn't guarantee an English tour.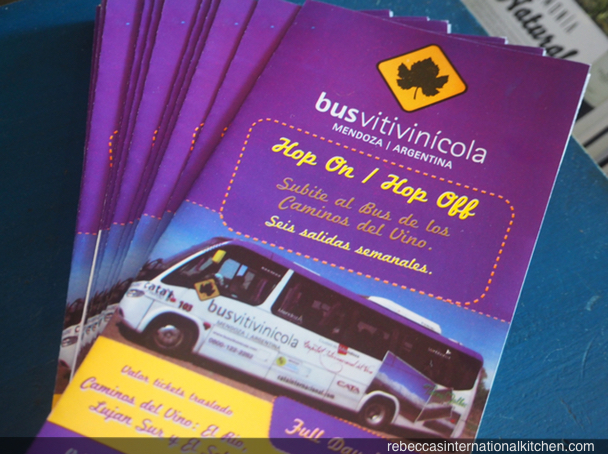 Hidden Pricetag
The price of the wine bus seems reasonable and is another good selling point. The pamphlet advertises that the cost is only AR$370 per person (about USD$30) for a full day. However; this price doesn't include the cost for the winery tours and tastings, nor does it include lunch. The whole day, including the cheapest lunch I could purchase, cost me AR$970 (about USD$75). If I had gone for the 5-course lunch, my total would have been AR$1520 (about USD$115).
This terrible day with busvitivinícola was only slightly less expensive than the absolutely incredible day I had with a professional tour company (USD$170). Read about my day with Mendoza Wine Camp to compare these two experiences. Having done both, I recommend spending just a little more for a far superior experience.
Limited Winery Choices
If you still insist on going, you can purchase tickets for the wine bus from a tourism office the day before and select seats. However, you can also chance it and purchase a ticket on the bus the day of. After you board the bus, the guide discusses with you which four out of the "six" wineries you would like to visit: three for a tour and tasting and one for lunch. Be forewarned though, a winery I really wanted to visit was only giving Spanish tours that day and another winery was closed for a private event; my six choices were immediately reduced to four, which meant I didn't get a choice at all.
Hour of Hotel Pick-ups
If you're staying at one of the first hotels on the Hop-On list, plan on spending an hour driving to all the hotels in Mendoza to pick up other passengers. It's a mind-numbing experience to realize you wasted an hour just driving in circles around the city center. If you want to avoid this miserable part and sleep in a little longer, I recommend choosing one of the last Hop-On spots and just walk there at the designated time.
Definitely Not Bilingual
After picking up everyone, the guide gives the standard "Mendoza speech" in Spanish. Another guest asked the guide if he could give the speech in Spanish and English, but he declined, saying his English wasn't good enough. While it wasn't particularly interesting in Spanish, it would have been nice for everyone to have been included. Also, for those who chose to do this on their first day, they had no introduction to the history, geography, and wines of Mendoza.
With the number of bilingual speakers in Mendoza and the amount of money this company is raking in, there is no excuse to not have a bilingual guide as implied by the pamphlet. The guide placated us by promising that the tours at the wineries would all be in English, a promise I had to fight for.
No English Tours
At our first "American Flag" stop, I got off the wine bus expecting an English tour. However, after the bus left, the guide at the winery told us that the tour would be in Spanish. When I balked, she told me that I could stay close to her and that she would give me "tips" in English. I politely but determinedly demanded to know why there was an English tour symbol if there was no English tour; the other English speakers and I could have stayed on the bus and gone to the next stop. It should at least be a bilingual tour. She replied that if there are more Spanish speakers, she does the tour in Spanish and gives tips in English; and if there are more English speakers she gives the tour in English and gives tips in Spanish. So I counted. There were 2 Spanish speakers, 4 Portuguese speakers (who understood a little Spanish), and 6 English speakers… didn't that qualify for a bilingual tour?
After getting the manager involved, we finally got a bilingual tour started. While I felt like a hero in the eyes of the confused English speakers, I was incredibly angry with the lies perpetrated by busvitivinícola. If the bus company is going to advertise English tours, they need to make sure the winery is able to provide them. Likewise, the wineries are getting paid, so they should provide enough guides to be able to do these tours. Both parties were at fault. However, after getting a late start, the guide did a nice job of giving a bilingual tour, though it was at the speed of light and ran us 25 minutes late.
And that was only the beginning.
At the second stop, I was again told that there was no English or bilingual tour. If I skipped this stop, I would not get to visit 4 wineries. I decided to stay for the Spanish tour, completely disillusioned by this bus company's ability to plan ahead or provide the services promised. Thankfully, at the last minute, the winery was able to find someone to lead an English tour, something that I really appreciated.
Playing the Waiting Game
Besides the English tours debacle, the whole day was a boring waiting game. You have to wait to pick everyone up at their hotels. Once you get to the winery, you have to wait for everyone to pay. This takes forever, especially considering the credit card machine takes about 5 minutes per person, if it even works at all. Then you rush through the tour and tasting only to have to wait for everyone to buy souvenirs. Then you're running late for the next tour, but you still have to wait for everyone to pay… multiply this by four wineries! It's a day of waiting with short, speedy tours in between. Not my idea of a relaxing or fun vacation.
Conclusion: Worst Day in Mendoza
To be fair, the guide on my bus was very nice and felt bad about there not being English tours. It really wasn't his fault; it is the company's. If they are going to advertise six choices of English tours, they need to plan ahead with the wineries to make sure there are English tours available. Tourists should not have to fight for them.
But even then, it was just not my ideal wine tasting day. I've spent three months in Mendoza going on different wine tasting experiences, and I cannot sugarcoat the fact that this was the worst day of my entire time here. If you are an English speaker, don't waste one of your only days with this company. Just as with wine, you get what you pay for.
Costs:

All Day Bus Pass: AR$370
Chandon: AR$100
Septima: AR$120
Lunch at Criolla (Susana Balbo): AR$250 (or $800 for 5 course meal at Domino del Plata)
Otaviano: AR$130

Total: AR $970 (about USD$75-115)
Planning a trip?
Check out all my articles about Mendoza here!