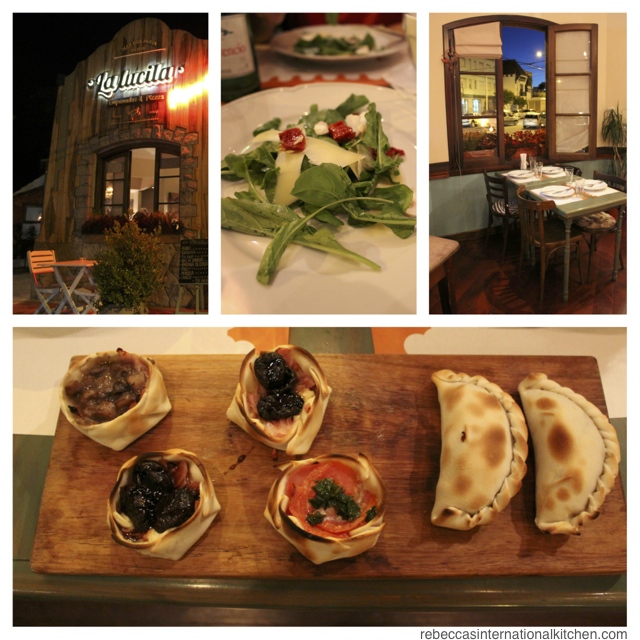 "Can-ah-stee-tahs." I repeated again to my Spanish teacher, enunciating each syllable clearly. "Canastitas. Similar to empanadas, but in 'little baskets'. Muy rica." I've just found my new favorite food in all of Argentina, and yet no matter how I try, I cannot seem to communicate my findings to my Argentinian Spanish teacher. How can she not know what I'm talking about?
It turns out that my new Argentinian favorite is, in fact, just that–new. And quite unique. I've only found this tasty little dish in one restaurant: La Lucila in Mar del Plata. For almost 20 years, La Lucila was a tiny empanada place, delivery only. They just opened their first full service restaurant and now serve a variety of salads, grilled meats, empanadas, and canastitas. Everything there is wonderful, and with 18 different canastitas to choose from, I continue to go back for more.
It turns out that Arie's grandmother has been ordering the chicken empanadas from La Lucila for as long as it's been in existence. Arie's cousins also have empanadas delivered to their door from La Lucila. I tried having canastitas delivered to our first apartment in Mar del Plata, but was devastated to hear that we were two blocks past their delivery zone. I would have stood on the street in the pouring rain to meet the driver for some canastitas, but I relented. I decided that if La Lucila couldn't deliver the canastitas to me, I would just have to make them myself.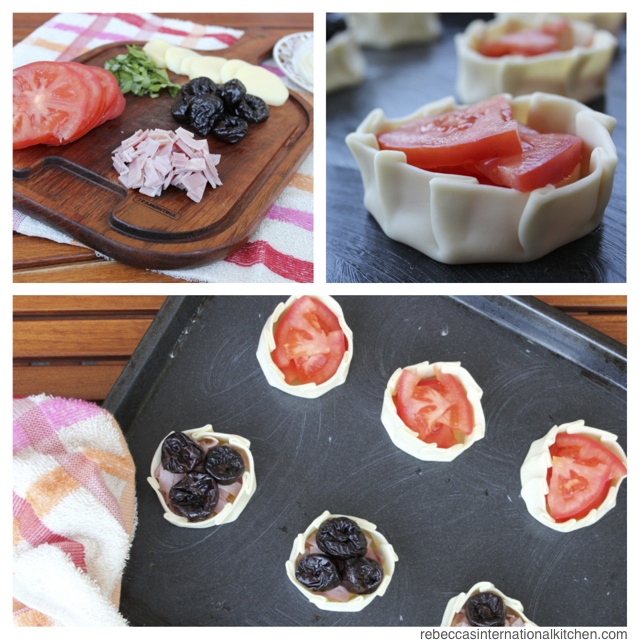 I must say that my stubbornness paid off. Making my own canastitas proved easier than I thought, and now I eat them all the time. The dough or tapas is the same used for empanadas and can be purchased in the United States in specialty stores such as Fiesta. Once you master the folding, they are really fun and quick to make.
There are endless variations. I've made some of my favorite lunch canastitas from leftovers from dinner the night before. I experiment with different types of cheese, some fruits or vegetables, a bit of meat, and a drizzle of olive oil. Voila! They make for a great lunch, a quick snack, an appetizer, or a party dish.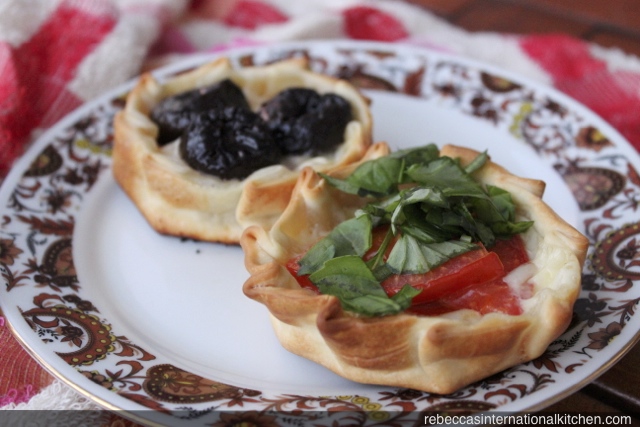 I'm happy to acknowledge that our new apartment in Mar del Plata is not just within the delivery zone of La Lucila, it's within walking distance (a factor that may or may not have been included in our apartment hunting).
Here's the basic recipe for two of my favorite canastitas, inspired by La Lucila, for those still outside the delivery zone.
Canastitas – "Little Baskets" from Argentina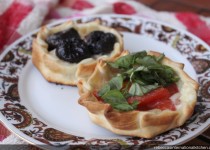 Prep Time:

15 minutes

Cook time:

12 minutes
Ingredients:
Instructions:
1. Preheat the oven to 350°F (180°C). Coat a baking sheet with cooking spray or butter.
2. Slice the mozzarella, and prepare your chosen ingredients.
3. Pinch the edge of the tapa together. Make about 8 pinches around the circumference. The pinches should form a shallow basket. See the picture above for help. (Tip: a dab of water helps the dough to stick together.)
4. Place a slice of mozzarella and your chosen ingredients in the basket.
Caprese: Place the pieces of tomato on top of the mozzarella.
Ham and dried plums: Place the pieces of ham on top of the mozzarella. Then place three dried plums on top of the ham.
5. Drizzle with a little olive oil. Bake for about 12 minutes, until golden brown.
Caprese: Garnish with fresh basil.