While the official name of this barrio (neighborhood) in Buenos Aires is Balvanera, it is better known (and usually referred to) as Abasto. The name comes from the "Mercado de Abasto" building that was constructed in the late 1800s and is now used as a commercial shopping center.
This barrio is famous for it's ties to tango, as this was where the legendary tango singer Carlos Gardel grew up. His childhood home remains open to the public as a small museum, and there are monuments and paintings in this neighborhood that honor his life and legacy. Little shops sell tango shoes and dresses, and many restaurants and theatres in the area try to draw crowds in with nightly tango shows.
There is much to do and see in this part of Buenos Aires. Here are a few recommendations on how to spend an afternoon in Abasto.
Abasto Shopping
The first time I went to Abasto Shopping, I went simply to admire the building. Constructed in 1893, the building served as Buenos Aires' main wholesale fruit and vegetable market. Unfortunately, "Mercado de Abasto" (Abasto Market) fell into disuse and was abandoned in 1984. This remarkable building sat empty for 15 years until 1999 when it was remodeled and restored as a commercial shopping mall.
Abasto Shopping is a great place to go on a rainy day with countless shops, restaurants, cafés, and bookstores to keep you busy. There's also an arcade, a movie theater, and a children's museum, making this mall a good place to take kids. Be sure to swing by the tourist desk at the mall for discounts.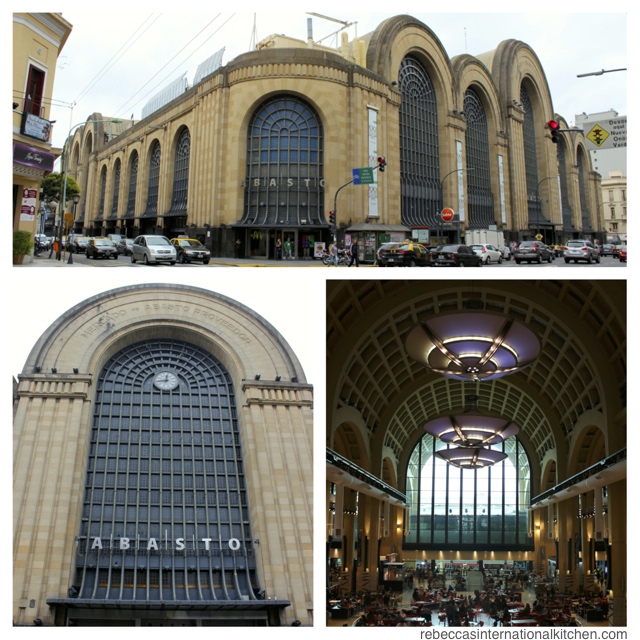 Abasto Shopping
Av. Corrientes 3247
http://www.abasto-shopping.com.ar/
Tel: 4959-3400

Pasaje Carlos Gardel (Carlos Gardel Alley)
Just outside Abasto Shopping is a small pedestrian alleyway dedicated to and named after Carlos Gardel. There you will find a monument to this tango singer, as well as several other tango-related monuments. There are statues of Roberto "El Polaco" Guyeneche, a famous tango singer, and Anibal "Pichuco" Troilo, a great bandoneón player and composer born in Abasto. There is also the beautiful sculpture Monumento al Bandoneón (Monument to the Bandoneón).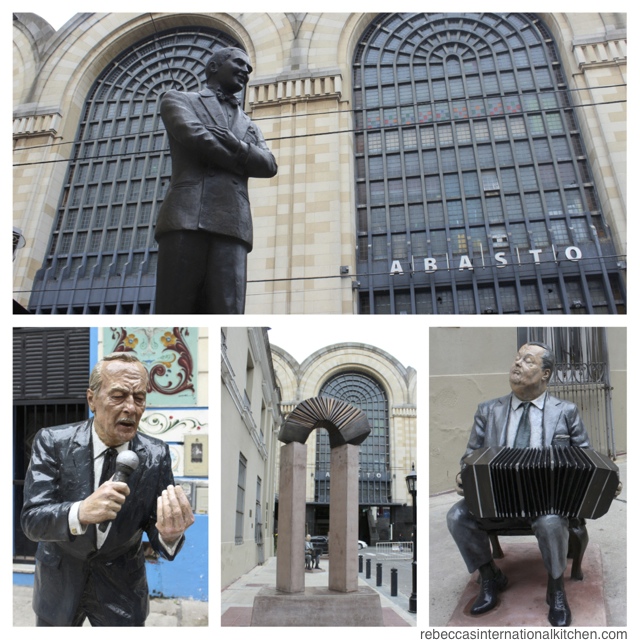 Pasaje Carlos Gardel
Carlos Gardel 3200
Museo Casa Carlos Gardel (House Museum of Carlos Gardel)
If you're interested in learning more about Carlos Gardel, the best place to go is the Museo Casa Carlos Gardel (House Museum of Carlos Gardel). This is the house that Gardel purchased for his mother Berthe Gardes in 1927. He lived there with her until 1933. Berthe continued living in the house until she died in 1943. After passing through several more owners, the home was bought and donated to the city of Buenos Aires to become a museum in 2000.
The home is a wonderful example of a typical pehache, also nicknamed a "casa chorizo;" it is long and skinny, cut into small rooms surrounding an open courtyard. Walk through the rooms to learn about Gardel's childhood, his radio, recording, and movie careers, and the circumstances surrounding his death. Other parts of the house, such as the kitchen, are set up to show what the home probably looked like during the time when Gardel and his mother lived there.
The museum often holds special events for the public, such as free tango classes and musical concerts. Consult their website for more information.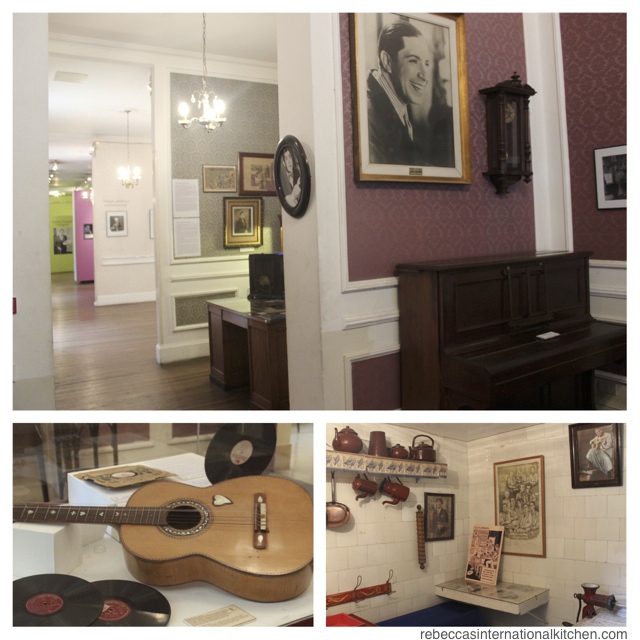 Museo Casa Carlos Gardel
Jean Juares 735
http://museos.buenosaires.gob.ar/gardel.htm
Tel: 4964-2015
Open Mondays, Wednesdays, Thursdays, and Fridays from 11:00 a.m. to 6:00 p.m.
Open Saturdays, Sundays, and holidays from 10:00 a.m. to 7:00 p.m.
Closed Tuesdays
Admission: AR$5 (free on Wednesdays)
Paseo del Filete (The Filete Alley)
Jean Jaurés, the street where Museo Casa Carlos Gardel is located, is a wonderful opportunity to learn about the art of filete. Fileteado or filete has nothing to do with steaks or filets (through that's what Google Translate would like to believe). It comes from the word filo, meaning edge, as this style of painting is characterized by very fine lines accompanied by figures such as flowers or faces and words.
Look around Buenos Aires and you are sure to see the bright fileteado paintings on buses, signs, and even homes. On Jean Jaurés (between Tucumán and Lavalle), you'll find no less than six houses fully painted in fileteado.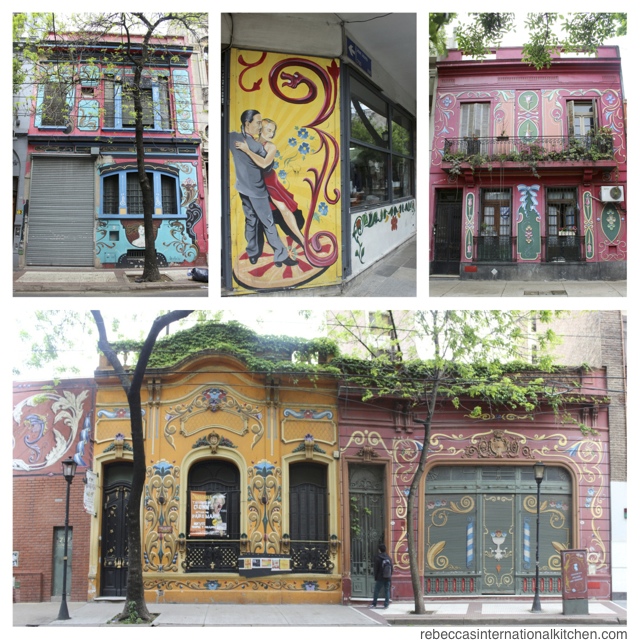 Paseo del Filete
Jean Jaurés between Tucumán and Lavalle
Teatro Ciego
There are many theatres in Abasto, most of which showcase tango. However, if you've had enough tango for one day and are looking for something a little different, I highly recommend checking out one of the shows at Teatro Ciego. Literally translated as Blind Theatre, all the shows at Teatro Ciego are performed in complete darkness, allowing audience members to enjoy theatre with their other senses.
There are several different shows, including one specifically for children. If you can fit it into your schedule (and are brave enough), try going to "A Ciegas Gourmet" ("A Blind Gourmet"). It's basically dinner and a show, but in the dark. The 90 minute experience includes dinner (that's made to be easily eaten with your hands) and a show featuring a vocalist and pianist.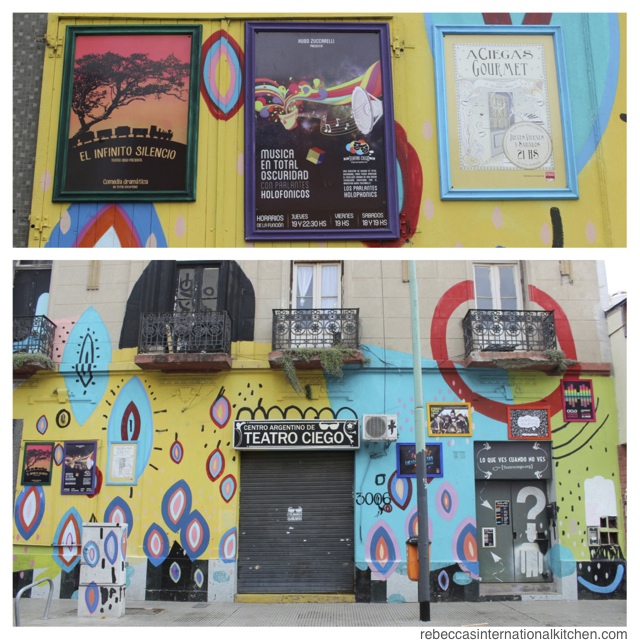 Teatro Ciego
Zelaya 3006
teatrociego.org/
Tel: 6379 8596
La Cresta Casa de Spiedo
The neighborhood of Almagro (close to Abasto Shopping) is not super close to my home; yet, I find myself in this neighborhood pretty often simply because of the wraps at La Cresta Casa de Spiedo.
When I'm in the mood for Mexican food, the Bandido (Bandit) wrap hits the spot. Filled with guacamole, Mexican beans, BBQ sauce, spicy sauce, lettuce, and choice of beef or rotisserie chicken, this wrap/burrito is the absolute best. I also love the Sweet Chili wrap filled with homemade coleslaw, sweet chili sauce, cilantro, lettuce, and choice of beef or rotisserie chicken.
Besides the incredible wraps, the menu at La Cresta includes hamburguesas (hamburgers), ensaladas (salads), rotisserie chicken, and a whole slew of homemade side dishes.
It's good to know before going that there's not many places to sit. Most people go to La Cresta to order food to take home. However, since my home is over 30 minutes away, I usually opt for the curb-side seating. For their food, I'd happily sit on the side of the road anytime.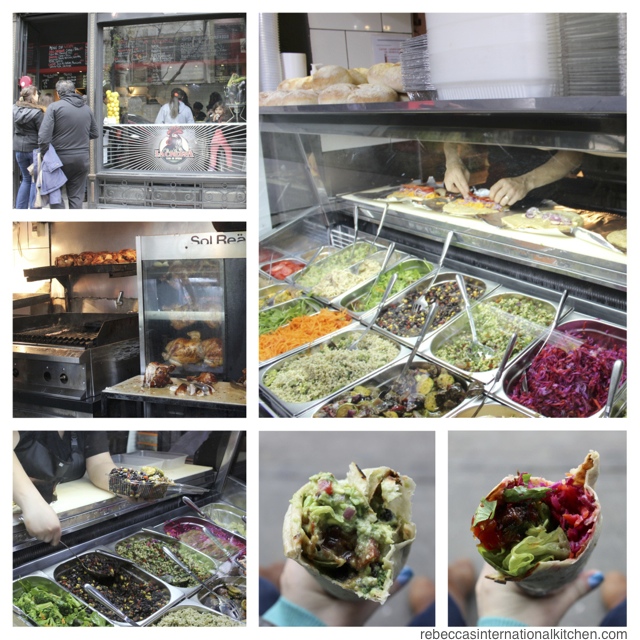 La Cresta Casa de Spiedo
Bulnes 829
Almagro
www.facebook.com/LaCrestaCasaDeSpiedo
Tel. 4864-4417
Open Tuesdays to Saturdays from 12:00 p.m. to 3:30 p.m. and from 7:00 p.m. to 11:00 p.m.
Tip: Take-out only, Cash only
Did I leave any of your favorite restaurants or things to do in Abasto off my list? Please tell me! I'm always eager to visit new sights and restaurants.
Planning a trip? Check out all my articles about Buenos Aires here!