Buenos Aires is 2nd largest city in South America, with nearly 13 million people and almost 5,000 square kilometers (2,000 square miles) in the metropolitan area. There is no end to the number of restaurants, cafés, and things to do in this grand city. After living here for over six months, I'm still not close to seeing and doing it all.
If you only have a week or a few days in Buenos Aires, the vastness of the city and the endless possibilities can be overwhelming. That's why I'm sharing my favorite things to do as a tourist in Buenos Aires, for I love being a tourist in my own city. A great area to start is Downtown Buenos Aires, also referred to as the mircrocenter. (I've included a custom map of things to do and places to eat at the end of this article.)
What to Do in Downtown
Obelisco (Obelisk) and Avenida 9 de Julio
The Obelisco (Obelisk) is Buenos Aires' most iconic national monuments, built in 1936 to celebrate 400 years since the city was founded. It's located at the intersection of Corrientes, Buenos Aires' Broadway, and Avenida 9 de Julio, the widest avenue in the world.
I remember learning about the Obelisk and seeing pictures of Avenida 9 de Julio in my University Spanish class, long before I ever dreamed of moving to Argentina. Naturally, they were on the top of my "must-see" list. When I first arrived in Buenos Aires, I went out of my way, clear across the city, just to see the Obelisk and to cross Avenida 9 de Julio. Imagine my chagrin as I passed by it countless times during the rest of my stay.
The moral of the story is, you probably don't have to make a special trip to see the Obelisk or Avenida 9 de Julio; however, if you've gotten to your last day and still haven't had to cross Avenida 9 de Julio's 18 lanes of traffic, don't miss it.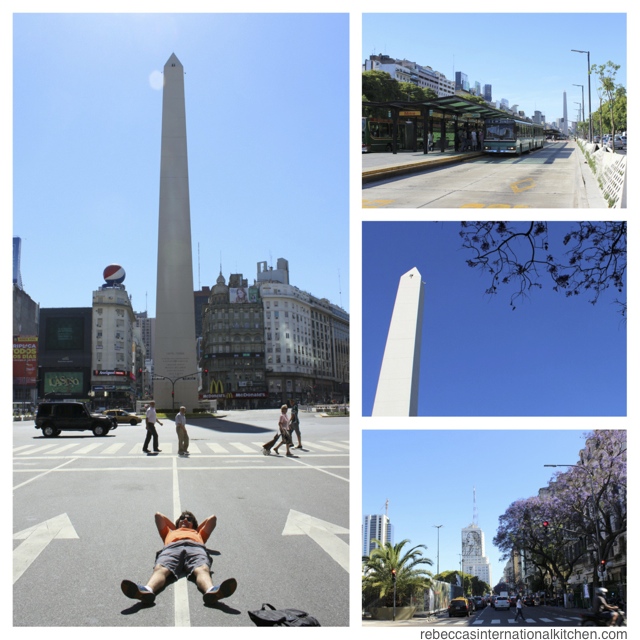 From the Obelisk, make your way down Avenida Presidente Roque Sáenz Pena to Plaza de Mayo and Casa Rosada.
Obelisco
Avenidas 9 de Julio y Corrientes in Plaza de la República
Casa Rosada (Pink House)
Due to its unusual pink color, Casa Rosada is one of the most recognizable buildings in Argentina. Like the White House in Washington D.C., Casa Rosada is where the President's Office is located; however, unlike the White House, Casa Rosada is not the permanent residence for Argentine presidents.
I highly recommend visiting Casa Rosada on the weekend, when free tours in English and Spanish are offered throughout the day. On the tour, you will learn about the history of Casa Rosada and get to see the spectacular interior, including the opulent Salón Blanco, the Palm Tree Patio, and The Hall of Busts. You even get to walk through the President's Office. My favorite part was visiting the presidential balcony where parts of the movie-musical Evita were filmed.
Visiting Casa Rosada is a must-do. It's a beautiful building, gorgeously decorated, and the home to many works of art. Plus, the tour is interesting, free, in English, and a great way to learn about Argentina. Don't miss it.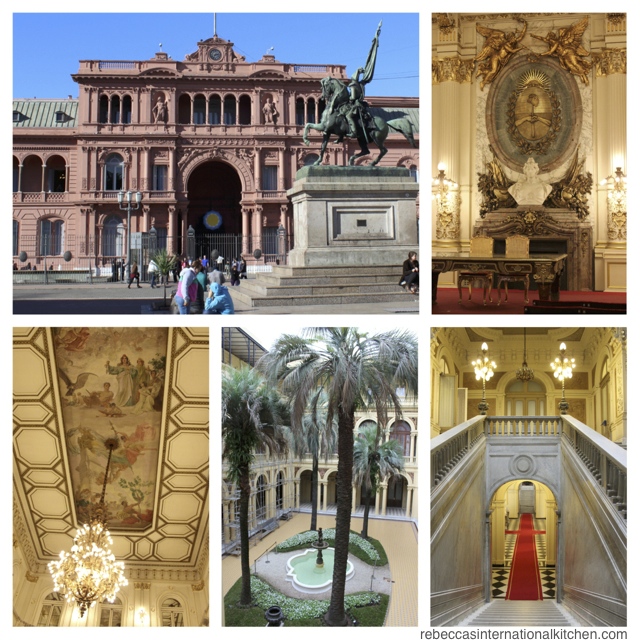 Casa Rosada
Balcarce 50
www.casarosada.gov.ar/
Email: museovisitasguiadas@presidencia.gov.ar
Tel: (5411) 4344-3600
Free Guided Tours (Spanish, English and Portuguese)
Saturdays, Sundays and holidays from 10:00 a.m. to 6:00 p.m.
Tours given every 10 minutes.
Duration: 60 minutes
Plaza de Mayo (May Square)
Just in front of Casa Rosada is Plaza de Mayo, created in 1580. It was later named after the revolution that took place there on May 25, 1810, the revolution which eventually led to Argentina's independence from Spain.
Since that time, Plaza de Mayo has continued to be the site for countless protests and demonstrations in Buenos Aires. Most notabley, the Asociación Madres de Plaza de Mayo (Mothers of Plaza de Mayo), whose sons and daughters were abducted and killed in the Guerra Sucia (Dirty War) from 1976-1983, protested there once a week week since 1977. The white scarfs painted on the ground of Plaza de Mayo serve as reminders of their pain and loss.
There are two notable sculptures in Plaza de Mayo: the May Pyramid in the center of the plaza and the large, bronze statue of General Manuel Belgrano on horseback closer to Casa Rosada. If you walk around the perimeter of the plaza, you will see a number of important buildings such as The Bank of the Argentine Nation, the Metropolitan Cathedral of Buenos Aires, Buenos Aires City Hall, and Buenos Aires Cabildo.
With its fountains, palm trees, and statues, Plaza de Mayo is a beautiful place to sit and rest for a while before continuing your walking tour of Buenos Aires.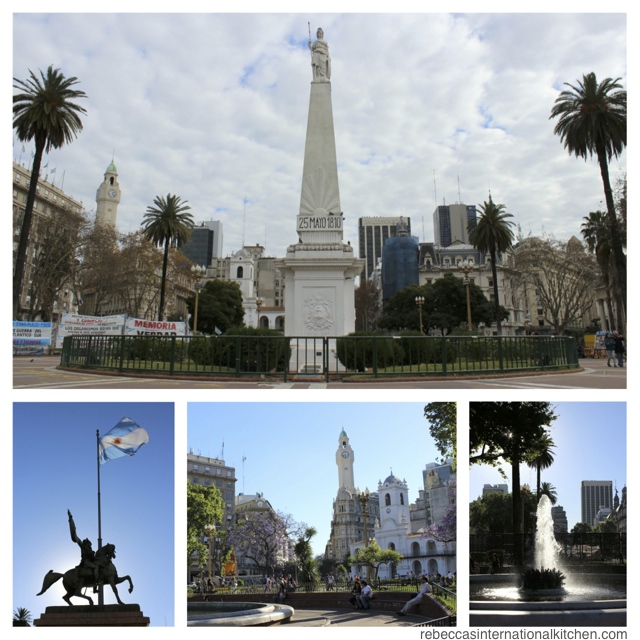 Catedral Metropolitana de Buenos Aires (Bueno Aires Metropolitan Cathedral)
After visiting Casa Rosada and Plaza de Mayo, don't miss taking a peek inside the Catedral Metropolitana de Buenos Aires (1827). Many tourists remark that this site is often almost missed because the edifice doesn't look like a typical cathedral. With its massive columns and triangular pediment, the cathedral reminds me of the Pantheon in Rome.
While the outside of the Catedral Metropolitana de Buenos Aires looks quite different, the inside resembles more traditional cathedrals. The stunning altarpiece, constructed in 1785, predates the cathedral due to the number of times the cathedral had to be rebuilt. Other standout features include the cathedral's 1871 Walcker organ, the collection of 14 oil paintings in the Calvarium, and another altarpieces from 1671.
Many come to the cathedral, however, to visit the Mausoleum of General San Martín, whose body is always under the protection of military guards. The beautiful statues surrounding San Martín's coffin represent the countries he liberated from Spain: Argentina, Peru, and Chile. This is also where Argentina's memorial to the Unknown Soldier of the Independence is, as well as the remains of Generals Heras and Guido. If you stay for a while, you might chance upon witnessing the changing of the guards.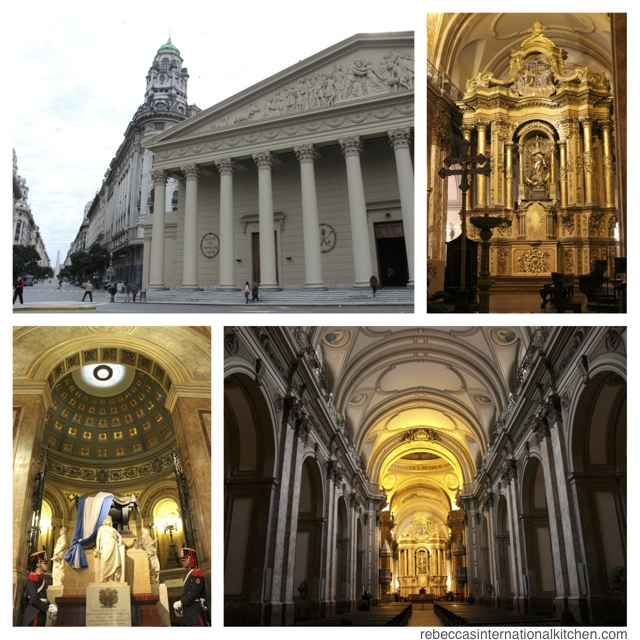 Next, head down Avenida de Mayo to visit Palacio Barolo and Palacio del Congreso.
Catedral Metropolitana de Buenos Aires
San Martín 42
Tel: (5411) 4343-6272
Free Admission
Open Mondays to Fridays from 7:30 a.m. to 6:45 p.m.
Open Saturdays and Sundays from 9:00 a.m. to 7 p.m.
Palacio Barolo (Barolo Palace)
For the best view of the city, go on an afternoon or evening tour of Palacio Barolo, where the guide will take you into the lighthouse at the very top of the building. From there, you can see the Palacio del Congreso, the Obelisk, and buildings that seem to go on forever. This is where you can truly get a feel for how enormous and sprawling this city really is. During the night tour, the guide turns on the light, so powerful that it can be seen in Montevideo, Uruguay.
In addition to the unbeatable view, the tour of Palacio Barolo is very interesting, as this is quite a remarkable building. The building was constructed to be an office building with spaces for rent; however, it was also intended to serve as a safe place to bring Dante Alighieri's remains from Italy. It was completed in 1923, and though arrangements were made, Dante Alighieri's remains stayed in Ravenna.
Due to the architect's design, the building serves as a memorial to Dante and his Divine Comedy, and references to this work can be found throughout. When you first enter Palacio Barolo, you are entering Hell, complete with condor, snake, and dragon lamps and nine arches that represent the nine circles of hell. There are quotes written in Latin around the building, as well as a sculpture of Dante's body being carried by an eagle into heaven. As you ascend to the top of the building, you make your way closer to heaven. The building's 22 floors correspond to the number of stanzas in the Divine Comedy, while the building's 100 meters refers to the 100 cantos of the work. Subtle designs turn out to be demonic faces when closely inspected, and the guide does a wonderful job of pointing out these details and more during the tour.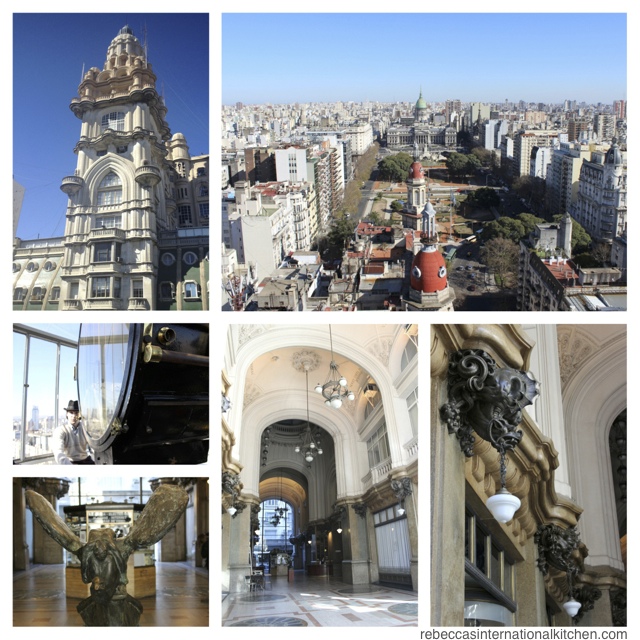 Palacio Barolo
Avenida de Mayo 1370
www.palaciobarolotours.com.ar/
Tel: (5411) 4381 1885

Day Tours
Mondays and Thursdays at 4:00, 5:00, 6:00, and 7:00 p.m.
Saturdays at 3:00, 4:00, 5:00, and 6:00 p.m.
Duration: 45 minutes
Admission: AR$135 

Evening Tours
Wednesdays, Fridays, and Saturdays at 8:00 p.m.
Thursdays at 8:30 p.m.
Admission: AR$260
Includes Wine Tasting 




Also offered is an occasional 2-Hour Tour for Photographers.
Palacio del Congreso de la Nación Argentina (Palace of the Argentine National Congress)
Be sure to visit Argentina's government building Palacio del Congreso de la Nación Argentina, which was constructed between 1898 and 1906 (and looks remarkably like the U. S. Capitol building). There are free guided tours during the week, and it would be great to visit if you have the time.
Even if you don't have time to go on a tour of the inside, be sure to walk around the Plaza del Congreso, Plaza Moreno, and Plaza Lorea, the three plazas in front of the Palacio del Congreso.
There are several sculptures in these plazas, but my favorite is Auguste Rodin's "The Thinker" in Plaza Moreno. It is the third of eight original casts made by Rodin, and one of the few surviving (thankfully it's protected from graffiti  by plexiglass). I also love the Monument to the Two Congresses and the giant fountain with bronze horses in the Plaza del Congreso.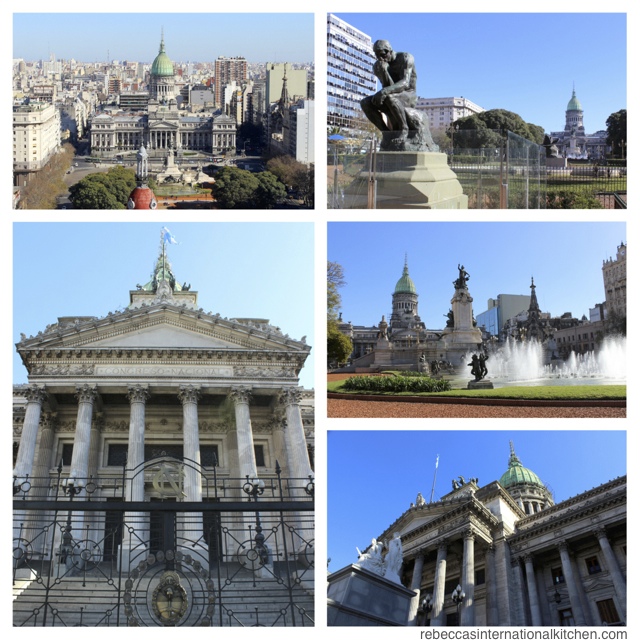 Palacio del Congreso de la Nación Argentina
Hipólito Yrigoyen 1835
www.senado.gov.ar/
Tel: (5411) 4010-3000 ext. 2410/2411
Free Guided Tours on Mondays, Tuesdays, Thursdays and Fridays at 12:30 p.m. and 5:00 p.m. in English and Spanish
Shopping on Peatonal Florida (Florida Street)
If you're feeling like doing a little shopping, head over to Peatonal Florida, a pedestrian street lined with countless shops, as well as many gallerias (malls) that contain even more stores not visible from the street. Among all of them, there are two gallerias that should not be missed: Galerías Güemes and Galerías Pacífico.
Galerías Güemes provides a beautiful, quiet reprieve from the hectic hustle and bustle of Peatonal Florida. There is also a lookout tower in Galerías Güemes that is open to the public; climb Torre Mitre for a great view of the city.
If you're tired and don't feeling like walking such a long distance through the crowds, I suggest hopping in a taxi and heading straight for Galerías Pacífico, the main shopping mall on Peatonal Florida. This gorgeous mall is a sight worth seeing, even if you're not up for shopping. The fountain area makes for a great place to grab a coffee and sit for awhile. There is also the Centro Cultural Borges on the top floor of the mall, a cultural center with art galleries and tango shows.
From Galerías Pacífico, walk two more blocks down Peatonal Florida and you'll find Plaza San Martin. This is a lovely plaza where you will find a large monument to San Martín, the Monumento a los Caídos en Malvinas (Monument to the Fallen in Malvinas), large ombú trees (and a Starbucks).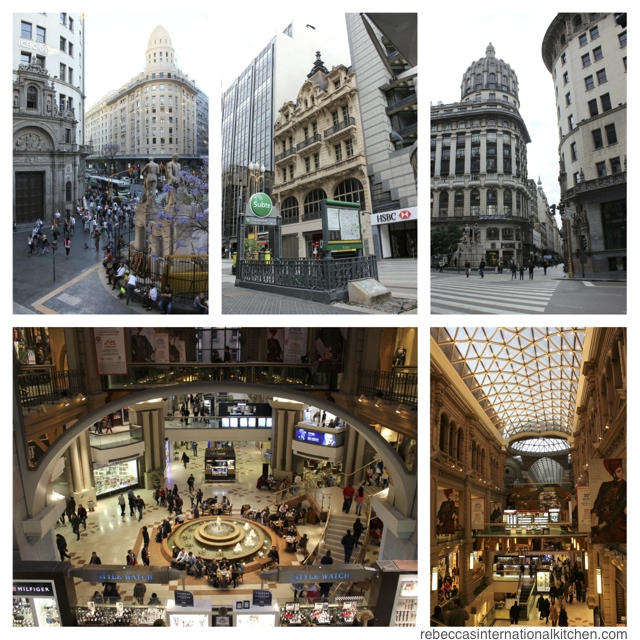 Galerías Güemes
Florida Street 165
www.galeriaguemes.com.ar/
Torre Mitre, 14th floor
Guided Visits Mondays to Fridays
Morning Schedule: 9:20 to 9:40 a.m., 10:00 to 10:20 a.m., 10:40 to 11:00 a.m., and 11:20 to 11:40 a.m.
Afternoon Schedule: 3:00 to 3:20 p.m., 3:40 to 4:00 p.m., 4:20 to 4:40 p.m., and 5:00 to 5:20 p.m.
Admission: AR$20, 25 people per group

Galerías Pacífico
Florida Street 737
www.galeriaspacifico.com.ar/

Tango Shows at Centro Cultural Borges
There are many professional tango shows offered in Buenos Aires. However, many of them are geared toward tourists, and as such, are ridiculously expensive. I do not recommend paying $100 USD per person for a mediocre dinner and tango show. Instead, check out the Centro Cultural Borges, a cultural center located on the top floor of Gallerias Pacifico that offers nightly tango shows. These tango shows are a great value, averaging AR$200 (about $20 USD) for a 75 minute show. The casts are quite small and the quality of the shows are akin to cruise ship shows; however, for the price, they can't be beat.
There are different shows each night of the week, but I personally recommend "Buenos Aires Pasión de Tango" (Mondays) and "Bien de Tango" (Fridays and Saturdays). "Buenos Aires Pasión de Tango" is a mix of tango singing and dancing, while "Bien de Tango" is mostly dance numbers with some singing. Both shows feature a live tango orchestra, elaborate costumes, and incredibly talented tango dancers.

Centro Cultural Borges
Galerias Pacifico
Viamonte y San Martin
Microcentro, Buenos Aires
Website
Email: info@ccborges.org.ar
Tel: (11) 5555-5359

Buenos Aires Pasión de Tango
Monday at 8:00 p.m.
Tickets: AR$160 and AR$180 

Bien de Tango
Fridays and Saturdays at 8:00 p.m.
Tickets: AR$200 and AR$220 



Teatro Colón (Colón Theatre)
To say that this theatre is beautiful would be a gross understatement. With its multi-colored marble entryway, opulent chandeliers, and massive stage, Teatro Colón is an incredible work of art. Though construction began in 1890, it wasn't completed until nearly 20 years (and 3 architects) later in 1908.
I loved going on the guided tour, as the guide really brought the stories of the theatre to life and helped me to appreciate all the work that went in to its construction and renovation. Now, I want to return to experience an opera, ballet, or concert at Teatro Colón, especially since it is known as having the most exceptional acoustics in the world. With nearly 2,500 seats, as well as standing room for an additional 500 people, thousands can attend the world-class shows held there. Tickets are reasonably priced and can be booked online.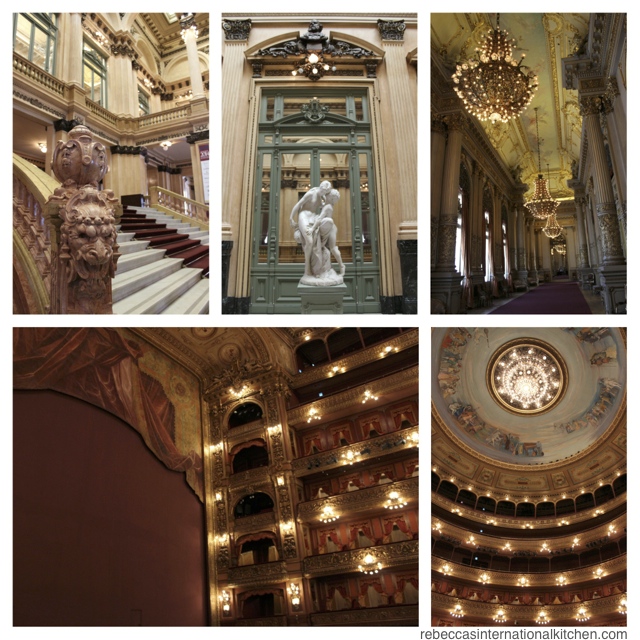 Teatro Colón
Tucumán 1171 (Pasaje de Carruajes)
www.teatrocolon.org.ar/
Email: visitasguiadas@teatrocolon.org.ar
Tel: (5411) 4378-7127
Open daily from 9:00 a.m. to 5:00 p.m.
Tours last about 50 minutes.
El Ateneo Grand Splendid
If you're in the mood to go to a theatre where books take center stage, don't miss visiting El Ateneo Grand Splendid, one of the most beautiful bookstores in the world. Teatro Gran Splendid was constructed in 1919; with a seating capacity of just over 1,000 originally, it was a much small theatre than Teatro Colón. In the late 1920s, it was converted into a movie theatre. In 2000, the company that owns El Ateneo and Yenny leased the theatre, renovated and restored it to its former glory, but as a bookstore (genius!).
English readers might be a bit disappointed by the single table of English novels at the front of the store; however, there are many photography and art books that are fun to peruse. I love selecting the latest Argentine cookbooks and taking them into one of the furnished theatre boxes to look through. There's also a small café on the stage with pretty good Argentinian coffee, salads, sandwiches, and empanadas.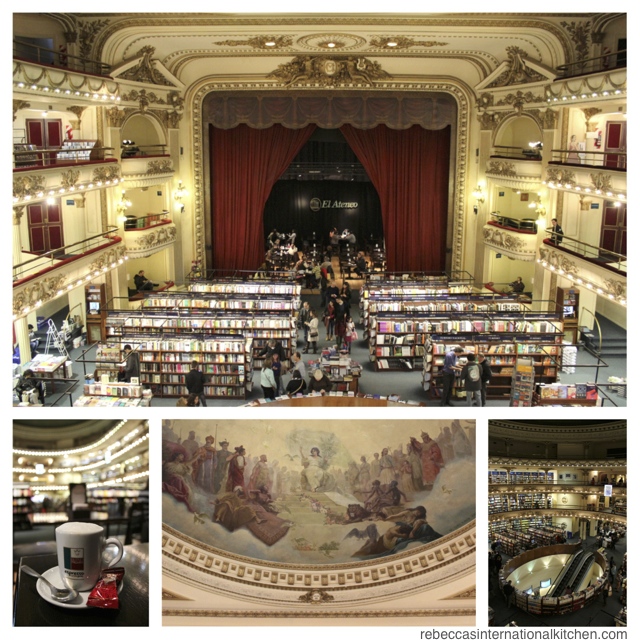 El Ateneo Grand Splendid
1860 Santa Fe Avenue
www.yenny-elateneo.com/
Tel: (5411) 4813-4154
Avenida Corrientes (Corrientes Avenue)
Here's another part of Buenos Aires where books and theatres intersect. Due to the many theatres along this street, Avenida Corrientes is known as Buenos Aires' Broadway. However, there are also many second-hand bookstores along this street. Since 2007, a large section of Corrientes is closed off once a year in December for the annual Bookstore Night.
If you have the opportunity to see a show on Corrientes, do it! While many of the shows are in Spanish, there are some shows that don't require a knowledge of the language to be enjoyable. Stravaganza is the show that I saw and really enjoyed; it is a Cirque du Soleil type of show with amazing acrobats and dancers.
Affordable tickets can be purchased at the individual theatres the day of the show (or a couple days before, depending on the popularity). There is also a ticket booth near Teatro Colón that sells discounted tickets. Load up on Argentine candy at the Arcor store, and enjoy the show.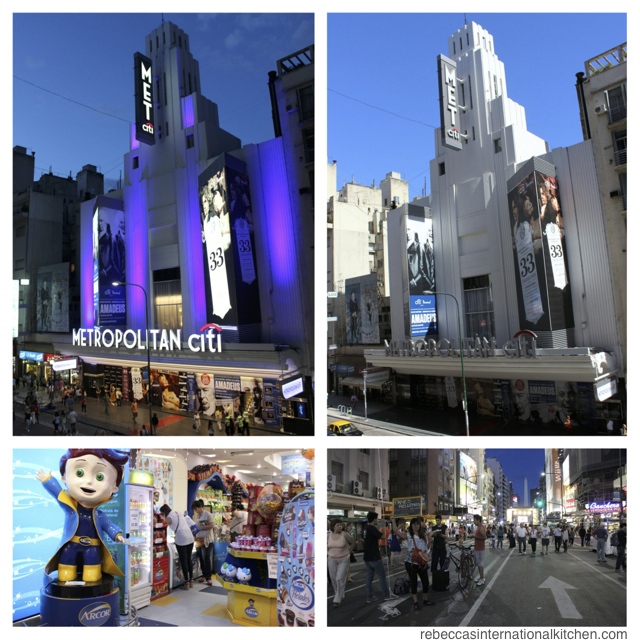 Avenida Corrientes
Between Avenida Callao and Esmeralda (near the Obelisk)

TICKETS BsAs
Cerrito and Diagonal Norte
Open Wednesdays to Sundays from 11:00 a.m. to 8:00 p.m.



Reserva Ecológica de Buenos Aires (Buenos Aires Ecological Reserve)
If you're wanting to leave city-life behind you for an afternoon, you don't have to go very far. Closer to downtown than you'd ever imagine is the Reserva Ecológica de Buenos Aires, a nature reserve on the banks of the river. There are several trails that can be walked in a couple hours; however, my favorite way to see the reserve is by bicycle. You can rent a bicycle for an hour or two from the vendors at the front gate. Be sure to bring something to eat or dine prior to coming, as there are no vendors or restaurants within the reserve.
While visiting the Reserva Ecológica de Buenos Aires certainly does not require a guided tour, super-nature lovers will be pleased to know about a few of the park's free guided tours. Go on a guided birdwatching tour the second Friday of each month at 9:00 a.m., and see some of the 307 bird species that live there. Four hour night tours are given once a month on the Friday closest to the full moon. Also, general tours of the reserve are given every weekend. Reservations for these tours is required (see below).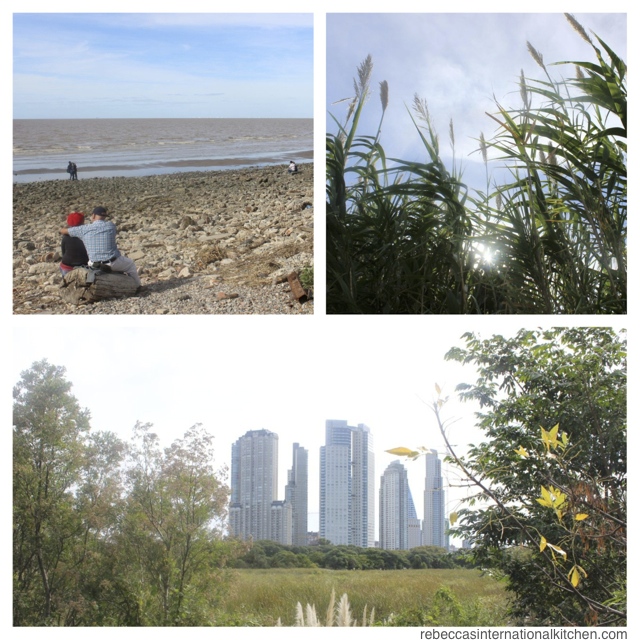 Reserva Ecológica de Buenos Aires
www.buenosaires.gob.ar/reservaecologica
Free Admission
Open daily from 8:00 a.m. to 5:00 p.m.
Guided Tours available on Saturdays, Sundays, and holidays at 9:30 a.m. and 4:00 p.m. (November through March), at 10:30 a.m. and 3:30 p.m. (April through October)
For information about special tours, consult the website
Reservations: visitasguiadas_recs@buenosaires.gob.ar
Where to Eat in Downtown
I must confess that since I live in Palermo (where restaurants are innumerable) my knowledge of places to eat downtown is pretty limited. However, here are a few of my favorites. It's an ever growing list, so keep checking back.
Pizzería Güerrin
During my first trip to Buenos Aires, I stayed in a hotel on Corrientes. Fatigued and starving after the bus ride from Mar del Plata, my first priority was to find food. The hotel recommended tried-and-true Pizzería Güerrin, a popular pizza place that has dished out hot pizzas and empanadas to starving tourists, locals, and theatre-goers since 1932.
You can stand up at the traditional counter or plop down at a table in the dining area. The pizza menu is extensive; you'll find all the Argentinian classics like Fugazzetta (translation: super awesome onion pizza) and Jamón cocido con palmitos y salsa golf (ham with heart of palm and golf sauce). Besides mozzarella cheese, they also offer roquefort (blue cheese), provolone, and ricotta cheese options. Topping include the normal gauntlet of toppings, but also huevo duro (hard-boiled egg), alcauciles (artichoke hearts), berenjenas (eggplant), choclo (corn), morrones (red bell pepper), nuez moscada (nutmeg), puerros (leek), pulpo (octopus), manzanas (apples), and arvejas (peas).
My favorite is the pizza with muzzarella, blanco de pollo, y ananá (mozzarella, white chicken, and pineapple), but next time, I'm going to venture out and try one with frutillas (strawberries), duraznos (peaches), guindas (sour cherries), or naranja (orange).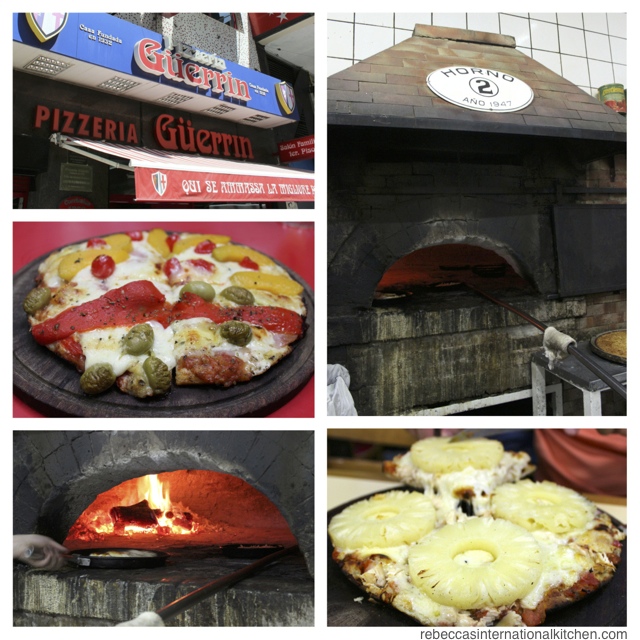 Pizzería Güerrin
Corrientes 1368
http://www.pizzeriaguerrin.com/
Tel: (5411) 4555-6789

Chan Chan
Chan Chan is a Peruvian restaurant that came highly recommended from friends who lived in downtown for a while. Since it's behind Palacio Barolo and near Palacio del Congreso, this is the perfect place to stop for lunch or dinner while visiting downtown. Don't expect a fancy dining atmosphere (think bright murals, religious statues, and kitschy decor); what sets this place apart is the food.
The ceviche dishes are all delicious; if you can't decide between the varieties, try the ceviche mixto. I was craving some rabas (fried calamari), and the fried fish and rabas dish with the spicy sauces did not disappoint. The portions are huge, so be careful not to order too much. I've also heard that the pisco sours are awesome, but I was there for lunch and will have to go back sometime to give them a try.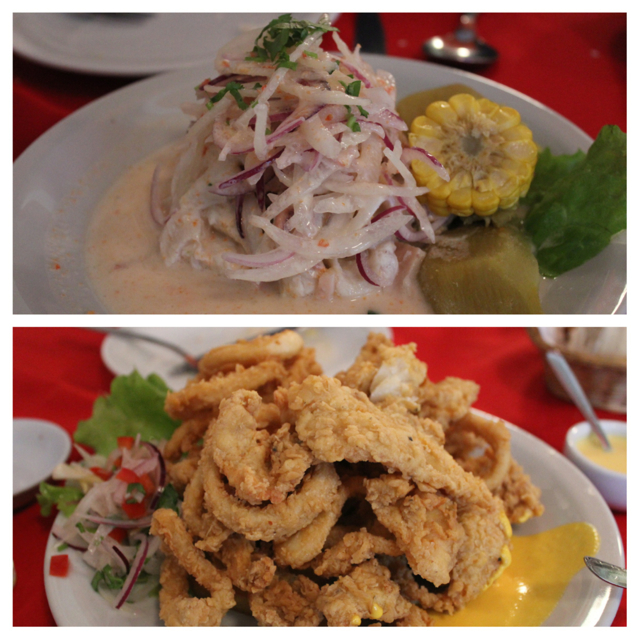 Chan Chan
Hipolito Yrigoyen 1390
Tel: (5411) 4382-8492
Closed Mondays
Open Tuesdays to Sundays from 12:00 to 4:00 p.m. and from 8:00 to close
No reservations are taken, so arrive early
Picnic
With all the sightseeing, shopping, and general craziness of downtown BA, sometimes you just need a quiet place, a nice juice, and time to recover. Enter Picnic on Peatonal Florida. While Picnic can get pretty busy during the lunch hour, other times of the day are more subdued. They have salads, sandwiches, fruit cups, and some other take-away prepared foods. They also serve some hot vegan dishes that I've not yet tried (and seem to have mixed reviews); they also serve a plate of the day that always looks tasty. What I highly recommend are the fresh juices, especially the carrot and apple juice or ginger and orange juice, which are very refreshing after a long day of running around the city.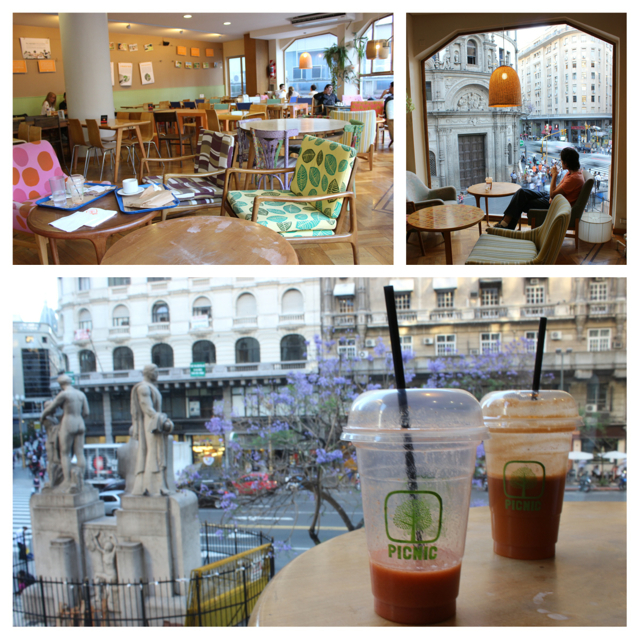 Picnic
Florida 102
www.facebook.com/picnicbuenosaires
Open Mondays to Friday from 8:00 a.m. to 9:30 p.m.
Open Saturdays from 10:30 a.m. to 5:30 p.m.
Did I leave any of your favorite restaurants or things to do in Downtown BA off my list? Please tell me! I'm always eager to visit new sights and restaurants.


Planning a trip? Check out all my articles about Buenos Aires here!