One of my favorite things to do when I'm in a new city is visit the local street market. I love looking at the countless stalls of handicrafts made by artisans, tasting traditional cuisine at the food booths, and enjoying various forms of entertainment. Markets are a great way to learn more about a place, its people, and the culture.
In Buenos Aires, there is no shortage of street markets, as many neighborhoods have their own every weekend. From markets specializing in antiques and art to traditional foods and leather goods, no two markets are exactly the same. If you only have a weekend or two in this grand city, the choice as to which markets to explore can seem daunting. To help you choose, I selected my five favorite Buenos Aires markets and thought about what makes each one unique. Then, I created a simple four question quiz to help you choose the market that best suits your interests.
Quiz: Which Buenos Aires Market Should I Visit?
Read through each question, keep track of your answers (a-e), and then tally them up at the end; continue reading the article to find your answer. Some markets are held on Saturdays and Sundays, so it's possible you could attend two markets. If you're interested in going to two markets, simply pick two answers per question.   
1. What part of Buenos Aires do you want to visit?
a. The city center – I want to see more of the downtown area
b. Surprise me! – I want to explore the neighborhoods a little outside the city center
c. The outskirts of Buenos Aires – I feel like venturing away from the "touristy" parts of the city
d. A nice, ritzy neighborhood with beautiful parks
e. A hip neighborhood with a slight bohemian vibe 
2. What kinds of souvenirs are you looking for?
a. Antiques and art
b. Organic produce, healthy foods (honey, jams, organic wines), earth-friendly decoration items
c. Traditional handicrafts, leather goods, and foods (meats and cheeses, dulce de leche)
d. Jewelry and decorations
e. Funky clothes, costume jewelry, and cool art
3. What kinds of food do you want to try?
a. I'm not overly concerned about the food; I'm here for the shopping
b. Healthy and/or vegetarian foods (quinoa burgers, burritos, vegetable and rice dishes)
c. Traditional Argentine foods (choripan, empanadas, humita, locro, vino patero, and dulce de leche)
d. A mix of healthy and traditional foods (choripan, fresh fruit cups, churros, ice cream)
e. I'd like to grab a beer and something to eat at one of the many nearby bars or restaurants
4. What type of entertainment do you prefer?
a. Tango shows and classical guitar
b. Talks about food and the environment (in Spanish)
c. Traditional folkloric dancing and gaucho horseback sports
d. A variety of street performers and musicians
e. I prefer to dance or listen to music at a cool bar
 STOP – Don't scroll down until you've completed the quiz
Buenos Aires Markets: One Weekend, So Many Markets
Mostly A's: Feria de San Telmo (San Telmo Fair)
Located near downtown in the heart of the San Telmo neighborhood, the Feria de San Telmo in Plaza Dorrego is surely not to be missed. If you only have one Sunday in Buenos Aires, are interested in antiques, and want to stay close to the city center, Feria de San Telmo is the place to go.
Feria de San Telmo is the quintessential Argentinian antiques market and is a great place to look for glass sifones (siphons), tea cups and saucers, old kitchen utensils, and antique jewelry. While this market, due to its popularity, is a little higher priced than other antique fairs further away from the city, the prices still seem pretty reasonable. If you're interested in buying or looking at art, there's also a section of the market where artists set up their original paintings.
To be honest, I've been to the Feria de San Telmo countless times and have never bought anything; I just enjoy looking. The real draw for me is the lively atmosphere of tourists, vendors, and musicians. Crowd around the tiny open space in Plaza Dorrego to watch tango performers dance and then walk around to hear various street musicians.
While other parts of the city are dead on Sundays, San Telmo comes alive. Prepare to bump elbows with a lot of people, as nearly 20,000 people visit this fair each Sunday. To make a day out of it, go inside the Mercado San Telmo (San Telmo Market) for great coffee, more antiques, and bathrooms. Then, walk down Calle Defensa to look at the endless stalls of handicrafts, grab some dinner at a local restaurant, and return to Plaza Dorrego around sunset to watch countless tango dancers dance until the early morning.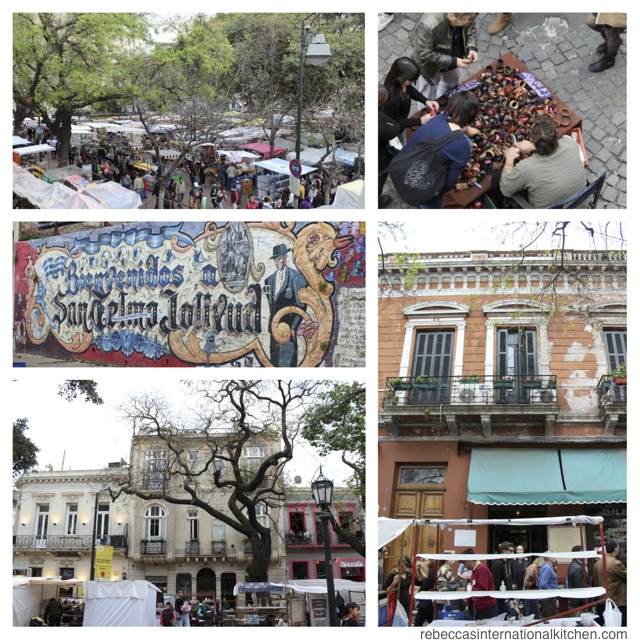 Feria de San Telmo
Plaza Dorrego
Defensa & Humberto
San Telmo, Buenos Aires
www.feriadesantelmo.com/
Open Sundays from 10:00 a.m. to 5:00 p.m.
Mostly B's: Buenos Aires Market
The Buenos Aires Market is a pop-up, once a month, food market. While the vendors remain the same, the location changes each month, usually somewhere in Palermo or Belgrano. Visiting the Buenos Aires Market is a great way to visit a part of the city you would otherwise not see.
Arrive when the market opens to beat the crowds of hungry people. If you're staying in Buenos Aires for a while, this is a great time to buy fresh fruits and vegetables, some of which are organic. There's also a wide variety of honey, jams, oils, spices, and teas to take home with you, as well as a few venders selling wine and beer (to take home or enjoy there). Besides food, you can purchase earth-friendly decoration items, plants, and cute handmade aprons and cup towels.
If being surrounded by food makes you hungry, there are usually plenty of options at the BA Market. Far from traditional Argentinian cuisine, here you will find quinoa burgers, meatless burritos, and vegetable and rice dishes. Look for the colorful food truck Nomade Comida Rica which serves up dishes like Min Pao, steamed buns with pork or mushrooms (try both!), and baguette sandwiches of curried chicken. If you're craving something sweet, try Nomade Comida Rica's delicious arroz con leche or L'Epi's Croissant aux Amandes (French for amazing almond croissant) with a cup of coffee from Coffee Town.
The main forms of entertainment at this market are eating, people watching, and then eating some more. There are a few special programs throughout the weekend, such as talks about food, cooking, and the environment if you want to practice your Spanish. Otherwise, kick back at a picnic table or a grassy spot and enjoy the sights and smells of the BA Market.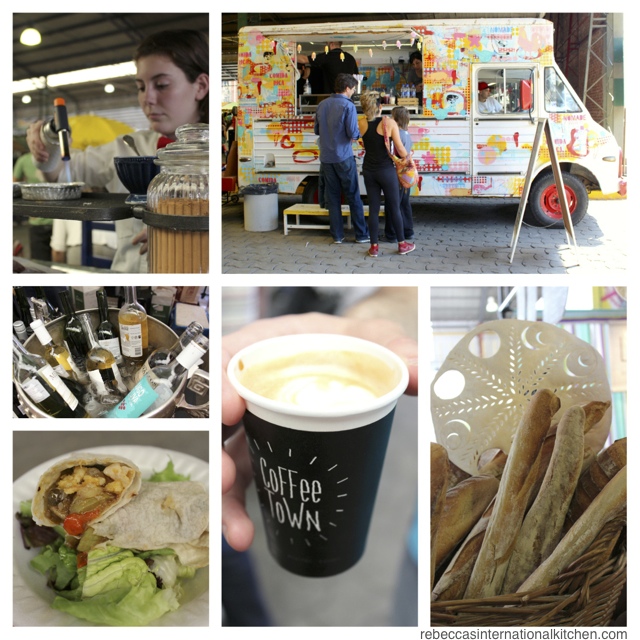 Buenos Aires Market
www.buenosairesmarket.com
Open one weekend per month in changing locations; consult their website for the next date and location.
Mostly C's: Feria de Mataderos (Mataderos Fair)
Feria de Mataderos (Mataderos Fair), about an hour by bus from the city center, is unlike any other fair in Buenos Aires. While there are vendors selling antiques and handicrafts, this fair feels more like a neighborhood block party. Here, you'll see mostly locals and just a handful of tourists. With really great food, dance and musical performances, and gaucho (Argentine cowboys) sports, it is a great place to take a deeper look into traditional Argentine and gaucho culture.
Vendors at Feria de Mataderos sell top quality leather goods, traditional Argentine and gaucho handicrafts, and traditional foods such as cured meats and cheeses, jams, liquors, and homemade dulce de leche. This is a great place to buy unique souvenirs at non-tourist prices.
There's also a ton of delicious, traditional Argentinian food stands at Feria de Mataderos offering choripan, empanadsas, humita, vino patero, panqueques con dulce de leche, and cubanitos. Stay the whole day and have fun trying a bit of everything.
In the center of the plaza, there is a stage in which performances take place all day long. Here, you can listen to tango singers, folk singers, and instrumental groups and watch tango and folk dancing performances. Besides the stage performances, you can also watch gauchos compete against each other on horseback in the carreras de sortijas (Ring Racing or Run of Rings). This gaucho sporting event is sure to be unlike anything you've ever seen and is definitely worth checking out.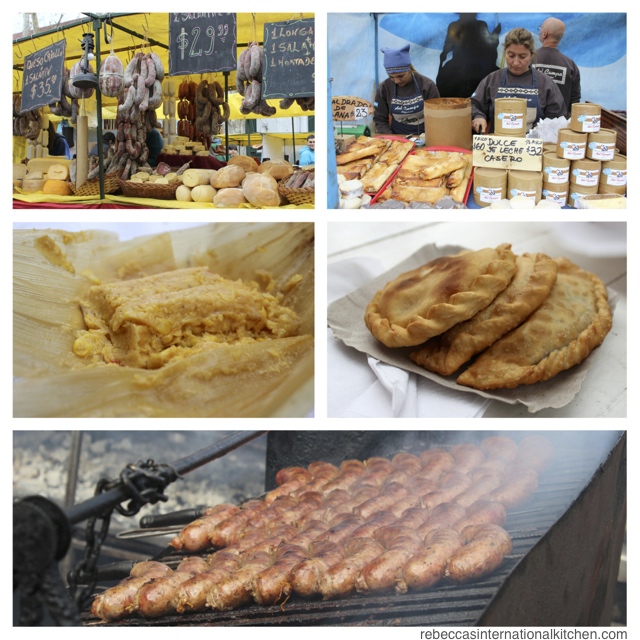 Feria de Mataderos
Mataderos, Buenos Aires
www.feriademataderos.com.ar/
Open Sundays (March to December) from 11:00 a.m. to 8:00 p.m.
Open Saturdays (January and February) during "night hours"
For more information about Feria de Mataderos, read my article Exploring Buenos Aires: Feria de Mataderos.
Mostly D's: Feria Plaza Francia (Plaza Francia Fair)
In the glamorous neighborhood of Recoleta, just outside the Recoleta Cemetery entrance, is Plaza Francia, a beautiful park and the location for the Feria Plaza Francia (Plaza Francia Fair). While the park is usually pretty quiet during the week, every Saturday and Sunday it becomes a gathering place for vendors, tourists, and locals.
Feria Plaza Francia is a great place to shop for local art, jewelry, and clothing. From homemade goods to commercially made products, Feria Plaza Francia offers shoppers a wide variety of merchandise. One of my favorite vendors is a woman who makes purses shaped like llamas, which are super cute for kids, but I secretly want one too.
Besides handicrafts, vendors sell a variety of food and drinks, including grilled meats, fresh fruit cups, popcorn, freshly squeezed orange juice, alfajores and churros! I have to make my husband promise not to let me buy more than 1 chocolate coated churro per trip (or I'd surely eat 10!).
Feria Plaza Francia is a great place to shop, eat, and then just spread out on the grass to rest and people-watch. There's usually a variety of street musicians around to entertain the crowds, so be sure to take advantage of the impromptu concerts and opportunities to learn more about Argentinian music.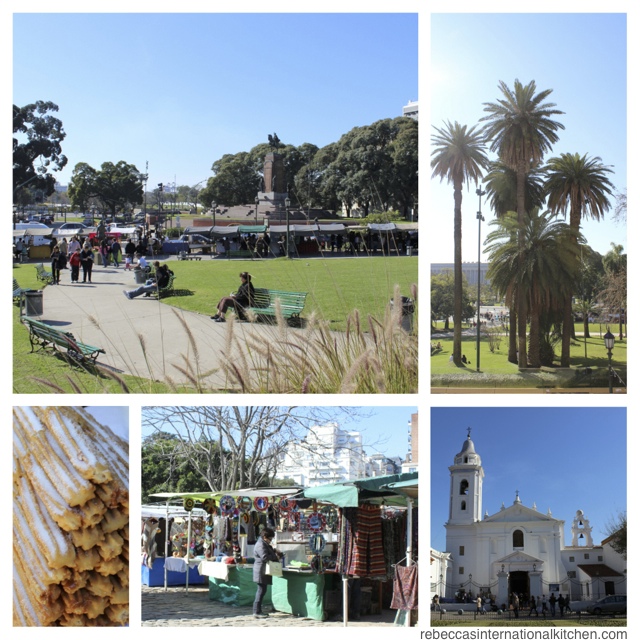 Feria Plaza Francia
Av. del Libertador & Pueyrredon
Recoleta, Buenos Aires
Open Saturdays and Sundays from 11:00 a.m. to 8:00 p.m.
For more information about what to do while in Recoleta, read my article: Exploring Buenos Aires: What to Do & Where to Eat in Recoleta
Mostly E's: Feria Plaza Serrano (Plaza Serrano Fair)
Visiting Feria Plaza Serrano (also known as Feria Julio Cortázar) gives you the perfect excuse to check out the neighborhood of Palermo Soho, known for its shopping, restaurants, and nightlife. This small market has a slight bohemian vibe that makes it unlike other markets in Buenos Aires.
Feria Plaza Serrano is where you're likely to find funky clothes, costume jewelry, and cute purses, as well as some really interesting art and handicrafts. One of my favorite local artisans creates sculptures from garbage, which are probably a bit too big to take home, but are always fun to look at. Feria Plaza Serrano is also where I bought a wooden pin-hole camera that I'm obsessed with. If you look hard, you can come across some unique finds at bargain prices.
I suggest heading to Plaza Serrano in the early afternoon. After shopping, you can stop and grab a beer and something to eat at one of the many nearby bars or restaurants that line the plaza. If you feel like doing more shopping, head over to Plaza Palermo Viejo (also known as Plaza Armenia) on Armenia and Costa Rica, where you'll find more weekend vendors. You'll also be close to Palermo Viejo's Circuito de Diseño (Design Circuit) where there are countless clothing, accessories, and home & decor shops.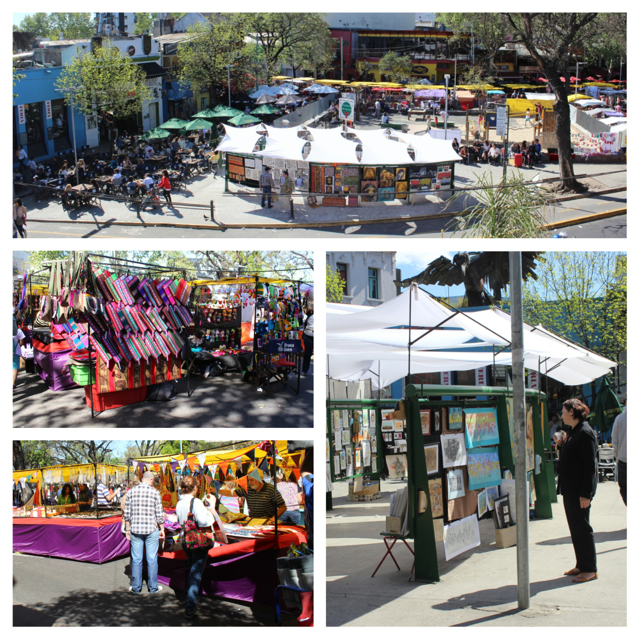 Feria Plaza Serrano
Plaza Serrano
Serrano & Honduras
Palermo Soho, Buenos Aires
www.plazaserrano.com/
Open Saturdays and Sundays from 11:00 a.m. to 8:00 p.m.
Planning a trip? Check out all my articles about Buenos Aires here!