If you're planning a trip to Buenos Aires, you'll undoubtably come across recommendations to visit the Sunday San Telmo Flea Market. I admit that the famous flea market was my first encounter in this barrio (neighborhood) as well. However, if you have more time to spare, there is so much more to see and do in San Telmo. And with so much to do, you'll need some great places to eat as well. Here are my recommendations on how to spend a day or two exploring and eating in San Telmo.
Things to Do in San Telmo: Shopping
Calle Defensa (Defensa Street)
If you're planning on visiting San Telmo on a Sunday, make the most of your walk from the city center to San Telmo by walking down Calle Defensa. During the week, Calle Defensa is a normal street; however, on Sundays, it turns into a pedestrian-only street filled with vendors and tourists. This street market seems to go on forever, lined on both sides with booths selling antiques, handicrafts, clothes, art, and souvenirs.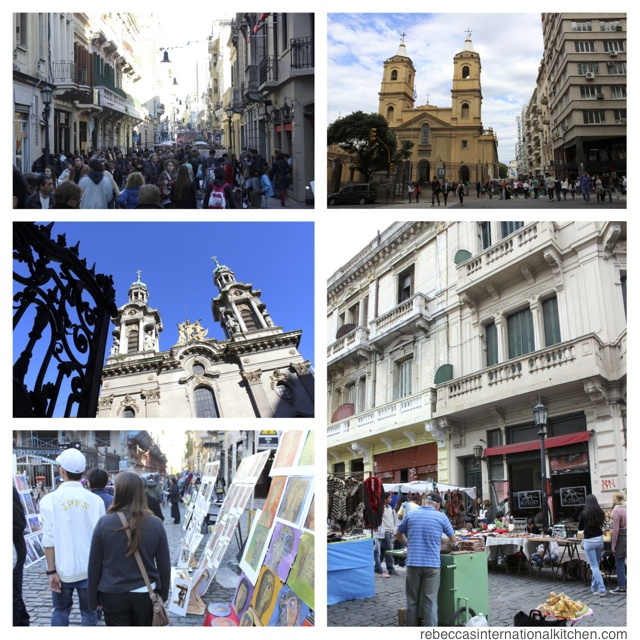 On your walk, be sure to enjoy the street's beautiful architecture and street art. There's also a variety of great music groups playing on the street, so take a break from walking and enjoy the music.
If you plan on walking down Calle Defensa, consider going early when the crowds aren't as massive, be prepared to be surrounded by thousands of people, wear comfortable walking shoes, and keep an eye on your personal belongings. If you get overwhelmed with the people, just pop over to a parallel street.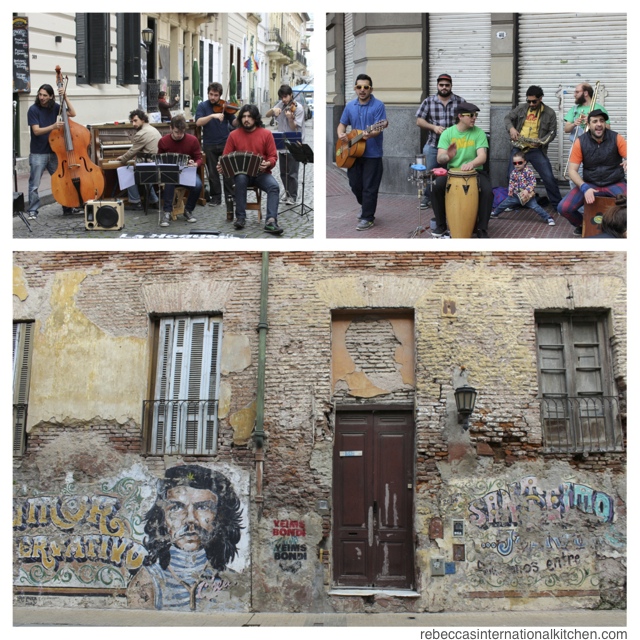 Feria de San Pedro Telmo (San Telmo Fair)
Feria de San Telmo in Plaza Dorrego is the quintessential Argentinian antiques market and is a great place to look for glass sifones (siphons), tea cups and saucers, old kitchen utensils, and antique jewelry. While this market, due to its popularity, is a little higher priced than other antique fairs further away from the city, the prices still seem pretty reasonable. If you're interested in buying or looking at art, there's also a section of the market where artists set up their original paintings.
To be honest, I've been to the Feria de San Telmo countless times and have never bought anything; I just enjoy looking. The real draw for me is the lively atmosphere of tourists, vendors, and musicians. Crowd around the tiny open space in Plaza Dorrego to watch tango performers dance and then walk around to hear street musicians. While other parts of the city are dead on Sundays, San Telmo comes alive. Prepare to bump elbows with a lot of people, as nearly 20,000 people visit this fair each Sunday.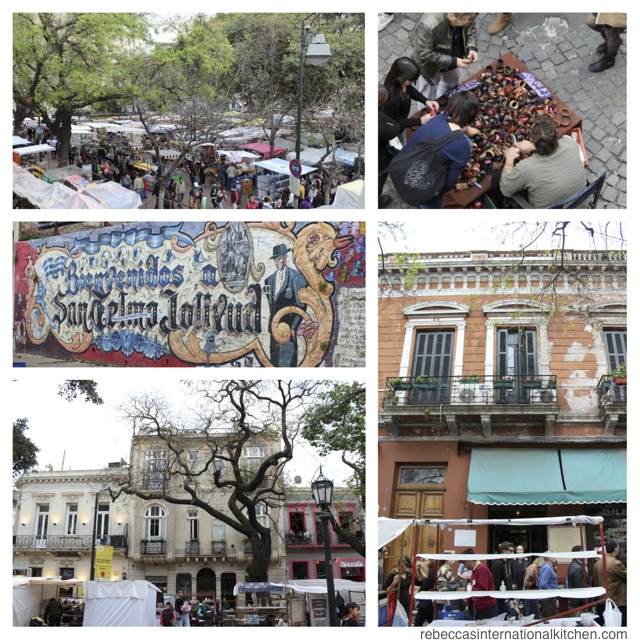 Feria de San Telmo
Plaza Dorrego
Defensa & Humberto
San Telmo, Buenos Aires
Website
Open Sundays from 10:00 a.m. to 5:00 p.m.
Mercado San Telmo (San Telmo Market)
Right around the corner from Plaza Dorrego is the Mercado San Telmo (San Telmo Market). While it doesn't look like much from the outside, the original iron and glass ceiling from 1897 is still intact and worth stepping inside to look at. While there, try some of BA's best coffee at Coffee Town, have a look around the stalls for more antiques, or (most importantly) take a bathroom break.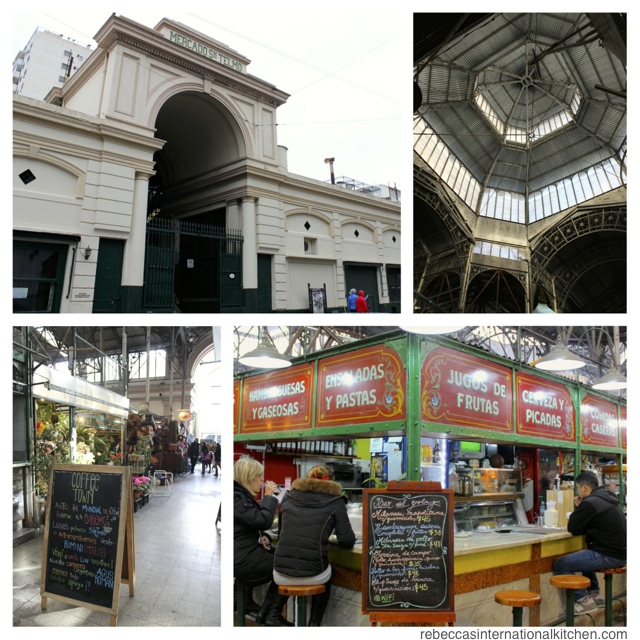 Mercado San Telmo
Multiple Entrances: Defensa 961; Estados Unidos 460; Bolivar 950; Carlos Calvo 461
San Telmo, Buenos Aires
Facebook
Open daily from 8:00 a.m. to 8:00 p.m.
Walrus Books
Looking for a cozy bookstore where you can while away an hour looking through a great collection of titles? Head to Walrus Books, a bookstore in San Telmo dedicated to selling used English books. For such a small space (or maybe, because of the small space), they offer incredible selections in poetry, history, philosophy, science-fiction & fantasy, and even literary criticisms (I found a couple Norton editions…swoon!). There's even a little children's section with genuinely great children's literature.
If you're living in Buenos Aires, Walrus Books offers a variety of 6 and 8 week literature courses, all of which sound very interesting. Check out their Facebook page for more information.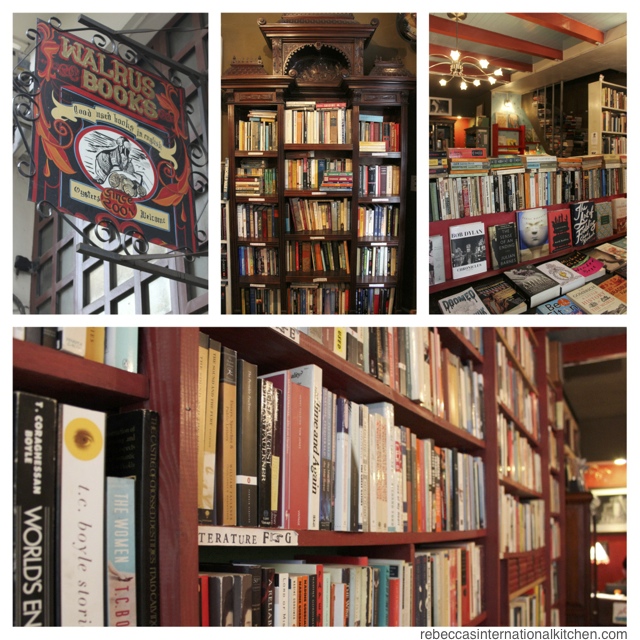 Walrus Books
Estados Unidos 617
San Telmo, Buenos Aires
Tel: (011) 4300-7135
Website
Facebook
Open Tuesdays to Sundays from noon to 8:00 p.m.
Things to Do in San Telmo: Tango
Tango Classes with Lucia & Gerry
The best way to start learning about tango is to learn how to dance tango. If you are going to be in Buenos Aires for several nights, I highly recommend taking at least two 1 1/2 hour classes with Lucia and Gerry at their studio in San Telmo. Lucia and Gerry tailor their private classes to fit their students needs, from students who have never danced before to those who have studied tango for years.
In the first private class for beginners, students learn basic techniques, walking steps, and several moves–enough for a spin on the dance floor. In the second class, students learn a few new steps, as well as how to make combinations. This is when the steps really start coming together. As an added bonus, Lucia takes pictures and videos throughout the private classes. Students leave Buenos Aires with two souvenirs: great pictures and the ability to tango!
Lucia and Gerry also offer 1 1/2 hour group classes a couple days a week, which are great for those looking for some extra practice or who are wanting to learn a couple new steps. They also take couples to dance at beginner-friendly milongas. Contact them through their website for more information.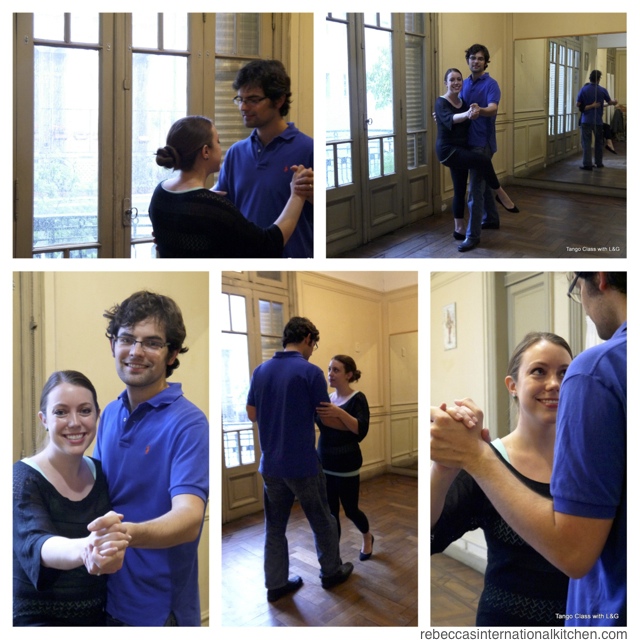 Tango Classes with Lucia & Gerry
Tacuari 1183
San Telmo, Buenos Aires
Website
Facebook
Tel: +54 11 3968-6627
La Milonga del Indio in Plaza Dorrego
While many people know about the Sunday Feria de San Telmo (San Telmo Fair), few seem to know about the milonga that takes place in Plaza Dorrego just a few hours later. This open air milonga has been bringing tango dancers together to Plaza Dorrego every Sunday night for almost 20 years. Casual, fun, and free, this is a great way to get acquainted with the world of tango.
From beginning dancers to professionals, local families and foreigners, this milonga welcomes everyone. This is a great place for tango students to practice their beginner tango moves without fear of judgement. If the dance floor gets too crowded, students sometimes choose a spot in the plaza to practice. This is also a great place for tourists to watch the advanced dancers who gather here, to take pictures, and to mingle with locals.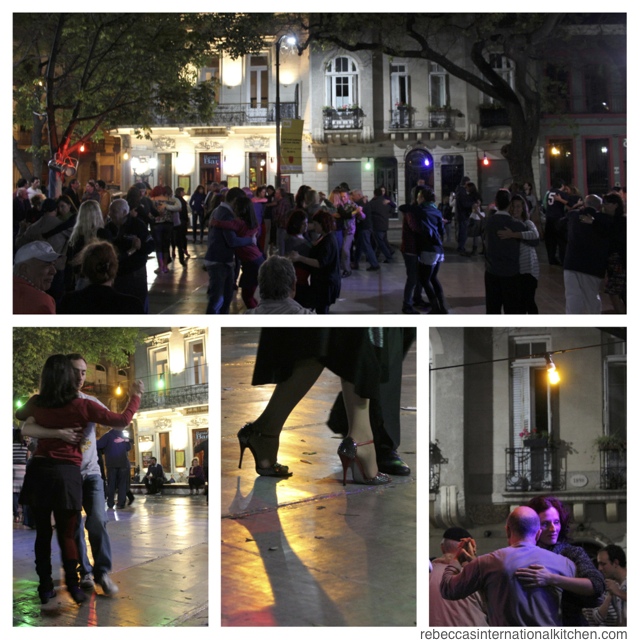 La Milonga del Indio
Plaza Dorrego
Defensa & Humberto
San Telmo, Buenos Aires
Website
Open Sundays from 8:00 to 10:00 p.m.

Bendita y Maldita Milonga
Not far from Plaza Dorrego in San Telmo is the Buenos Ayres Club, where milongas are held three times a week: Bendita Milonga on Mondays and Maldita Milonga on Sundays and Wednesdays. El Afronte, a tango orchestra comprised of a piano, a cello, a double bass, 3 violins, 4 bandoneóns, and a vocalist, performs all three nights. They are incredible to watch and listen to; even if you don't intend on dancing, the ticket price is worth it just to watch El Afronte.
Each night, there are group tango classes offered at 9:00 p.m. Then, the milonga officially begins at 10:30 p.m. with recorded music. If you're planning on dancing, this is usually a good time to get warmed up. At 11:00 p.m., El Afronte begins the concert. Many people come to dance tango, but many more simply come for the concert. (I personally prefer to dance to the recorded music, then sit and watch the orchestra.) At the end of the night, there is usually a special guest couple there to perform several numbers. It's always a treat to watch the professionals!
The Buenos Ayres Club is a small dive bar, nothing too fancy. People wear what they want; many dress up in their fancy clothes, but just as many show up in street clothes. No one's there to judge; they're there to tango. Lucia and Jerry often bring their students to this milonga with them, as it is a fun milonga for beginners.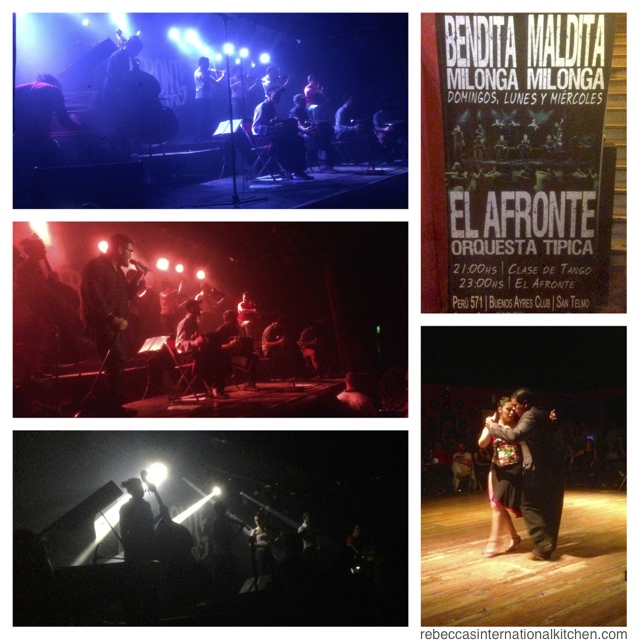 Bendita y Maldita Milonga
Buenos Ayres Club
Peru 571
San Telmo, Buenos Aires
Website for El Afronte
Facebook for El Afronte
Tel: (15) 2189-7747
Email for reservations: benditaymalditamilonga@gmail.com
(Reservations are not required but are recommended if you would like a table.)
Admission: AR$80 per person
Open Sundays, Mondays, Wednesdays, and holidays
Class: 9:00 p.m.
Milonga: 10:30 p.m.
Orchestra: 11:00 p.m.
Things to Do in San Telmo: Museums & Galleries
El Zanjón de Granados
If you want to learn more about the history of San Telmo and Buenos Aires, consider going on a guided tour of El Zanjón. On the tour, you will learn how this mansion was originally built in the 1830s, how it was turned into a tenement house for immigrants, and how it was later abandoned to rot and ruin. It took 20 years to restore it as it is today. During the restorations, tunnels for an underground river (long since dried up) where discovered and also restored. Now you can tour the building and the tunnels, learn about the restoration process, and learn about those who lived there in the past. This is a very interesting and different tour, not to be missed.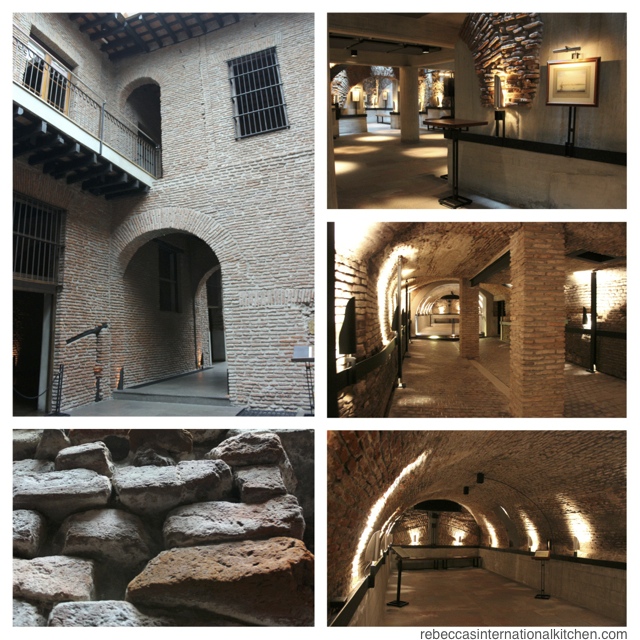 El Zanjón de Granados
Defensa 755
San Telmo, Buenos Aires
Tel: +54 11 4361-3002
Email: turismo@elzanjon.com.ar
Website

Guided Tours

Mondays to Fridays
60 minute Guided Tours
English tours at 12:00 p.m., 2:00 p.m., 3:00 p.m.
AR$150 per person (children under 10 are free)
Reservation Required

Sundays
40 minute Guided Tours
Tours start every 20 minutes from 1:00 p.m. to 6:00 p.m.
AR$115 per person (children under 10 are free)
No Reservation Required



MACBA – Museo de Arte Contemporáneo de Buenos Aires (Museum of Contemporary Art of Buenos Aires)
Relatively new to the museum scene in Buenos Aires, the MACBA opened in San Telmo in 2012 as a place to showcase contemporary art and artists. The MACBA's permanent collection primarily consists of geometric abstract art. Also housed in the MACBA are two temporary exhibit halls that usually feature geometric abstraction as well. Check out the museum's website for information about current exhibits.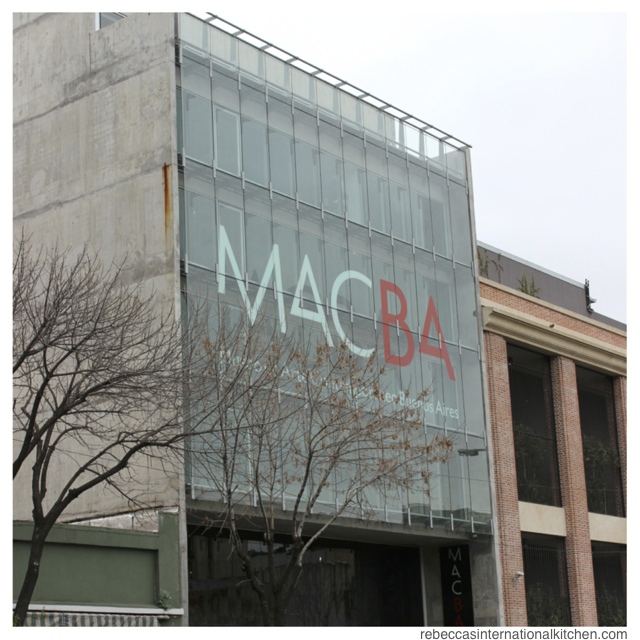 MACBA – Museo de Arte Contemporáneo de Buenos Aires
Av. San Juan 328
San Telmo, Buenos Aires
Tel: +54 11 5299-2010
Website
Open Mondays and Wednesdays to Fridays from noon to 7:00 p.m.
Open Saturdays and Sundays from 11:00 a.m. to 7:30 p.m.
Closed Tuesdays
Admission: AR$30 for Adults (AR$20 on Wednesdays); AR$20 for students, teachers, and seniors (free on Wednesdays); children 12 and under are free
Galeria UNION (UNION Gallery)
If you're interested in learning more about the street art scene in Buenos Aires, stop by Galeria UNION in San Telmo. Galeria UNION is run by graffitimundo, a non-profit company that offers incredible graffiti tours around the city. This gallery provides Buenos Aires street artists a space to showcase their incredible talent. With two large rooms dedicated to temporary exhibits featuring a local street artist's work, a room showcasing various street artists' work, and a workspace for artists in the back, this space is entirely dedicated to street art. There are many pieces for sale at reasonable prices should you decide that you want to take an original work of art home with you.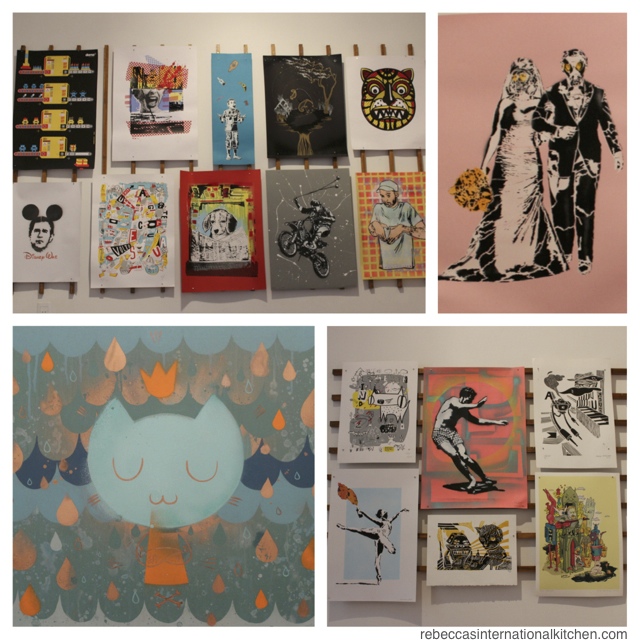 Galeria UNION 
Carlos Calvo 736
San Telmo, Buenos Aires
Tel: 011 15 3683-3219
Facebook
Open Mondays to Fridays from noon to 6:00 p.m.
Places to Eat in San Telmo
Mercadito Latino
Just across the street from Mercado San Telmo is Mercadito Latino, the perfect spot to take a break from antique shopping. Order a cold beer, yuca fries, and an order of burritos, quesadillas, arepas, or huevos rancheros and you're set. All meals come with corn chips, a tasty bean dip, and a selection of hot sauces (all things I love and miss dearly). It's a small place, so if it's a Sunday, plan on eating a little early to miss the crowds.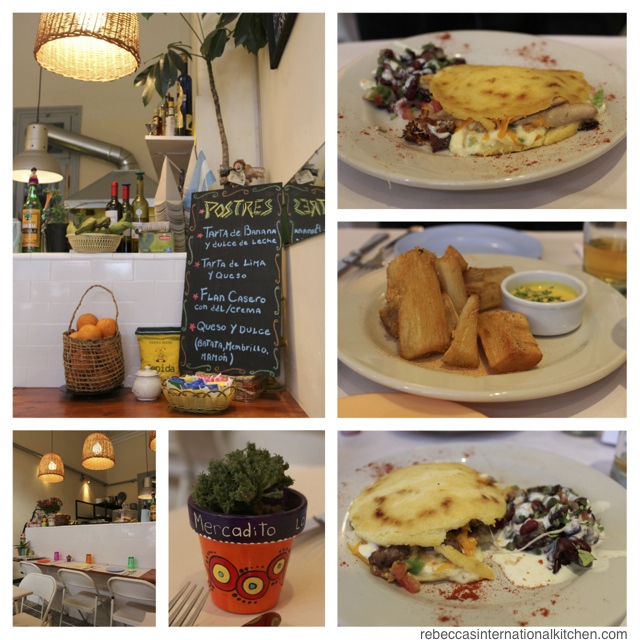 Mercadito Latino 
Carlos Calvo 488
San Telmo, Buenos Aires
Tel: 1550467775
Facebook
Open Mondays to Wednesdays from 10:00 a.m. to 5:00 p.m.
Open Thursdays to Saturdays from 10:00 a.m. to midnight
Open Sundays from 10:00 a.m. to 6:00 p.m.
Bar el Federal
Bar el Federal is one of those old establishments that everyone has to visit at least once while in Buenos Aires. Established in 1864 as a pulpería (local store), the store eventually became a brothel-bar before being turned into the café found there today. The antiques, hardwood floors, and old-fashioned counter make you feel as though not much has changed in its 150 years.
Please note that while not all the food is spectacular, Bar el Federal does have its specialties that are very good. For example, this is where you should go to have a beer or glass of wine and try a picada of cold cuts, cheeses, and olives, a typical Argentine pre-dinner usually had around 5:00 p.m. If you're really hungry, their tortilla Española (Spanish omelette) is also really good. For dessert, try the flan casero con dulce de leche.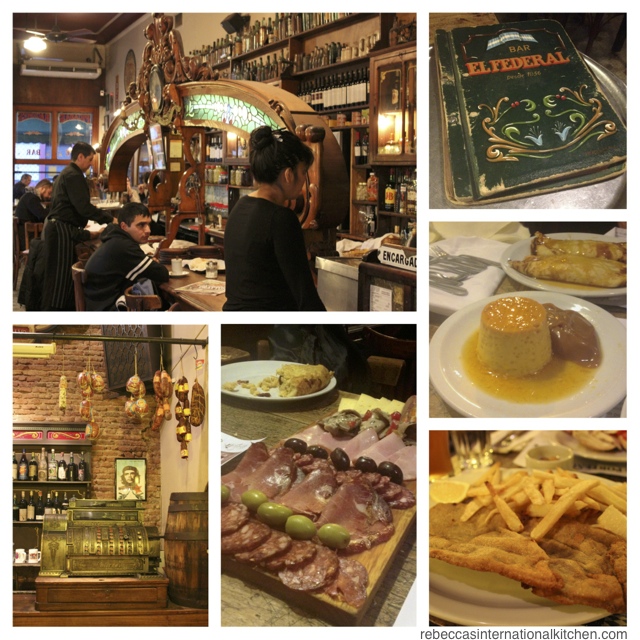 Bar el Federal
Carlos Calvo 599
San Telmo, Buenos Aires
Tel: +54 11 4300-4313
Website
Open daily from 8:00 a.m. until close
Coffee Town
Every time I'm in San Telmo, I have to stop by Coffee Town. Coffee Town is located inside the Mercado San Telmo, making it an awesome place to sit and people watch. Plus, they serve up some of the best coffee in Buenos Aires (I love their tasty cappuccinos). If you're a coffee aficionado, you'll love the cool, alternative methods Coffee Town offers for brewing coffee, including using an Aeropress or Chemex. They also have a wide selection of top-quality beans from around the world to choose from. If coffee's not your drink of choice, Coffee Town also has delicious loose leaf teas, juices, and licuados.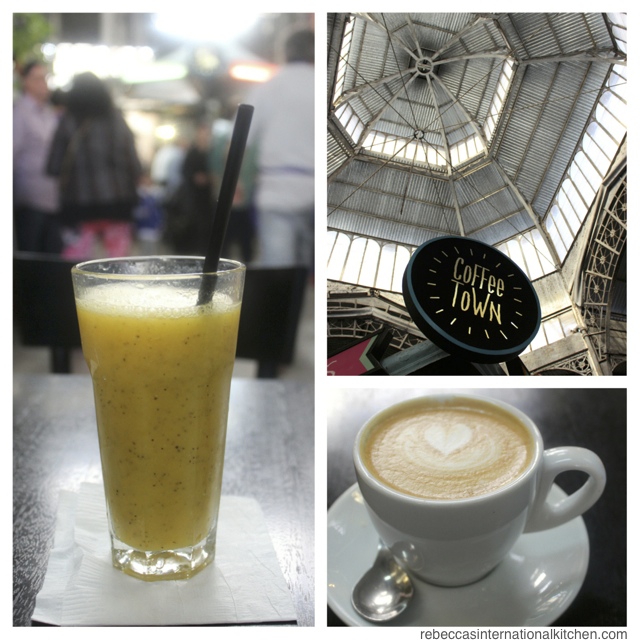 Coffee Town
Bolivar, 976
San Telmo, Buenos Aires
Tel: +54 11 4300-7333
Website
Open Daily from 10:00 am to 8:00 pm
Lumio Café
This darlin' little café is the perfect place to stop for an Argentine merienda (afternoon snack). Try Lumio Café's pastafrola, little homemade pies filled with dulce de membrillo (quince jelly), a quintessential Argentine dessert that you can't leave Buenos Aires without trying. You can also sample one of the many tempting breads, muffins, or pastries piled on the dessert table. Pair one of these with a café con leche or tea for a winning combination.
Lumio Café
Carlos Calvo 498
San Telmo, Buenos Aires
Tel: +54 11 4300-9944
Open Tuesdays to Sundays from 9:00 am to 8:00 pm
Closed Mondays
Did I leave any of your favorite restaurants or things to do in San Telmo off my list? Please tell me! I'm always eager to visit new sights and restaurants.
Planning a trip? Check out all my articles about Buenos Aires here!