Villa Crespo is not what you would call a "touristy" barrio (neighborhood) in Buenos Aires. However, some of my absolute favorite restaurants in Buenos Aires are found in Villa Crespo, making it worth visiting (again and again).
While I was originally going to wait to publish this article until it was as lengthy as the one I wrote about Palermo, I decided that these restaurants are so special to me that I absolutely must share it now (and continue to add more later). Here are my favorite restaurants in Villa Crespo (so far).
Where to Eat in Villa Crespo
Malvón
Malvón is one of my favorite brunch spots in Buenos Aires; it is where you can find me most Sunday mornings. The brunch menu is awesome. All brunch plates come with a drink, a bread basket, flavored butter, a cornbread muffin, and a cup of fruit and cereal. Then for the actual dish! Choose from eggy options such as the Eggs Benedict (with bacon or salmon) or the Fritatta (comes in a small skillet!). Or, if you're hungry for something more lunch-y, the brunch menu also includes dishes such as BBQ ribs, Chicken Salad, and Mac & Cheese.
Besides Brunch, Malvón is also a great place to go for breakfast, for lunch, for a snack, or just for drinks. The Desayunos (Breakfast) y Merienda Menu is available throughout the week with a selection of pancakes, eggs, muffins, and yogurt. The daily menu features sandwiches (love the N.Y. Bagel with salmon), tapas (from 4:00 to 8:30 p.m.), and desserts (such as almond croissants, carrot cake, and cookies). There's also a variety of beverages, including milkshakes, smoothies, coffee drinks, tealosophy teas, beer, wine, cocktails, and lemonade. One of my favorite drinks is the Lemon Rose with soda, lemon, and grenadine.
Whatever time of day you find yourself at Malvón, you can be sure that there will be tasty food and drinks awaiting you.

Malvón
Serrano 789, Villa Crespo
www.malvonba.com.ar/
Tel. 4774-2563
Open Daily from 9:00 a.m. to 8:30 p.m.
Brunch Menu available Saturdays, Sundays, and holidays from 10:00 a.m. to 4:30 p.m.
Desayunos y Merienda Menu available daily from 9:00 a.m. to noon and 4:00 to 8:30 p.m.
Tapas Menu available daily from 4:00 to 8:30 p.m.
Café Crespín
Love brunch so much you need multiple restaurants to fulfill your wants and needs? I understand. That's why I can also be found frequenting Café Crespín. I'm partial to the Cláscio on the Brunch Menu. This combo comes with coffee or tea, a mimosa or lemonade, a pastry (the muffins and cinnamon rolls are incredible), French Toast with berries and cream, and a plate of scrambled eggs, smoked salmon or bacon, and french fries. Sound like a lot of food? It is. I usually share this order with my husband and it's enough for us both. They also have a combo with Eggs Benedict, hash browns, and pancakes.
The all-day, all-week breakfast menu also features pancakes (with bananas or raspberries), yogurt with fresh fruit, French toast, and scrambled eggs. For lunch, Café Crespín offers a variety of sandwiches, salads, and even quesadillas.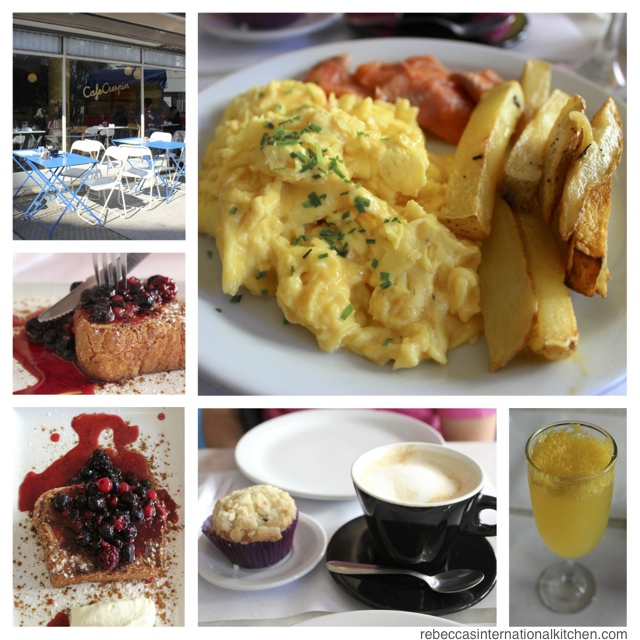 Café Crespín
Vera 699, Villa Crespo
(2nd location at Hipólito Yrigoyen 477, Vicente López)
www.cafecrespin.com.ar/
Tel. 4855-3771
Open Tuesdays to Fridays from 8:00 a.m. to 8:00 p.m., Saturdays 9:00 a.m. to 8:00 p.m., and Sundays from noon – 7:00 p.m.
Brunch Menu available Saturdays and Sundays
i Latina
There are many great restaurants in Buenos Aires; however, i Latina is one of the few that has managed to truly stand out, not only by serving wonderful food, but by creating a magnificent dining experience. This closed door, fixed-menu restaurant has a really cool vibe, not the least bit stuffy as other restaurants of the same ilk tend to be. The staff are warm and friendly, and are happy to discuss the dishes and wines in detail (and in English, an added bonus).
The food at i Latina is a celebration of the diverse flavors and ingredients of South America. With an appetizer of corn arepas, a bread basket (the best I've ever had!), seven courses, and a final course of coffee, you will not leave i Latina hungry.
Currently, the menu features standout dishes such as caramelized prawns with spicy pineapple and fennel; Barú style ceviche with seasonal fish, mango, coconut, and lychee; Peruvian seafood casserole with grilled octopus, and braised pork in Colombian coffee and sugarcane reduction. The dessert courses includes an Ecuadorian cacao truffle with sea salt and olive oil; avocado and aguardiente ice cream; and typical Colombian coffee infused with cinnamon and cardamome with petit fours.
I also highly recommend the optional paired wine tasting menu. The six wines selected were superb, some of the best wines I've tasted while in Argentina. The wine tasting menu included a Chardonnay, Torrontes, Sauvignon Blanc, Pinot Noir, Malbec, and Torrontes dessert wine; what a fun way to try a great variety of Argentine (and Chilean) wines.
The menu changes seasonally, so I can't wait to return to i Latina for another unforgettable dinner.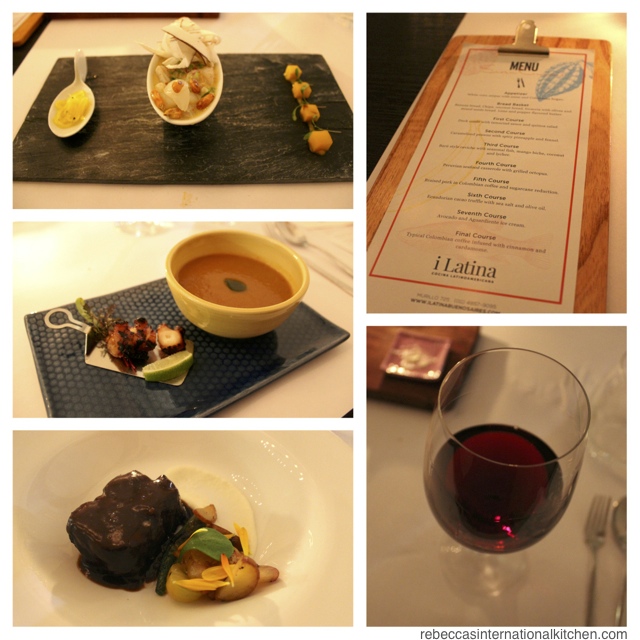 i Latina
Villa Crespo (exact address given upon reservation)
ilatinabuenosaires.com/
Tel. 011 4857-9095
Open Tuesdays to Saturdays 8:00 p.m. to 11:00 p.m.
Closed Sundays and Mondays
Reservations Only
Ocho7Ocho
Ocho7Ocho is a low-key, upscale bar, almost hidden in Villa Crespo. This house-turned-bar still looks like a normal residence from the outside, though the bouncer kind of gives it away. Reservations are taken for dinner, but you can usually find a place at the bar if you just want a few drinks.
Peruse the extensive food, wine, and cocktail menu by candlelight. Whether you're wanting a bitter Negroni, a refreshing Aperol Spritz, or a classic Gin & Tonic, Ocho7Ocho has all the basic cocktails covered. They also serve a range of carefully selected wines. Can't decide between having a cocktail or a glass of wine? Try one of their delicious wine cocktails.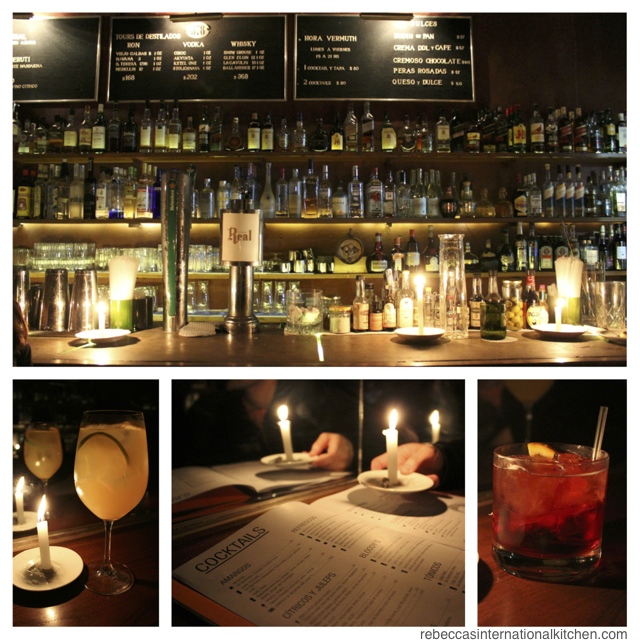 Ocho7Ocho
Thames 878
http://www.878bar.com.ar/
Tel: 4773 1098
Open Mondays to Fridays from 7:00 p.m.
Open Saturdays and Sundays from 8:00 p.m.
Time Vermouth (Happy Hour) Mondays to Fridays 7:00 p.m. to 9:00 p.m.
Did I leave any of your favorite restaurants, cafés, or bars in Villa Crespo off my list? Please tell me! I'm always eager to visit new restaurants.
Planning a trip? Check out all my articles about Buenos Aires here!