My first New York State excursion was inspired by a bottle of Riesling, a wine that introduced me to the Finger Lakes wine region. This region is characterized by eleven beautiful lakes dotted with charming towns and countless wineries–the perfect escape for a long, relaxing weekend away from the city. I chose to stay in Geneva on Seneca Lake, the deepest and largest of the Finger Lakes.
Most of the wineries surrounding Seneca Lake specialize in white wines, primarily Riesling; however, there are also nice Gewürztraminer, Chardonnay, and Pinot Gris. Many wineries also produce a few red wines, Cabernet Frac and Pinot Noir most common among them.
In addition to wineries, the Finger Lakes region is also home to a growing number of breweries. Over the past 5-8 years, the number of breweries in the area has skyrocketed. There are now over a dozen breweries and brew pubs surrounding Seneca Lake alone.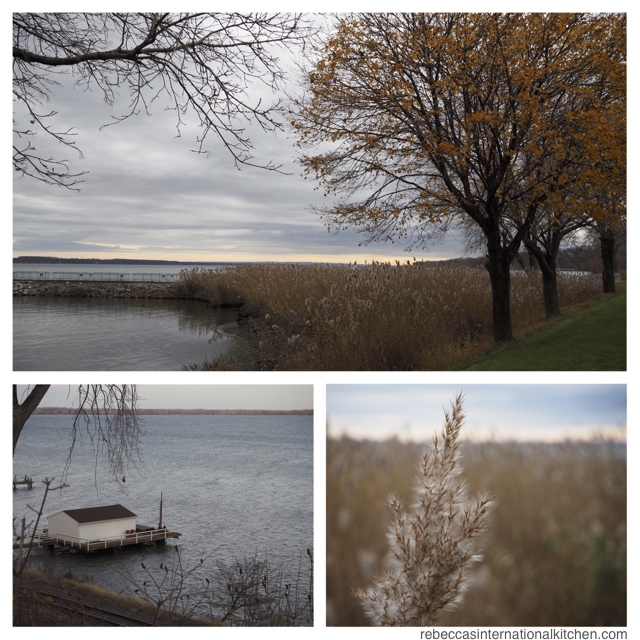 With so many wineries and breweries to choose from, where is one to start? I wanted to visit establishments based on the quality of the wine and beer produced. I first consulted several sources for wine ratings for the region. I then sought out recommendations from those in the food and wine industry during my time in Geneva.
Here are my recommendations for my favorite places for delicious wine, beer, and food around Seneca Lake. For a truly relaxing trip, I recommend choosing two or three wineries and/or breweries per day, plus stops for meals. The drive around Seneca Lake is a spectacle itself, so be sure to allow plenty of time for pulling over to the side of the road to admire the beautiful views.
Seneca Lake Wineries
Unlike more commercially developed wine regions such as Napa Valley, there are very few formal tours given of the facilities. Instead, most wineries simply offer tastings with a professional winemaker who is able to answer any and all questions (and give great recommendations). These tastings range anywhere from $0.50 per tasting to $10 for a flight. Reservations are usually not necessary unless you're traveling by bus or limo, which makes for a flexible day (though it's always good to call ahead to make sure the tasting room is open). I imagine that the Finger Lakes wine region is similar to how Napa Valley was 30 years ago, so there's no better time to visit than right now. There's great wine to be had.
Herman J Wiemer Vineyard
While consulting WineSpectator and Wine Enthusiast for the highest rated wines in the Finger Lakes region, the name that cropped up most often was the Herman J Wiemer Vineyard. This vineyard consistently produces wines with the highest ratings in the region, some even being awarded 94 points by Wine Enthusiast. From the numbers alone it became clear that the best place to begin my quest for the highest quality wine around Seneca Lake would be at the Wiemer Vineyard.
I was not disappointed. I arrived at the beautiful Wiemer Estate and was welcomed by a warm and accommodating staff. I was led to an eighty year old barn that serves as both the tasting room and production facility, enormous wine tanks standing as a grand centerpiece in the middle of the open barn.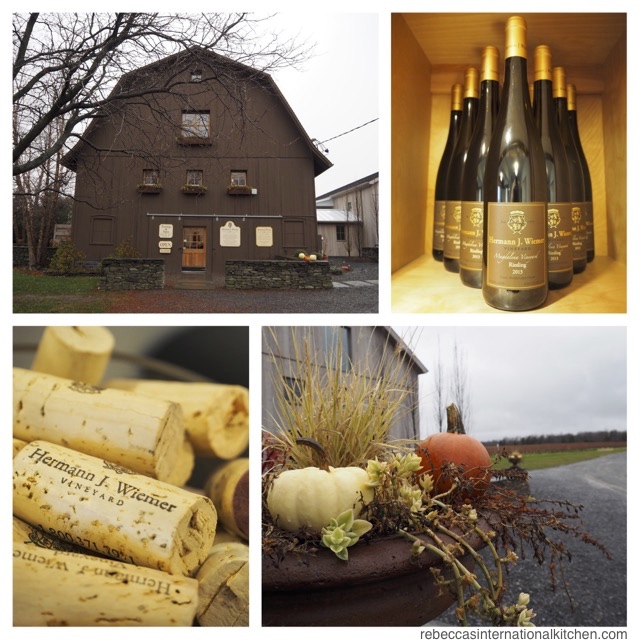 Wiemer offers many different tastings, including a $5 tasting in which you may choose any five wines from the their Cuveé Series, Single Varietal Wines, and Rieslings. They also offer an $8 Dry Riesling Flight and a $10 Seasonal Flight that each include four wines selected by the winemakers. $5 tastings of their dessert and sparkling wines are also available.
I found that none of their wines possessed the saccharine sweetness that too many Rieslings do; instead, their wines were vibrant, aromatic, and complex. Among my favorites were their Riesling Magdalena Vineyard 2013 ($36.00/btl), their Reserve Dry Riesling 2013 ($29.00/btl), and their Gewürztraminer 2013 ($25.00/btl), all of which I brought home to share with friends.
For award winning, reasonably priced, and truly delicious wines, don't miss stopping by the Herman J Wiemer Vineyard. You will not leave disappointed (or empty handed).
Herman J Wiemer Vineyard
3962 Route 14, P.O. Box 38
Dundee, NY 14837
(607) 243-7971
Website
Silver Thread Vineyard
Silver Thread Vineyard is a boutique winery that only produces about 3,000 cases per year. I initially included it on my list for their Semi-Dry Riesling 2014 that was awarded 91 points by Wine Enthusiast; when a vintnur from the Herman J Wiemer Vineyard recommended it as well, it became my next stop and another favorite.
Standard Tastings at Silver Thread are $5 and include a choice of 5 wines. They also offer $6 wines by the glass. They will occasionally offer a wine flight with a cheese or chocolate pairing for $8. The chocolate, made by Hedonist Artisan Chocolates in Rochester, is also sold in the gift shop and is divine.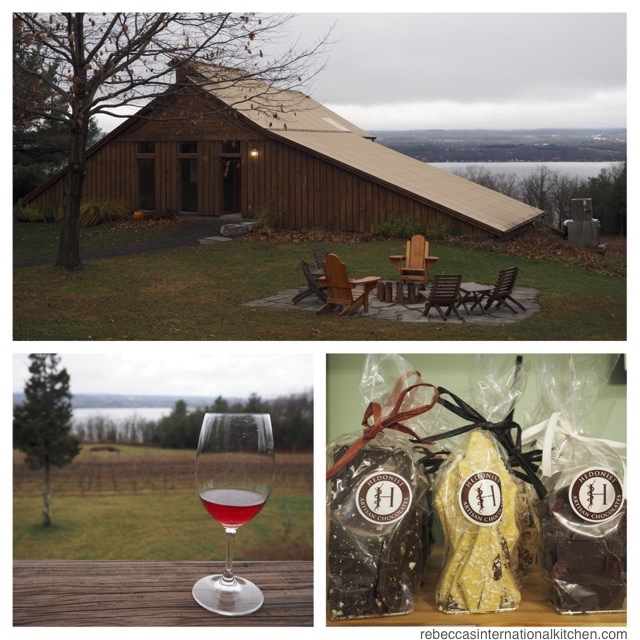 Not only did I love the Semi-Dry Riesling 2014 ($18/btl), I enjoyed the other wines I tasted as well, including the Dry Riesling 2014 ($18/btl) and Pinot Noir 2013 ($22/btl). The Blackbird 2013($22/btl), a blend of Cabernet Franc, Merlot, and Cabernet Sauvignon pairs wonderfully with the Hendonist Cranberry Espresso Bark. I couldn't resist buying a bag of chocolate as well as a few bottles of wine.
The view of the lake from the tasting room plus the high quality boutique wines offered make this a great place to stop.
Silver Thread Vineyard
1401 Caywood Rd.
Lodi, NY 14860
(607) 582-6116
Website
Additional Seneca Lake Wineries



Seneca Lake Breweries & Brew Pubs
Grist Iron Brewing Company
The Grist Iron Brewing Company is one of the many new additions to the growing number of breweries on Seneca Lake. Although it just opened Spring 2015, Grist Iron is already making a name for itself.
For $10, you can try a flight of four 5 oz. beers at the bar. While there is no formal facility tour, the bar is located in the production room, allowing visitors to watch the brew crew in action. Grist Iron offers a wide range of craft beers, from the usual Pilsner and IPA to more uncommon brews such as their Santelli Stout (a coffee stout) and their Fippeny Apple Graff (an apple beer, not cider). I especially enjoyed both their Porters: the Bruiser-Black and Blueberry Robust Porter and the Grizzled Skipper Smoked Vanilla Porter. So far, they are producing interesting and very drinkable beers.
Since Grist Iron also boasts a full menu of pizzas and sandwiches to accompany their beers, this makes for a perfect lunchtime stop.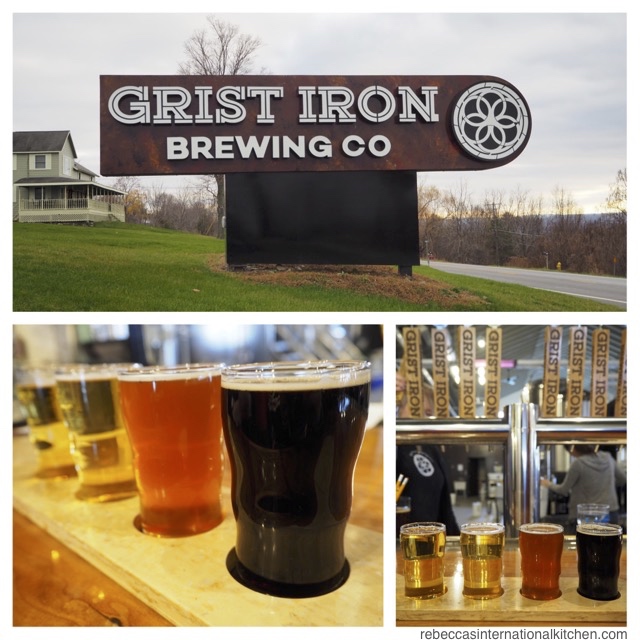 Grist Iron Brewing Company
4880 NY-414
Burdett, NY 14818
(607) 882-2739
Website
Two Goats Brewing
If you're looking to try interesting beers served at a local brewpub rather than at a commercial brewery, Two Goats Brewing is the place for you.
Brewed in the basement of the facility, this brewpub serves up its own craft brews as well as other locally crafted wine and beer. If the weather permits, enjoy the outdoor seating overlooking the lake. Indulge in a bowl or two of complimentary popcorn while sipping a Goatmaster Ultra Pale Ale or Dirty Shepard Brown. My favorites are the mixed beers offered: Goatgasm (Goatmaster Ultra Pale Ale + Wyck'd Nuggets IPA) and Dirty Butt (Cream Ale + Dirty Shepard Brown). Besides being fun to order, they're incredibly flavorful.
For a fun time and great beer in a laid back atmosphere, be sure to spend some time at Two Goats. You'll no doubt find yourself wishing you had a brewpub even half as cool back home.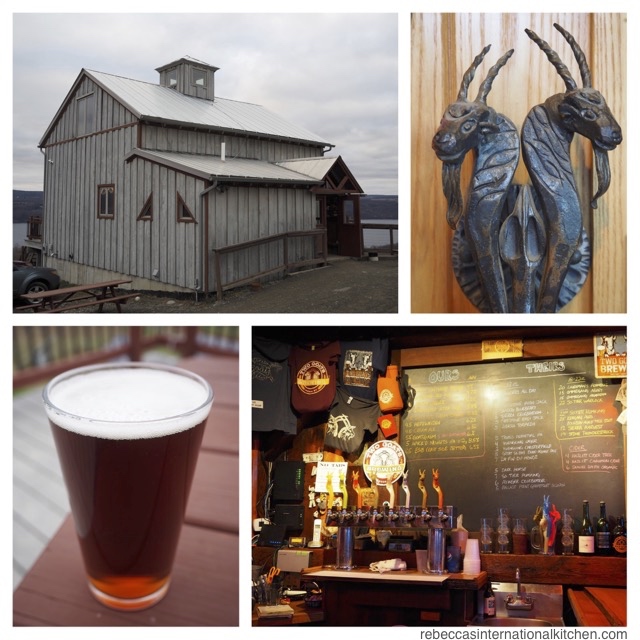 Two Goats Brewing
5027 NY-414
Burdett, NY 14818
(607) 546-2337
Website
Lake Drum Brewing
Another great brewpub where you can go and feel like a local is Lake Drum Brewing. Located in Geneva, this is the perfect last stop for those staying near the north side of Seneca Lake.
Victor, the owner and brewmaster, can usually be found behind the bar. He's only to happy to discuss the latest sours and ciders he has brewed, as well as the craft beers made by other local breweries that he offers on tap. Having never before had a sour, I was intrigued by this new style of beer. Per Victor's recommendation, I started with The Hopped Gose, which is the least tart among the three. I then tried the Hibiscus before tasting the super tart Sour Cranbear.
I really enjoyed trying some new beer styles at Lake Drum Brewing, and I highly recommend anyone who likes drinking kombucha to stop by and give them a try.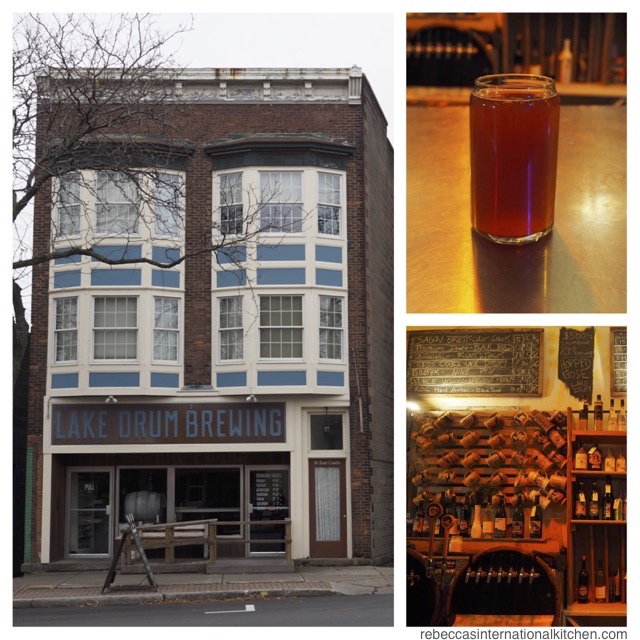 Lake Drum Brewing
16 E Castle St
Geneva, NY 14456
(315) 789-1200
Website