The first time I had bubble tea was when I was a freshman in college. A group of upperclassmen took us "frogs" on an outing as part of freshman orientation to a bubble tea place near campus. I remember immediately loving the chewy, brown tapioca pearls, also called boba or "bubbles". They reminded me of eating gummy bears, a longtime favorite of mine. As a first-timer, I slurped up all the liquid quicker than I ate the bubbles, leaving quite a few at the bottom of my empty cup. With my fat straw acting as a projectile launcher, I couldn't resist blowing a few extra bubbles at my new friends. I discovered that there's no drink as delicious — or as fun — as bubble tea, and I was hooked.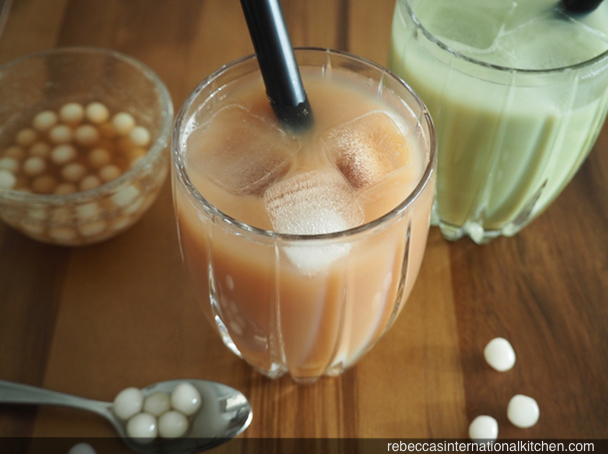 Since moving to New York City, where bubble tea shops are almost as numerous as coffee shops, I've become slightly addicted to the bubbles. Yes, the liquid is delicious, but it's the bubbles that I crave. My favorite combination is currently iced coffee with a tiny bit of milk and honey — and extra bubbles. The original milk tea or matcha latte with extra bubbles are my other go-tos.
Every day after lunch, I invariable buy one of these three bubble drinks and nurse it until all the sweet liquid and chewy bubbles have disappeared (at the same time, if I've done it right).
As with anything that I eat or drink daily, I started wondering what the health effects of consuming bubble tea every day were. What exactly are the bubbles made of? Are they okay to eat every day? I started doing some research, and though I didn't find anything definitive, I was left with the impression that it really depends on which brand of pre-made tapioca pearls each shop uses. Some brands have more artificial flavoring, preservatives, and yucky stuff than others. And while some shops claim to use Grade A tapioca pearls, I don't know of any bubble tea shops in New York that actually make their own. I realized, as with most things, making them at home is almost certainly the healthiest way to go.
I also wanted to cut back on my spending. After all, $4 a weekday quickly adds up to $20 a week, $80 a month, and almost $1000 a year. Yikes.
With these two points in mind, I started doing some research about how to make my own homemade bubbles. I quickly found that most "How to Make Bubble Tea" types of articles start with store bought tapioca pearls that still contain questionable ingredients.
I finally found a forum that served as my starting point. Someone recommended something like this: Mix tapioca flour with boiling water. Roll into balls. Boil until done.
Sounds easy, right? Ha. The first two times I experimented with making bubbles, I ended up with a messy, sticky, gooey paste. You know the feeling when you've stepped on gum on a hot summer day? Now imagine that feeling, but the gum is all over your hands, and you can't get it off.
My third attempt was finally a success, one that I have recreated and built on many times since to perfect this step-by-step recipe.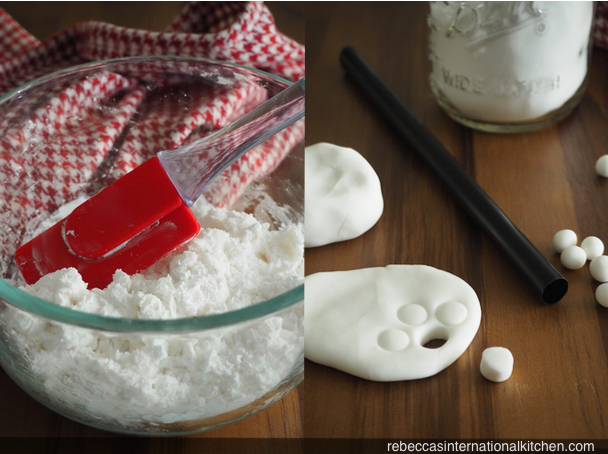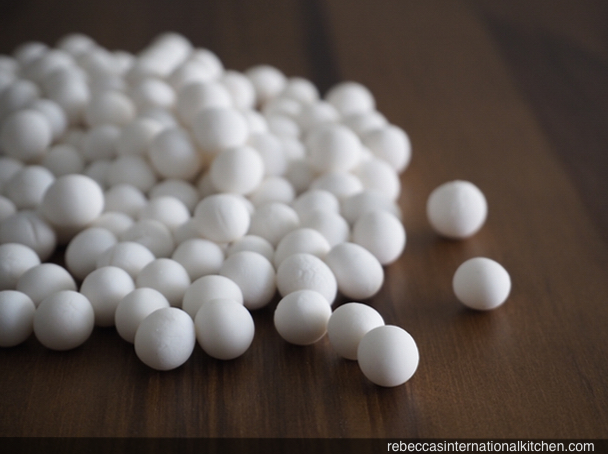 These bubbles are easy to make, only require one ingredient plus water, and are perfect when paired with your favorite drink. The only drawback, however, is that they are a bit time consuming to make. From start to finish, this recipe takes about an hour. If you really love bubble tea, you should try making homemade bubbles as a fun weekend project. There's nothing like making something that you would normally just buy with your own two hands. You'll feel super accomplished!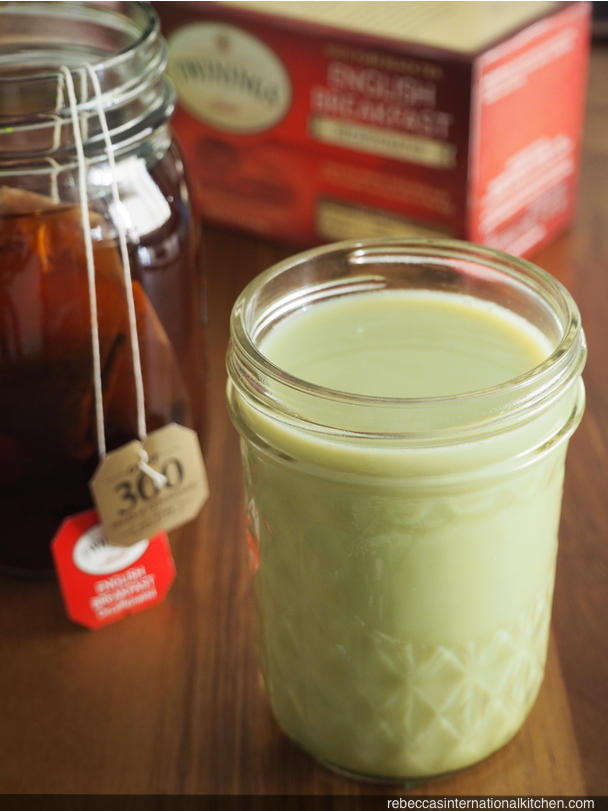 The liquid is really up to you and is definitely the easier part. Brew your favorite coffee or tea and chill beforehand. You can even make a smoothie or serve with juice. I have a matcha tea powder that I mix with water that I'm in love with right now, but sometimes I just use Twinings English Breakfast black tea.
There's no right or wrong when it comes to the liquid, so the recipe below focuses on the tapioca pearls. This recipe makes enough for 2-3 people, about 80 balls, depending on how small or large you make them.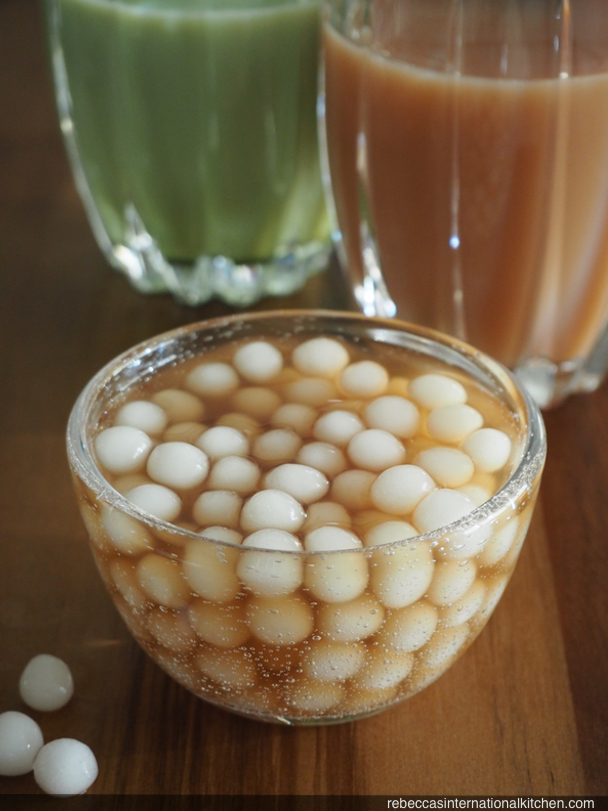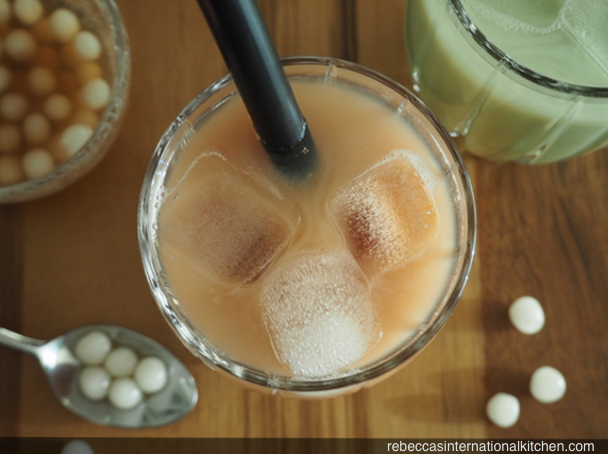 Bubble Tea with Homemade Tapioca Pearls (Bubbles)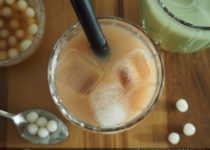 Ingredients:
Instructions:
1. Fill a pot with about 6 cups of water. Bring to a boil.
For the Drink
2. Prepare 2-3 servings of tea or coffee of your choice and place in the refrigerator to cool. If making juice or a smoothie, this step can be done toward the end while the bubbles are cooking.
For black tea, I steep 2 tea bags of Twinings English Breakfast in 2 cups of nearly boiling water for 10 minutes. I then discard the tea bags and place the tea in the fridge.
For the Syrup
This syrup is what the bubbles will be stored in and can also be used to sweeten your tea or coffee. I use the same jar of syrup for a week before making a new batch. You can easily double this recipe if you're planning to make bubbles more than once.
3. Put 1/4 cup of brown sugar and 1 Tbsp. of honey in a bowl or jar. You can add more or less honey depending on how sweet you want your bubbles.
4. Pour 1/4 cup of boiling water over the sugar and honey. Stir until all is dissolved. Place the syrup in the refrigerator for future use.
For the Tapioca Pearls (Bubbles)
5. Place 6 Tbsp. tapioca flour in a bowl.
6. Gradually stir in 2 Tbsp. boiling water, adding only 1/2 Tbsp. at a time. The water must be boiling, so carefully scoop the boiling water from the pot and add it immediately to the flour. Then stir as much as possible before adding another 1/2 Tbsp. The mixture will look very dry, but continue mixing with a spoon until all 2 Tbsp. of water are incorporated.
7. The mixture will still look dry. With your hands, begin kneading the mixture together. The more you work it, the more it will start to come together. It is tempting to want to add more water, but that is how you end up with a gooey mess! Just keep squishing the mixture with your hands until it forms a clay-like dough.
8. Roll the dough out flat until it is about 3-4 mm thick.
9. Using the flat end of a fat bubble tea straw like a cookie cutter, punch out circular discs from the dough.
10. Roll each disc into a ball. The balls will stay about the same size once cooked, so use the straw to check that your bubbles are the right size (they should be slightly smaller than the opening of the straw).
11. Keep on rolling. This step takes about 30 minutes unless you have some helping hands. Lay the balls on a flat surface to keep them from sticking together. Continue to rework the dough until you've used it all.
12. Add all the dough balls into the pot of boiling water and boil for 15 minutes. The bubbles will almost immediately float to the top, but that doesn't mean they're done. When you test one, it should feel overdone and super soft in your mouth; the bubbles will harden a little once chilled.
13. Once ready, scoop the bubbles out of the water and put them into the chilled syrup. Leave the bubbles and syrup at room temperature for at least 15 minutes. The longer the bubbles sit in the syrup, the sweeter they'll be. However, they should be consumed within 4 hours or they will harden.
Put it All Together
14. Fill a glass with the liquid of your choice. Add some milk, syrup (or other sweetener), and a few ice cubes. Finally, add as many bubbles as you wish to your drink. Stir, serve with a fat straw, and enjoy.
Here's how I like it:
1 cup of tea or coffee
1/8 cup milk
1/4 cup syrup
24 bubbles
Storage
While the bubbles are best when used within 4 hours, they may be stored in the syrup overnight and used the next day. Simply scoop them out of the syrup and place them in a pot of boiling water for 5-7 minutes. Once soft again, put them back in the syrup and use as directed above.