I've always been a planner, especially when it comes to preparing for vacation. I enjoy spending hours researching a new city, compiling lists of restaurants, and creating an itinerary for every moment of a trip. However, with the exception of booking hotels and transport, I didn't have time to plan anything for our three weeks in Barcelona. It's been a long time since I just arrived in a new country completely without a plan. Or a working cell phone. Or any knowledge whatsoever. I even pleaded with my Twitter followers for tips and tricks about Barcelona, to which my friend Ronda reminded me to just have fun. Arie and I would just have to wing it.
Luckily, when we arrived in Barcelona, our awesome AirB&B host spent almost an hour going over a map of the city with us. He gave us great recommendations for sightseeing and restaurants, though in my jet lagged state, I thought I would be fine just taking "mental notes". Ha! I did jot a few things down, and he followed up with a written list later in the day. He must have known I was half asleep.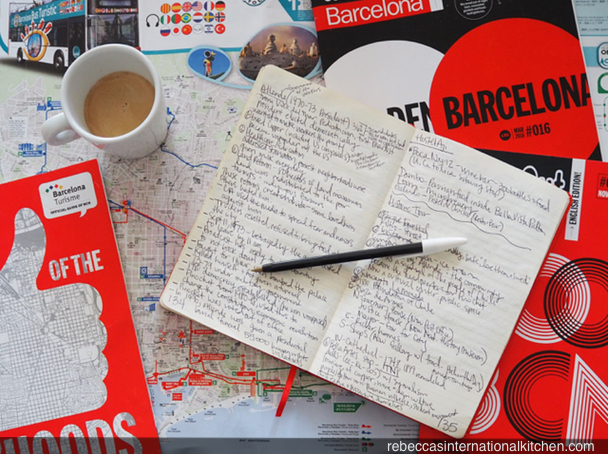 I usually travel to Central and South America where the time difference from New York is only an hour or two. I must admit that I'd forgotten how difficult sleep deprivation and jet lag are to deal with, especially when you're in a new city and have no idea what you're doing. In my jet lagged state, I somehow spent 20 euros on prosciutto, a fact I only realized when I woke up in the middle of my nap with the thought, "Wait! Did I spend 20 euros on prosciutto?" Then I managed to leave my sunglasses in a taxi, which I've still not been able to recover. And that was only day 1! But besides overspending on cured meats and losing valuables, I'm still glad to be here.
Barcelona is a beautiful city, with beautiful tree-lined streets, amazing weather, and incredible architecture. It's the city of Gaudí, an artist and architect I've become obsessed with. I think it's pretty hard not to be, especially after seeing glimpses of his work: the facade of Sagrada Familia, the free part of Park Güell, and Casa Batlló. His influence on the city cannot be missed. I'm glad I have three weeks here to visit all his works, including the inside and towers of Sagrada Familia and more of Park Güell.
While I now have some recommendations to get me started, I'm enjoying not having a set itinerary during my time in Barcelona. I'm actually going to take Ronda's advice and just have a fun time exploring.
Tips for Successfully Winging it:

1. Holidays: When you book your transportation, make sure you're not arriving to a new destination on a holiday. It's no fun to get where you're going and everything's closed due to "The First of May". You may find yourself eating at the Barcelona equivalent of Applebee's.

2. Directions: If you know nothing else, make sure you know how to get from the airport or bus station to your hotel.

3. Tickets: If you're only staying somewhere for a few days and you want to see the major tourist attractions, book your tickets as soon as possible. For example, in order to go up the towers at Sagrada Familia, you'll probably need to buy tickets online at least two or three days in advance.

4. Food: Have at least a couple restaurant recommendations in your back pocket for restaurant-finding emergencies. Or at least know which parts of the city are known for having good restaurants (ie. Barri Gotic).

5. Sleep: Get some rest and don't feel bad about missing out. If you spend the first few days getting to know the city but also taking a nap or two, chances are you'll have a much better time overall. You can squeeze in tourist attractions later on in the week when you'll enjoy them more.

6. Recommendations: Staying in an AirB&B or hostel is a great way to meet locals and other tourists. Talk to them and don't be afraid to ask for help. You may find your new favorite restaurant or get an insider's tip on what to do that you never would have discovered on your own.

7. Explore: Yes, it's nice to have a plan, but it's also great to have time to walk around without an agenda. Don't forget to have fun.