If you visit Buenos Aires for any length of time, it won't take long for you to see just how closely Buenos Aires and tango are intertwined. Signs of tango–the music and the dance–are found everywhere in the city. As a tourist, you'll most likely see the live tango orchestras on the streets every Sunday in San Telmo, the tango dancers performing at restaurants in La Boca, and the hawkers advertising for professional tango shows happening throughout the city. However, dig a little deeper and you'll discover that tango is more than just a tourist attraction. For those who love tango, it's a lifestyle.
Whether you have a week or a year in Buenos Aires, there are many ways to discover tango. Here is a list of recommended tango lessons, milongas, shows, and museums to help you make the most of your time.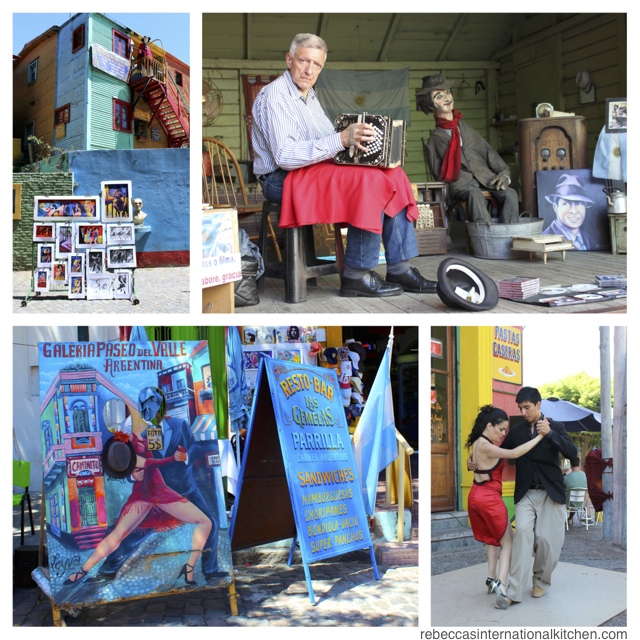 The Best Tango Lessons, Milongas, and (Affordable) Shows
Tango Classes with Lucia & Gerry
The best way to start learning about tango is to learn how to dance tango. If you are going to be in Buenos Aires for several nights, I highly recommend taking at least two 1 1/2 hour classes with Lucia and Gerry. This teaching duo is amazing to work with. Lucia is a native Spanish speaker from Argentina, Gerry is a native English speaker from Ireland, and both are bilingual.
Having a pair of tango teachers makes learning tango easy. Lucia and Gerry demonstrate the steps together, then work with each dance student separately before having the students practice together. This is especially effective if both dance students are new to tango. Lucia and Gerry are both incredibly patient their students, always giving helpful tips, instructive feedback, and demonstrations.
Lucia and Gerry tailor their private classes to fit their students needs, from students who have never danced before to those who have studied tango for years. In the first private class for beginners, students learn basic techniques, walking steps, and several moves–enough for a spin on the dance floor. In the second class, students learn a few new steps, as well as how to make combinations. This is when the steps really start coming together. As an added bonus, Lucia takes pictures and videos throughout the private classes. Students leave Buenos Aires with two souvenirs: great pictures and the ability to tango!
Lucia and Gerry also offer 1 1/2 hour group classes a couple days a week, which are great for those looking for some extra practice or who are wanting to learn a couple new steps. They also take couples to dance at beginner-friendly milongas. Contact them through their website for more information.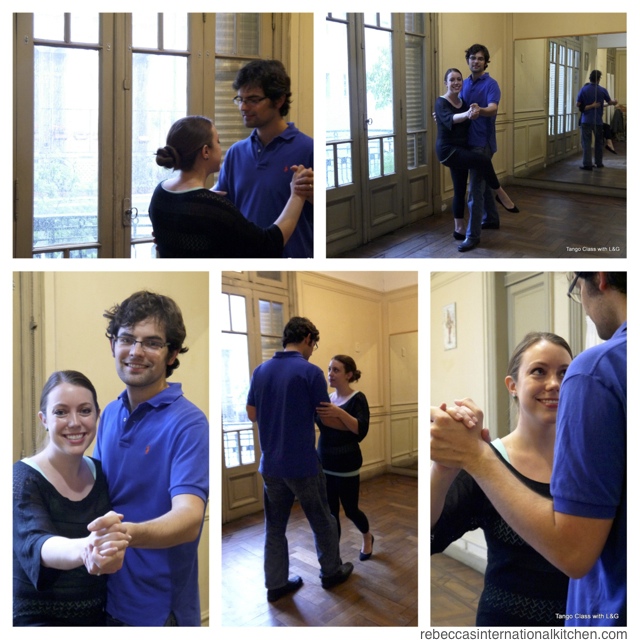 Tango Classes with Lucia & Gerry
Tacuari 1183
San Telmo, Buenos Aires
Website
Facebook
Tel: +54 11 3968-6627
La Milonga del Indio in Plaza Dorrego
While many people know about the Sunday Feria de San Telmo (San Telmo Fair), few seem to know about the milonga that takes place in Plaza Dorrego just a few hours later. This open air milonga has been bringing tango dancers together to Plaza Dorrego every Sunday night for almost 20 years. Casual, fun, and free, this is a great way to get acquainted with the world of tango.
From beginning dancers to professionals, local families and foreigners, this milonga welcomes everyone. This is a great place for tango students to practice their beginner tango moves without fear of judgement. If the dance floor gets too crowded, students sometimes choose a spot in the plaza to practice. This is also a great place for tourists to watch the advanced dancers who gather here, to take pictures, and to mingle with locals.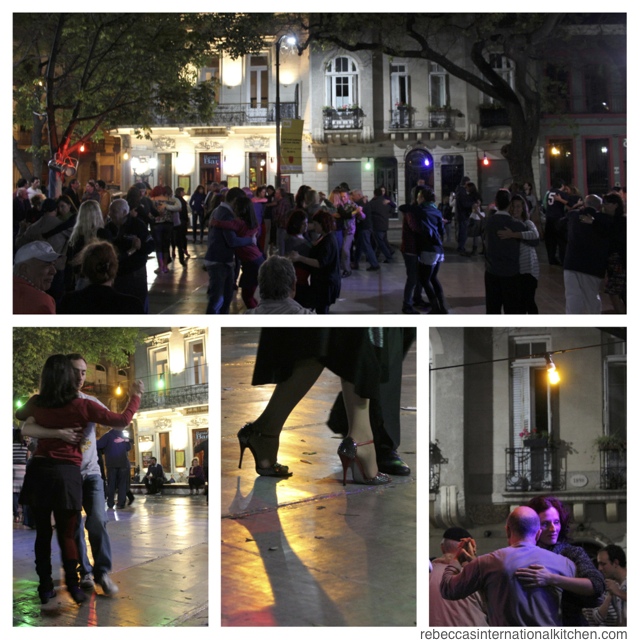 La Milonga del Indio
Plaza Dorrego
Defensa & Humberto
San Telmo, Buenos Aires
Website
Open Sundays from 8:00 to 10:00 p.m.
Bendita y Maldita Milonga
Not far from Plaza Dorrego in San Telmo is the Buenos Ayres Club, where milongas are held three times a week: Bendita Milonga on Mondays and Maldita Milonga on Sundays and Wednesdays. El Afronte, a tango orchestra comprised of a piano, a cello, a double bass, 3 violins, 4 bandoneóns, and a vocalist, performs all three nights. They are incredible to watch and listen to; even if you don't intend on dancing, the ticket price is worth it just to watch El Afronte.
Each night, there are group tango classes offered at 9:00 p.m. Then, the milonga officially begins at 10:30 p.m. with recorded music. If you're planning on dancing, this is usually a good time to get warmed up. At 11:00 p.m., El Afronte begins the concert. Many people come to dance tango, but many more simply come for the concert. (I personally prefer to dance to the recorded music, then sit and watch the orchestra.) At the end of the night, there is usually a special guest couple there to perform several numbers. It's always a treat to watch the professionals!
The Buenos Ayres Club is a small dive bar, nothing too fancy. People wear what they want; many dress up in their fancy clothes, but just as many show up in street clothes. No one's there to judge; they're there to tango. Lucia and Jerry often bring their students to this milonga with them, as it is a fun milonga for beginners.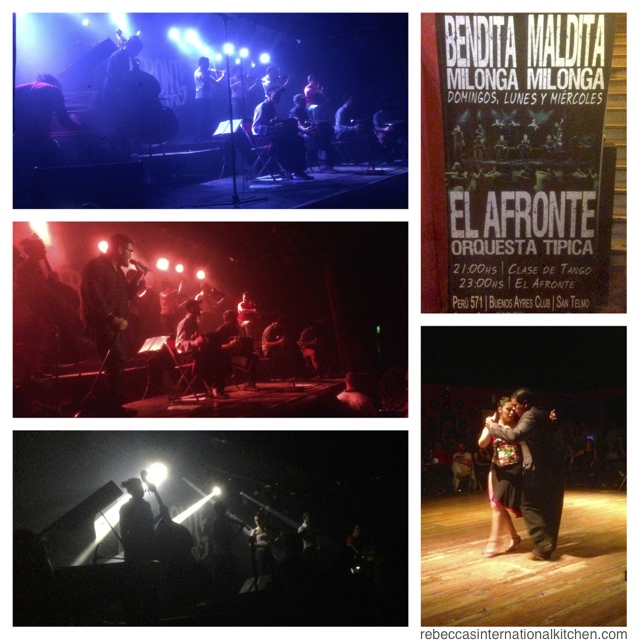 Bendita y Maldita Milonga
Buenos Ayres Club
Peru 571
San Telmo, Buenos Aires
Website for El Afronte
Facebook for El Afronte
Tel: (15) 2189-7747
Email for reservations: benditaymalditamilonga@gmail.com
(Reservations are not required but are recommended if you would like a table.)
Admission: AR$80 per person
Open Sundays, Mondays, Wednesdays, and holidays
Class: 9:00 p.m.
Milonga: 10:30 p.m.
Orchestra: 11:00 p.m.
Tango Shows at Centro Cultural Borges
There are many professional tango shows offered in Buenos Aires. However, many of them are geared toward tourists, and as such, are ridiculously expensive. I do not recommend paying $100 USD per person for a mediocre dinner and tango show. Instead, check out the Centro Cultural Borges, a cultural center located on the top floor of Gallerias Pacifico that offers nightly tango shows. These tango shows are a great value, averaging AR$200 (about $20 USD) for a 75 minute show. The casts are quite small and the quality of the shows are akin to cruise ship shows; however, for the price, they can't be beat.
There are different shows each night of the week, but I personally recommend "Buenos Aires Pasión de Tango" (Mondays) and "Bien de Tango" (Fridays and Saturdays). "Buenos Aires Pasión de Tango" is a mix of tango singing and dancing, while "Bien de Tango" is mostly dance numbers with some singing. Both shows feature a live tango orchestra, elaborate costumes, and incredibly talented tango dancers.

Centro Cultural Borges
Galerias Pacifico
Viamonte y San Martin
Microcentro, Buenos Aires
Website
Email: info@ccborges.org.ar
Tel: (11) 5555-5359

Buenos Aires Pasión de Tango
Monday at 8:00 p.m.
Tickets: AR$160 and AR$180 

Bien de Tango
Fridays and Saturdays at 8:00 p.m.
Tickets: AR$200 and AR$220 



Learn More About Carlos Gardel, "The King of Tango"
Museo Casa Carlos Gardel (House Museum of Carlos Gardel)
If you're interested in learning more about Carlos Gardel, the best place to go is the Museo Casa Carlos Gardel (House Museum of Carlos Gardel) in the Buenos Aires neighborhood known as Abasto. This is the house that Gardel purchased for his mother Berthe Gardes in 1927. He lived there with her until 1933. Berthe continued living in the house until she died in 1943. After passing through several more owners, the home was bought and donated to the city of Buenos Aires to become a museum in 2000.
The home is a wonderful example of a typical pehache, also nicknamed a "casa chorizo" (sausage house); it is a long, skinny, two-story house, cut into small rooms surrounding an open courtyard. Walk through the rooms to learn about Gardel's childhood, his radio, recording, and movie careers, and the circumstances surrounding his death. Other parts of the house, such as the kitchen, are set up to show what the home probably looked like during the time when Gardel and his mother lived there.
The museum often holds special events for the public, such as free tango classes and musical concerts. Consult their website for more information.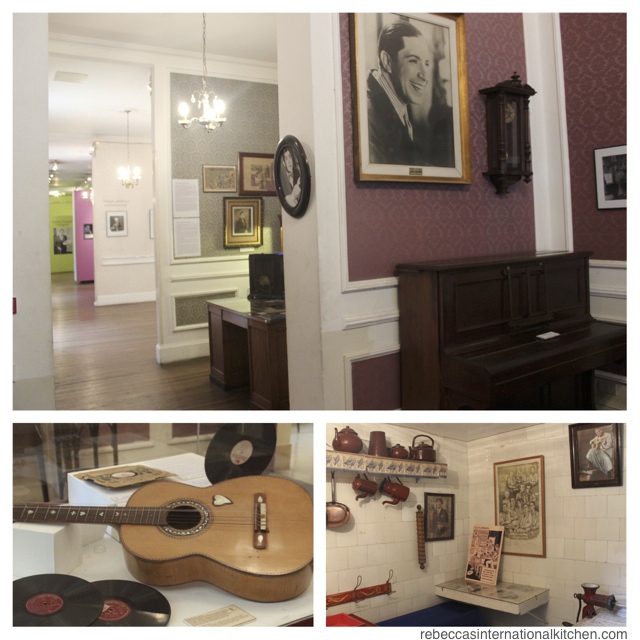 Museo Casa Carlos Gardel
Jean Juares 735
http://museos.buenosaires.gob.ar/gardel.htm
Tel: 4964-2015
Open Mondays, Wednesdays, Thursdays, and Fridays from 11:00 a.m. to 6:00 p.m.
Open Saturdays, Sundays, and holidays from 10:00 a.m. to 7:00 p.m.
Closed Tuesdays
Admission: AR$5 (free on Wednesdays)
Pasaje Carlos Gardel (Carlos Gardel Alley)
Just outside Abasto Shopping and not far from Museo Casa Carlos Gardel is a small pedestrian alleyway dedicated to and named after Carlos Gardel. There you will find a monument to this tango singer, honoring his life and legacy. There are also several other tango-related monuments. There are statues of Roberto "El Polaco" Guyeneche, a famous tango singer, and Anibal "Pichuco" Troilo, a great bandoneón player and composer born in Abasto. There is also the beautiful sculpture Monumento al Bandoneón (Monument to the Bandoneón).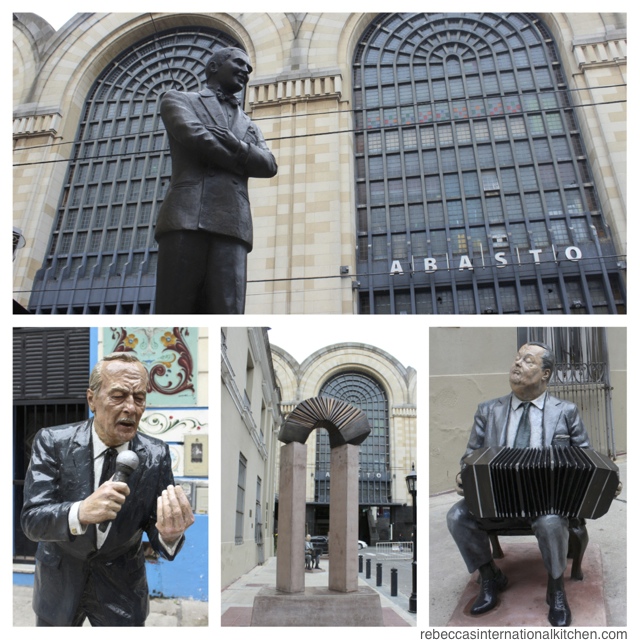 Pasaje Carlos Gardel
Carlos Gardel 3200
La Chacarita Cemetery
Carlos Gardel died June 24, 1935 in an airplane crash in Colombia at the age of 44. Visitors to Buenos Aires can pay their last respects to Carlos Gardel where he is burried at La Chacarita Cemetery. This cemetery dates back to 1887 and is the largest in Argentina. Plaques, flowers, and smoldering cigarettes are left by the daily visitors who still mourn Gardel's loss.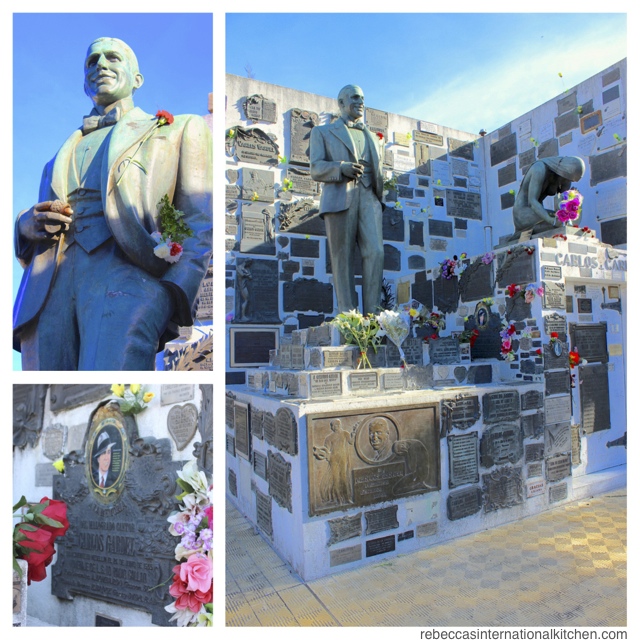 La Chacarita Cemetery
680 Guzmán
Chacarita, Buenos Aires
Open daily from 7:30 a.m. to 5:00 p.m.
Maps of the cemetery can be found at the entrance. Carlos Gardel is burried on the corner of Calle 6 and Calle 33.
Planning a trip? Check out all my articles about Buenos Aires here!