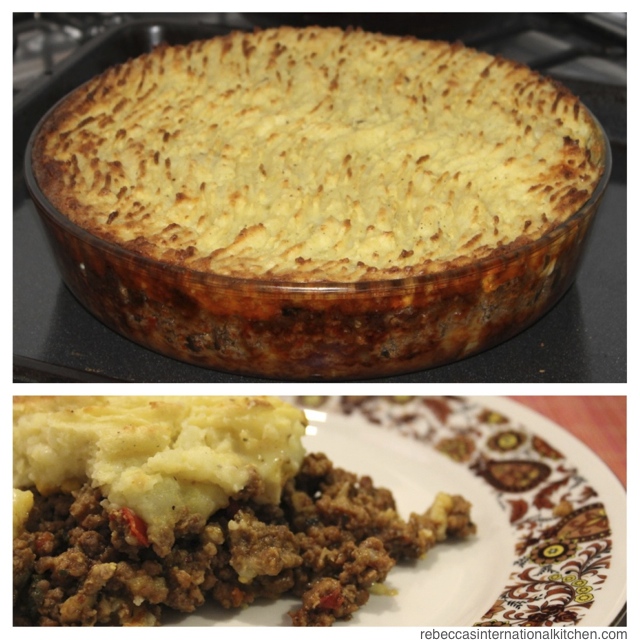 My Grandfather is a "meat and potatoes" kind of guy. He was born and raised in West Texas and is a modern day cowboy–the kind that drives a pick-up truck instead of riding a horse and wears trucker caps instead of a Stetson. He is a hard worker, an entrepreneur, a land owner, and a Folger's coffee drinker. He owns and operates a hamburger stand and tends to his cattle and his crops.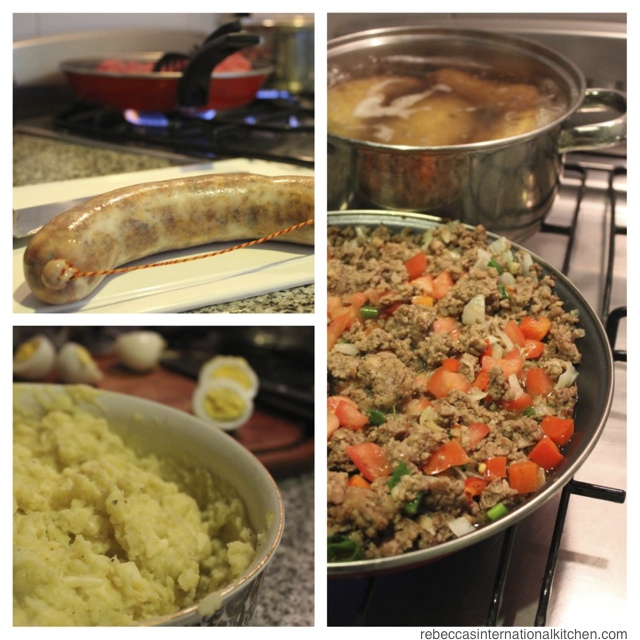 When I went to the local butcher down the street for the ground beef and chorizo for this pie, I thought of my grandfather and how he would really appreciate how meat is sold here in Argentina. I watched in awe as the butcher cut a hunk of meat from the side of cow lying there. He skillfully sliced the beef, leaving only the best parts. Then he ran the the long strips through the meat grinder. As he molded the ground beef into a sphere, I realized that for the first time the sight of raw meat didn't disgust me. Meat doesn't get any fresher than that.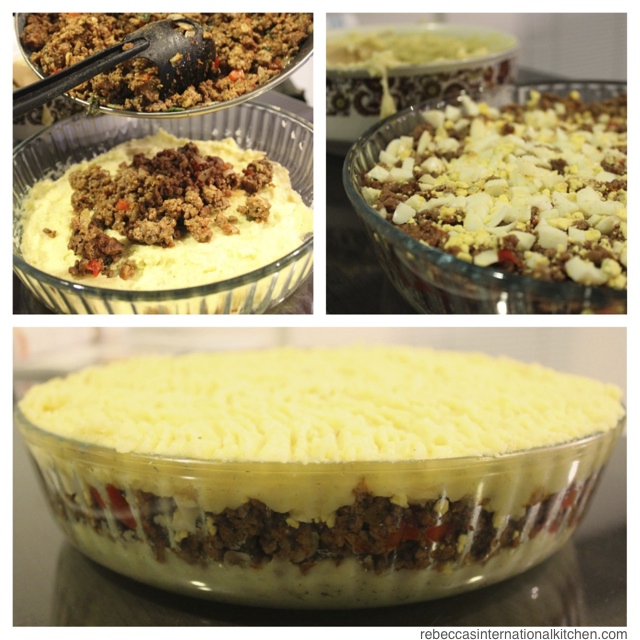 Although West Texas and Argentina are nowhere close on the map, I can't help thinking of my grandfather as I make this dish, a different spin on his traditional meat and potatoes. This dish is rich and full of flavor, more than one might expect from the name. With spices like nutmeg in the mashed potatoes and paprika in the meat, this hearty, savory dish is one I think everyone in my family would enjoy.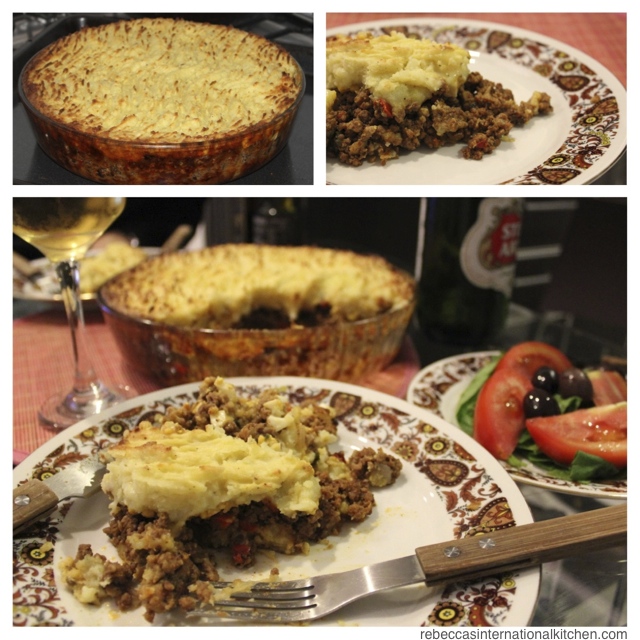 Someday soon, I hope to make this Argentinian meal for my family in West Texas, to see what my grandfather, a man of few words, might say. Truth be told, he needn't say much; just a "that's mighty tasty" as he takes a second helping would be enough for me.
Pastel de Papa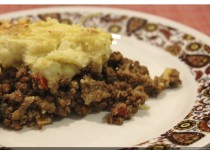 Prep Time:

60 minutes

Cook time:

25-30 minutes

Yield:

8 servings
Ingredients:
Potato Purée
potatoes -

4 large

butter -

7 Tbsp. (100 g)

milk -

1/4 cup (50 cc), room temperature

egg yolks -

4

salt, pepper, and nutmeg -

to taste

Meat Filling
hard boiled eggs -

3, chopped

ground beef -

1 1/2 pounds (750 g)

chorizo -

1 large link, peeled, optional

onions -

2, chopped

green onion -

1-2, chopped

red bell pepper -

1, chopped

tomato -

1, chopped

beef or vegetable broth -

1 cup (200 cc)

salt, pepper, paprika, and bay leaves -

to taste

mozzarella -

grated, 1/2 cup (100 g), optional
Instructions:
1. Potato Purée: Peel the potatoes and cut them in fourths. Cook the potatoes in a pot with cold water and salt. When the water boils, lower the heat, and let it simmer for 15-20 minutes or until tender.
2. In a large bowl, mash the potatoes with the butter and milk. Add the salt, pepper, and nutmeg to taste.
3. Add the egg yolks and the grated cheese, and mix well. Set aside.
4. Meat Filling: In a small pot, boil the eggs. In a large skillet, brown the beef and chorizo. In a smaller skillet, caramelize the chopped onion, red bell pepper, and green onion.
5. Once the meat is cooked, mix the caramelized vegetables into the meat. Add the chopped tomato, broth, and bay leaves, and let it boil until there is very little liquid. Remove the skillet from the stove, remove the bay leaves, and add the salt, pepper, and paprika. Mix well.
6. Prepare the Pie: In a casserole or pie dish, lay a 1 cm layer of the potato mixture. Empty all the meat filling onto the potato layer. Then add the chopped hard boiled eggs on top. Cover with another layer of potato, which should be almost equal to the layer of beef.
7. Make waves on the top of the potato layer with a fork so that it toasts a little.
8. Bake at 375°F (190°C) for 25-30 minutes.