When I first visited Mendoza, my husband and I did everything ourselves: we rented a car, made reservations at wineries, and navigated through the endless wine country all on our own. While it can be done, we had the distinct advantages of having working cell phones, being able to speak Spanish, and my husband agreed to be our designated driver (I still can't drive manual). Even so, we got lost, frustrated, and some tears may have been shed. I learned the hard way that doing it all yourself can be extremely challenging. If you only have a couple days to enjoy everything Mendoza has to offer, going with a professional tour company may be the best way to go.
I contacted Mendoza Wine Camp, a tour company that was recommended to me by a colleague, and asked if I could join one of their guided wine tours in order to write about the experience. They happily arranged for me to join their Luján de Cuyo Wine Tour which included visiting four wineries, three for tours and tastings and one for a 5-course lunch.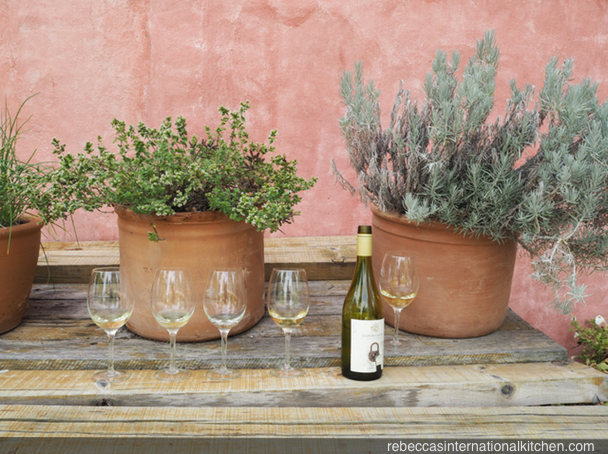 Mendoza Wine Camp provides each group of 2-8 people with a wine-savvy, English-speaking guide and a professional driver. Unlike other tour companies however, they don't just make reservations at the busiest wineries and then drop you off. Owners Adam and Myfanwy work hard to find wineries that have incredible wines but are off the beaten track. Some of the wineries they work with are not open to the public and only give tours for Mendoza Wine Camp. This allows for a more in-depth, behind-the-scenes look at some of the best wineries in Mendoza. They take care of all the details, so you can just relax and enjoy the wine.
One of my favorite aspects of going on the tour with Mendoza Wine Camp is that they make sure you don't get the standard wine tour repeated over and over again. Instead, the guide from Mendoza Wine Camp provides the group with most of the information, while each winery provides the details that make them unique. Adam and Myfanwy have worked with each winery to organize different activities for groups to participate in, such as a course in food and wine pairing, a wine blending competition, and tank and barrel tastings. These fun and educational activities are exclusively for Mendoza Wine Camp groups and really set this company apart from other tour companies.
While the specific wineries and activities may change, the thoughtfulness in preparing each group's itinerary remains the same, ensuring that all the tours with Mendoza Wine Camp are of the highest quality.
Exclusive Luján de Cuyo Wine Tour
I really appreciated being picked up from my house precisely at the time arranged. Our group's guide was Florencia, a friendly, energetic, and knowledgable woman, keen on making sure we were all having a fun time. After she introduced herself, she took time to get to know everyone in the group, making different connections with each person. The way she began the morning set a positive tone for the rest of the day and made it easier for those in the group to socialize and get to know one another.
On the way to the first winery, Florencia gave a great overview of the history of wine in Mendoza, necessary for anyone visiting Argentina for the first time. She also told us more about Luján de Cuyo, the region we would be visiting. Luján de Cuyo is known as the "Land of Malbec" and is the largest of Mendoza's wine producing regions. Visiting this wine region while in Mendoza is a must, as it has a rich history and is home to many of Mendoza's oldest wineries.
Our first winery visit was to Clos de Chacras, a charming boutique winery that opened in 1921. The guide took us through the winery, showed us the equipment, and explained the process for producing red and white wines. This was an excellent introduction for those who had never been on a wine tour before, and a good reminder for those who had.
After the succinct and informative tour, we went to the restaurant to try a few of their wines. Just when I thought we were done with the wine tasting, I was pleasantly surprised with the arrival of food from the restaurant. Mendoza Wine Camp had organized a course in food and wine pairing just for our group. We worked our way through three delicious dishes, pairing each with different wines. I loved exploring which combinations enhanced both the food and the wine. We all left happy, full, and ready for more.
The second winery we visited was Bodega Dante Robino, another historic winery that began in 1920. At this winery, the guide from Bodega Dante Robino added on what we had just learned by teaching us how sparkling wine is made.
After tasting wines by Bodega Dante Robino, we got the special Mendoza Wine Camp treatment and got to be the winemakers in a fun, competitive blending game. We were each given graduated cylinders and three wines to create our own signature blend. The "judges" did a blind tasting of all our wines and chose their preferred blend. The winner was then able to recreate her blend in a wine bottle to take home.
This was such a fun experience; while we all got super competitive — wives and husbands going head to head — in the end, we were all just having a blast pretending to be winemakers. Creative activities such as this is what makes Mendoza Wine Camp stand above the rest.
For the third stop, we took a little break from talking about wine to talking about food. Great food. We went to Bodega Ruca Malen for a 5-course lunch and wine pairing. Chef Lucas Bustos creates seasonal menus featuring ingredients from the winery's organic garden. He is famous for playing with colors and textures, and the way he styles food makes each dish a work of art.
I really enjoyed the way that Mendoza Wine Camp arranged the day. Florencia did a great job of teaching us so much during the morning hours, that at lunch, the tour transitioned from being informative to being more social. We got time to chit chat about everything from each others' travels to discussing Argentinian fashion, politics, and education with Florencia. Of course, there were plenty of interjections about how incredible the food and wine was too.
Our fourth winery visit was to Bodega Dos Familias, a new winery that just began producing wine in 2013. While the winery is new, the building was originally built as a mill in 1861. Bodega Dos Familias isn't open to the public for tours; however, they do a special tour just for Mendoza Wine Camp.
Here, the focus was to taste the evolution of Malbec. The winemaker gave us tastings of Malbec directly from the tank, from the barrel, and then from a bottle aged for 2 years. Then we discussed the changes we experienced in the different glasses of Malbec. This was a really neat stop, as we got a truly unique behind-the-scenes experience.
Mendoza Wine Camp
For anyone planning a trip to the wine country, Mendoza Wine Camp is the tour group I would recommend going with. Not only do they provide transportation, make all the reservations, and have a fun guide lead the way, but they have created unique activities and exclusive tours to enrich the learning experience. Not to mention all the food and wine included.
I visited the Luján de Cuyo wine region with Mendoza Wine Camp, but they also arrange 1 Day Tours to Maipu and the Uco Valley. Or if you're already a wine expert, consider their VIP Wine Lovers Tour or Asado Master Class. They also offer 3, 5, and 7 day tour packages that sound incredible, so be sure to check out their website for all the details.
Mendoza Wine Camp
Website
Belgrano 1194 B,
Mendoza
Tel:+54 9 261 343-9929

Exclusive Luján de Cuyo Wine Tour
Cost: USD $185 per person
Online Discount: USD $170 per person
Group size: 2-8 people
Tours depart Monday – Saturday
Tip: Be sure to book 24 hours in advance.
Planning a trip?
Check out all my articles about Mendoza here!