This winery was on my list of wineries to visit for a long time. In the month that I've been in Mendoza, I've had countless people recommend it to me, raving about the architecture, describing it as "the coolest winery in Mendoza," "James Bond's Lair," or a UFO. I even had a friend tell me not to look at photos before going so that I would be surprised. Spoiler alert: I'm posting photos. Everyone I talked to seemed to have had a life changing experience while visiting O. Fournier.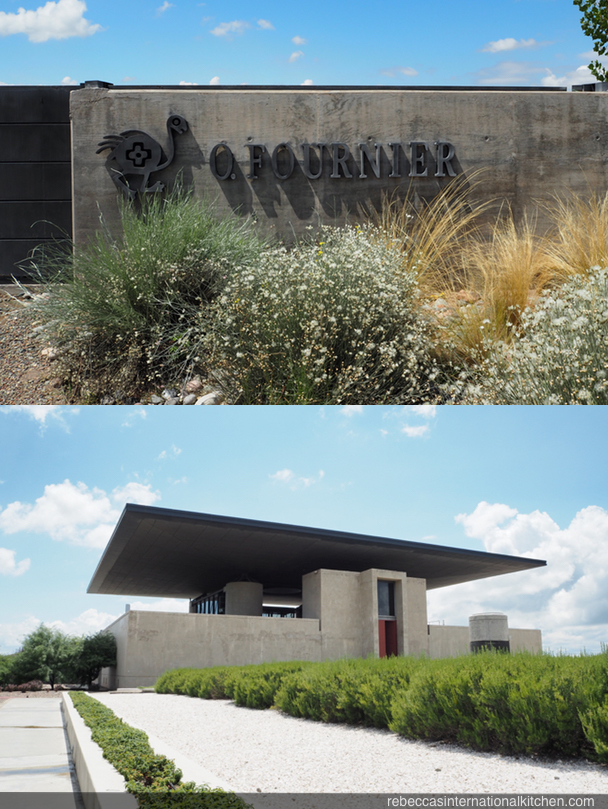 Maybe because of all the hype I went expecting too much, but I'm sad to say that I left O. Fournier pretty disappointed. The English tour was among the most boring I've been on; completely dry and lacking panache. This surprised me since the owner spent $22 million on this project. I guess I was expecting a more well thought out tour with a few bells and whistles.
While I thought the architecture was certainly innovative and futuristic, it was also quite stark and sterile, with no warmth or femininity. Maybe that's why guys seem to love it? I thought the cellar was pretty cool; however, I didn't find the rest of the building particularly beautiful or awe-inspiring. For me, the overall effect left something to be desired, especially at the restaurant.
For such an expensive lunch and wine pairing, I was expecting a slightly more romantic restaurant experience. While the view of the pond and the mountains was nice, I felt like I was enclosed in a sterilized glass box, a bare room without any charm. The strangest thing, however, was the lack of music. When asked about this, the waitress said that they never play music in the restaurant so that people can relax and enjoy the calm. I found this difficult to do, since the owner's children were running wildly in the rooms above the restaurant, their screams reverberating throughout. Surely a bit of ambient music would have been a better choice? The entire atmosphere made it difficult to really relax and enjoy the meal.
Then, to top off our whole experience, the owner of the winery visited every table in the restaurant multiple times to chat with the guests. Every table except ours. He even took photos with the other guests. I've honestly never felt so snubbed as during that lunch. Later, I saw that the other guests had packets of information, possibly to purchase land, and I began to understand. In order to receive a "Hello, how is lunch?" from the owner, you have to be loaded.
The best part about the visit to O. Fournier was the food. The 6-course meal was deliciously prepared and well presented. The appetizers were creative and fresh. I loved my main course, Twice-Cooked Osobuco, and my husband's Bife de Lomo was just as one would expect. The dessert was interesting, though not my favorite. Overall, I thought four out of the six dishes were wonderful.
To clarify, my husband and I did actually have a great day. We usually manage to have fun despite circumstances or situations. And I hesitated to publish this review, as I typically only write about experiences that I genuinely loved. However, this is such an often visited winery that I wanted to lower the expectations of others like me who expected greatness.
If you're interested in cool architecture, definitely stop by for a visit. If you'd like a tasty lunch, they provide a nice meal. However, if you want an interesting wine tour or a romantic lunch, I have many other recommendations for you instead.
O. Fournier Winery
Website
Tel: 0261-154671021
Calle Los Indios s/n
La Consulta, Mendoza
Planning a trip?
Check out all my articles about Mendoza here!