On August 5, 2013, Arie and I got married in Abbadia di Montepulciano in Tuscany, Italy. Surrounded by our close family and friends, we exchanged our vows and said "I Do" as the sun slowly set over the countryside. Looking over the vineyard during the ceremony, I remember thinking that all my dreams had come true.
I realized how truly blessed I was that I had found Arie, the most amazing man I've ever met, to spend my life with. And I realized that together, we had somehow convinced our friends and family to travel thousands of miles to join us for that day. I couldn't keep my tears back. They were all there. From Israel, Japan, Argentina, New York, Dallas, Houston, Kansas City, and San Francisco. They had all made it to Italy for our wedding.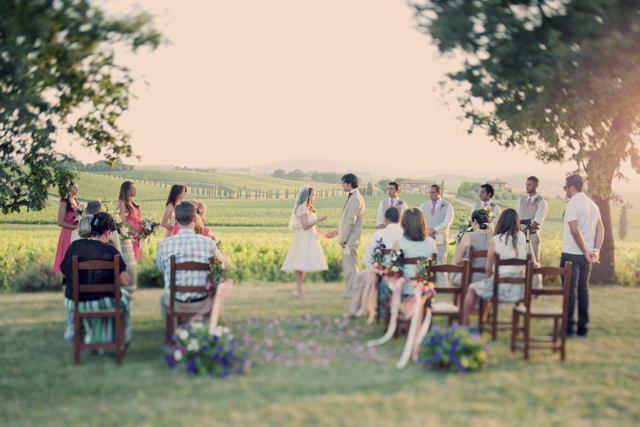 Why Italy? The Backstory
While I was in college, I had the opportunity to take part in a study abroad program teaching English in Castiglion Fiorentino, a hill-top town in Tuscany. At the time, I was more interested in visiting countries in Asia and had no real desire to go to Italy. However, I loved the professor leading the six-week course and talked myself into going, a decision I've never regretted. Through the teaching program, I met my best friend Lauren, and we enjoyed seeing as much of Italy as possible. Through our travels, all my preconceived ideas about Italy changed, and I fell in love with the people, the wine, and the country.
During my last week in Italy, my group stayed at an agriturismo on the outskirts of Castiglion Fiorentino. Walking through the vineyard on our last day, I felt certain that I would come back someday. I would bring the love of my life (whom I hadn't met yet) and our families and friends. I dreamed of us enjoying Tuscany together, of staying at an agriturismo, and of getting married in the vineyard. When I later told my parents of my plan, my dad simply asked, "What if he doesn't want to get married in Italy?" To this I laughed, "Well then, I guess he's not the one."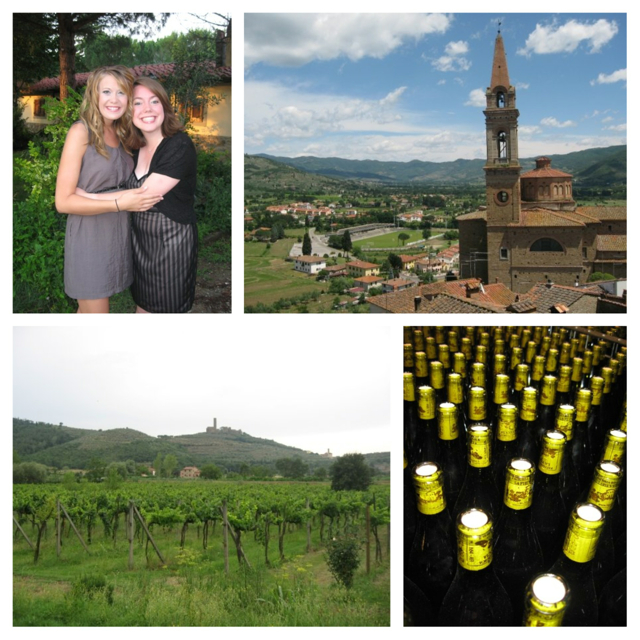 Little did I know that Arie had just returned to the United States from studying abroad in Italy the month before I had arrived. He had spent a semester studying Italian in Perugia, just 40 miles from where I was in Castiglion Fiorentino. We later learned that the two towns have historical connections; for 40 years in the late 1300s, Castiglion Fiorentino was acquired by Perugia and called Castiglion Perugino. We were so close.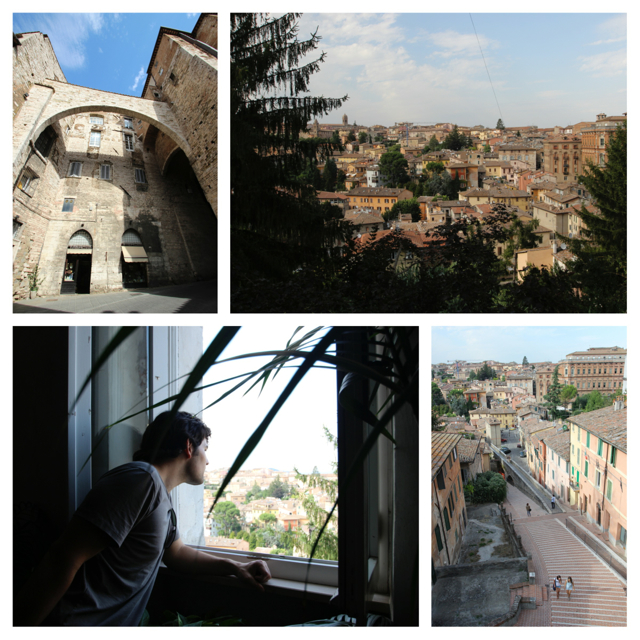 Yet, we weren't destined to meet until several years later in Dallas where we both lived. He caught my attention when I overheard him talking about his time in Italy to one of my friends; I quickly joined the conversation (and probably monopolized it). We soon learned about each other's love for travel, wine, cappuccinos, and good food. We had both fallen in love with Italy and knew that we would go back someday.
The Parents
Fast forward a couple years, and Arie and I decided to get married. He loved the idea of an intimate wedding in Italy, but before we could make plans, we had to make sure that our parents were on-board. For all my fairy tale dreams, I wasn't going to get married without our parents being there.
My parents knew what was coming; hadn't I warned them years before? It was Arie's parents who were going to be a bit surprised. I'll never forget Arie calling them the evening before we were due to visit them the next day. As he told them our news, I kept my fingers crossed. When he was done talking to them, he didn't have a yes or a no; his parents were a bit surprised and wanted to talk it over in person.
When we got to Roberto and Maria's house the next day, I was full of nervous energy. I didn't waste any time bringing up the matter. I started explaining my wedding vision and how I wanted to bring our family and friends to Italy. I was interrupted by Maria's cry, "You mean, you want us to come too? When Arie said you wanted to get married in Italy, I thought he meant just the two of you." "Yes, of course we want you to come! We wouldn't get married without you there!" I exclaimed. Maria laughed, "I'll pack my bags tomorrow!" And so it was set. Arie's parents ended up out-traveling all of us, as they went to Israel and Greece before meeting us in Italy.
The Wedding Venue
Arie and I spent several weeks on www.agriturismo.it/ searching for the perfect place for our group of 21 to stay. We wanted nice rooms for our guests, an on-site restaurant, and a place for a ceremony and reception. We narrowed it down from hundreds, to 10, to the final 3. We researched, we sent emails, and we compiled tons of information onto a Google Doc, but at the end of the day, we went with our heart. We chose Il Greppo and never looked back.
We couldn't have made a better choice. Il Greppo was happy to meet our every need. Since we were in Texas and unable to go to Italy before the wedding, Arie was instrumental in planning. He wrote every email to Il Greppo in Italian and was in constant communication with them. From the menus to the room arrangements, he organized every detail.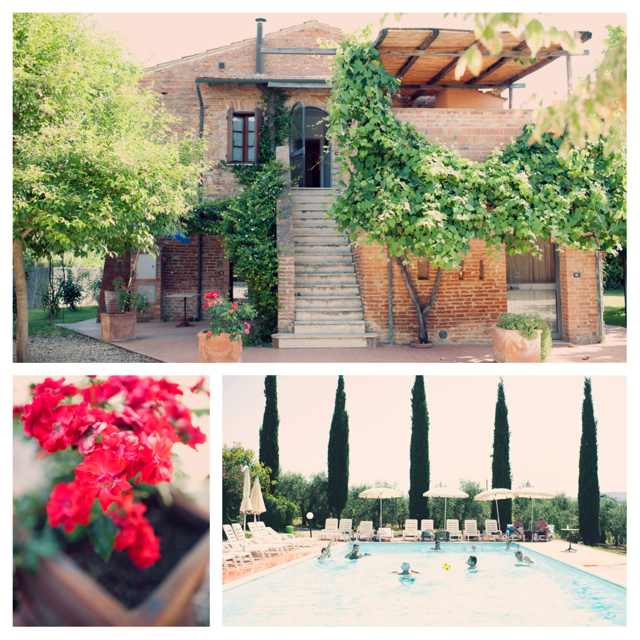 The Wedding Plans
Planning a wedding in Italy from Texas did give me a few things to worry about. While the website for Il Greppo is good, you can only tell so much from pictures. What if our rooms were horrible? Or what if we just didn't like it? My biggest worry was about whether the food would be good since we couldn't try it beforehand. The whole thing was really a gamble, but then, it is Italy.
Arie had a mantra that he would tell me whenever I was worried about things going wrong: "Anything is possible in Italy." We decided ahead of time that it was more about the whole experience of us all being in Italy than having every detail be perfect. We were just going to cross our fingers and hope for the best.
It turned out that I needn't have worried at all.
When we finally got to Italy, Il Greppo was even more beautiful than I could ever have imagined. We were so impressed with everything—the home cooked food, the endless wine, the beautiful rooms, and the gorgeous vineyard; everything was wonderful. We also fell in love with the charming family that owns and runs Il Greppo; they made us feel like part of their family too. It was the perfect place for our dream wedding.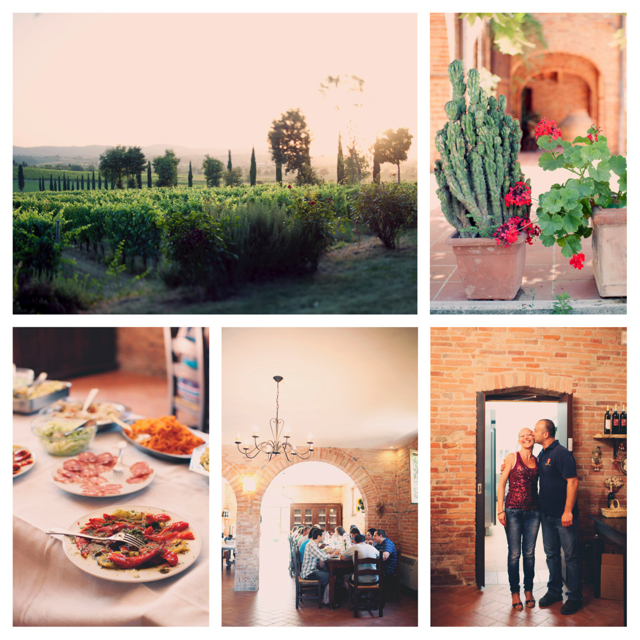 The Wedding Week
Arie and I planned a whole week of fun events for our guests. Most of the guests met us in Rome, while a few met us at Il Greppo. We spent the first three days in Rome, eating and doing some sightseeing. Then, we all took the train together. Our troop of wedding guests was quite a sight, especially when we were all sprinting for the train.
When we arrived at Il Greppo, we had time to relax, play in the pool, and get refreshed from our travels. Then, Il Greppo hosted a marvelous welcome dinner and wine tasting for us. The owner told us the history of Il Greppo and even took us down to the wine cellar to explain the wine-making process used in Italy. The food was incredible, and the wine was spectacular. What a welcome!
The next day, Arie and I arranged for a huge tour bus to pick us up from Il Greppo to drive us to Siena. We had a lovely lunch, then everyone set off to explore the city while Arie and I did a fun photo shoot with Tahni. Later on, we got back on the bus and went to Montepulciano for our rehearsal dinner. We got to watch the sunset over Tuscany as we enjoyed a delicious meal. After that, we headed back to Il Greppo.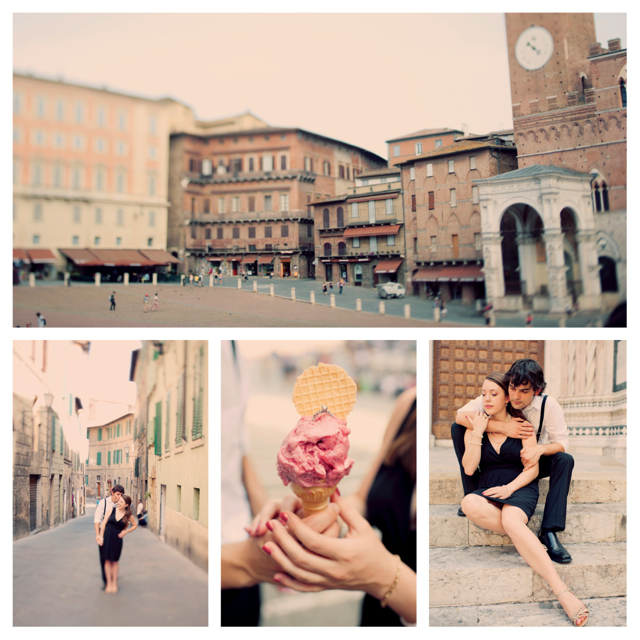 Then it was the wedding day. I made a scavenger hunt for our guests, and placed the clues around Il Greppo. After breakfast, I split them into teams with other guests they may not have known as well. Then they were off. It was really fun to watch the teams work together to solve the clues. After that, the ladies helped my mom decorate while the guys had fun at the pool. That evening, we had the most beautiful ceremony and reception. The dinner and dancing lasted all night long.
The next morning, we got up and headed to the train station after breakfast. Some went to Rome to catch earlier flights, while most of us went to Florence for a couple more days. If I could change one thing, it would have been to spend one more day at Il Greppo after the wedding to just relax. I don't think anyone wanted to leave! It was a beautiful place; Arie and I are looking forward to going back someday to celebrate our anniversary.
The Bridal Party
The wedding location was not the only thing we had to coordinate from afar. Our bridal party was spread out over several continents. Arie's best man Stanley lives in Israel. Since there aren't any Dillard's in Israel, I made my best guess as to what size suit Stanley needed, bought it, mailed it to him, and kept my fingers crossed.
Selecting bridesmaid's dresses proved to even trickier. My maid of honor Brittany found herself a beautiful light pink dress on Ruche, so we decided on a shades of pink and coral color scheme. Lauren lived in Japan and was going to be about 7 months pregnant, so finding a dress for her was a little harder. We finally found her a beautiful coral dress, which I picked up and mailed to her in Japan. With those two dresses picked out, I found Arie's sister Dana a pink dress a shade between the other two. She was studying in Michigan at the time, so I mailed her dress to her as well.
In short, I made a lot of trips to the post office. I could only hope that everything would fit and look unified.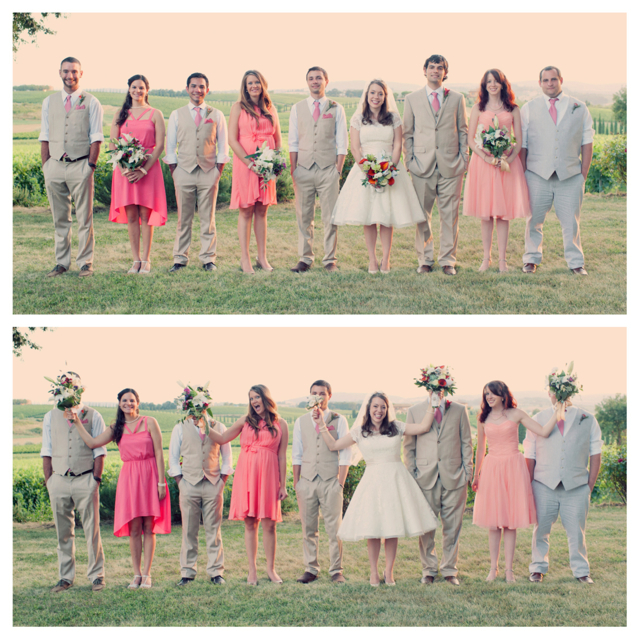 Don't they all look snazzy?
The Bridal Details
Brittany and my mom took me dress shopping the day after Arie and I got engaged (we even got on Skype with Lauren in Japan). I always knew that I wanted to wear a short wedding dress, so that narrowed my choices down from hundreds of dresses to choose from to about seven. I fell in love with my dress as soon as I saw it. The short, full skirt, sheer cap-sleeves, and elegant embellishments made it the perfect dress for me. It was such a fun dress to wear, and I had a great time dancing and twirling all night long.
I chose a veil with lace embellishments around the edges that complimented my dress. My mom made me a headband with ribbon, crystals, and pieces of lace from her bridal gown. It was a really special gift from her. I also wore my grandmother's pearl necklace, earrings, and princess ring. She gave me her pearls before she passed away, and I loved wearing them in her memory.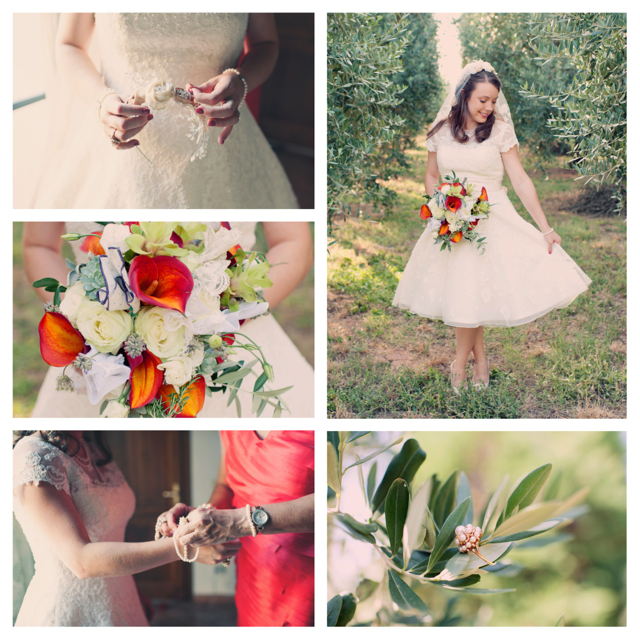 For my 10th birthday, my great-aunt gave me a box with a poem, a handkerchief, and a quarter from my birth year. The poem told me to keep them for my wedding day, to hold the handkerchief and put the quarter in my shoe. I kept it all these years for this very occasion. My mom tucked my great-aunt's handkerchief into my bridal bouquet, along with handkerchiefs from my grandmother and great-grandmother. She also put her wedding handkerchief and lace from her bridal gown in my bouquet. It was special to carry pieces representing each of them.
I'm a pretty low maintenance kind of girl. I wanted to look pretty, but natural and not overdone. I also had no idea how to find someone in the middle of Tuscany to come do my hair. Instead, Lauren volunteered to do my hair. She brought all the hairspray, bobby pins, curling iron, and curled and styled my hair like a pro. What would I have done without my wonderful friends?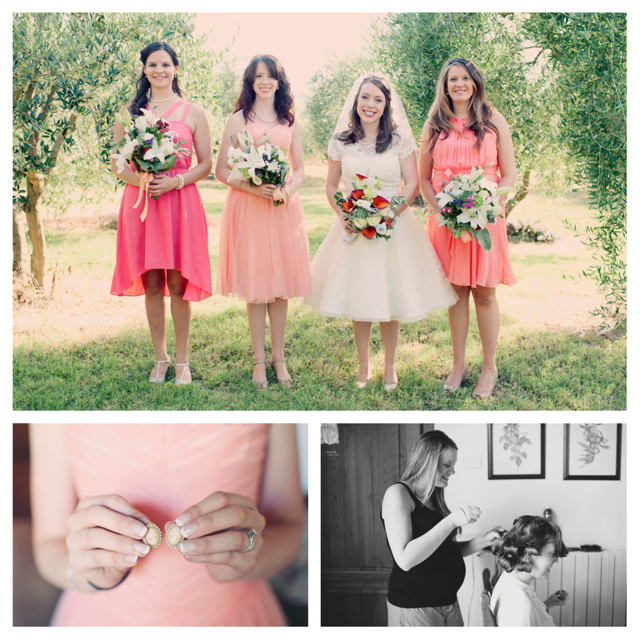 The Photographer
I am not exaggerating when I say that having Tahni be my wedding photographer was a necessity. I coordinated possible wedding dates between our parents, Il Greppo, and Tahni. I had to have her there! Tahni photographed Brittany's wedding several years before, and I've always loved her work. Tahni has a way of capturing the beauty of the moment perfectly, better than anyone I've seen. I didn't even consider not having her in Italy with us. She loves to travel, was incredible to work with, and always went above and beyond for us.
Years from now, when my memory fades, I will still have Tahni's gorgeous photographs to remind me of every detail from that perfect wedding weekend.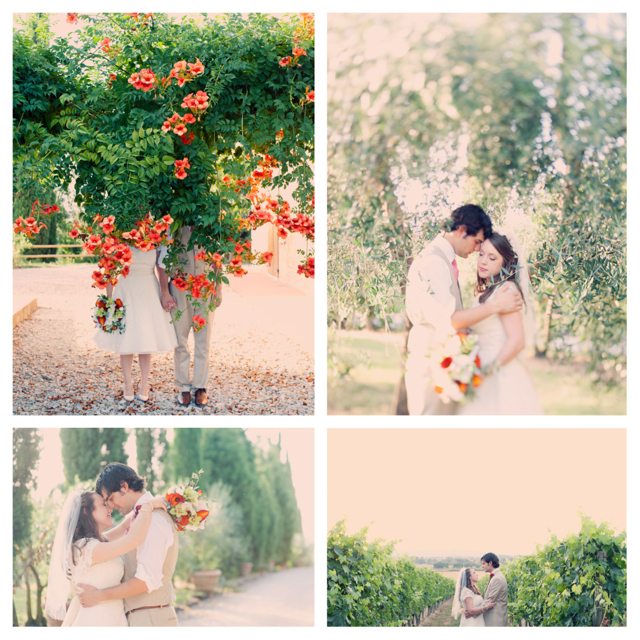 The Flowers & Decor
My mom is a floral designer and event planner in Dallas, Texas. I grew up helping her do huge weddings and events. She's an amazing florist, and I've always admired her work. However, I always knew that I didn't want the huge, fufu wedding (and spent years warning her!). I wanted her to be able to just enjoy my wedding, so we kept the decor simple and elegant; the flowers were from whatever she could find near the vineyard. She bought a few flowers from a nearby greenhouse, then added lavender, grapevine, and wildflowers from il Greppo. All the flowers arrangements, bouquets, and boutonnières were perfect.
We brought vases, bottles, candles, and ribbon with us in our suitcases, then added the foraged flowers. She taught all the women how to make little bud vase arrangements for the table. They all pitched in and helped make the wedding and reception look beautiful.
Arie, my mom, my dad, and I made the fan programs for the ceremony and ribbon sticks for the get-away while still in Dallas. I also brought a nice map of Italy for guests to sign instead of a guest book. We tried to keep the decor simple and let the natural beauty of the vineyard and the charm of Il Greppo shine.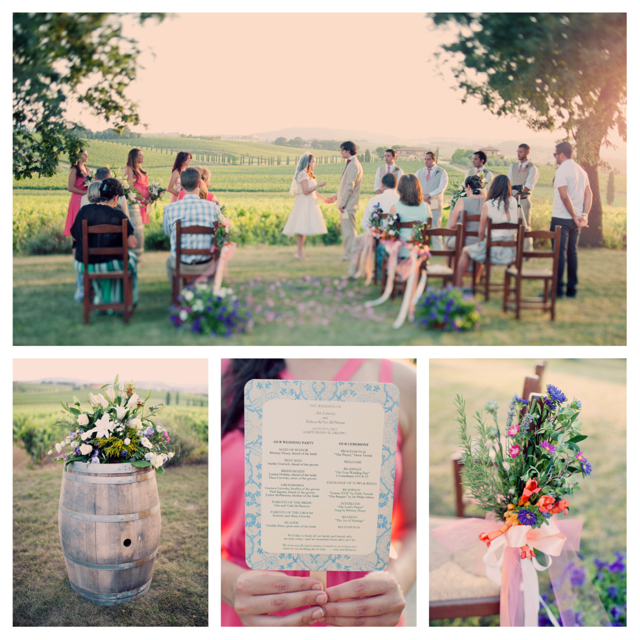 The Ceremony
Arie and I wanted the ceremony to be intimate and meaningful, so we collected scripture, poems, and songs we loved, and included our family and friends in different ways. My Great-Aunt Freddie opened and closed the ceremony, Arie's dad Roberto led us in exchanging our vows, my dad led us in exchanging rings, and Brittany sang a gorgeous acapella version of "The Lord's Prayer." Arie's family is originally from Argentina, so I wanted Spanish to be in the ceremony as well. Our parents read "The Art of Marriage" and our siblings and Lauren read 1 Corinthians 13:1-8; 13 in English and Spanish. It was our family and friends who married us; I will always cherish those memories.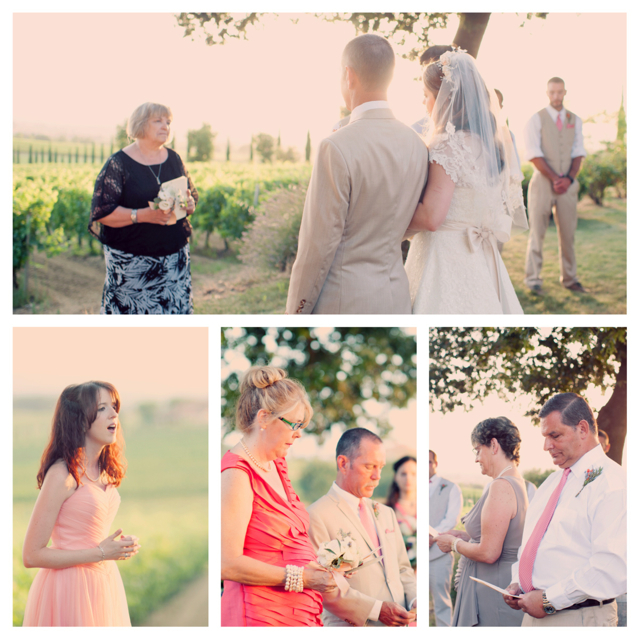 The Reception
The owner of Il Greppo, his wife, his mother, and his father were all busy in the kitchen preparing our Italian feast. Following the ceremony, we had appetizers and in the garden. Then, we moved into the reception hall for homemade pasta, giant ravioli, mounds of meat, and wines to match each dish. Between each course, the wedding party and guests gave lovely speeches full of words of wisdom, hilarious anecdotes, and reflections about our time in Italy. More wine, more food, and more toasts for about four hours. It was the most incredible wedding feast I've ever seen or tasted. Plus, as I looked around the room filled with my favorite people from all over the world, it was a great time to realize how many new friendships had been formed and how many wonderful memories had been made during our time together.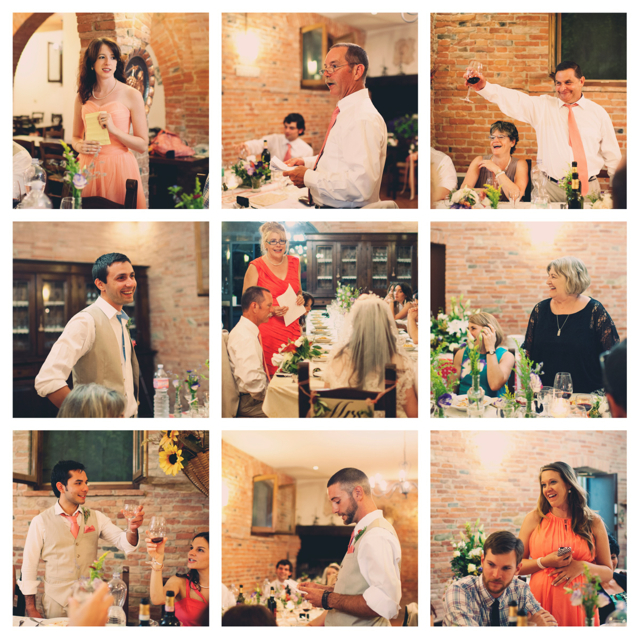 Just when we couldn't eat or drink anymore, it was time for dessert. Now, I must admit that wedding cake is one of my least favorite desserts, so when Il Greppo included a "dessert table" in the menu for the wedding feast, I figured that whatever they made for dessert would be better than wedding cake. They pulled through yet again. They made several biscotti type desserts (that were delicious on their own), as well as the best cake I have ever tasted. Handed down for generations, the recipe for their cake is a family secret. Decorated with icing and fruit, this was another beautiful, unexpected, and delicious surprise.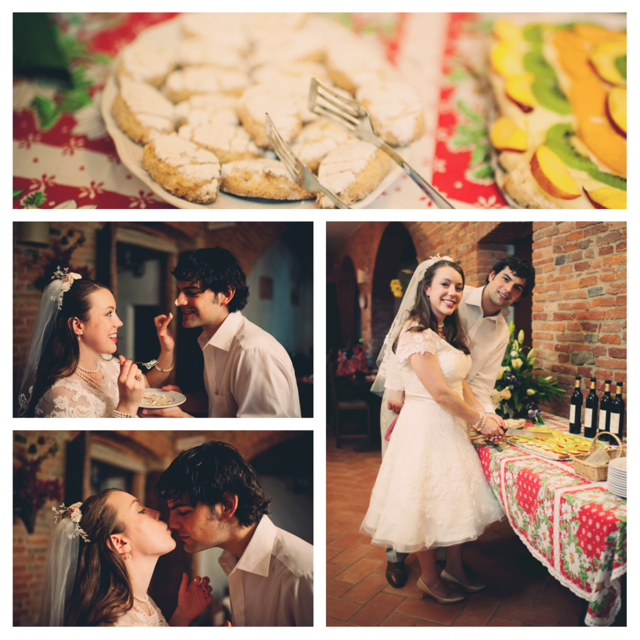 Il Greppo also surprised us with a giant, three-liter bottle of their best wine, which required using two corks screws simultaneously to open. Arie and I bought a second three-liter bottle and had it shipped to Texas. Our plan is to age it for some years and open it at a future anniversary party.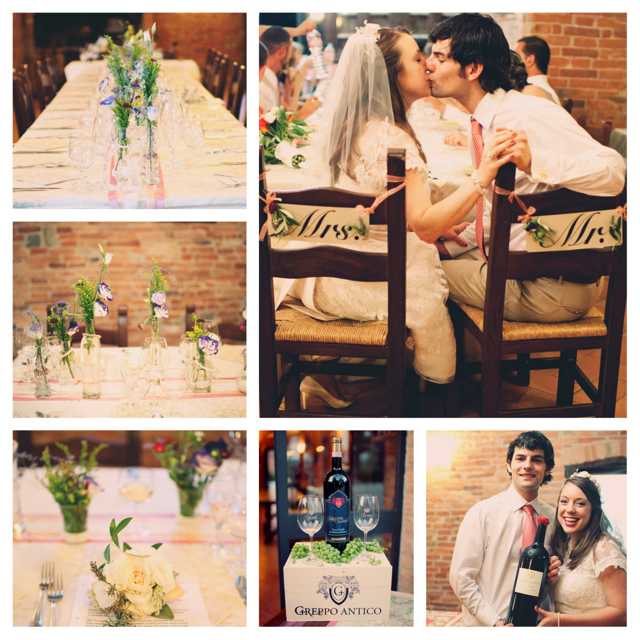 The Dancing
Following dinner, Arie and I danced to "Can't Help Falling In Love" sung by Andrea Bocelli and Katherine McPhee. In all our planning, we forgot to plan our first dance; however, I think our impromptu version wasn't too bad. We always have fun dancing together, choreographed or not.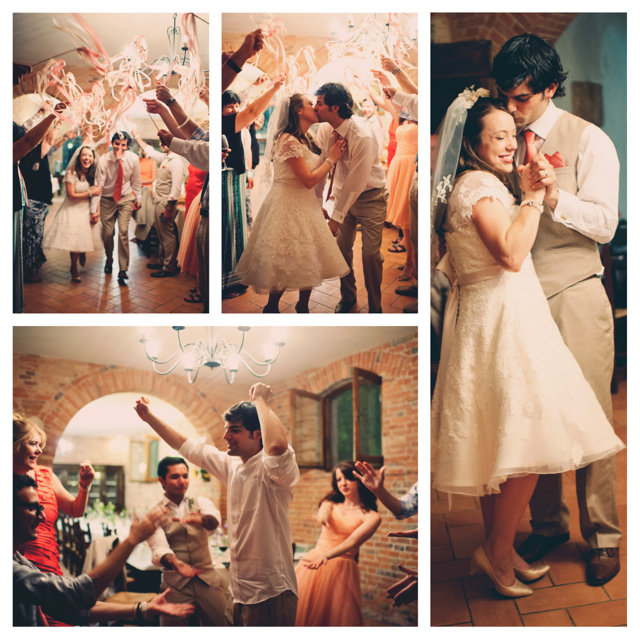 Arie and I actually created our own dance track for the reception. We asked our guests for requests in advance, then added our own favorites to the mix. We grouped the songs in different sets, then compiled them into one track. We had fun dancing the night away. I can't wait to have a 10 year anniversary party so we can play the same music and laugh at our song selections!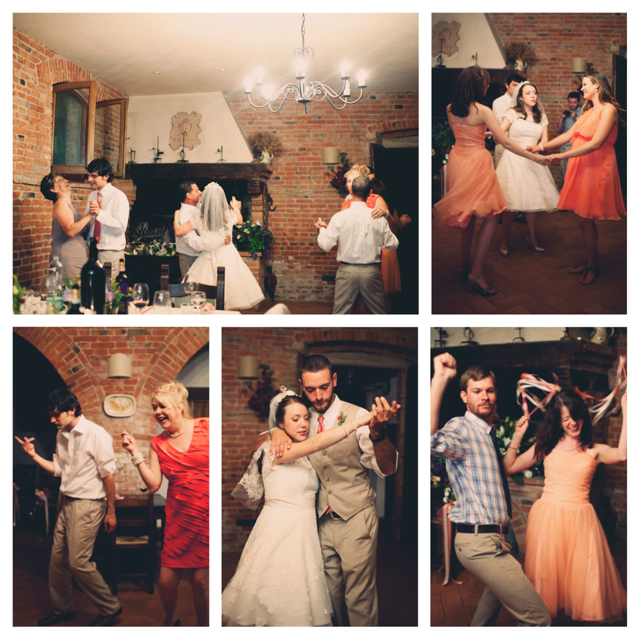 The photographs of us dancing always make me smile; what a great time we had on the dance floor that night.
Advice for Brides
Surround yourself with those you love, keep it simple, don't worry about every detail being perfect. Things will inevitably not go 100% as planned, but most of the time, no one else will even notice. For example, I forgot to write a thank you speech (had to do it impromptu), I forgot to bring hose (it was too hot for them anyway), and we had a couple glitches with the wedding ring (which make for funny memories). Don't let the little things get in the way of you enjoying your wedding. Treasure the people around you and you'll have a dream day.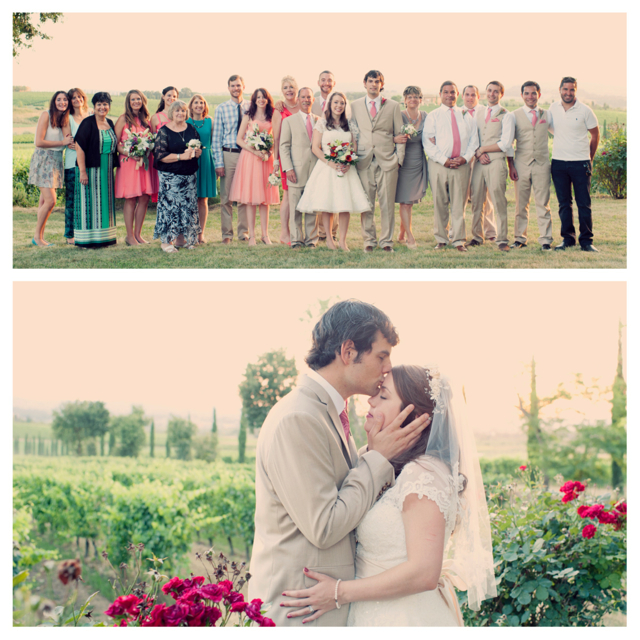 Special Thanks
A special thanks to everyone who made our wedding week such a special one: my parents Tim and Vicki, Arie's parents Roberto and Maria, my brother Taylor, Arie's brother Gustavo and sister Dana, my Great-Aunt Freddie and cousin Carrie, Arie's Aunt Ana and cousin Camila, and our friends: Brittany, Bryan, Lauren, Dianne, Stanley, Adir, Paul, and Tahni. We'll forever treasure the memories we made with you. Also, thanks to the wonderful people at Il Greppo for all the work they did in making our wedding happen; Arie and I definitely plan to return someday. 
We also want to thank everyone who joined us at our engagement party at Times Ten Cellars in Dallas, our bachelorette/bachelor party in Dallas, our bridal shower in Abilene, and the bridal showers at my school in Dallas. We are so blessed to have such wonderful people in our lives. 
Wedding photos by Joyeuse Photography (Brooklyn, New York): www.joyeusephotography.com/
Flowers by Special Occasions by Vicki (Dallas, Texas): specialoccasionsbyvicki.net/
Wedding Venue – Il Greppo (Abbadia di Montepulciano, Italy): www.ilgreppo.it/