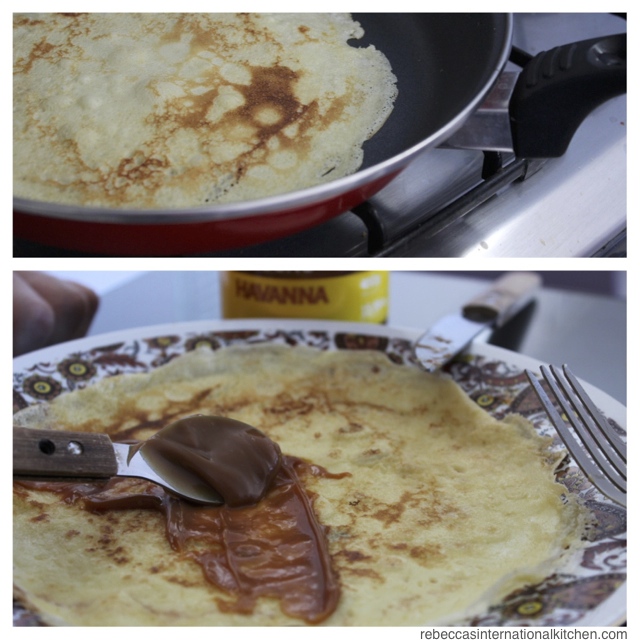 This past Saturday morning, I woke up to the sound of thunder and rain–my favorite. Once out of bed, I entered the kitchen with enthusiasm. No fumbling around the kitchen this morning. I knew exactly what to make for breakfast: panqueques (crepes). There's just something about a cold, rainy day that always induces my crepe craving. How can anything be better than tasty, warm, filled-with-goodness panqueque con dulce de leche?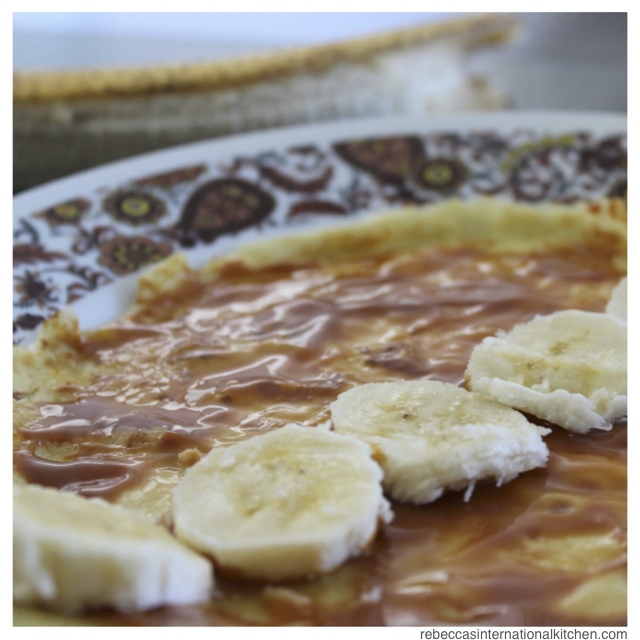 My husband is definitely the panqueque master in the family. Even with the limited tools we have in our tiny, rented kitchen in Argentina, he is able to turn out tasty panqueques. He flips them skillfully and tries to teach me to do the same. I usually make extra batter so that I don't feel so bad when mine (literally) flop. More than anything, we just have fun making (and eating) these classic crepes.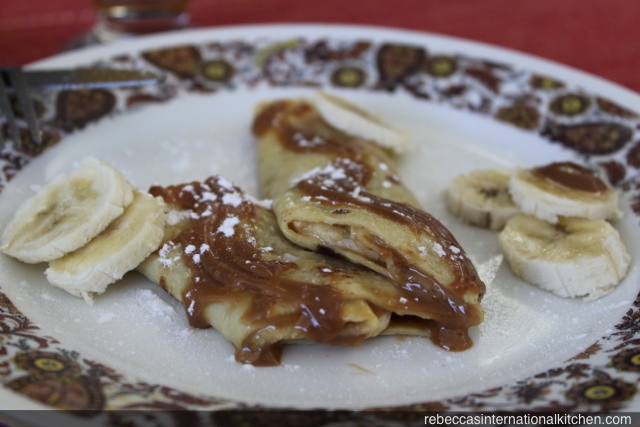 This is our standby recipe for panqueque batter, along with a few ideas for the filling and toppings. My favorite combos are dulce de leche and bananas when I'm in Argentina and Nutella and bananas when I'm in the United States. Have fun creating your own varieties of panqueques.
Tip: When in Argentina, "panqueque" means thin, French crêpes, and "panqueques americanos" means fluffy, American pancakes. You can find both, so it's good to know the difference.
Panqueques con Dulce de Leche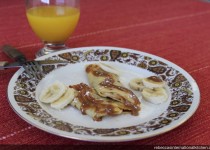 Prep Time:

10 minutes

Cook time:

15 minutes

Yield:

8 panqueques
Ingredients:
Instructions:
1. Whisk together the flour, salt, and eggs in a medium bowl. Slowly add the milk and water while continuing to mix. Beat until smooth.
2. Heat a skillet on medium heat. Add a little butter to the skillet. Using a fork, move the butter around the skillet so that it is evenly coated. Pour 1/4 cup batter into the skillet, quickly tilting it in a circular motion so that the batter evenly covers the surface. (If you prefer larger, thicker panqueques, pour 1/3 or 1/2 cup batter into the skillet.)
3. Cook for about 2 minutes or until the bottom is light brown. Loosen the panqueque with a spatula and flip over. Cook for another 2 minutes or until brown.
4. Place panqueque on a plate. Spread a layer of dulce de leche or Nutella, add desired fruit, and roll up the panqueque. Top with additional fruit and powdered sugar.
Tip: Put a spoonful of dulce de leche or Nutella in a Ziplock bag near one of the corners. Microwave for 20 seconds or until warm. Make a small hole by cutting one of the corners off. Squeeze the bag and drizzle the contents on top of your panqueques. Beautiful, delicious, and super easy!
Repeat steps 2-4, making sure to add more butter to the pan each time.
Panqueques are best served hot, so I prefer to make a panqueque, decorate it, and eat it immediately before making another. You can also warm them up on the skillet as need be. If you're cooking for a large group, consider making all the panqueques, fill them, then put them all on a pan or cookie sheet. Heat them in the oven for a few minutes until they're warm.