When my husband Arie and I first visited Mendoza for my birthday two years ago, we stayed five days in the city of Mendoza and five days in Chacras de Coria, a small town in the wine region of Luján de Cuyo only 25 minutes from the city by car. While we enjoyed the convenience of staying in Mendoza, it was nice to spend some downtime the quiet town of Chacras.
This year, after living in Mendoza for three months, we decided to return to Chacras de Coria for a relaxing weekend getaway. We chose to stay in Posada El Encuentro, a small, boutique hotel with great reviews and very reasonable rates (starting at USD$115 a night). Retired architect Carlos Alberto Berlin designed and built Posada El Encuentro in 2010 to leave to his four children Mauricio, Fernando, Lisandro, and Deborah. The Berlin family takes great pride in operating their hotel and works hard to ensure that each guest feels at home.
When we arrived Friday afternoon, Deborah checked us into our room, graciously served us two glasses of Malbec, and gave us a tour of the hotel. Each room features exposed brick walls, smooth concrete floors, windows facing the courtyard, modern bathrooms, and very comfortable beds. From the stonework to the trapezoidal windows, I love the unique architecture, a combination of Incan influence and Mendocinian style. On the enclosed property is a beautiful courtyard, a small vineyard, and most importantly, a lovely little swimming pool. The entire hotel feels new and clean, yet rustic and comfortable — the perfect place to relax for the weekend.
Since it was already past lunchtime, our tour of the hotel was interrupted by my rumbling stomach. While there is not a restaurant at the hotel, there are several great options for dining within walking distance. Deborah was only too happy to give us restaurant recommendations, a handy map, and walking directions around Chacras.
Map in hand, we set out toward the restaurant at Clos de Chacras, a family-owned boutique winery that was originally opened in 1921 by an Italian winemaker. I had previously toured the winery with Mendoza Wine Camp. While on the tour, we were treated to a mini-course in food and wine pairing, with three delicious dishes from the restaurant. I wanted to return with Arie ever since, as this restaurant is one of the few winery restaurants that features an a la carte menu as opposed to the prix fixe 5 or 6 course menu.
After lunch, we walked back to Posada El Encuentro. Since all the other guests were out during the day, we had the entire hotel to ourselves. Deborah took us down into the hotel's wine cellar where we selected a bottle of white wine. She opened our bottle and even equipped us with an ice bucket and wine glasses. Prepared with all the essentials, we made our way to the pool where we spent the rest of the afternoon.
Later that night, Deborah recommended we check out Cervicería Barijho, an open air beer garden with communal picnic tables and the place to be on a Friday night. When we arrived, it seemed as though the whole town was there, celebrating the amazing summer weather with liters of Quilmes, Andes, and Patagonia. After Arie and I polished off our gigantic beer, we ordered a round of Fernet and Coke, the unofficial cocktail of Argentina and my new favorite drink. Although the taste of Fernet was too bitter for me when I first tried it, I've surprisingly grown to love my fernet-coka.
Although we originally came for pre-dinner drinks, the nachos caught my eye and we decided to try them out. Even though the "nachos" ended up being more like chips and dip with containers of guacamole and liquid cheddar cheese on the side, they were pretty good. The rate at which I gobbled them up clearly demonstrated that I've been away from Texas and my beloved TexMex for too long. In the end, because we had such a late lunch and were having such a fun time at Cervicería Barijho, we decided to forgo a formal dinner and stick with bar food instead. We ordered a salad, grilled corn, and a hot dog; kind of a hodge-podge of dishes for dinner, but tasty nonetheless.
From the lively atmosphere and cheap beer to the pretty decent bar food, it's not hard to see why this is one of the best places to hang out in Chacras during a warm summer night.
The next morning, I woke up with a bit of a stomach ache. Surely it couldn't have been all the bar food and alcohol… After a light breakfast of fruit and toast at the hotel, my stomach felt a bit better and we got ready for a day of wine tasting in Lujan de Cuyo. While there are a couple wineries within walking distance of the hotel, to really experience the wine country, it's necessary to go by car. On some occasions, we've rented a car and driven ourselves; however, doing it this way, Arie can't participate in the wine tastings. Instead, we hired Eduardo, a private driver, to pick us up from the hotel and take us to three different wineries in the Luján de Cuyo wine region.
Our first stop was at Bodega Caelum, a small winery and pistachio farm in Lujan de Cuyo, the only one of its kind in Mendoza. After a private tour of their wine production facilities, we went to the tasting room to try some of their wines along with some pistachios. Besides being the only pistachio farm in Mendoza, Caelum is also the only winery in Mendoza that grows an Italian white wine varietal called Fiano. They also produce two dessert wines, a Malbec and a Torrontés, using the Italian passito method of drying the grapes before using them to make wine.
We tried the Torrontés and Malbec from their Línea Clásica and the Cabernet Sauvignon from their Línea Reserva. I loved everything I tried. The high quality and reasonable prices made me want to buy a whole case. However, I resisted, and opted instead to buy a bottle of Torrontés (AR$100) and a bag of pistachios (AR$70) for round 2 at the pool the next day.
For our next stop, we went to Bodega Casarena for a tour and 6-course lunch with wine pairing. I've been to my fair share of winery tours, and the one at Casarena makes the cut as one of the best. Our guide did an extraordinary job of keeping us engaged by asking us questions, sharing interesting details with us, and even being a little goofy, a welcome alternative to the standard, dry winery tour.
After the tour, we had a wonderful lunch paired with a different wine from each of Casarena's lines. One of my favorite courses was the Cured Salmon with Beetroot Tartare paired with the 505 Rosé. The main course was also a standout: a flavorful beef tenderloin paired with Casarena's award winning Single Vineyard Malbec. Each course and glass of wine were really delicious, making this one of my new favorites for winery lunches. (AR$780 per person, including wine.)
The final stop of the day was to Bodega Carmelo Patti, a winery unlike any other in Mendoza, primarily because of Carmelo Patti himself. The man is infamous, and though he only speaks Spanish, he somehow makes himself understood in every language. People from all over the world love to stop by and have a wine tasting with him (it's free!).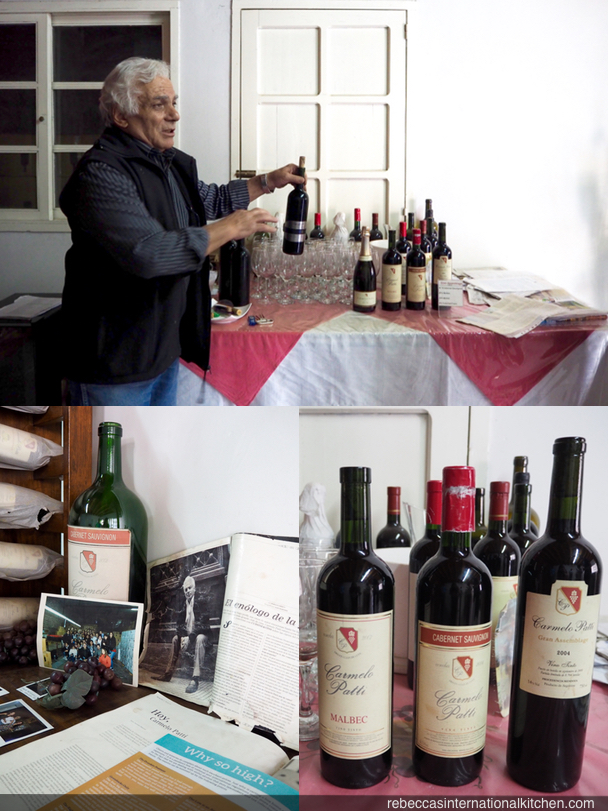 After a full day of wine tasting, we headed back to Posada El Encuentro to nap by the pool before figuring out where to go for dinner. Chacras de Coria is a small town, so I wasn't sure what to expect in the way of fine dining. However, Deborah recommended Dantesco Restaurante, an Italian restaurant that she assured us is excellent.
The attentive waitstaff, the food and wine menus, and the overall ambiance at Dantesco had me believing that Deborah was right about the restaurant before I even tasted the food. I ordered the cordero, a slow-cooked piece of lamb wrapped in bacon with grilled vegetables on the side. When I received my dish, the smell and presentation told my stomach that it was in for a treat; every bite was tender and delicious. Arie had been craving pasta for the past few days, so he tried the Tagliateles alla Puttanesca, which had a nice spice to it. Both of our dishes were so perfectly executed that we seriously considered returning the following night to try more of the menu.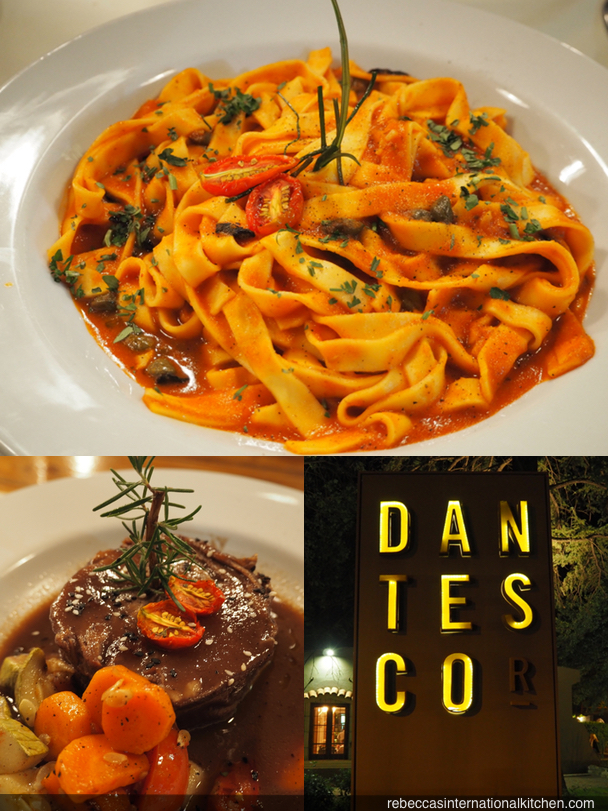 Though it's hard to believe, spending a full day wine tastings, going on tours, and eating delicious food can actually be pretty exhausting. Instead of a second full day, we decided to sleep in, stay in Chacras de Coria for the day, and really take it easy. Like true Americans, we woke up craving eggs for breakfast. We walked to Tea & Company, a cute tea house and restaurant that we had passed by on an earlier walk. They have one of the best breakfast menus I'd seen in Mendoza, including a heaping plate of scrambled eggs with ham, toast, and fruit salad. As the name suggests, they also have a large assortment of loose leaf teas, including black tea, green tea, and infusions. All the pastries and desserts looked tempting, but I was perfectly content with my savory breakfast.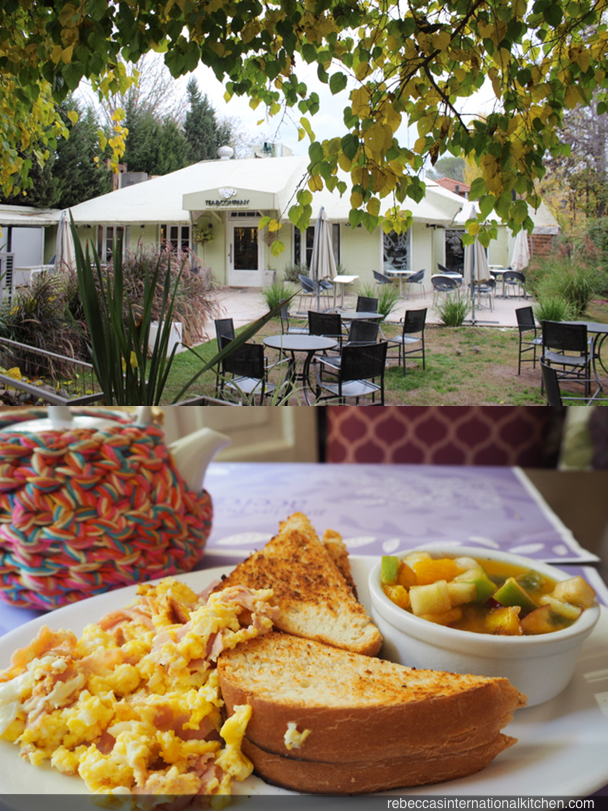 After breakfast, we walked around Chacras de Coria. In Plaza General Espejo, there is a small artisanal fair that takes place every Sunday. After we checked out the handicrafts on display, we bought a magazine from a kiosco and headed back to the hotel. In true vacation fashion, we lounged by the pool for the rest of the day. We even ordered a late lunch of empanadas and cerveza to from La Massa, a decent delivery place, perfect for a quick and easy poolside meal.
Finding a restaurant open for dinner on Sundays is always tricky in small towns in Argentina; thankfully we came across El Mercadito and were relieved to find that it was open and had a table available. El Mercadito specializes in vegan and vegetarian dishes, though they have plenty of meat options as well. Having already been to the El Mercadito in Mendoza several times, I knew that the food can can be a hit or miss. After making the mistake of ordering the incredibly dry Veggie Burger once, I decided to order a salad, as their salads have never let me down. I also love their Aperol Spritz and could go just for pre-dinner cocktails.
Monday morning, we ate a quick breakfast at Posada El Encuentro and said goodbye to Chacras de Coria. Even though our mini-vacation was over, we were left feeling refreshed and ready for the work week ahead. A relaxing weekend in Chacras de Coria was just what we needed.
Recommendations for A Relaxing Weekend in Chacras de Coria

Hotel

Posada El Encuentro
Website
+54 261 496-3828
Capitán Candelaria 5413
Chacras de Coria, Luján de Cuyo
Mendoza, Argentina

Restaurants

Cervicería Barijho
Website
+54 261 496-2267
Viamonte 4961
Chacras de Coria, Luján de Cuyo
Mendoza, Argentina
Open Seasonally

Dantesco Restaurante
Website
+54 261 496-1991
Italia 5829, 5505
Chacras de Coria, Luján de Cuyo
Mendoza, Argentina

Tea & Company
Website
+54 261 496-1051
Viamonte & Larrea
Chacras de Coria, Luján de Cuyo
Mendoza, Argentina

El Mercadito
Website
+54 261 496-2267
Viamonte 4961
Chacras de Coria, Luján de Cuyo
Mendoza, Argentina

Wineries

Clos de Chacras 
Website
+54 261 496-1285
Monte Líbano 1025
Chacras de Coria, Luján de Cuyo
Mendoza, Argentina

Bodega Caelum
Website
+54 261 699-2890
RN7, 5507
Agrelo, Luján de Cuyo
Mendoza, Argentina

[Tip: Near Bodega Caelum on Ruta 7 are some other great wineries worth visiting, including Bodega Ruca Malen for an unforgettable lunch, Bodega Septima, and Bodega Viña Cobos.]

Bodega Casarena
Website
+54 261 696-7848
Brandsen 505, 5507
Perdriel, Luján de Cuyo
Mendoza, Argentina

[Tip: Near Bodega Casarena are some of my favorite wineries, including Bodega Achaval-Ferrar, Bodega Terrazas de los Andes, and Bodega Renacer, located just next door.]

Carmelo Patti
Website
+54 261 498-1379
San Martin 2614
Couple Drummond, Luján de Cuyo
Mendoza, Argentina

[Tip: Near Carmelo Patti is Bodega Luigi Bosca, another great stop for a winery tour and tasting. Down the road is Bodega Lagarde, another winery with a wonderful lunch and wine pairing.]

Note: Making a reservation is necessary to visit most wineries and highly recommended for dinner.
Planning a trip?
Check out all my articles about Mendoza here!