When I first met Ronda, we immediately discovered our mutual love of traveling. I remember warning her that if she suggested we travel somewhere, she'd better mean it; all it takes is a casual "Let's go to Guatemala for the Summer," and I'm there. Turns out that we're both that way. Once we have an idea, we take it and run with it.
Ronda and I taught elementary school for three years together. Through the years, we were constantly bouncing ideas off of one another, making each other better teachers. We also took advantage of every break from school we had, whether it was two weeks of Christmas vacation in Costa Rica or two months of Summer vacation in Guatemala. Those trips are still some of my favorite and inspired me to become a travel writer.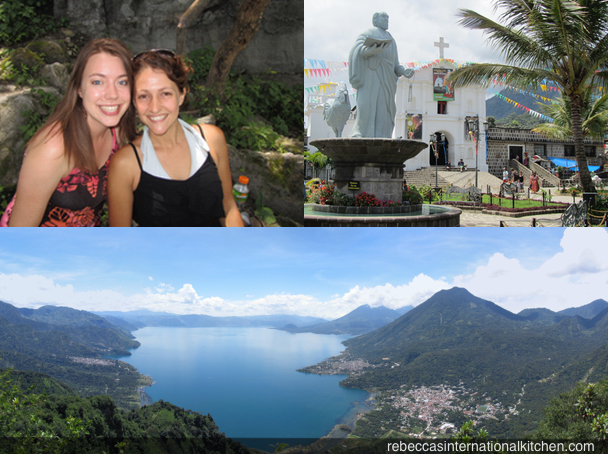 Now that we're both full-time travel bloggers (eek!), it seemed only natural that we continued to support one another in our new endeavors. After Ronda attended the Trive blogging conference in February, we talked excitedly on Skype for over two hours about the visions had for empowering other female travelers like ourselves. And so, the #sisterhoodtravel Twitter Chat was born.
#sisterhoodtravel Twitter Chat
Ronda from Say Hello Blog, Hannah from Hepcat Hannah, and I would like to invite you to join the fun! Together, we're hosting the #sisterhoodtravel Twitter Chat on the 2nd and 4th Thursdays of each month at 8:00 p.m. CST to discuss all things travel related. Each chat will be centered around a different topic and will feature 8 questions.
If you've never participated in a Twitter Chat before, this is a great way to start. It's really fun; plus, it's a great way to learn about different topics and meet interesting people.

Here's how to Twitter Chat:
Open Twitter Account: If you're not on Twitter yet, you'll need to start an account. It's easy, free, and this is a good reason to join!
Sign up with the Sisterhood: Be sure to sign up on the Sisterhood Travel Website to receive the questions by email so that you can start thinking about your answers.
Get to know the hosts: Be sure to follow @SisterhoodTrvl, @RIKitchen, @sayhelloblog, and @HepcatHannah. While it's not mandatory you follow us, this is the best way to learn about upcoming Twitter Chats. Plus, we're nice!
Search #sisterhoodtravel: At the designated date and time, find the magnifying glass on the top of the Twitter page and search for #sisterhoodtravel. Then click Live (for desktop) or All Tweets (for mobile) so that you can see the tweets in real time.
Introduce yourself: For the first few minutes, people will introduce themselves. This is a great time to say "Hi! This is my first Twitter chat…" And then tell everyone something about yourself. The only rule is that you always have to write #sisterhoodtravel somewhere in the tweet or it won't show up to the group.
Time for Q&A: The host will post questions over the course of the hour. While you are welcome to just hang out and read other people's answers, we want to encourage you to answer at least one question. It's fun! For example, to answer Q1, tweet "A1: Your answer. #sisterhoodtravel." You can even include a photo in your answer as well!
Interact with others: In addition to answering questions, you can also comment on or retweet other people's tweets that you thought were awesome. Through these interactions, you will meet really great people; be sure to follow them on Twitter so you can stay in touch.
I hope this encourages you to join our #sisterhoodtravel Twitter Chat. It's sure to be an adventure!
Please let me know if you have any questions in the comment section below, and I'll gladly do what I can to help.