Skiing and Snowboarding Cerro Catedral
If you're fortunate enough to make it to Bariloche during the winter ski season, typically late June through early September, you can't miss the opportunity to spend at least one day on the slopes. Catedral Alta Patagonia, often referred to by the mountain's name Cerro Catedral, is the largest ski resort in South America. It's massive size alone is impressive, but the beautiful vistas of the surrounding mountains and lakes are gorgeous, ever changing as you ski across the mountain. I must admit that I wiped out on my first run, so stunned was I by the view. After that I tried paying more attention to what I was doing; however, I took advantage of every chance I got to take in the scenery that day.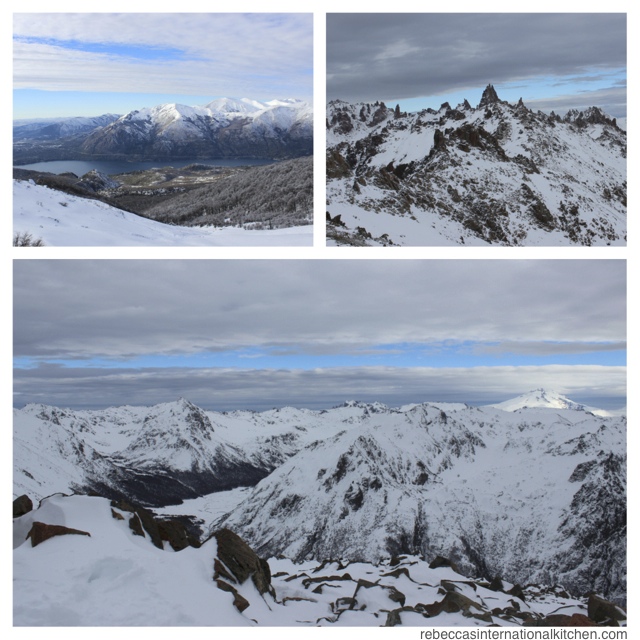 Navigating Catedral Alta Patagonia
This ski resort's size was incomprehensible to someone who's skied most of her life in Red River, New Mexico. First, you must take a covered gondola up the mountain about 20 minutes to reach the main ski areas. While you can ski all the way to the base when there's enough snow, most people spend all day skiing between the nearly 20 chairlifts at the top, only skiing all the way down at the very end of the day (or taking the gondola down). The runs at the top range from intermediate to advanced, steep descents to cross country style trails that hug the mountain.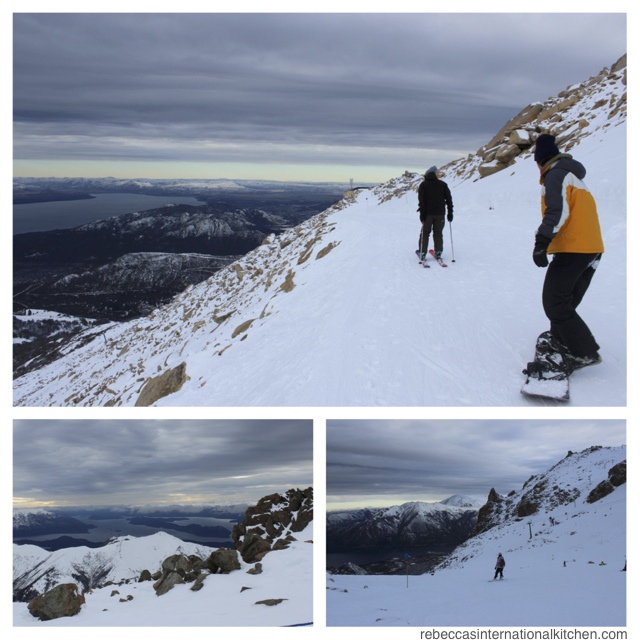 The beginner areas are a bit lower, keeping the schools of small children and the hundreds of Argentinian students who come here each week separate from the intense skiers and boarders. I skied the first week of July and felt as though I had some parts of the mountain to myself. The tourist season picks up a bit more toward the end of July, and though I've heard it can be crowded, if you're an advanced skier or boarder, you shouldn't have a problem.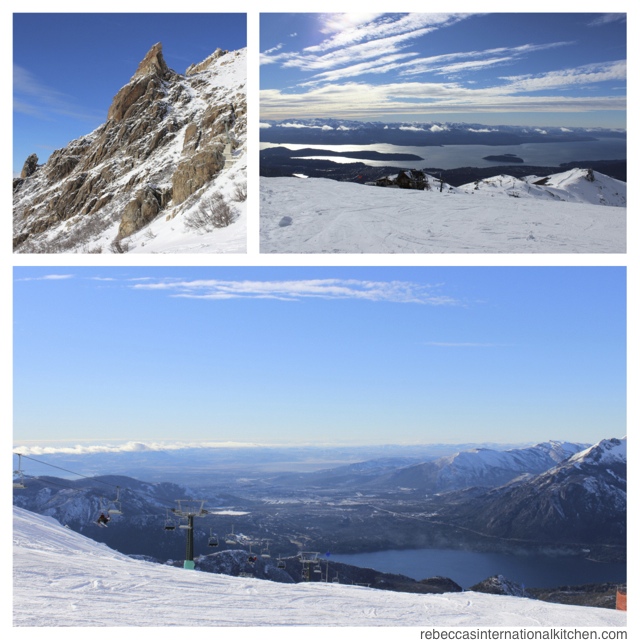 I usually ski familiar mountains, so skiing a new and foreign mountain was an exhilarating experience. With a quick glance of the map while on the chair lift, I decided to just go for it. I had a great time exploring all the different runs, and managed not to get into to much trouble.
A word of advice–know how to say the color your ski partner is wearing in Spanish as it could come in handy if you get separated. "Un hombre…en amarillo…con board?" Broken as it may have been, this was how I found out that, no, my husband did not successfully make it all the way up the teleski (platter lift). Fortunately I found him at the base of the surface lift, nearly impossible for boarders as we had just discovered, where he was anxiously waiting for me.
Mountain-Top Dining
There is nothing better than skiing up to a restaurant on the side of a mountain, cold and hungry, to find a warm, welcoming place that promises great burgers, pizzas, and Argentine fare. We were recommended El Barrilete at the bottom of the Punta Nevada chairlift by some other skiers, and all the food looked great. The burger was super and oh-so-very satisfying; the dessert platter my husband bought was even better. Homemade alfajores, cubanos, and pretty great coffee gave me all the energy I needed to keep going. Though there are nearly 20 other places to grab food on the mountain, this is a place I would love to return to time and time again!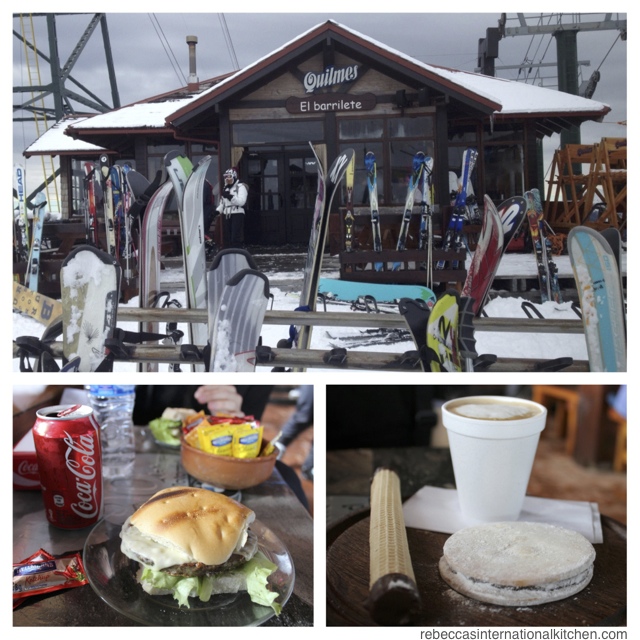 Lift Passes & Rentals
Everything at Catedral Alta Patagonia was surprisingly well-organized. Sophisticated cards with radio frequency chips recognize skiers at a distance and allow them to pass through the turnstiles before getting on each lift. These ski lift passes can be purchased at the ticket office starting at 9:00 a.m. (about AR$500 per person). In case of inclement weather, such as strong winds that could cause lift closures, the ticket office is supposed to post warning signs. If you still decide to buy a lift ticket, I understood that there are no refunds. The best thing to do is to ask around, check the weather forecast, and plan to be flexible.
Equipment can be easily rented, even without reservations (about AR$250 per person). If you're skiing for several days, the rental shops store the equipment for you each night (so no hauling skis and snowboards everywhere you go); then you just pick them up again the next morning. Even ski clothes, goggles, and snow boots can be rented on the premises. At Catedral, they make it easy for you to ski!
For more information, including current cost and hours of operation, take a look at Catedral Alta Patagonia's website: www.catedralaltapatagonia.com/invierno/.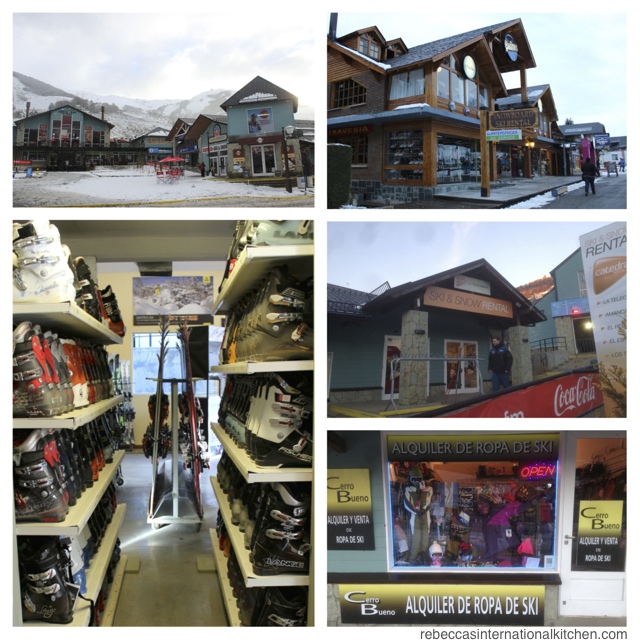 Where to stay: Bariloche or Base del Cerro Catedral?
Bariloche is the main city, situated along the beautiful lake and surrounded by mountains. There are countless hotels, hostels, and restaurants to choose from. Bariloche is also the starting point for all types of excursions, so many choose to stay here.
Catedral Alta Patagonia (the ski resort) is about 25 minutes up the mountain from Bariloche. Because the shops keep your ski equipment, it makes it a bit easier to make the journey between Bariloche and Catedral Alta Patagonia each morning and evening. This is a good plan for those only skiing a day or two. Most people make the drive themselves, but if you don't have your own car, you can take a taxi each way (about AR$200-300).
Base del Cerro Catedral is a small, charming ski town with a smaller number of ski lodges and restaurants than Bariloche. However, if skiing is the purpose of your trip, consider staying in Base del Cerro Catedral, where all of the hotels are within walking distance to the main chairlifts.
I decided to try both, so we stayed in a little cabin-like hotel in Base del Cerro Catedral for our skiing days, then stayed in a hostel in Bariloche the other days. This was the right choice for us, since it meant enjoying our skiing days to the fullest, while also giving us easy access to all there is to do in Bariloche.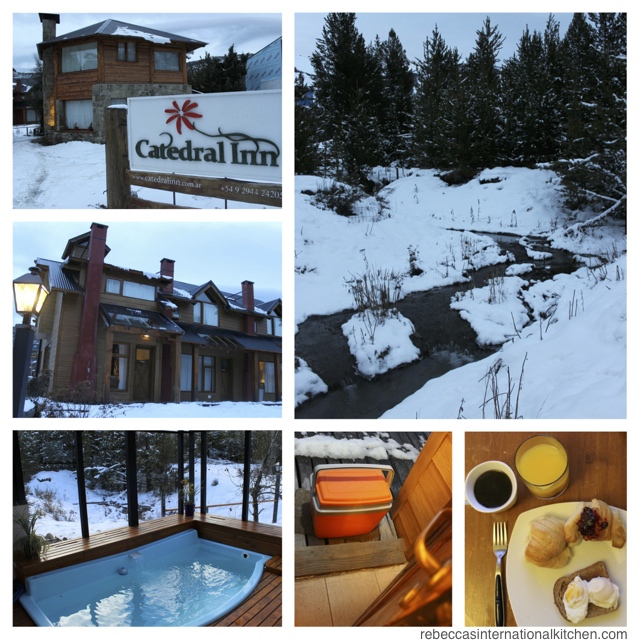 I really enjoyed staying in the sleepy little ski town a few days. We stayed in those nights, cooked simple dinners in our cabin, and relaxed in the hotel's little spa. Each morning, our hotel delivered us breakfast in an orange cooler. I bought some eggs from the mini-market, and we had wonderful meals each morning before walking to the lift.
If you decide to stay in Base del Cerro Catedral and plan on cooking, I would advise stopping at a grocery store in Bariloche beforehand. The one mini-mart was just that–mini. I barely managed to find what I needed and had to buy a whole chicken since they didn't have chicken breasts or beef available. You've been warned!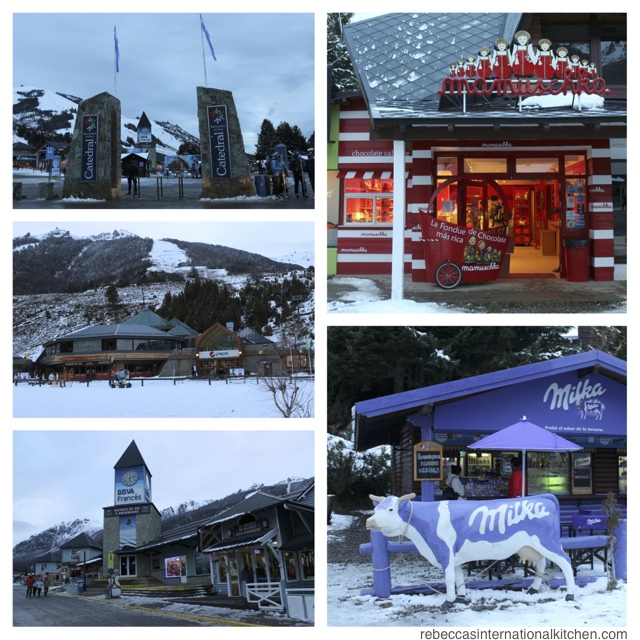 There is really nice mall at the base of the mountain, several chocolate shops with delicious hot chocolate, and some restaurants (in case making dinner doesn't happen).
Summer at Catedral Alta Patagonia
Many tourists visit Bariloche in the summer, but I just couldn't miss the chance to ski in July! However, I would love to return during the summer season sometime, as I've heard Bariloche summers are also gorgeous. The ski resort transforms into a hiker's paradise. A 30 person cable car runs from the base of the mountain almost to the summit, and the ski trails are traversed by foot.
Planning a trip to Bariloche? To learn about fun things to do year-round, as well as the best places to eat, check out my other articles about Bariloche: