I love being home for Christmas. More than presents or shopping, being around my family during this special time is something I look forward to all year long. No matter where Arie and I are in the world, we make a special effort to find our way back to Texas each December. From Dallas to Abilene, Paris, and Houston we drive to spend time with our loved ones spread across a state larger than some countries.
The days surrounding Christmas are always spent in the countryside outside of Abilene where my grandparents live. My parents, my brother Taylor, and I have started a tradition of cooking the Christmas Eve meal for my grandparents. Our gift to them is to create a delicious meal and to spend time together eating, watching classic movies, and playing Spades. One year my mom fried shrimp, last year Arie and I made Chicken Milanesas Napolitanas, and this year Taylor baked barbecue pork loin back ribs.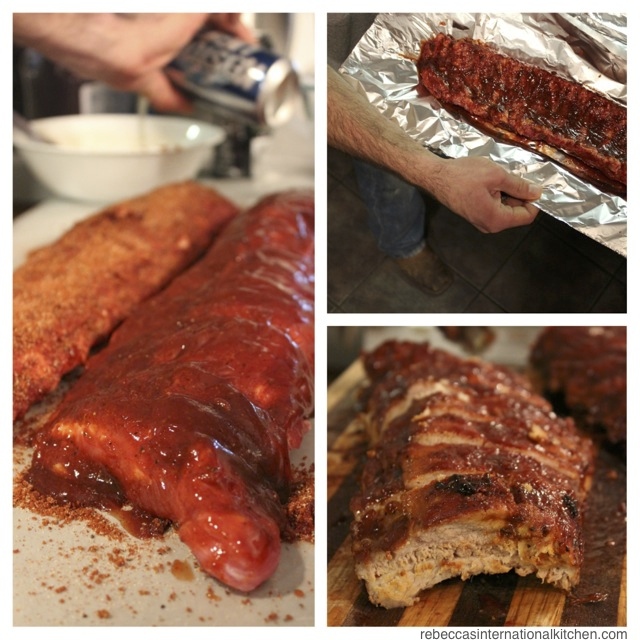 Since barbecue is Taylor's specialty, I enjoyed watching him take the lead in the kitchen this year. He skillfully prepared the meat while giving directions to his helper–my dad. My mom made the side dishes: corn bread, corn casserole, potato salad, and beans. As for my part, I took a few quick photos (trying not to get in the way) and badgered Taylor with questions. I learned about different rubs and sauces and how you can combine them to get the perfect flavor and texture. I took notes on his process and recipes. I realized that while most measurements are exact, the ratio of beer to bbq sauce is all about personal preference.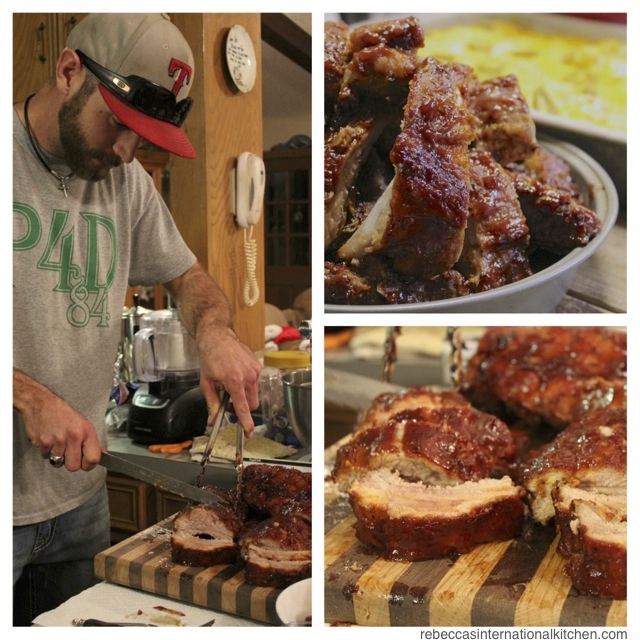 Taylor's first Christmas Eve dinner was a success. He oven-baked the ribs and grilled the chicken and sausage, all using his rib rub and special bbq sauce. He didn't just make a meal, he made an entire feast that everyone enjoyed. Especially me. After living overseas for several months, being surrounded by my family while eating barbecue ribs was the perfect way to spend the night before Christmas, Texan-style.
Taylor's Oven-Baked Barbecue Pork Ribs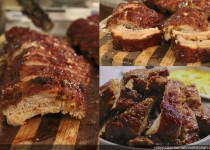 Prep Time:

30 minutes

Cook time:

03h 00min

Yield:

30 ribs
Ingredients:
Instructions:
1. Preheat the oven to 300°F (150°C).
2. Optional: Cut and remove the membrane from the boney side of the ribs.
3. Rib Rub: In a medium bowl, mix together the brown sugar, paprika, salt, pepper, chili powder, garlic powder, onion powder, and cayenne with a mixing spoon or fork. Set aside.
4. Barbecue Sauce: Pour the bottle of Sweet Baby Ray's Original Barbecue Sauce into a bowl. Add a splash of your favorite light beer and mix well. The consistency should be a little thinner, but still thick enough to stick to the ribs. Set aside.
5. Apply a layer of the rub to the ribs, and rub it in really well. Then coat with a layer of barbecue sauce. Turn the ribs over and repeat. Reserve some barbecue sauce for later.
6. Wrap the ribs, meat side down, in foil with the shiny side to the outside. Place in the oven, and cook the covered ribs for 2 hours.
7. After two hours, pull the ribs out of the oven. Open the foil and coat both sides of the ribs with more barbecue sauce. Flip the ribs so that the meat side is up. Optional: Add onions, jalapeños, crushed red pepper, or other vegetables on top of the ribs.
8. Leave the foil open, and cook the ribs for 1 more hour.
9. When the ribs are cooked, pull them out of the oven, slice, and serve.