Before arriving at Iguazú Falls, I knew very little about what I was getting myself into. The bits of advice I had been given from friends, family, and the internet included: don't go in the summer, take bug spray, and Americans need visas to visit Brazil. However, it seemed that I had more questions than answers. Was the trip itself worth it just to see some waterfalls? How much time would I need to see everything? What was the best way to get from place to place? Was getting a visa to visit Brazil worth the time and money? It seemed that I would just have to go and figure these questions out for myself.
After three days in Puerto Iguazú, my first question about whether or not the trip to Iguazú was worth it seemed absolutely ridiculous to me. Yes, of course it's worth it! I can now whole-heartedly recommend making the trip. The waterfalls are beyond spectacular, like nothing I've ever seen; they are enormous, powerful, magnificent. I wish my photos could do them justice. Simply and truly, no trip to Argentina is complete without visiting Iguazú.
If you're planning a trip to Iguazú, you probably have some of the same questions I did before going. Here are the answers to the many questions I had, plus my honest advice, to help you make the most of your time at Iguazú.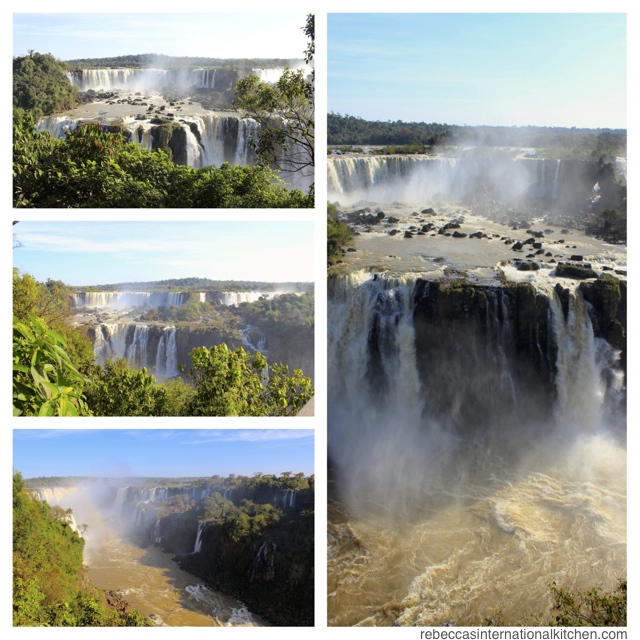 When (Not) to Go
I strongly recommend that you do not go to Iguazú during the Argentine summer; this includes November, December, January, February, and the beginning of March. This was one of the warnings I received, and I'm glad I listened; I went in September, and it was perfect, though already starting to get hot. I overheard a tour guide talking about the summer, using phrases like "unbearably high temperatures," "high humidity," and "increased number of biting insects" (mosquitos, etc). It sounded miserable. He said that despite the many warnings, tourists often visit Iguazú during the summer anyway. I suppose if it's between going during the summer or not going at all, you don't want to miss Iguazú. However, if you can, try to plan your visit April through October, and you'll have a much more enjoyable time.
How Many Days?
This was a huge question I had when making plans. I planned for 3 days, which ended up being perfect. To see everything on the "Brazil Side" of the national park, you need half a day (about 3 hours). While in Brazil for the day, I recommend visiting Parque das Aves (about 2 hours).
Then, you need a full day to visit the "Argentine Side" of the national park. Depending on how fast you walk and how many extras you want to do, you could spend another half day there as well.
That means that technically you could see both parks in two or two and a half days. However, I included a third day in case of rain or bad weather, because it rains year round in Iguazú (about 8-12 days per month). After two perfectly sunny days, it rained the entire third day I was in Iguazú. While I spent the day drinking coffee from the comfort of my hotel, travelers who where only staying a day or two had to trudge out into the miserable downpour in order to see the waterfalls. Trust me on this; you want good, sunny weather to see all the rainbows and butterflies. Then, if it rains, you can spend it relaxing.
Sample Itinerary:

Day 1: (Brazil) Parque Nacional do Iguaçu and Parque das Aves
Day 2: (Argentina) Parque Nacional Iguazú
Day 3: (Extra Day-Argentina) 2nd Day at Parque Nacional Iguazú and/or Puerto Iguazu

What to Wear & What to Bring
You're going to get wet, whether it be from rain or from the waterfalls. Some good things to wear are water resistant pants or shorts, a rain jacket or poncho (you can purchase ponchos at the parks' gift shops), water resistant hiking shoes or sandals, a bathing suit (for the Argentina side), and a hat and/or sunglasses for sunny days.
The "trails" are mostly concrete on the Brazil side and metal or dirt on the Argentina side. I didn't have water resistant shoes, so I brought two pairs of tennis shoes so that I could switch them throughout my trip, giving them time to dry.
Some good things to pack in a backpack are an umbrella, sunscreen, bug repellant, a bottle of water, a small towel, and a camera. Your camera doesn't have to be waterproof, though many people did have GoPros. I took both, though I prefer the pictures that I took on my Canon (due to the humidity, the GoPro pictures look a little foggy).
While there are restaurants in both parks, they're a bit pricey for what you're getting. I definitely recommend taking snacks (granola bars, nuts, crackers) so that you can have something to munch on the trails. I even packed my own pb&j lunch each day (I brought peanut butter and jelly from Buenos Aires and bought a loaf of bread from a bakery in Puerto Iguazú). There are also many places in Puerto Iguazú where you can buy pre-made ham sandwiches to take with you.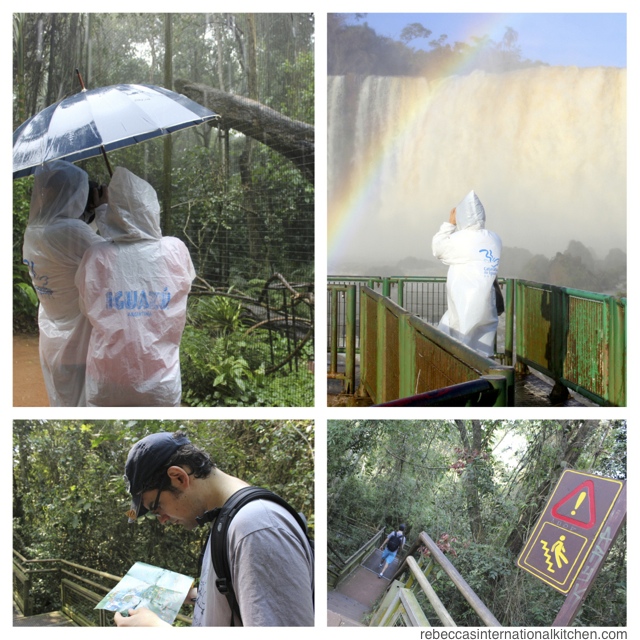 Whether or Not to Go to Brazil
Since you must go through Argentinian and Brazilian border control, buses and taxis take about an hour to get from Puerto Iguazú to the Parque Nacional do Iguaçu (Brazil) entrance. Be sure to take your passport and necessary documents in a ziplock bag. U.S., Canadian, and Australian citizens (and more) need a visa to enter Brazil, which must be done well ahead of time. U.S., Canadian, and Australian citizens also need to have paid Argentina's reciprocity fee and printed the proof to return to Argentina.
Tip: If you've overstayed 90 days in Argentina, this is not a good time to cross the border thinking that you'll just pay the AR$300 fine. You can no longer pay the fine at the border; you must pay online or at a particular bank, and this is no easy task to do at the national park. Trust me. From personal experience, this is very difficult to do. You will find that you won't be let back into Argentina until you pay the fine. Yikes.
If you can't or don't want to get a visa for Brazil (USD$160, valid for 10 years), have overstayed the 90 day limit in Argentina, or are trying to save money, I would encourage you to just enjoy the waterfalls from the Argentina side. It's a larger park with more to do, it's less expensive, and it's less of a pain to get to.
That being said, if you can go to Brazil, don't miss this different perspective of the falls. Also, due to flooding damaging the walkway in June 2014, the Devil's Throat is no longer accessible from the Argentina side; Brazil is your only chance to see Iguazú's largest waterfall up close.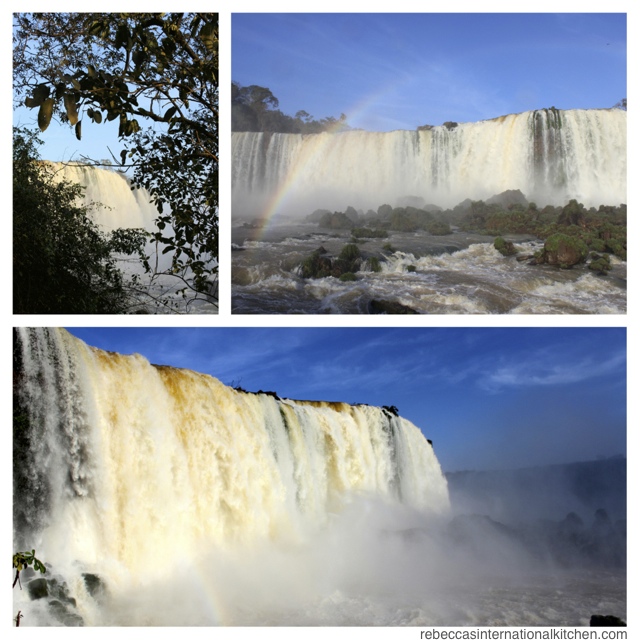 Where to Stay
There are two towns near the Iguazú Waterfalls: Puerto Iguazú, Argentina and Foz do Iguaçu, Brazil. From my own personal experience, I recommend staying in Puerto Iguazú. Argentina tends to be less expensive than Brazil, and I found that there was more to see and do on the Argentinian side, both in the national park and in the city of Puerto Iguazú. While I read complaints on Trip Advisor that Puerto Iguazú was dirty and rundown, making me wary before I got there, I found that I loved it. It reminded me of a little town in Central America and was a welcome break from the big city of Buenos Aires.
There are many hotels and hostels to choose from. Should you want to live it up, there is a luxury hotel inside each of the national parks: the Sheraton Hotel inside Parque Nacional Iguazú (Argentina) and Hotel das Cataratas inside Parque Nacional do Iguaçu (Brazil).
On the other hand, if you're traveling on a budget, there are some great budget-hotels and hostels as well. I stayed at Mango Chill, an awesome hostel near the bus station in Puerto Iguazú. The staff were incredibly knowledgable and helpful, going so far as to sit down with me the night I arrived to help me plan (and even book) my adventures. They have two onsite chefs that prepare a great complimentary breakfast and an amazing multi-course dinner each night (optional). It was a great place to relax, have a glass of wine, and enjoy meeting other travelers from around the world.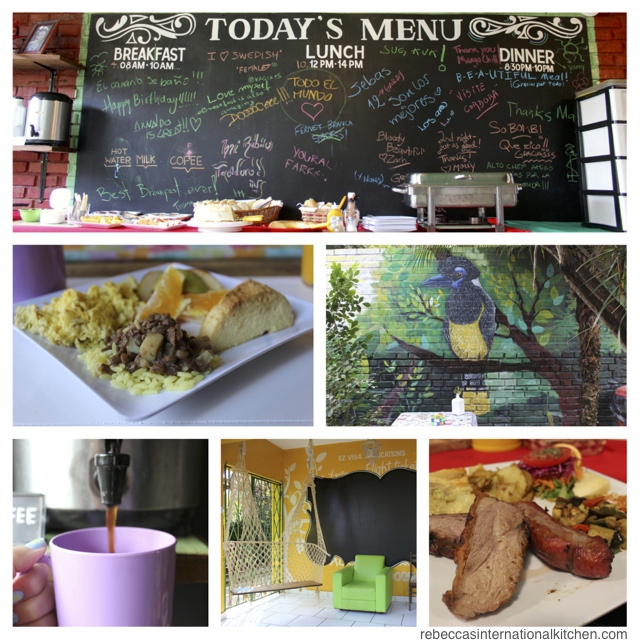 For more information about Iguazú Falls, including a complete 3 day itinerary, check out my article How to Plan for Three Days at Iguazú Falls.