Things To Do in Bariloche Year-Round
Whether it's winter or summer, Bariloche is a destination that should be on every nature-lover's travel list. As an avid skier, I was particularly drawn to the skiing found in Bariloche. However, there is much more to do in Bariloche besides winter sports.
Here is my list of great things to do all year-round. From exploring caves and hiking up to waterfalls to eating chocolate and relaxing at the spa, there is something for everyone visiting Bariloche.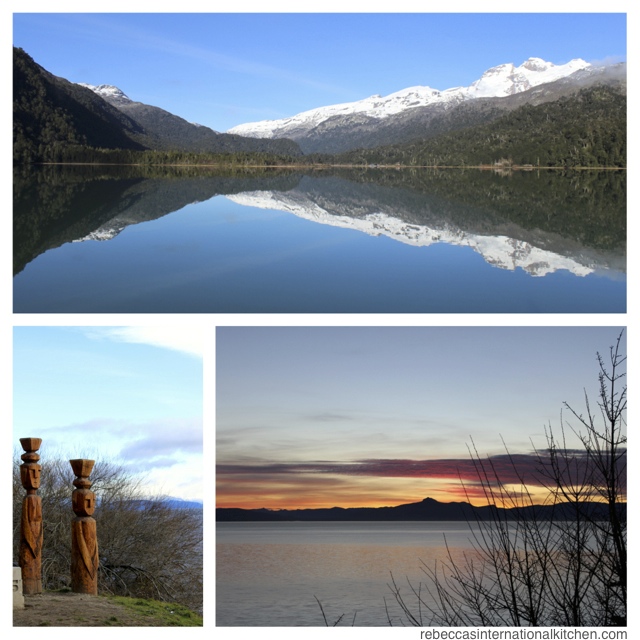 Planning a trip to Bariloche? To learn everything you need to know about winter sports in Bariloche, as well as the best places to eat, check out my other articles about Bariloche:
1. Explore the Lakes
Day Trip: Puerto Blest, Lago Frias, & Cascada de los Cántaros
I highly recommend this day trip as a great way to explore the lakes, forests, and waterfalls of the Nahuel Huapi National Park.
Trip Overview: Start by taking a boat across Lago Nahuel Huapi from Puerto Pañuelo to Puerto Blest. Once you arrive to Puerto Blest, go on a side excusion to Lago Frias. When you return, grab a quick lunch. Then take a hike through the forest to Cascada de los Cantaros (Waterfall of Pitchers). There, take the boat back across the lake to Puerto Pañuelo. The whole trip takes about 9 hours.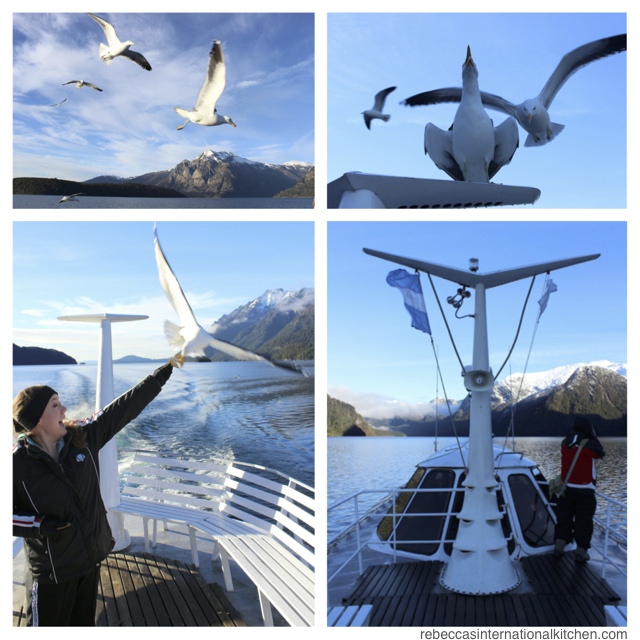 I really enjoyed the hour long boat ride across Lago Nahuel Huapi. It is a large, comfortable boat that even has a café at the back. There is a large deck on the top that allows people to be in the open air. At one point, it got a bit crowded with everyone trying to take photos of feeding the sea gulls, but after a while, everyone got cold and headed back down for warmth. The trick is to go outside as everyone else is heading back in. At one point, my husband and I were the only ones on the deck, which was really nice. The views of the mountains from the lake are beautiful.
On the way to Puerto Blest, we purchased tickets for the extra excursion to Lago Frias. Once we arrived to Puerto Blest, those going on the excursion got on a bus with the tour guide. The 10 minute bus ride took us through the forest to another port, Puerto Alegre. There, we boarded a smaller boat and set out across Lago Frias. This lake is remarkable because of the milky green waters that fill it. The waters are from Cerro Tronador, which can be seen in the distance. The 30 minute boat ride took us to Puerto Frias where we disembarked for another 30 minutes, then returned to Puerto Blest the way we came.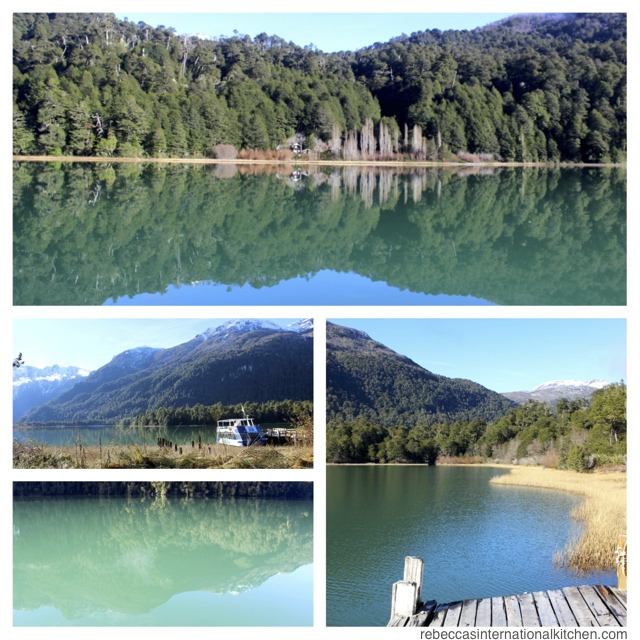 Puerto Blest has a restaurant, a picnic area, and serves as the launching point for the other activities. There is not really anything "to do" there, which is why I would highly recommend the Lago Frias excursion. Once we were back from visiting Lago Frias, we had a quick lunch, then met back up with the tour guide leading the hike. While those not able to do the hike could simply take the boat to see the waterfalls, I would not have wanted to miss this hour long trek through the forest as it was quite pleasant. The centuries old trees were enormous; scientists think that some are as old as 1500 years. Even in the dead of winter, flora and fauna seemed to thrive in this forest.
Where the trail ended, the climbing of stairs began. Hundreds of wooden stairs climb up the side of the mountain and along the waterfalls. I could hear the waterfalls long before I could see them. There are four different viewing points along the walk to enjoy the waterfalls. I stopped at each viewing point going up and going down to admire the rushing water. I may not make it to Iguazú this year, so I was trying to take it all in.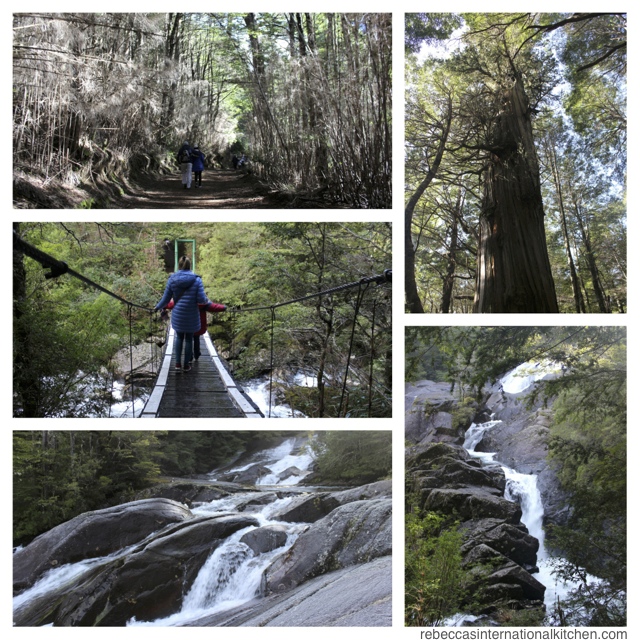 While there are many companies that sell tickets for this excursion, I prefer to book directly with Turisur, the company that runs the tour. For more information, including pricing and hours of operation, check out their website: www.turisur.com.ar/. You can arrange for the company to pick you up from your hotel, or if you have a car, you can drive directly to Puerto Pañuelo.

Expect to pay for the tour (AR$420), the National Park Fees (AR$75), a small port tax, the optional excursion (AR$160), lunch (unless you bring your own), and hotel transfer (AR$100).
2. See the Black Glacier
Day Trip: Cerro Tronador and Ventisquero Negro
If you have time for another day trip, don't miss the hearing the Tronador (Thunderer) and seeing the Ventisquero Negro (Black Glacier) inside the Nahuel Huapi National Park.
Trip Overview: Start by taking a small tour bus 3 hours through the mountains, stopping at scenic spots along the way. Arrive at the small town of Pampa Linda for lunch and clear views of Cerro Tronador. After lunch, drive another 45 minutes to reach the base of Cerro Tronador; here you can see the Ventisquero Negro. Spend about 45 minutes watching and listening for the avalanches that give Cerro Tronador its name. Finally, head back to Pampa Linda for a short break before driving 2 hours non-stop back to Bariloche. The whole trip takes about 9 hours.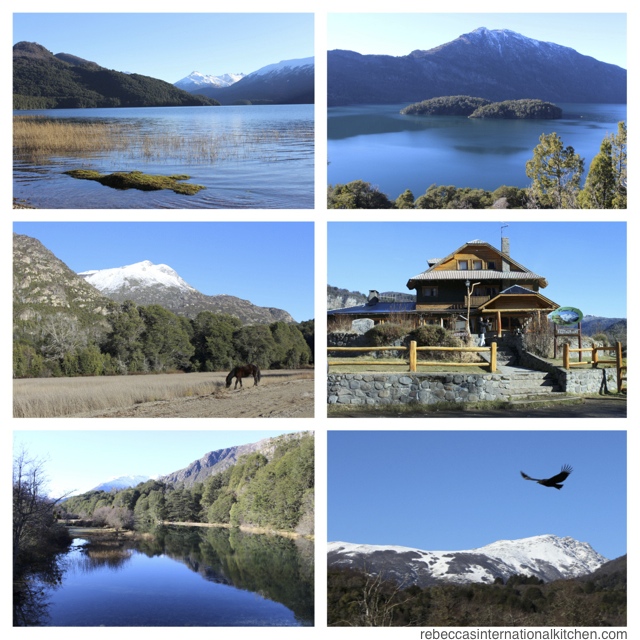 I was a little hesitant about this tour at first, wondering if it was worth such a long drive to see the glacier. However, I ended up loving this day trip; the journey was just as enjoyable as the final destination. Along the way to Cerro Tronador, we stopped at several scenic spots where we were able to enjoy nature's beauty. I saw wild horses, trout, and several species of birds up close. Our guide kept us entertained along the way with stories, bits of history, and comprehensive geological explanations.
Pampa Linda was a good place to grab lunch and to take in views of Cerro Tronador (an extinct volcano) from afar. A 45 minute drive from Pampa Linda takes you to the final destination. Once up close to the Ventisquero Negro, you can no longer see the peak of Cerro Tronador. However, it is the black glacier and the 100 meters of glacial ice at the top of the glacier that captures everyone's attention. Unpredictably, the ice will break, causing an avalanche that sounds like thunder. You don't hear the avalanche until several seconds after it has already happened; so if you're not watching closely, you're likely to miss it; hence everyone sitting and staring.
The black glacier (slightly white with snow in the winter) is black because of the volcanic sediments from Cerro Tronador; this is also the cause of the milky green water. Because of its black color, the glacier is melting rapidly and may be gone in 15-20 years.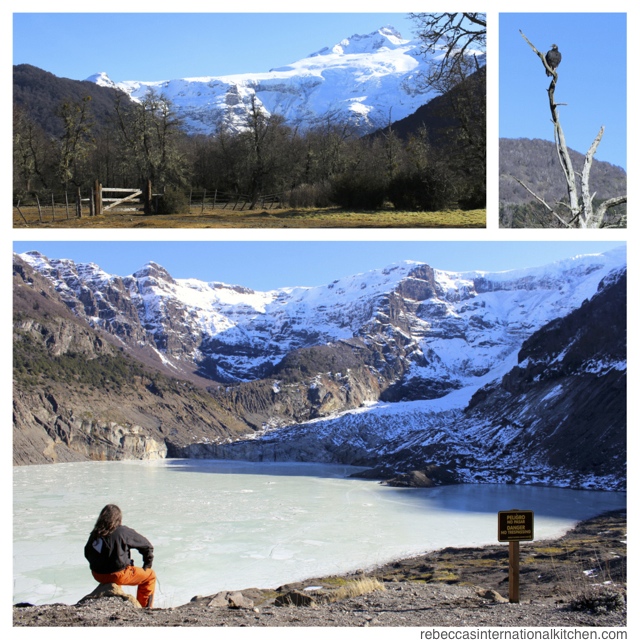 This day trip can also be booked with Turisur. For more information, including pricing and hours of operation, check out their website: www.turisur.com.ar/. The company will pick you up and drop you off at your hotel.

Expect to pay for the tour (AR$420), the National Park Fees (AR$75), and lunch (unless you bring your own). For an added cost, you may pay for a bi-lingual guide; definitely arrange this with the company beforehand.
3. Explore Ancient Caves
Half-Day Trip: Cavernas del Viejo Volcan Parque Cerro Leones
If you're looking for a fun half-day excursion, visit Cavernas del Viejo Volcan (Caves of the Old Volcano) in Parque Cerro Leones, a 20 minute drive from the Bariloche city center.
Trip Overview: Arrive at Parque Cerro Leones and have a guide lead you on a hike up the ancient volcano and into various caves. Learn how the volcano and caves were formed. Put on a hard had and explore the caves even further during an optional part of the tour. Then head back down the volcano, and return to Bariloche. The whole trip takes about 3 1/2 hours.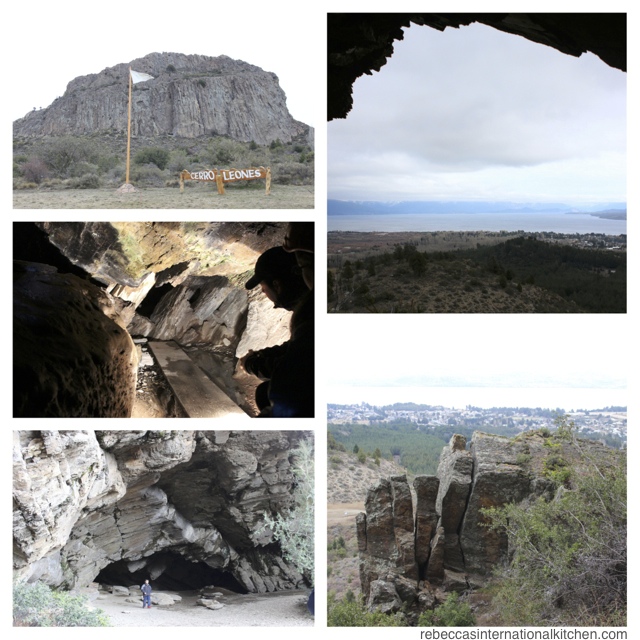 As a child, I always wanted to be an adventurer, exploring dark caves and climbing mountains. The inner kid in me squealed with delight when I learned we were going to crawl through a narrow opening at the back of one cave to visit an adjacent cave with a subterranean lagoon. So cool! I was so happy during this entire excursion.
The trail up the volcano is pretty tough, though there were a couple young boys in our group who seemed to do pretty well. They even braved the dark and eerie cave while the parents opted out. I would definitely recommend you have good shoes and be in good physical health to survive the 2 1/2 hour hike. The views of Bariloche and Lago Nahuel Huapi during the hike are spectacular. What a great afternoon!
This day trip can be booked directly with Parque Cerro Leones. For more information, including pricing and hours of operation, check out their website: www.cerroleones.com.ar/. You can arrange for the company to pick you up from your hotel, or if you have a car, you can drive directly to Parque Cerro Leones.

Expect to pay for the tour (AR$200) and the optional hotel transfer (AR$125). There is a restaurant on the premises. Be sure to ask in advance about an English-speaking guide.
4. Walk Around Bariloche
Centro Civico, the Catedral, and Chocolate
If you walk around Bariloche's civic center, it won't take you long to see that these buildings don't look like typical Argentine architecture. The alpine-style of using rocks and wood was used by architects in order to give Bariloche a traditional European look, one which authorities hoped would attract tourists to this part of Argentina. They were quite successful; since the arrival of the railroad and the opening of the civic center, the Cathedral, the Llao Llao Hotel, and other infrastructures built in the 1930s and 40s, tourism has continued to increase. Bariloche is visited by Argentines and foreigners all year long.
When visiting the civic center, stop by the Tourism Office to receive maps and free information. Also worth a short visit is the Francisco P. Moreno Museo de la Patagonia where you can learn all about the history of Bariloche. Most of the information is translated into English, so this is a great opportunity to soak in all the history you can (most of this information is repeated on various tours, but often in Spanish or limited English).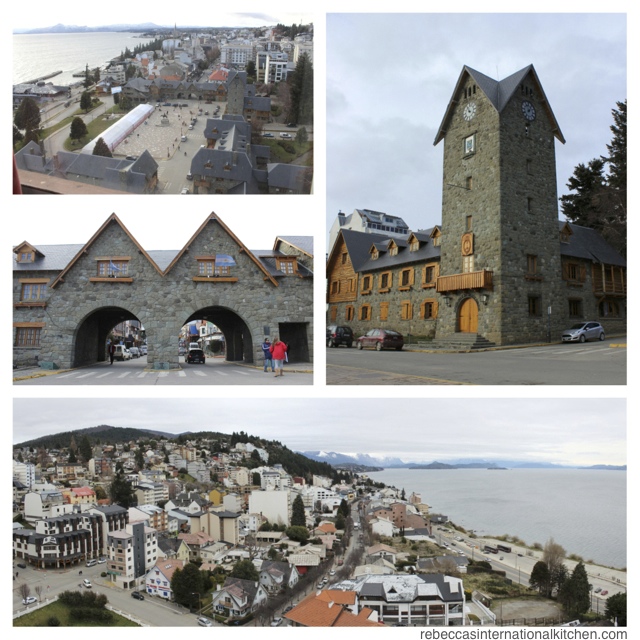 The Francisco P. Moreno Museo de la Patagonia is open Tuesdays – Fridays from 10:00 a.m. to 12:30 p.m. and from 2:00 p.m. to 7:00 p.m., Saturdays from 10:00 a.m. to 5:00 p.m.
On your walk around town, be sure to visit La Catedral de San Carlos de Bariloche, "Nuestra Señora del Nahuel Huapi" (The Cathedral of San Carlos de Bariloche, "Our Lady of Nahuel Huapi") sitting beside the lake. Peak inside to see the unfinished, yet beautiful interior. Especially don't miss the many stained glass windows which depict traditional scenes from the bible as well as historical scenes of Spanish colonization of the Americas.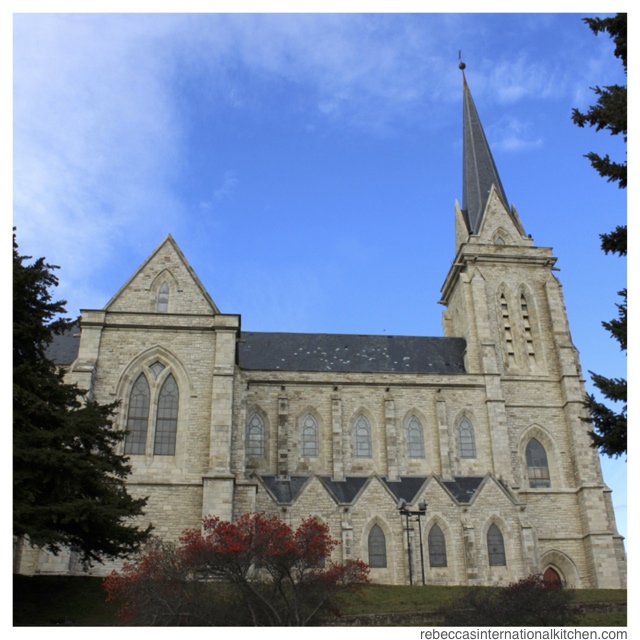 For more information about the cathedral, including detailed photos and descriptions of the stained glass windows, check out the website: www.iglesiacatedralbariloche.com/.
Now that you've tasted a bit of Bariloche's history, it's time to taste a bit of chocolate. How does a city gain a reputation for chocolate? A short walk down Calle Mitre is all it will take for you to understand; this street is lined with chocolate shops of different brands and specialties. Ask around for people's favorite and you will get assorted answers: the hot chocolate at Mamuschka, the chocolate covered raspberries from Rapa Nui, the chocolate gelato at Abuela Goye. Walk down the street, sampling a bit from each to decide your favorite.
My husband's favorite kind of chocolate is chocolate en rama (chocolate sticks), so he tried this type of chocolate at each place we visited, carefully comparing all the chocolate shops. He placed Mamuschka firmly in 1st place, followed by Rapa Nui. I couldn't stick to just one type of chocolate, so I tried a bit of everything. I loved it all, but as a wine lover, I think the bottle of mulled wine from Rapa Nui that I came home with was my favorite!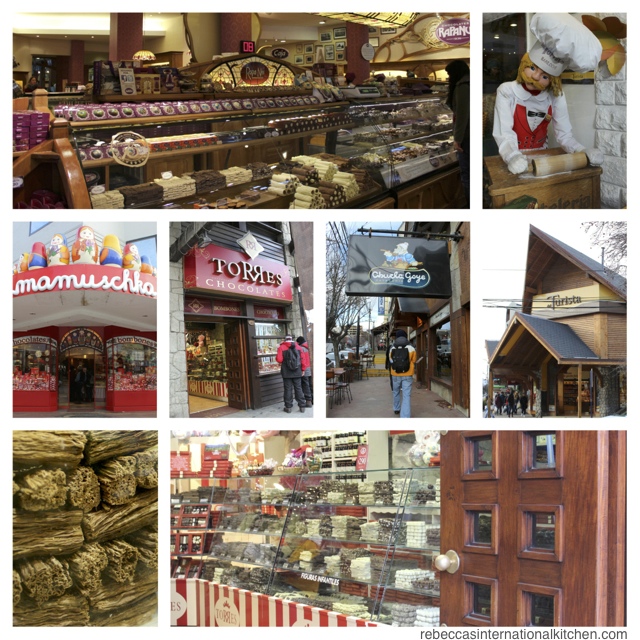 If you can't get enough chocolate, visit the Havanna Museo de Chocolate where you learn how chocolate is made, see some of the Havanna factory at work, see sculptures of animals made of chocolate, and most importantly, get to taste some hot chocolate. Plus, part of the price of admission goes towards your purchase in the gift store. (Unless there is an English speaker working, this tour is only offered in Spanish.)
5. Spend Time Relaxing
Llao Llao Hotel & Resort, Golf-Spa
After hiking or skiing for several days, take a day to relax at the Llao Llao Hotel & Resort. With several wonderful restaurants, a golf course by the lake, and an incredible spa, the Llao Llao is a top-notch hotel. Even non-guests can pay to have a spa day, with a 45-minute massage, access to swimming pools, jacuzzi, sauna, and gym. Other special services such as body polishing, facials, and aromatherapy are available to satisfy all your pampering needs.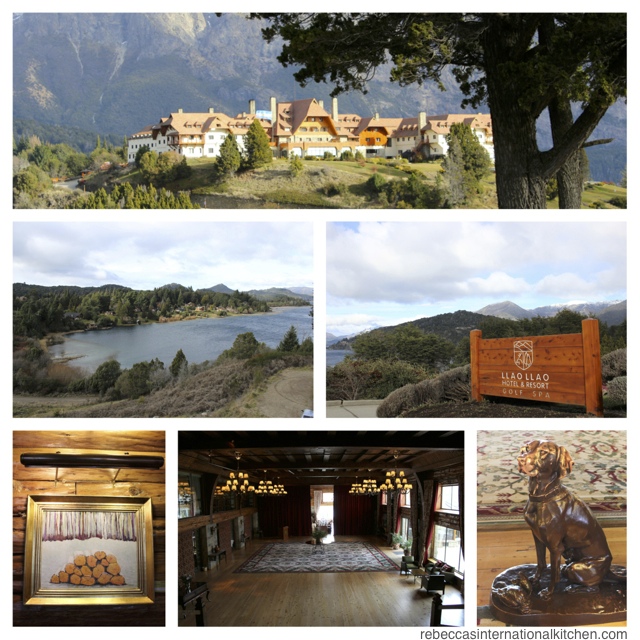 For more information, including a complete list of services, check out their website: www.llaollao.com/
6. Take the Scenic Route
Half-Day Trip: Circuito Chico, Capilla de San Eduardo, & Colonia Suiza
Don't miss this scenic, 2-hour drive along the Circuito Chico (Small Circuit), a map of which may be acquired at the Tourism Office. If you don't have your own car, you may be able to arrange a fixed-priced trip with a remis or taxi. In the summer, many people rent bicycles and bike along the circuit's bike path.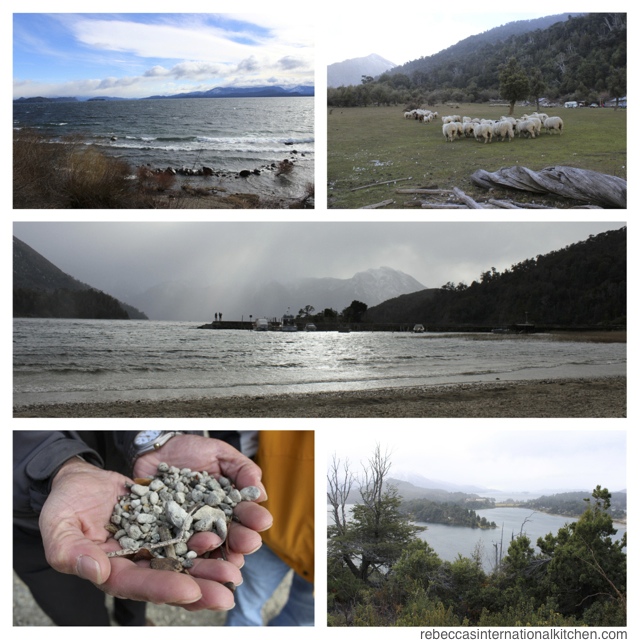 My husband and I arranged for a remis to take us on a tour of Circuito Chico. Our driver picked us up from the Llao Llao Hotel & Resort where we were having lunch; since the Llao Llao Hotel & Resort is on the circuit, that is where we began our journey. From there, we visited the Capilla de San Eduardo (Chapel of St. Edward), a small wooden chapel from the 1940s.
After that, our driver took us to several viewing spots, some of which were quite hidden. We stopped at a small cove where our driver showed us bits of volcanic rocks that had washed up on the lake shore after the last volcanic eruption in 2011. We also stopped at a small bridge over a river where we could see a waterfall. After days of hiking, skiing, and large group tours, it was nice to be driven around in a private car and be shown such beautiful spots.
Along the way, we were shown around Colonia Suiza (Swiss Colony), which has a little market, some restaurants and stores, and a few buildings from the original settlement. (The best time to visit Colonia Suiza is on Wednesdays and Sundays in the high season, otherwise it can be a little deserted.) Though we didn't stay long, it was nice to see.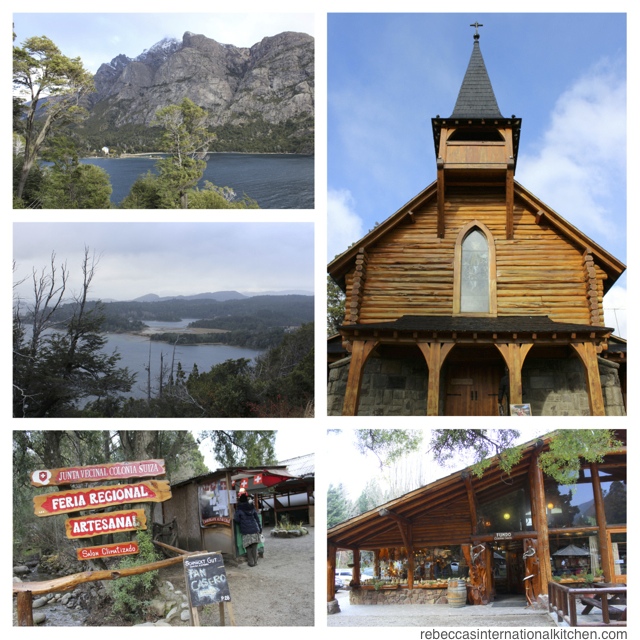 If you have your own car and enjoyed Circuito Chico, ask the Tourism Office for information about Circuito Grande (Large Circuit) and Ruta de Las Siete Lagos (Road of the Seven Lakes).