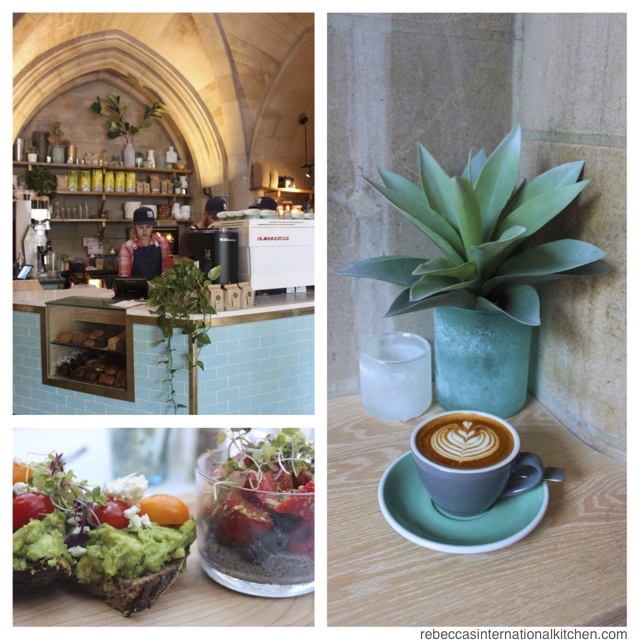 I am forever singing the praises of Bluestone Lane. A weekend regular at the Upper East Side location near Central Park, I've tried almost everything on the brunch menu and have loved it all. My usual order consists of a Magic, a smaller version of a Flat White, and the Brekkie Board, a duo of their famous Avocado Toast and delicious Blueberry Cardamom Chia Pudding (which I sometimes share, but often can polish off alone). Other weekend favorites include the Matcha Tea Latte and Granola Bowl with Greek yogurt and fresh berries.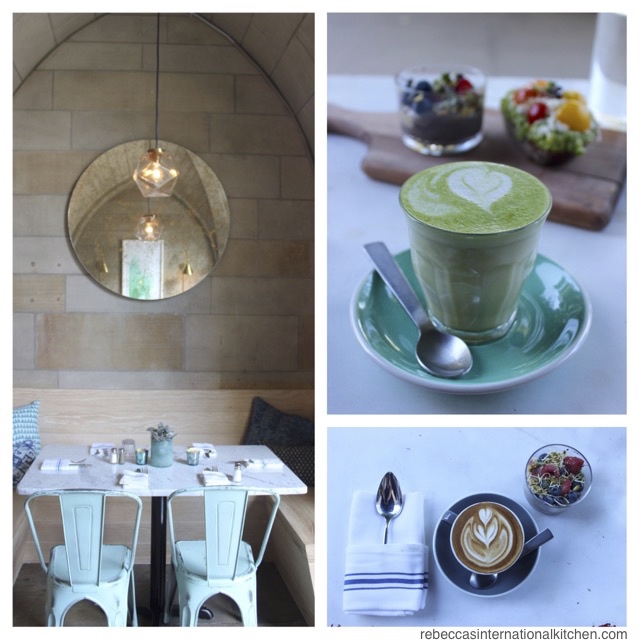 Brunch at Bluestone Lane is usually more breakfast than lunch for me. However, on a rare day off from work, I finally happened upon Bluestone Lane at lunch time. I ordered the Watermelon Salad ($12), a menu item I had been eyeing for weeks, paired with a glass of the Juliette Rose ($8).
The Watermelon Salad was all I had dreamed about and more. The simple salad consisted of baby arugula, mint leaves, cucumber slices, and chunks of juicy watermelon, tossed in lemon juice and olive oil, and sprinkled with feta cheese. The perfect Summer salad that was both extremely refreshing and inspiring. Why not eat lunch like this every day? Why only on the weekend or when I take a day off?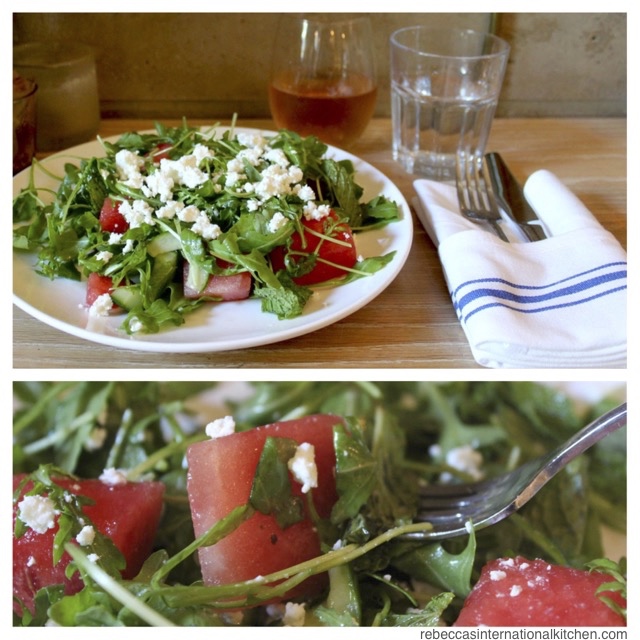 While eating, I couldn't help but to deconstruct the salad, memorizing each bite, so that I could later replicate it myself for days when Bluestone Lane was too far away. The following recipe is what I came up with based on that lovely day's lunch. This is a simple and delicious salad, easy to make during the busy week, and great for taking to work for lunch. It's also versatile; try adding Kalamata olives to the mix, or even substituting cantaloupe and prosciutto for the watermelon. Then, make sure to visit Bluestone Lane while in New York to try the original inspiration.
 
Watermelon Salad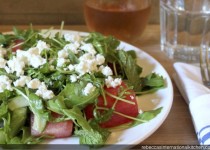 Inspired by Bluestone Lane
Prep Time:

20 minutes

Yield:

2 - 3 servings
Ingredients:
Instructions:
1. Wash and dry produce.
2. Tear mint leaves from stems; gently smack the leaves to release oils.
3. Slice cucumber in half lengthwise. Scoop out seeds with a spoon. Slice thinly.
4. Chop watermelon into small cubes.
5. Place arugula, mint, cucumber, and watermelon in a large bowl.
6. Drizzle lemon juice and olive oil over the salad mixture. Toss well. Divide the salad onto 2 or 3 plates.
7. Crumble feta cheese, about 2 to 3 Tbsp, onto each salad.
Bluestone Lane
Upper East Side location
2 E 90th St.
Manhattan
Website
Tel. (646) 869-7812
Open Daily from 7:30 a.m. to 8:00 p.m.