A Week of Wine in Mendoza
For my birthday, my husband took a week off of work to take me anywhere in Argentina I wanted to go. Without hesitation I chose Mendoza. Wine country. Mountains. Great food. This region of Argentina has tourists coming from all over the world wanting a taste of the good life, and I was no exception.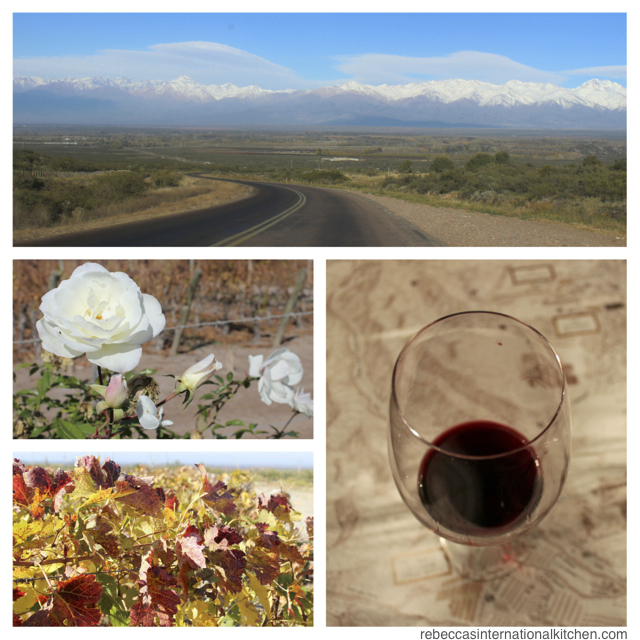 While doing preliminary research for my glorious week in Mendoza, I found myself growing a bit envious of the journalists who live there. With almost 1,000 wineries in the Mendoza region, how could anyone ever run out of wine to taste or restaurants to review?
I selected the wineries I wanted to visit based on different experiences I wanted to have. Award winning restaurants, interesting architecture, and opportunities to learn more about Mendoza, wine, art, nature, and cooking were keys in helping me choose only a handful of wineries from the masses.
After nine extraordinary days of bodega-hopping, here are my ten favorite winery experiences in Mendoza.
10 Best Winery Experiences in Mendoza, Argentina (1 minute version)
1. Best Food and Wine Pairing: Bodega Ruca Malen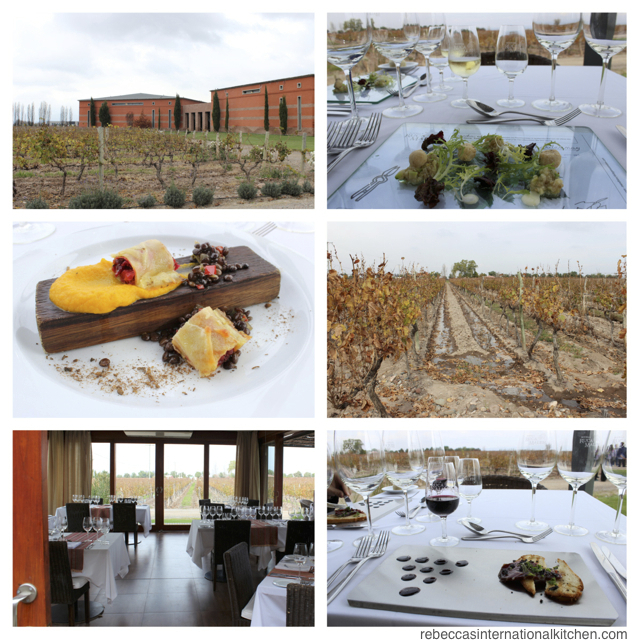 Distinguished by Great Wine Capitals as a "Best of Wine Tourism" Global Winner in 2014, the restaurant at Bodega Ruca Malen is simply the best. Every three months, the chef prepares different dishes to pair with five wines. The staff tries different food and wine combinations, then votes on the best pairings. The result is a fixed five course menu of delicious plates paired perfectly with the vineyard's best wines.
The restaurant itself is absolutely beautiful. Nestled beside the vineyard, I enjoyed soaking in the view of the vines while munching and sipping. Since I was there in Autumn, the fall foliage and cool weather were perfect compliments to the food and wine served. I can only imagine how the restaurant changes with the seasons; it makes me want to visit each quarter year.
Between appetizers, I was given an English tour of the small-production winery. The tour guide led a very interesting and comprehensive tour, showing us everything from the vine (which is too often skipped) to the production areas, fermentation tanks, and cellar. While most tour guides often repeat the same script about wine making, she offered fresh information. She explained how the winery uses egg whites to filter the red wine before bottling, how renting equipment, including a bottling truck, helps to keep their company small, and how imports and exports must be balanced in Argentina.
If you're looking for a wonderful restaurant and winery to celebrate your last day, to commemorate a special occasion, or to simply enjoy an amazing wine and food pairing amongst the vines, don't miss the restaurant at Bodega Ruca Malen.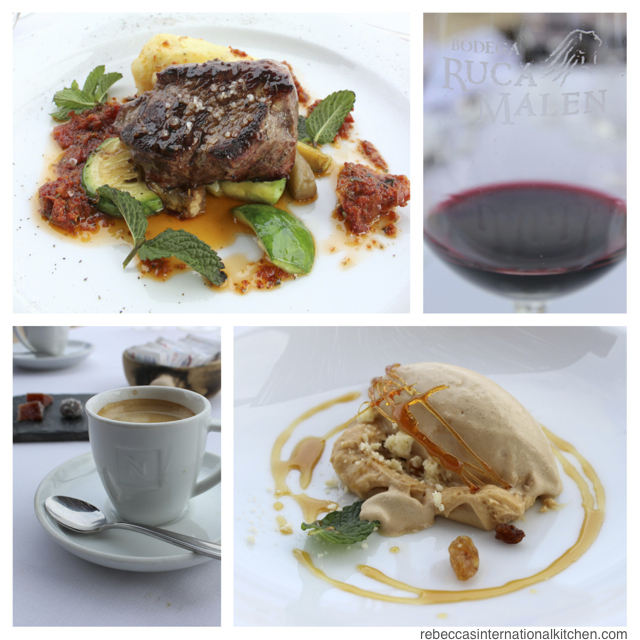 Bodega Ruca Malen
Ruta Nacional 7 Km. 1059, 55009
Luján de Cuyo
Tel: +54 9 261 553-7164

Best of Wine Tourism Awards: 2014 Regional Winner (Gold) and Global Winner for "Restaurant" from Great Wine Capitals
2. Best Farm to Table Restaurant: Rincón Atamisque Restaurante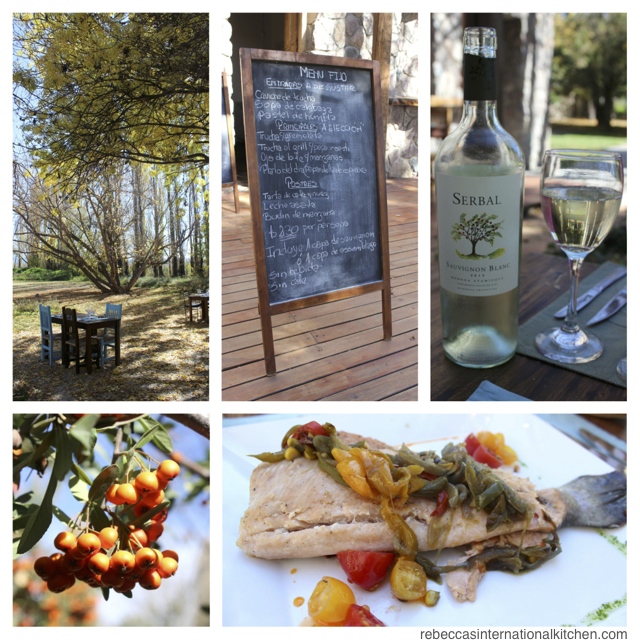 At Rincón Atamisque Restaurante, fresh trout from Atamisque's trout farm is paired perfectly with wine from their winery. Their menu is mostly fixed: an appetizer sampler, your choice of entree, and a dessert sampler. I tried the grilled trout and my husband had the baked trout. Both were spectacular. Other entrees included a beef dish and a plate of the day, usually a pasta dish. The trout and salmon ceviche from the appetizer plate was incredible; I could have eaten several bowls.
More than anything, I loved having a leisurely lunch outside on the patio, watching the yellow leaves fall, and sipping their delicious Sauvignon Blanc.
While I went specifically for the restaurant, tours of the trout farm and winery are available with reservations and would make for a fun afternoon. This is a wonderful, laid back lunch spot; a great restaurant to stop by while wine tasting in the Uco Valley.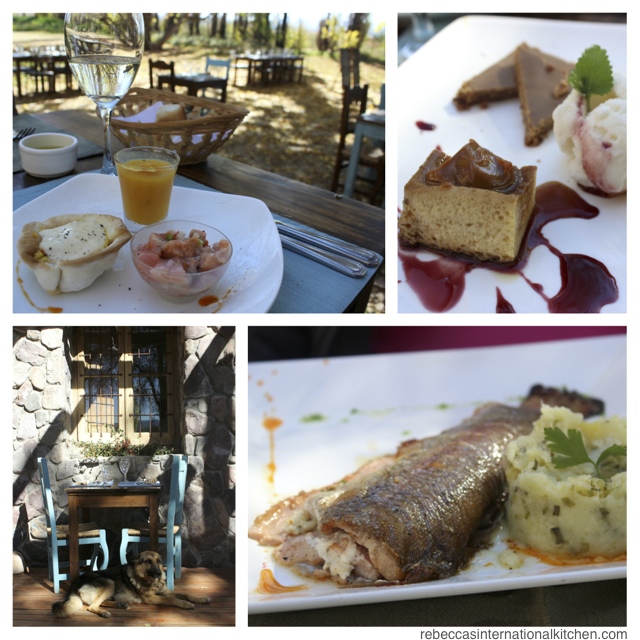 Rincón Atamisque Restaurante 
Calle La Gloria 2054, 5561
Tupungato
Tel: 261 15 527 5336

Best of Wine Tourism Awards: 2012 Regional Winner (Gold) and Global Winner for "Innovative Wine Tourism Experiences" from Great Wine Capitals
3. Best (Free) Tour and Tasting: Bodega Luigi Bosca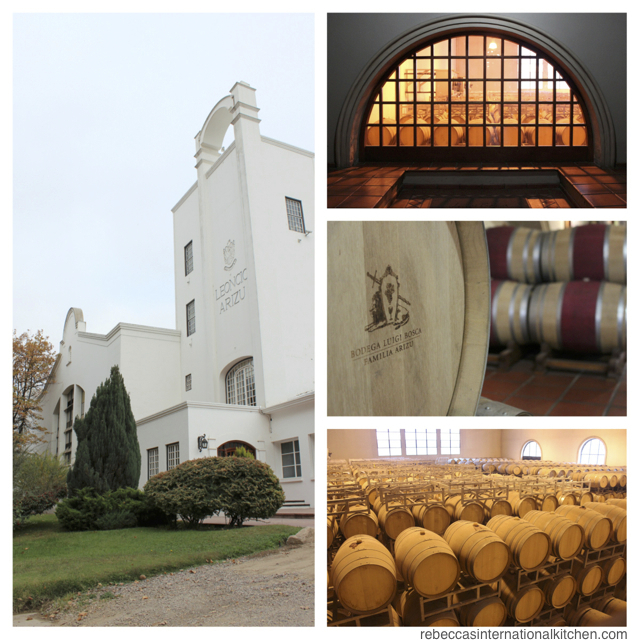 When I first made reservations for a tour and tasting of Luigi Bosca, I thought the price (75 pesos at the time) was a little hefty. However, they were the only winery I went to that served 4 wines: their 2013 Riesling (not yet available in stores), their 2011 D.O.C. Malbec (1 of 4 in Mendoza), their Gala 1 Luigi Bosca Malbec blend, and their Finca La Linda Extra Brut (sparkling wine). After this tasting, the best I'd had yet, I felt the price was justified. But then it got better. My husband and I decided to buy a bottle of the Gala 1 to age for 10 years. When he went to pay, they gave us the tour and tasting for free. Here, I learned to ask about buying a bottle. You may very well get a great (unadvertised) deal!
Besides the amazing tasting, the tour in English was unparalleled. The tour guide at Luigi Bosca was the only guide who was able to answer all my questions about the yeast used in the fermentation process. It's not a trick question I use to evaluate tour guides or anything…I'm genuinely curious. However, when others just shrug, it's refreshing to have someone give detailed answers. A+
The winery also showcases 14 pieces of concrete artwork, "Wine Way of the Cross" by Hugo Leytes. Each relief took almost a year to complete. When put together, they show the process of making wine, while drawing parallels with the life and death of Jesus Christ.
Luigi Bosca has two of the largest barrel rooms I've ever seen (with more than 3,000 barrels in each room). It was here that our guide explained how French Oak is going to eventually run out. She discussed how Luigi Bosca has been experimenting with a few barrels made from Chinese Oak, Russian Oak, and even other types of trees found in Argentina (their experiments are still just in the testing stages). After seeing so many barrels I can understand why trying to find a comparable replacement for French Oak is at the forefront of many winemakers' minds.
Visit Bodega Luigi Bosca for a top-notch tour, a superb tasting, thought-provoking art, and incredible cellars.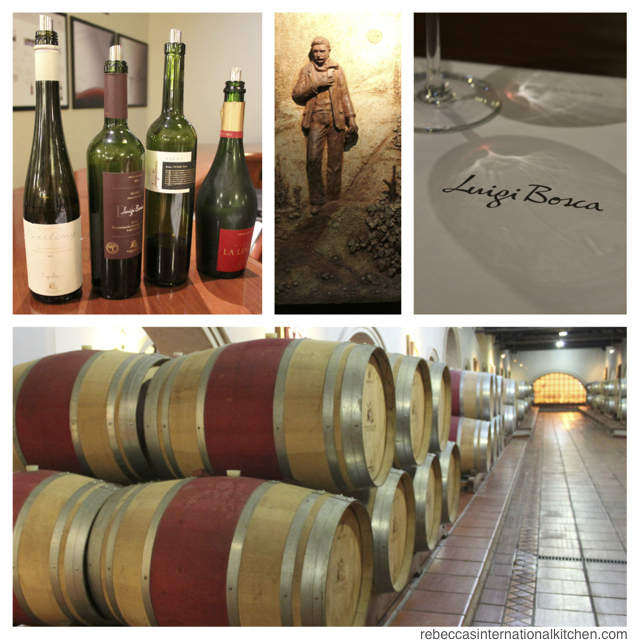 Bodega Luigi Bosca 
San Martín 2044
5507 Luján de Cuyo
Tel: +54 261 498-1974
4. Best Wine Cellar: Bodegas Salentein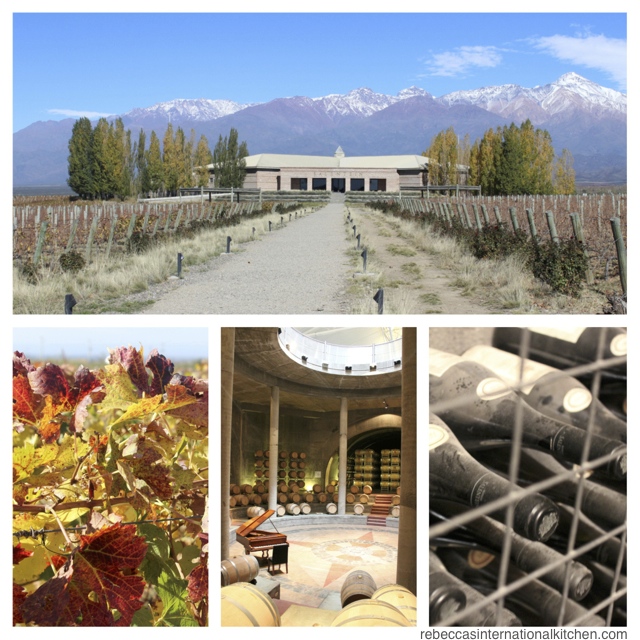 Without a doubt, what sets Salentein apart from other vineyards in Mendoza is its wine cellar. With the capacity to hold 5,000 barrels, this underground cellar's size alone would be enough to be deemed extraordinary. However, more than just its size, this cellar is absolutely beautiful. When I first looked down on the cellar from the floor above, I was immediately drawn to the compass rose floor mosaic, a symbol of the winery's desire to send their wine all over the world.
After a tour of the ground level where the fermentation tanks are held, my group was taken underground to the cellar. There, we were encouraged to go to the center of the compass rose to sing, shout, or try out our piano skills. The acoustics were spectacular, so good that there are special concerts held in the cellar. Never have I seen such a brilliantly designed wine cellar; I would love to return one day for a concert there.
After having a fun time in the cellar, singing, dancing, playing the piano, and taking pictures, our group retired to one of the tasting rooms. I thought this tasting was really well done. Our guide helped us pay particular attention to how each wine looked, smelled, and tasted. She encouraged discussion amongst our group about the wine, which was rather fun.
If you visit Salentein, plan to arrive a little early to visit the Killka Gallery. This art gallery houses contemporary Argentine artists, as well as 19th and 20th century Dutch paintings. There are also sculptures, fountains, and the beautiful landscape to be enjoyed. After your tour, stay for lunch or visit Gratitude Chapel. There is certainly enough to do at Salentein to make the drive worth every minute.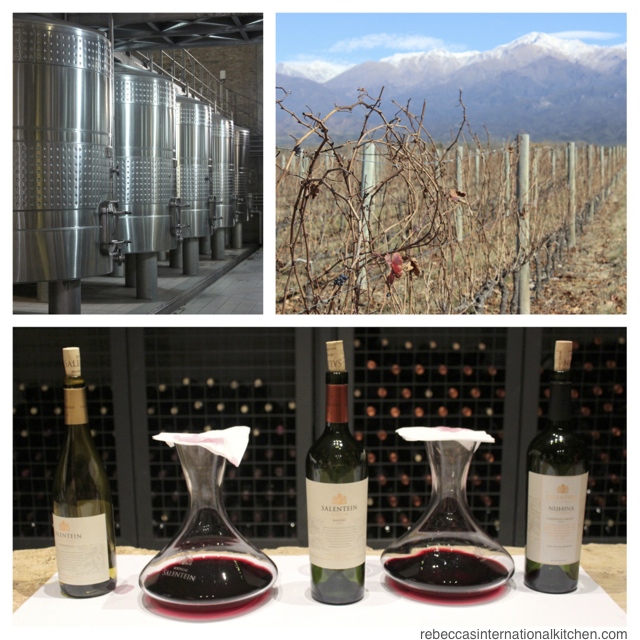 Bodegas Salentein 
Ruta 89, 5562
Valle de Uco
Tel: +54 2622 42-9090

Best of Wine Tourism Awards: 2013 Regional Winner (Gold)  for "Sustainable Wine Tourism Practices" and 2012 Regional Winner (Gold) for "Wine Tourism Restaurant" from Great Wine Capitals
5. Best Cooking Class: Familia Zuccardi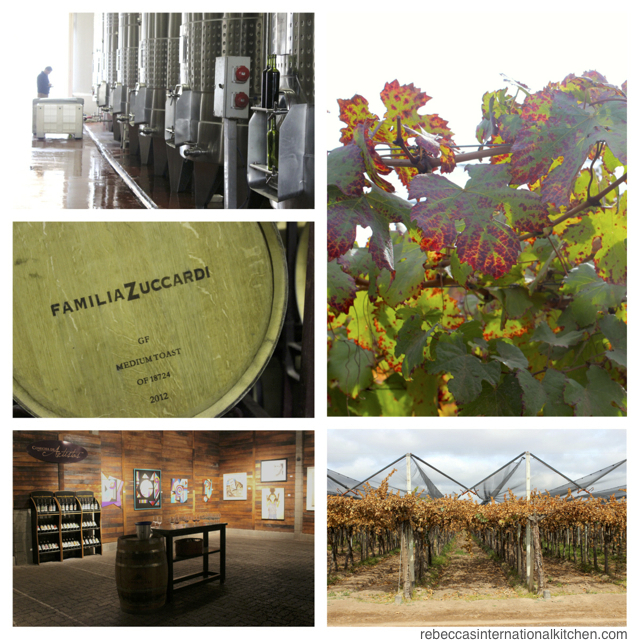 I love eating at restaurants; however, after a week of being waited on, I was dying to get my hands dirty. Simply put, I missed cooking. Fortunately, there are several wineries that have cooking classes available for tourists wanting to be more involved in meal preparation. After researching my options, I chose the "Let's Cook" program at Casa del Visitante, one of the restaurants at Familia Zuccardi. This course included a small breakfast, a cooking class with the chef, a winery tour and tasting, and then a delicious lunch at the restaurant.
I certainly didn't go hungry during my time at Familia Zuccardi. When I got there at 10:00 a.m., the staff was ready with a breakfast of toast and coffee for me. After that, I met the chef leading our cooking class. Since it was just the chef, my husband, and me, we got a very personalized course in Argentine cooking. We made bread, put together three types of empanadas, and made little dulce de membrillo pastries out of the leftover dough.
While I've tried my hand at making bread and empanadas before, what made this so fun was getting to work with the chef in the bustling kitchen. All around us, the staff was busy preparing food for the lunch crowd. I saw bits and pieces of the dishes I would later get to devour. This, plus getting to visit with the chef gave me a new appreciation for what goes on in the kitchen. From seeing pots boiling over to meeting the woman who makes hundreds of empanadas every day, being behind the scenes was a thrilling experience.
After baking the empanadas in the outdoor clay oven, I finally got to taste our creations, full wine glass in hand. Then it was off to the vineyard for the tour and tasting. This was great because it gave me some time to get hungry again! Since the final harvest had just ended the week before, the tank room was bustling with activity. The highlight was being taken into the laboratory area where the winemakers have plastic tubs with different experiments. Our guide also showed us concrete tanks that are increasingly being used in the aging process in lieu of barrels. We concluded our tour by tasting two Malbec wines in their art gallery.
Just when I was starting to get a little hungry, it was time to head back to the restaurant for the "Regional Menu." The starter included the empanadas we made paired with a white wine. There was also the bread with Zuccardi's own line of olive oil. Then, there was pumpkin soup, a large salad, a variety of grilled vegetables, and an endless amount of meat straight off the grill: chorizo, morcilla, matambre (pork), chivo (goat), and three cuts of beef. Plus red wine! I tried to sample some of everything, but at some point had to stop. I had to save some room for the delicious dessert, dessert wine, coffee, and more dessert.
Needless to say, I didn't eat much for dinner that night! I highly recommend this as a fun, interactive way to spend a day with wine and food.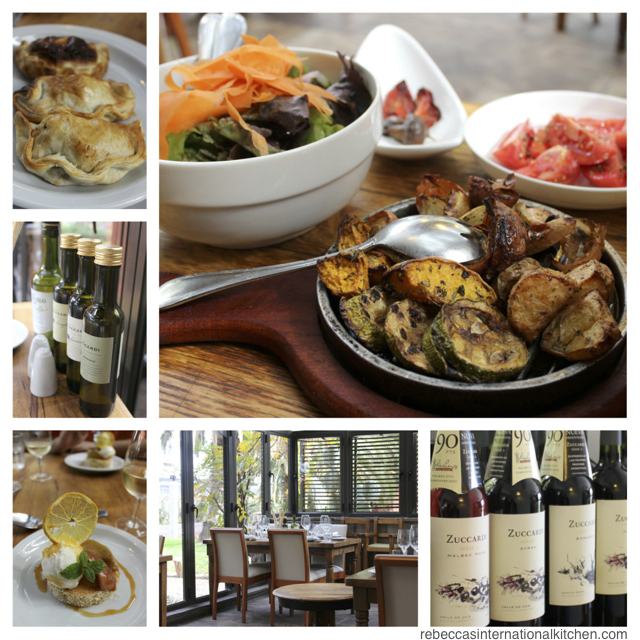 Familia Zuccardi and Casa del Visitante
Ruta Prov 33 km 7,5, M5531
Maipú
Tel: +54 261 441-0000

Best of Wine Tourism Awards: 2013 Regional Winner (Gold) for "Wine Tourism Restaurants" and 2013 Regional Winner (Silver) for "Innovative Experience" from Great Wine Capitals

Tip: Everything was in Spanish for this course. If you need this program in English, be sure to contact the winery early so they can have time to accommodate you.
6. Best Atmosphere: Andeluna Cellars
Andeluna Cellars was the last winery I planned on visiting during my day in the Uco Valley. After a long, hard day of wine tours and tastings, the only thing I wanted was to spend some quality time relaxing among the vines. Andeluna Cellars was the perfect place to do just that.
The tour was very informative, interesting, and well done. Our guide even explained malolactic fermentation to a depth I've never heard on a tour before. At the end of the tour, we were guided back to the main room where our guide discussed each of the wines. Each person then got to choose which wines he or she wanted to taste. This was the only winery I went to that had a customized wine tasting menu, both in how many wines as well as which wines to taste.
The best part was that the tasting took place on the comfortable couches in the main room. Here, we were encouraged to stay and relax for as long as we wanted. I felt incredibly welcomed, as if I were at a friend's home. With couches on the porch in the warm sunshine, I could have stayed for hours. One family stayed for coffee and tea, others were taking an afternoon stroll through the vineyard, and one man was reading and dozing on one of the outdoor couches. The staff was so friendly and accommodating; I rate this vineyard as the most friendly and welcoming place to stay for a while.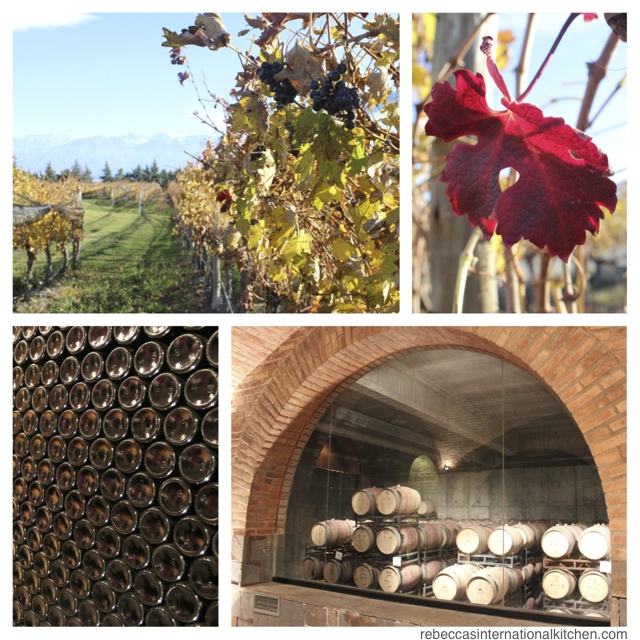 Andeluna Cellars 
RP89, 5561
Tupungato
Tel: +54 2622 42-3226
7. Best Wine Museum: Bodega La Rural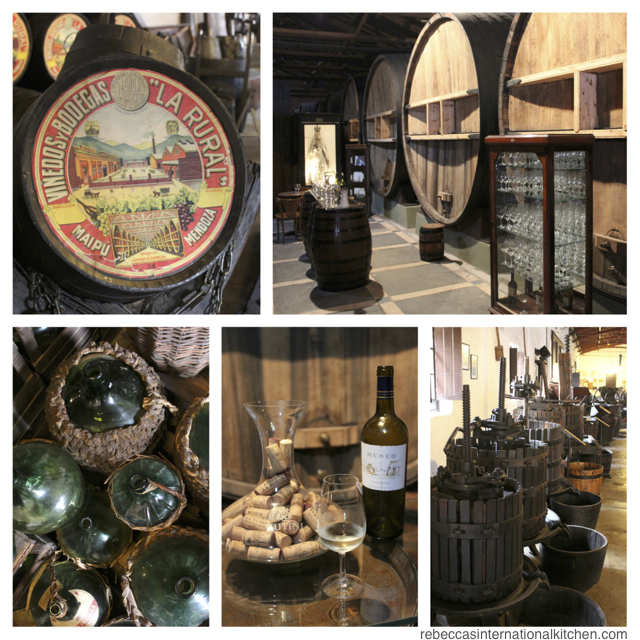 No other winery tour transported me back in time like the tour at Bodega La Rural (of the Rutini family). The tour guide began by discussing the traditional methods used to make their wine since the late 1800s, including different irrigation and pruning methods. The winery still uses many of these methods for their Museo line, but incorporates more modern winemaking methods for their other lines. Throughout the property are antique presses and pieces of machinery; however, the real history lesson began upon entering La Rural's Wine Museum.
With over 4,500 artifacts, the Wine Museum has everything you could imagine related to wine. From wine-barrel carriages to earthen jugs and glass jars, to presses and bottling machines, tools, and laboratory equipment, the museum is the perfect setting to learn more about the history of wine in Argentina. Looking at the ox skin stretched over a wooden frame and listening to the tour guide, I could imagine perfectly how winemakers would crush the grapes with their feet, letting the juice flow through the opening in the bottom to the earthen jars. They would then bury the jars in the ground. While I'm not sure how great that early wine was, I started to really understand and appreciate how far the wine industry has progressed since then. Looking at the machinery, the tour guide explained exactly how each new machine was a slight improvement upon the previous models. Even now, winemakers are still trying to find ways to make improvements to the process. This was a fascinating experience.
The added bonus of this tour was that the price of the tour ticket went toward any purchase in the wine shop. The tour concluded in the large barrel room with two tastings of the Museo wine. Afterward, everyone went crazy buying boxes of wine. I opted for a bottle of Rutini dessert wine, a sweet memento I could remember my trip with when back in Buenos Aires.
If you enjoy learning about the wine, history, and seeing artifacts up close, definitely check out Bodega La Rural.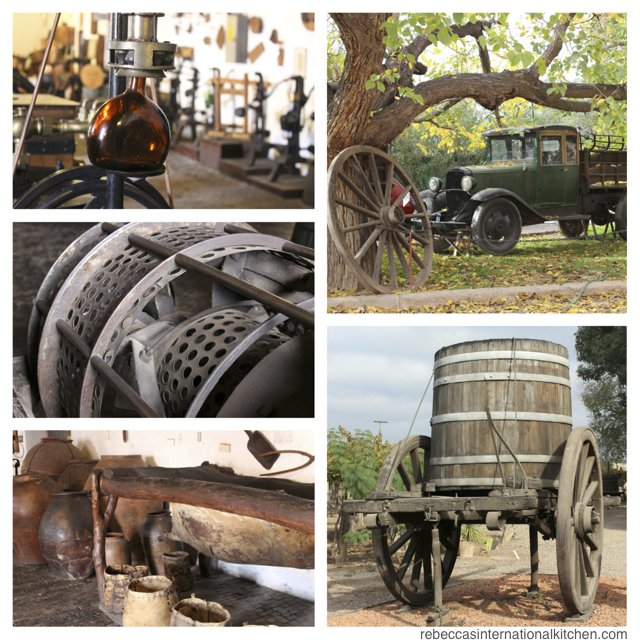 Bodega La Rural 
Monte Caseros 2625, 5522
Coquimbito
Tel: +54 261 497-2013
8. Best Large Scale Production Tour: Bodegas López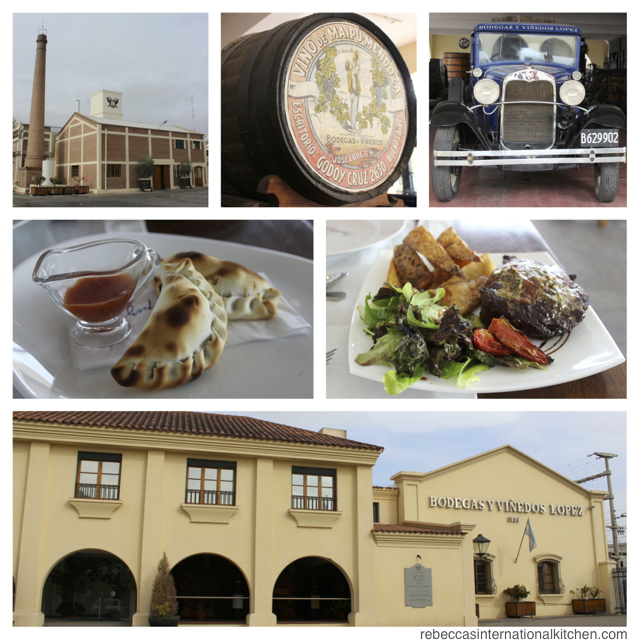 I love the intimate setting of small boutique wineries; however, it is also really exciting to see the big boys in action. Bodegas López, one of the five largest producers of wine in Mendoza, is a great winery to visit to see a large scale production facility at work. Plus, they give free tours and tastings.
Everything at Bodegas López is larger than life; I've never before seen such large fermentation tanks or oak barrels. They even have giant (fake) bottles of wine throughout the property.
The most impressive sight, however, was the bottling facility. I was delighted to be there while it was in full gear, producing about 10,000 bottles per hour. It was mesmerizing to watch the entire bottling process–from empty bottles to pallets of wine ready to be delivered. I'd never seen such massive quantities before.
While I could have stayed in the bottling facility all day, there was also a tasting of two wines in their small museum. Also worth visiting is their award-winning restaurant El Rincón de López. There, you can have a whole glass (or bottle) of wine with your meal, which is how I prefer to "taste" wine.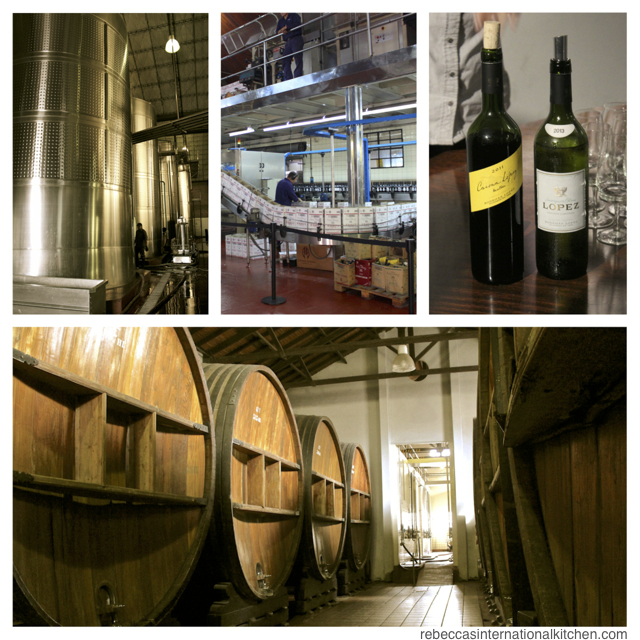 Bodegas López 
Ozamis J. A. 375, M5511APG
Maipú
Tel: +54 261 497-2406

Best of Wine Tourism Award: 2013 Regional Winner (Bronze) for "Restaurant" from Great Wine Capitals
9. Best Architecture and Landscaping: Terrazas de los Andes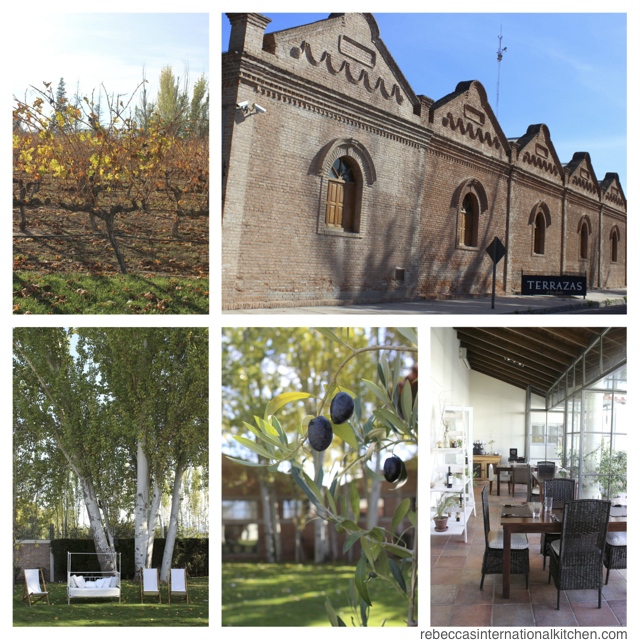 Everything about Terrazas de los Andes is beautiful. The landscaping, the old buildings, and the on-site hotel. Even the tank room, usually the ugliest part of any winery, is enchanting with its brick archways and high-beamed ceiling. Housed in an old winery built in 1898, the buildings on the estate are in remarkably great condition. And rare. Most buildings from a hundred years ago were leveled in the earthquakes that frequent Mendoza.
Terrazas de los Andes is so named because each of the vineyards owned by Terrazas in the Mendoza region are at different elevations. After a lovely private tour where I learned more about which grapes thrive at each elevation, I enjoyed a leisurely tasting in the gorgeous tasting room and wine shop. The tour guide personalized my tasting based on wines I enjoy, eliminating ones I had already tried from Terrazas. We spent time comparing a young 2010 Single Vineyard Malbec and an older 2007 Malbec. She discussed how young wines are different than old wines by comparing them to people; it was a really interesting discussion and gave me new insight about aging wine in the bottle, how it changes the wine, and which I tend to prefer.
If you want an enlightening tour and a superior tasting experience while being surrounded by beauty, don't miss Terrazas de los Andes.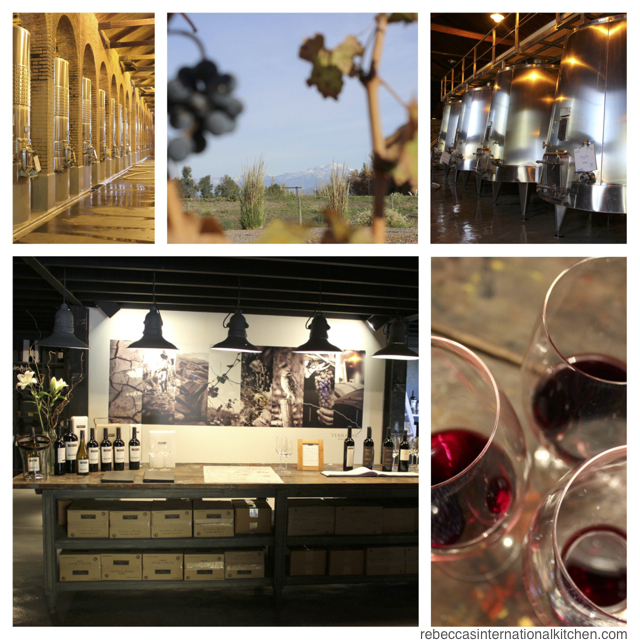 Terrazas de los Andes 
Perdriel, 5509
Luján de Cuyo
Tel: +54 261 490-9600
10. Best Ranch: Estancia La Alejandra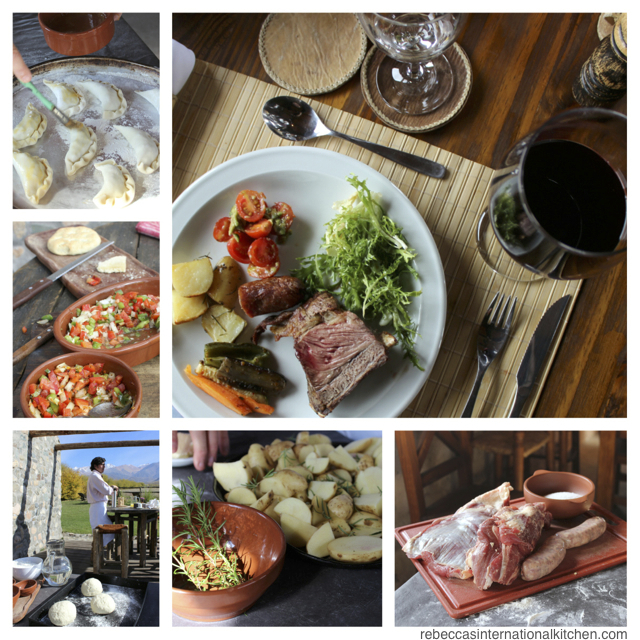 I'm cheating a little with Estancia La Alejandra because it's not actually a winery; however, this was one of my favorite experiences during my time in Mendoza. They also served enough wine to make it a true "wine experience." I'm including it, rule breaker or not, because after days of non-stop winery tours, it's really nice to throw something different in the mix. Trust me.
I first found Estancia La Alejandra while reading Wine Republic (read "Falling for Estancia Life" by Amanda Barnes here). I loved the idea of visiting a working farm, learning more about horses, and galloping across the fields at the base of the Andes. When I checked out their website and saw they had an "Aromas y Sabores" (Aromas and Flavors) cooking course, I was hooked.
Matias, whose family has owned this property for generations, welcomed my husband and I to his ranch with a wonderful breakfast. He and Jesse, one of the horse trainers, shared mate with us after breakfast. Since my husband and I were the only guests at the ranch, I enjoyed getting to know both of these modern day gauchos throughout our day together.
Matias and Jesse were happy to share the secret to making country bread (using beef fat), their special way of making empanadas, and their tasty recipe for salsa criolla. Then we went to the potato fields to dig up fresh potatoes, which we then washed in the creek. Once the meat was prepared, Matias put everything on the grill.
After a wonderful, leisurely lunch, a short nap outside, and some coffee and dessert, it was time to learn about how Matias and Jesse are trying new, non-violent techniques to train wild horses. After demonstrating how trust is built between the trainer and the horse, it was time ride.
For anyone wanting to spend a day doing something a bit off the beaten winery-tour path, visiting Estancia La Alejandra is a truly incredible experience.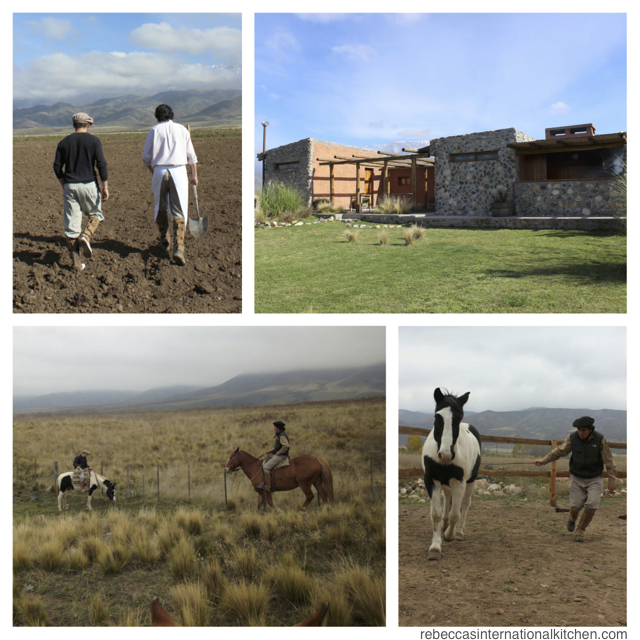 Estancia La Alejandra
Ruta 89 La carrera, 5561
Potrerillos
Tel: +54 261 423-7423
2016 Update:
Planning a trip?
Check out all my articles about Mendoza here!