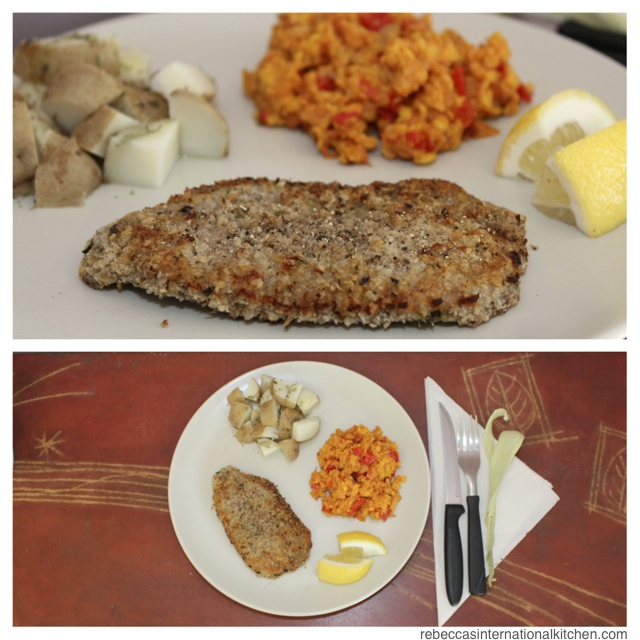 All families need a quick, easy, and delicious family friendly meal for weekday nights. For most Argentinians, that meal is begins with milanesa: chicken or beef, with lemon or tomato sauce and mozzarella, or made into a sandwich; there are many different variations. Add a side of yummy humita, a salad, and french-fries or potatoes and you have a delicious meal that won't disappoint.
Since moving to Argentina, I have made milanesa at least once a week. Chicken Milanesas Napolitanas was the first recipe I shared on this blog, and I have made it countless times since then. It is simply delicious.
In recent weeks, however, I've tried to incorporate more lean cuts of beef and fish into our diet. I'd had beef milanesa in restaurants before and decided to make it. It was really easy to make and so tasty; now, I switch back and forth each week between chicken and beef milanesa.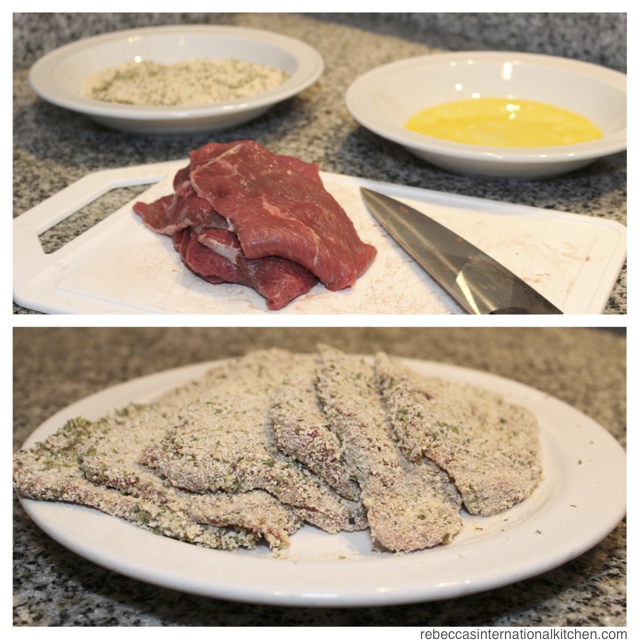 Be sure to start with a great cut of meat. Then have the butcher slice it pretty thin. In Argentina, I ask them to cut it for milanesa, and they know exactly what that means! Then it's just a matter of dipping the fillets in egg and breadcrumbs and baking them in the oven.
Arie prefers his beef milanesa with lemon, while I love mine with ketchup. For children, consider cutting the beef into strips for little finger-food milanesas.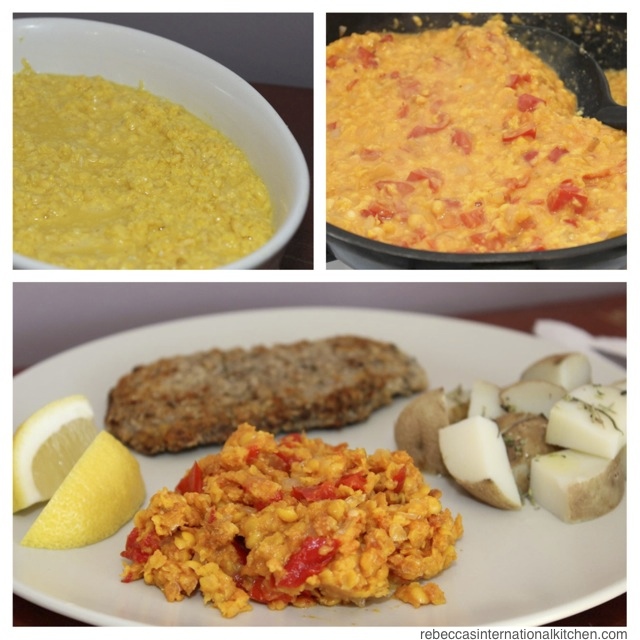 Once you've perfected making milanesas, try making humita, a medley of corn, red bell pepper, and onion, to go along with it. Humita takes a bit longer to cook in the oven, so I start preparing this dish first. Once it's in the oven, I turn my attention to the milanesas. Then once the milanesas are in the oven, I prepare a quick salad. I truly love this Argentinian meal!
Beef Milanesas & Humita – Argentinian Family Favorites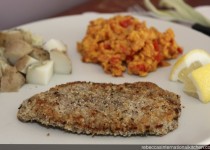 Prep Time:

30 minutes

Cook time:

35 minutes
Ingredients:
Instructions:
Beef Milanesas
1. Cut the beef so that the fillets are thin (the thinner, the crispier your milanesa will turn out).
2. Mix 2 eggs in a bowl. Put the bread crumbs on a plate, and mix the oregano into the bread crumbs (or use seasoned bread crumbs). Submerge each fillet in the egg mixture and then cover with bread crumbs.
3. Preheat the oven to 350°F (180°C). Coat a baking sheet with oil; preheat the baking sheet so that the oil is hot.
4. Carefully place the fillets on the hot baking sheet, and bake for about 7 minutes. Turn the fillets over and bake for 7 more minutes or until golden brown.
5. Take the fillets out of the oven, and place them on a paper towel to absorb the oil.
6. Serve with slices of lemon and enjoy!
Left over fillets can be refrigerated. Place paper towels between the fillets to absorb the moisture. Reheat the fillets in the oven until hot.
Humita
1. Begin by grating the corn cobs into a bowl. (Canned corn is not a recommended substitution because this recipe needs all the milk that is released from grating the fresh corn.) The 10 cobs should yield about 2 cups of corn and milk.
2. Chop the onion, red bell pepper, and tomato and place in a separate bowl.
3. Add olive oil to a skillet and heat. Then add the onion, red bell pepper, tomato, and paprika. Sauté for 5 minutes.
4. Meanwhile, add the milk, cornstarch, sugar, and salt to the bowl of grated corn and mix well. After the vegetables have been cooked for 5 minutes, add the corn mixture to the skillet and continue to cook for another 5 minutes or until the mixture thickens slightly.
5. Preheat the oven to 350°F (180°C). Coat an oven safe dish with Pam. Pour the mixture into the dish and bake for 35 minutes.
Humita Variations
Cheesy: Since we eat this dish regularly, I do not add cheese in order to make it a healthy side dish. However, if you prefer, many humita recipes add about 1 cup of grated white cheese to the top of the mixture before baking it in the oven.
Sweet: You can also make this a sweet side dish by adding 1/2 tsp. cinnamon, 1/2 tsp. nutmeg, and 1 tsp. brown sugar to the mixture. Add these ingredients after sautéing the mixture in the skillet, but before pouring it into the baking dish.