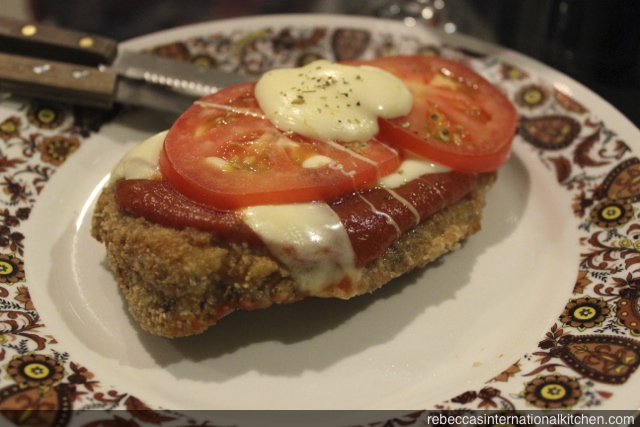 I'll never forget the first time I tasted chicken milanesa. It was our 2nd date, and Arie cooked dinner for me. I was impressed by his ability to cook such an amazing dish. He won over my heart (and my stomach).
Since then, I've learned that chicken milanesa is not only one of his favorite meals, it's his Argentinian comfort food. A sure-fire way to turn his day around is to make him chicken milanesa.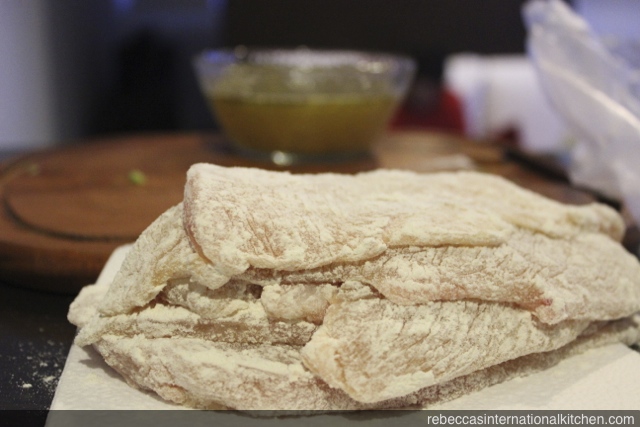 One day, we drove from Dallas to small-town Paris, Texas to visit Arie's parents. After the drive, Arie was tired, a little grumpy, and more than a little famished. We walked in the back door of his parents' house, and he immediately perked up. Sniff sniff.  "Mama? Milanesa?!" he asked, a big goofy grin spread across his face. Instant happiness.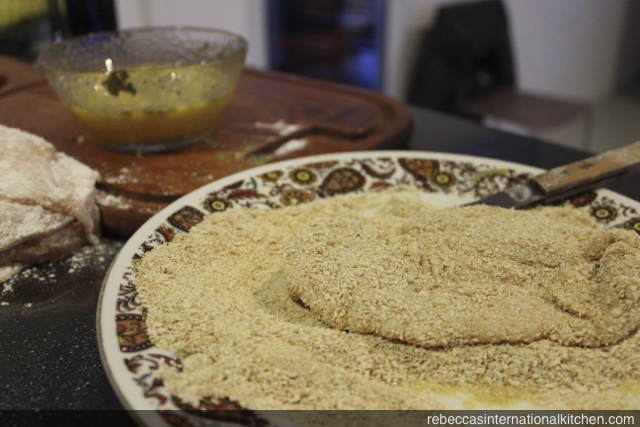 Chicken Milanesas Napolitanas is a simple dish that is easy to make for a large crowd, and leftovers are good for several days. Arie and I teamed up one Christmas Eve to make chicken milanesa for my entire family. Everyone left the table happy.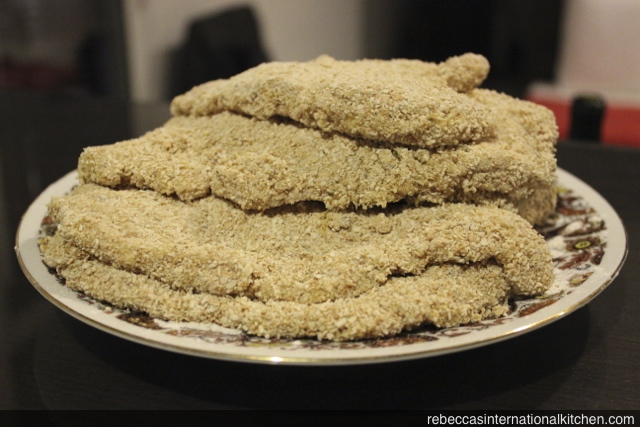 Here is an easy, delicious foray into the world of Argentine cooking.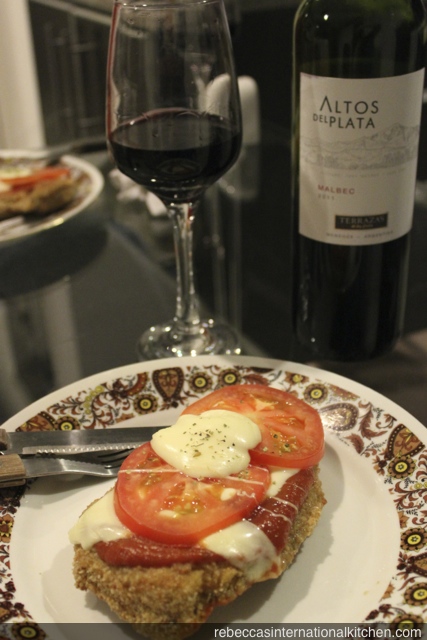 Milanesas Napolitanas de Pollo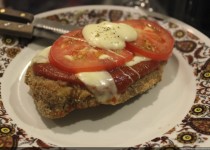 Prep Time:

20 minutes

Cook time:

15 minutes

Yield:

6 servings
Ingredients:
Instructions:
1. Chicken Milanesas: Fillet 3 chicken breasts so that they are thin (the thinner, the crispier your milanesa will turn out).
2. Put the flour on a plate. Cover each fillet with flour.
3. Mix 2 eggs in a bowl. Put the bread crumbs on a plate, and mix the oregano into the bread crumbs (or use seasoned bread crumbs). Submerge each fillet in the egg mixture and then cover with bread crumbs.
4. Preheat the oven to 350°F (180°C). Coat a baking sheet with oil; preheat the baking sheet so that the oil is hot.
5. Carefully place the fillets on the hot baking sheet, and bake for about 7 minutes. Turn the fillets over and bake for 5 more minutes or until golden brown.
6. Toppings: Pat the tops of the fillets with a paper towel to absorb some of the oil. Then, put tomato sauce, mozzarella, tomato slices, and oregano on the fillets. Bake 2-3 more minutes until the cheese has melted and the sauce is hot. (Tip: Leftover fillets keep better without the sauce on top, so I only do this step for the fillets I know will be eaten immediately.)
7. Take the fillets out of the oven, and place them on a paper towel to absorb the oil.
8. Serve and enjoy!
Left over fillets can be refrigerated. Place paper towels between the fillets to absorb the moisture. Reheat the fillets in the oven until hot; add fresh tomato sauce, mozzarella, tomato slices, and oregano.
Milanesa is also delicious served "plain" with lemon. Instead of adding the tomato sauce, mozzarella, and tomato slices, bake until golden brown on both sides. Then serve with several lemon slices on the side. I usually ask my guests if anyone would prefer their's with lemon instead of with tomato; it's nice to have one meal with two choices.