Feria de Mataderos (Mataderos Fair) is unlike any other fair in Buenos Aires. While there are vendors selling antiques and handicrafts, this fair feels more like a neighborhood block party. It is a place for locals to get together and celebrate once a week, a place for the older generations to share their heritage with the younger ones, a place with really great food, performances, and gaucho (Argentine cowboys) sports, and a place to take a deeper look into traditional Argentine and gaucho culture.
The neighborhood of Mataderos was named for the many slaughterhouses that have been here since the late 1800s. It was a neighborhood that was once on the border between the city and the country, which made it the perfect place for ranchers to bring their cattle to be slaughtered and sold to those in the city. It was nicknamed "Nuevo Chicago" because of Chicago's thriving meat-packing industry at that time, and remnants of this old nickname can still be found.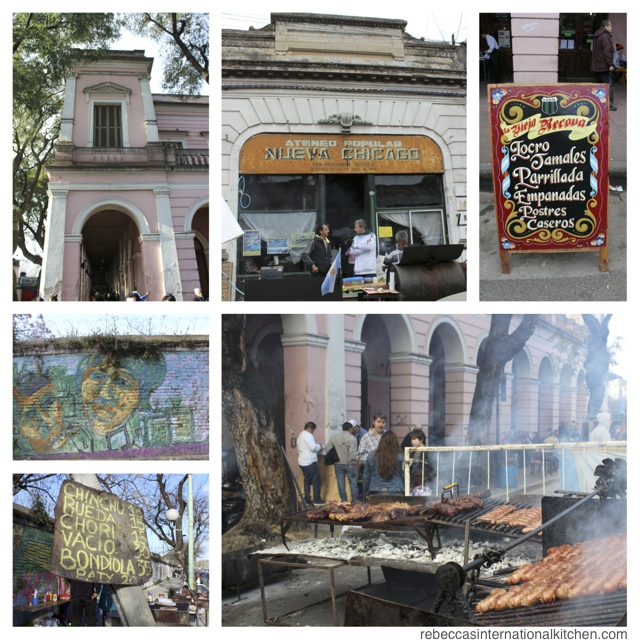 In the center of the plaza, there is an impressive stage in which musical and dancing performances take place throughout the day. I enjoyed listening to tango singers, folk singers, and instrumental groups. I also loved watching tango and folk dancing performances, as well as the performances by those dancing in the audience. Locals brought their own chairs (and even tables) so as to enjoy the entertainment all day long.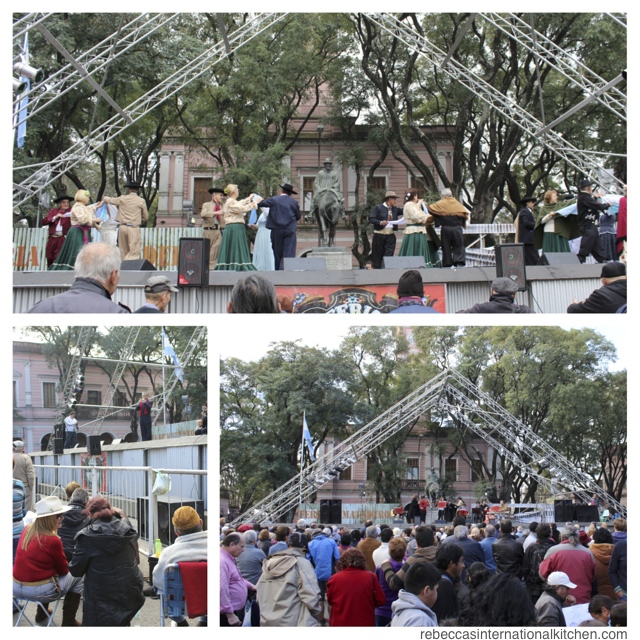 There's also a ton of great food at Feria de Mataderos. Of course I had to try it all. I started by sampling a few empanadas: humita (corn, onion, and cheese), salteña (beef and potato), and tucumana (beef). Then, I had humita (the dish, not the empanada), a corn and cheese dish baked in corn husks. While I've had my fair share of empanadas, I'd never had such an exemplary example of humita before; take my word and do not leave Argentina without trying this dish.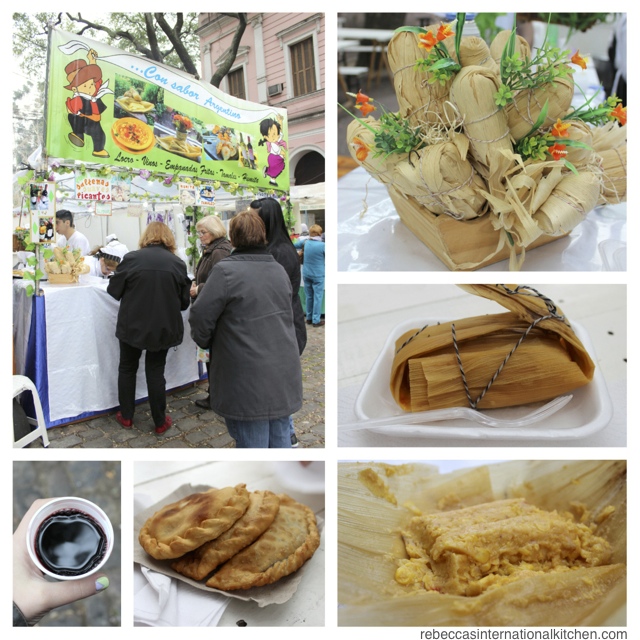 What better way to wash down this tasty food than with a plastic cup (or two) of slightly sweet vino patero, my new favorite beverage. Vino patero is usually a late harvest, artesanal wine traditionally made by crushing the grapes with bare feet; however, now rubber boots are commonly used. Although most of the vino patero produced is made and bottled by small wineries, it is classified as a "homemade" wine. Not commonly found in stores, Feria de Mataderos is your chance to sample and buy a bottle to take home; trust me, it's delicious.
Then, after taking some time to walk around the fair to look at the great handicrafts being sold, it was time for the main attraction: choripan. Following my nose and the huge cloud of smoke, I found it: Parrilla El Rey del Chori. Sizzling hot chorizo in bread and topped with some chimichurri; this is surely one of life's simplest yet tastiest pleasures.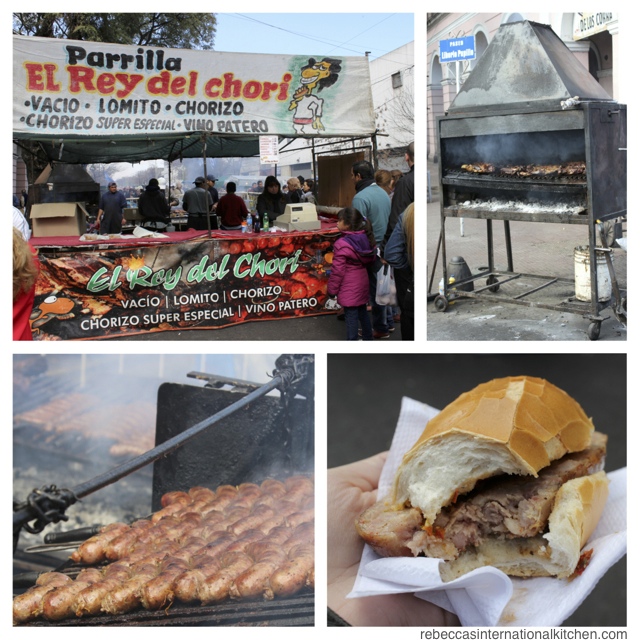 Of course, I also had to have a little dessert. First, I tried a panqueque con dulce de leche casero (crêpe with homemade dulce de leche). Incredible. Then, later in the day I went back for a cubanito (a cylindrical wafer filled with dulce de leche that resembles a Cuban cigar). I highly recommend trying both with a cup of coffee and a friend to share with.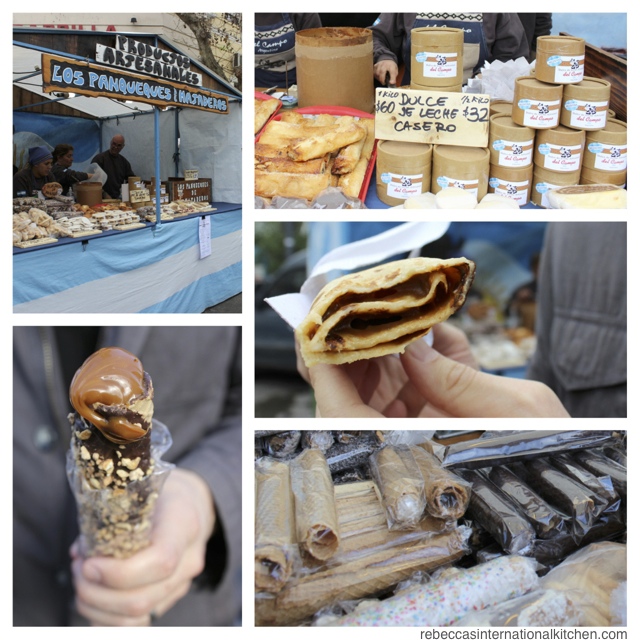 I also tried an interesting concoction of carmel covered strawberries and figs with popcorn, as well as some free samples of meats, cheeses, and licors. As usual, my souvenirs were of the edible sort: a bottle of limoncello and some homemade alfajores de turrón (alfajores with a honey and cane sugar filling).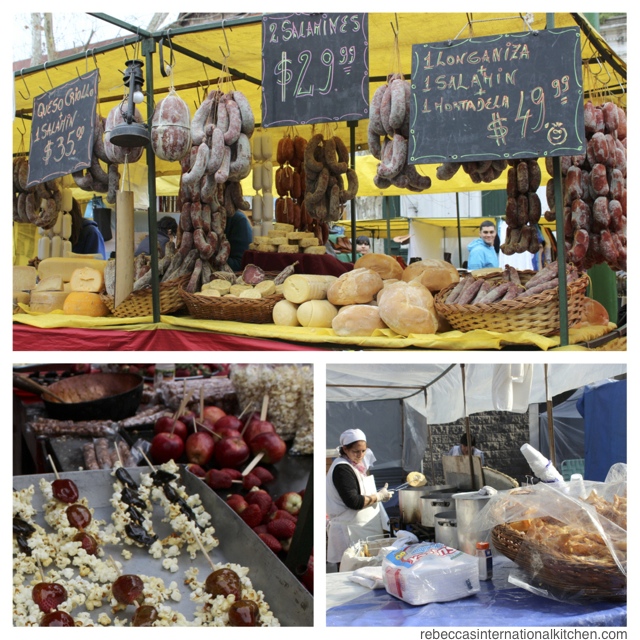 Besides the stage performances, there is another form of entertainment at Feria de Mataderos: carreras de sortijas (Ring Racing or Run of Rings), a gaucho sporting event. Truly one of the most intriguing sports I've ever watched, carreras de sortijas is a game in which gauchos compete against each other on horseback.
This is what I observed. A small ring, the size of a wedding band, is hung in the air from a tall frame. One at a time, the gauchos race toward the ring on horseback, stand up in their stirrups, and aim for the ring with a pen sized stick. The winner is the gaucho who successfully gets the ring with their stick the most times. While it sounds pretty basic, it's actually quite amazing to watch the gauchos succeed, especially since they are riding really fast.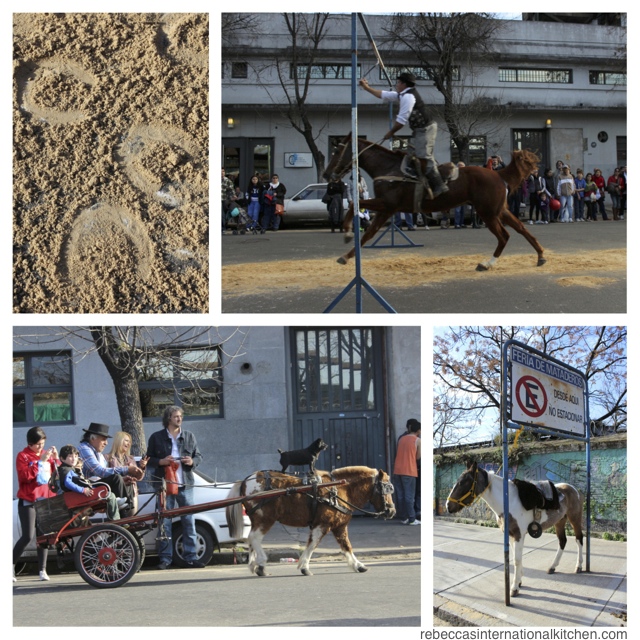 Feria de Mataderos is held every Sunday in Mataderos from 11:00 a.m. to 8:00 p.m. The carreras de sortijas event takes place on a street just outside the plaza starting around 2:00 p.m. and continues for a couple of hours. I was told that they hold this event every two weeks, so consult the website before going; you don't want to miss this one of a kind sport.
Depending on what part of the city you're coming from, it takes a little over an hour on the bus to get there; taking the subway to the end of the E line and then a taxi to the fair is another option, though it is not any faster and is more expensive than taking the bus.
I got there around 12:30 p.m. and was just in time for the opening ceremonies. Though the fair continues until 8:00 p.m., I left around 5:00 p.m. so that I could make it back to Palermo before dark. This was plenty of time to do (and taste) everything. (Note: The fair is safe, full of families, elderly locals, and even a few tourists, but the neighborhood is a little sketchy and not somewhere I'd want to be stuck waiting on the bus or a taxi at night.)
If you want to experience traditional Argentine and gaucho culture in Buenos Aires while eating tons of great food, definitely check out Feria de Mataderos.
Feria de Mataderos
www.feriademataderos.com.ar/
Every Sunday (March to December) from 11:00 a.m. to 8:00 p.m.
Every Saturday (January and February) during "night hours"
Planning a trip? Check out all my articles about Buenos Aires here!