Originally from Texas, some of my earliest memories are eating at Mercado Juarez, a local Tex-Mex restaurant that my family would dine at every Wednesday night without exception. Before I could walk or talk, I was chowing down on little bowls of diced tomatoes. As soon as I had teeth, I was munching on tortilla chips. And before too long, I was amazing my parents by how much salsa I could consume, as well as how much heat I was willing and able to handle. They still joke that I could have just as well skipped the chips and used a spoon instead.
Simply stated, I could live on chips and salsa. That makes living in Argentina incredibly challenging, as Argentines have zero tolerance for anything even slightly spicy. Spiciness is basically banned from the entire country.
So imagine my absolute delight when I found out that I was going to be in New York City just in time for The 4th Annual NYC Hot Sauce Expo on April 23rd and 24th. I went ready to sample and stock up.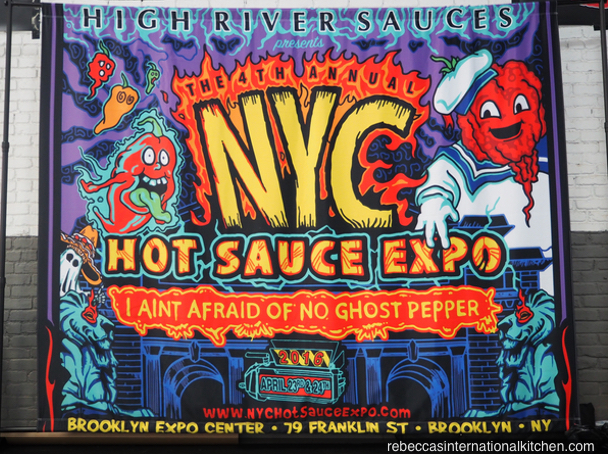 15 Favorites Products from the NYC Hot Sauce Expo
From eating oysters with jalapeño mignonette and hot dogs with horseradish to sampling pepper nuts and spicy jams, I couldn't get enough. Here are some of my favorites from the 2016 NYC Hot Sauce Expo. I've included a link to each product's website for easy reference and so I can reorder when I run out (these are not affiliate links).
1. Mind Flay Strawberry Reaper Sauce
No doubt about it, the team behind Sam & Oliver Handcrafted Heat know how to make some seriously spicy and delicious sauces. One of my favorites was their Mind Flay Strawberry Reaper Sauce, not for the faint of heart. Though it appears pink and fruity, the combination of ripe strawberries and Carolina Reapers packs a lot of intense heat. The owner suggested drizzling Mind Flay over baked brie or even ice cream. Yum!
2. Molten Gold Mustard BBQ Sauce
I couldn't choose just one from Sam & Oliver, because the Molten Gold Mustard BBQ Sauce was also incredible. This sweet, tangy, and spicy sauce can be used as a spread for a sandwich, as a dipping sauce for french fries, or as a marinade for grilled chicken.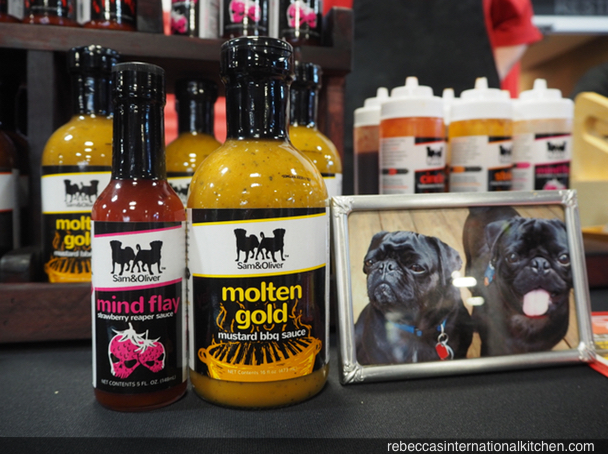 3. Mango Chile Paletas
While any of the Mexican popsicles from La Newyorkina make for a tasty treat, the Mango Chile Paletas are my absolute favorite. There's something about the combination of fruity and spicy that I really love. Be sure to seek these paletas out while in New York. La Newyorkina stands can be found in New York on the High Line on 17th St. and 30th St., at Smorgasburg, and at various locations throughout the city.
4. Pineapple & Habanero Hot Sauce
What started out as two guys making hot sauce for fish tacos at home is now a successful business enterprise that is taking over the world. Bravado Spice Co.'s Pineapple & Habanero Hot Sauce is just one of four delicious flavor combinations in their line of sauces. Others include Jalapeño and Green Apple, Ghost Pepper and Blueberry, and Crimson. They also make Chile and Garlic Pickles that are phenomenal.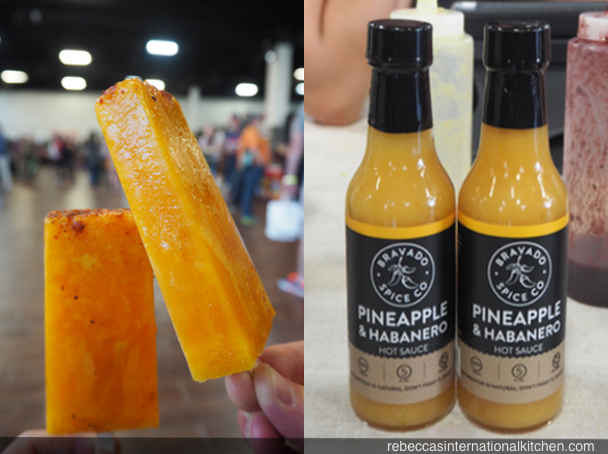 5. The Bronx Greenmarket Hot Sauce
The Bronx Greenmarket Hot Sauce is one of those that I could eat daily, either with chips or dashed on top of a taco. This mild and savory green sauce is made with Serrano peppers that are grown in community gardens in the Bronx, the proceeds of which help support the gardens and gardeners. The Bronx Hot Sauce is a unique collaboration between GrowNYC, The New York Botanical Garden's Bronx Green-Up, Small Axe Peppers, and Chef King Phojanakong.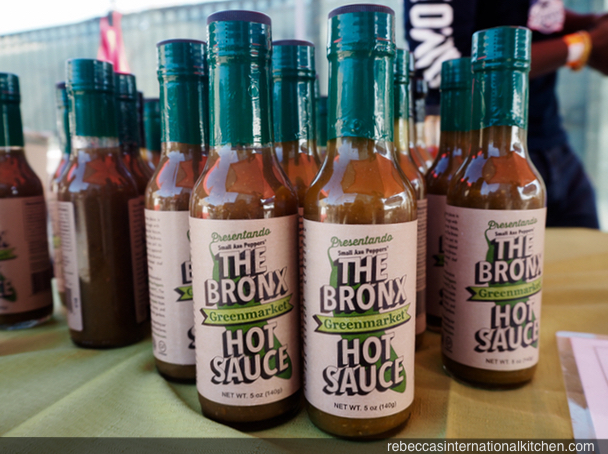 6. Artie's Hot Bourbon Blend
The Tamerlaine Farm Animal Sanctuary is first and foremost a farm dedicated to rescuing, rehabilitating, and caring for neglected or abused animals. This nonprofit farm, located in New Jersey, provides a loving home to over 120 chickens, turkeys, and pigs who are now well taken care of.
To help fund the farm, they produce a line of hot sauces: Rudy's Hot Smoked Red, Casey's Hot Super Green, and Artie's Hot Bourbon Blend, my personal favorite. Each bottle is named after one of the rescued animals and includes their picture and story on the label. If you're interested in helping Tamerlaine Farm, you can buy some of their hot sauce, make a donation on their website, or even volunteer the next time you visit the area.
7. Habanero Sauce
If you can't tell the difference between Jalapeño and Habanero peppers, give the hot sauces made by Whitehouse Station Sauce Company a try. Both of these hot sauces allow the peppers to really shine through. One taste of each and you'll forever be able to tell these two peppers apart. I preferred the sweetness found in the Habanero Sauce, but I could also be convinced that the Jalapeño Sauce is the way to go, depending on the dish. I might just have to buy both…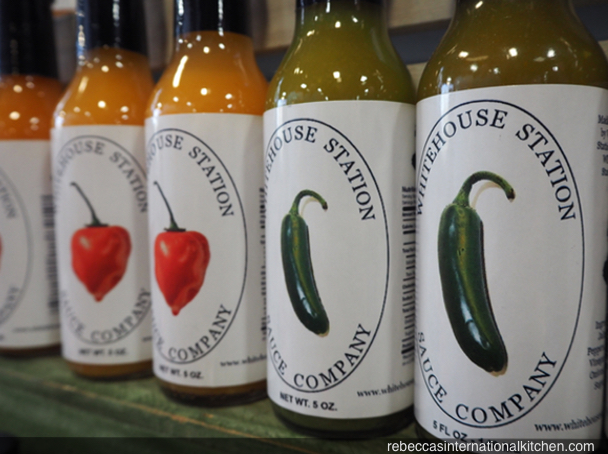 8. Jalapeño, Tequila & Lime Hot Sauce
All three hot sauces from Queen Majesty Hot Sauce are all natural, made in Brooklyn, and taste incredible. I favored the Jalapeño, Tequila & Lime Hot Sauce, but they're all truly terrific. I loved the hint of ginger in the orange Scotch Bonnet & Ginger Hot Sauce, as well as the heat in the Red Habanero & Black Coffee Hot Sauce. And if you can't choose just one, they have a super cute gift box of all three.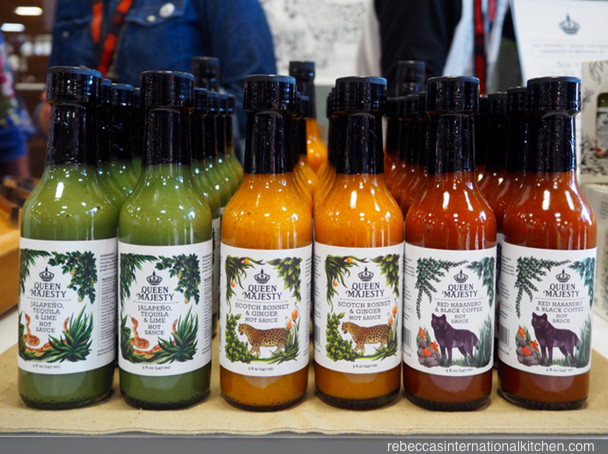 9. Sriracha Margarita Mix
All the mixers by Cocktail Crate taste incredible, are made with the best ingredients, and only require a shot of the hard stuff to make a killer cocktail. For a Sriracha Margarita, add one part mixer to one part tequila, shake with ice, and serve with every meal from here on out.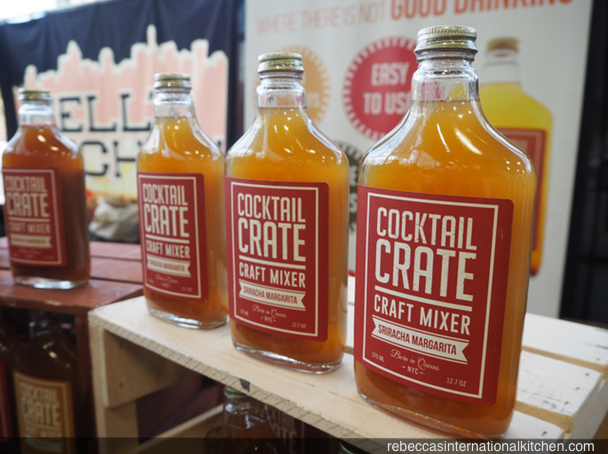 10. Bloody Mary Mix
While I'm not usually a fan of Bloody Mary's, I must admit that The Murph's Bloody Mary Mix tastes delicious, even on it's own. All you have to do is add a shot of vodka and a few (or a lot!) of garnishes, and you've got yourself a delicious and easy brunch-at-home cocktail. Plus, The Murph's Bloody Mary Mix can also be used in the kitchen to make pasta sauce, salsa, meatloaf, hot wings, and more.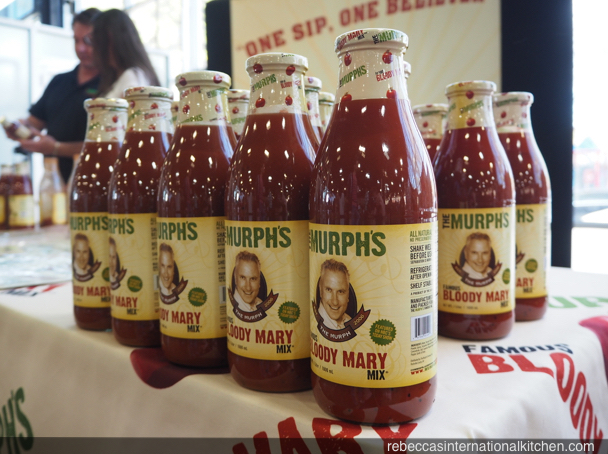 11. Dry Hot Sauce
A dash of Benny T's Vesta Dry Hot Sauce on top of hummus and a chip makes for the perfect healthy (and spicy) snack. I can think of a million and one uses, from sprinkling it on fish or pizza to baking it in brownies. This is the perfect product for someone who loves everything to have some heat.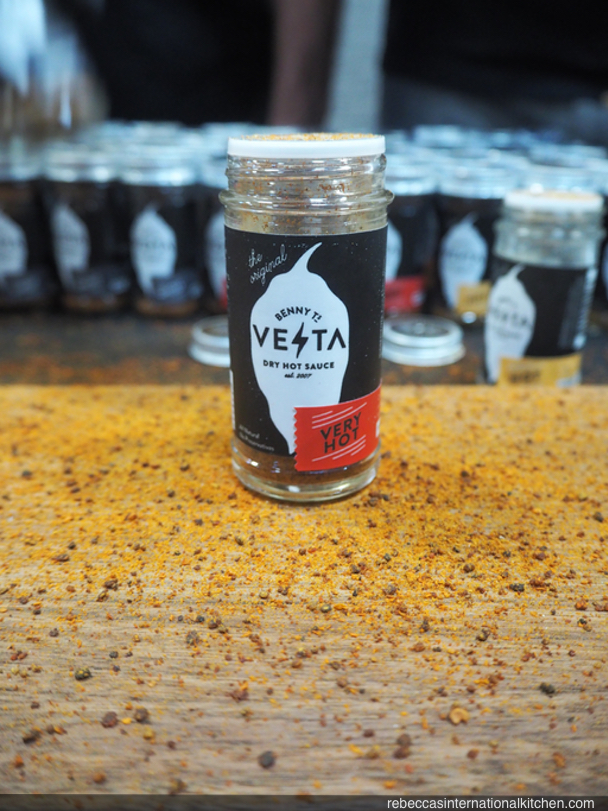 12. Habanero Blend Spice #11
I couldn't get enough of this popcorn sprinkled with Saint Lucifer Spice #11; I even went in for a second helping! Comprised of garlic, salt, vinegar, and habanero peppers, this product is meant to be cooked with and used as a spice. Saint Lucifer offers tons of recipes on their website to help get you started. They also make and sell beef jerky, homemade pasta, and a habanero balsamic vinegar.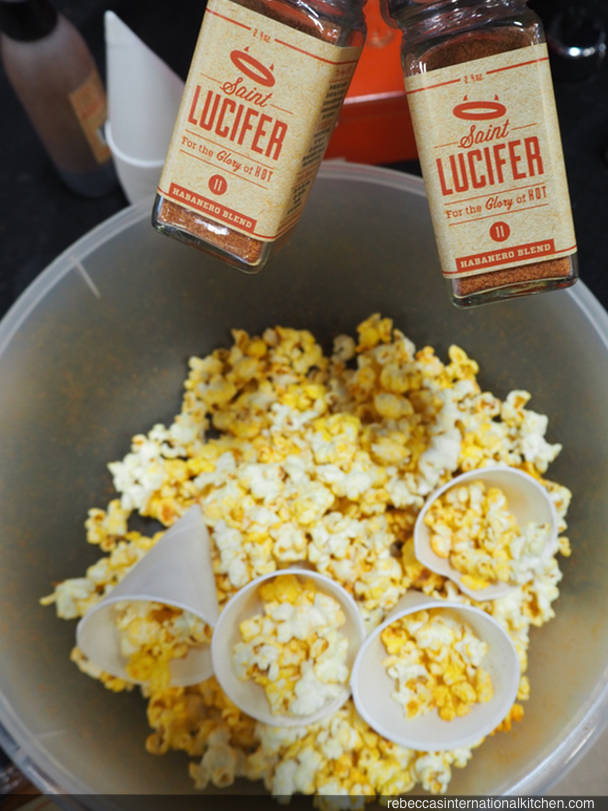 13. Black Bean and Corn Salsa
I sampled some of the best chunky salsas at the CanjunTex Salsa & More table, especially the Bayou Gold Hickory-Smoked Black Bean & Corn Salsa. It was delicious, the kind of salsa I could see myself accidentally eating a whole jar of in one setting. I also loved the fiery CajunTex Hickory-Smoked Five-Pepper Extreme Salsa. And good news to my Dallas friends, these folks are based out of Grand Prairie, Texas and sell their products locally as well as online.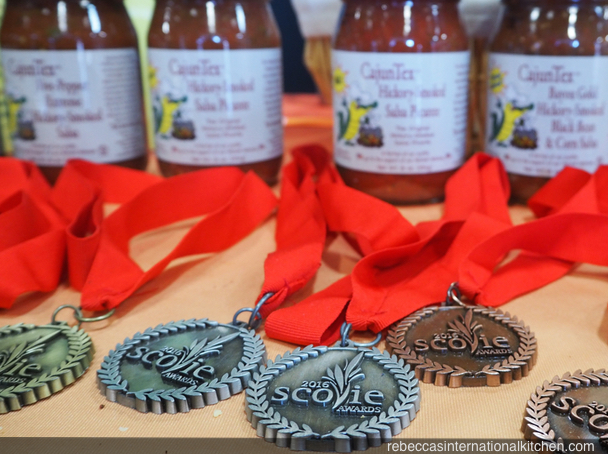 14. Spicy Honey
A & J's Bee Farm produces spicy honey, a product that I can assure you is as delicious as it sounds. A spoonful and I was in love. What starts out as the smooth taste of pure honey is followed by intense heat that lingers and grows. Right now I'm imagining drizzling this on cheese and crackers for a sweet and spicy snack.
15. The Rattler BBQ Sauce
Celebrity Chef Chris Santos' table drew massive crowds with samples of tasty, and of course spicy, barbecue. Made with his own line of BBQ Sauce, The Rattler, I have to admit that this was some of the best barbecue I've had since leaving Texas. I may end up buying a case online and giving bottles of "The Rattler" to all my relatives for Christmas this year. Nothing says "Merry Christmas y'all" like a bottle of spicy BBQ Sauce.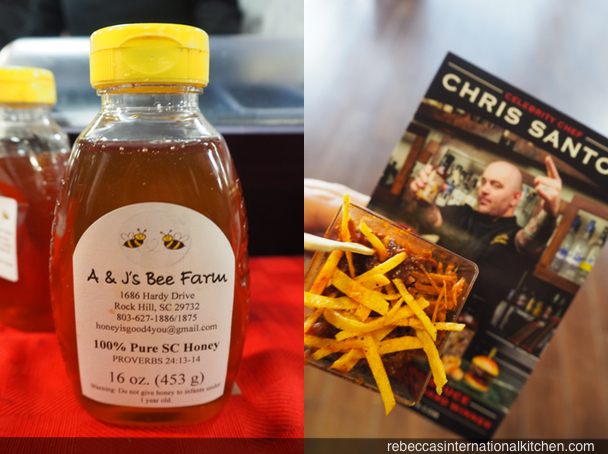 Favorite Moments from the NYC Hot Sauce Expo 2016
Now you know my 15 favorite finds from the Expo and can try a few of them for yourself by ordering them online. However, I hope you also get the chance to go to the NYC Hot Sauce Expo in the future. I'm already planning to return next year! Here are some of the reasons why it was such a fun experience.
Eating Contests
The eating contests at the Expo are so popular, that many people schedule their arrival based on which competitions they want to see. Luckily, I showed up just in time to see the Grimaldi's Pizza Eating Contest, in which the ten brave contestants had ten minutes to eat as much spicy pizza as they could. I'd never seen a live eating competition of any kind, so I was completely enthralled. I'm pretty sure I'll never be able to look at a pizza the same way again.
Other events included the Chicken Wing Eating Competition, Spicy Meatball Challenge, Spicy Taco Eating Challenge, and the Guinness World Record Reaper Eating Challenge.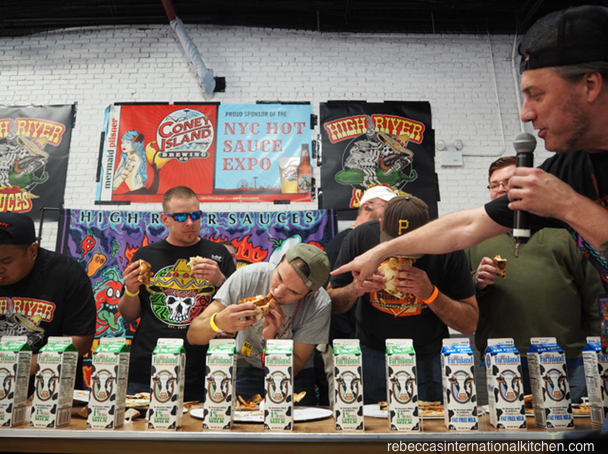 $5 Beer & Free Milk
This is the only time you'll see people walking around with pints of beer in one hand and half pints of milk in the other. It's a strange combination that you'll only understand when at the Hot Sauce Expo. Thanks to Coney Island Brewing Co. and Farmland Fresh Dairies for supplying the best quality of both.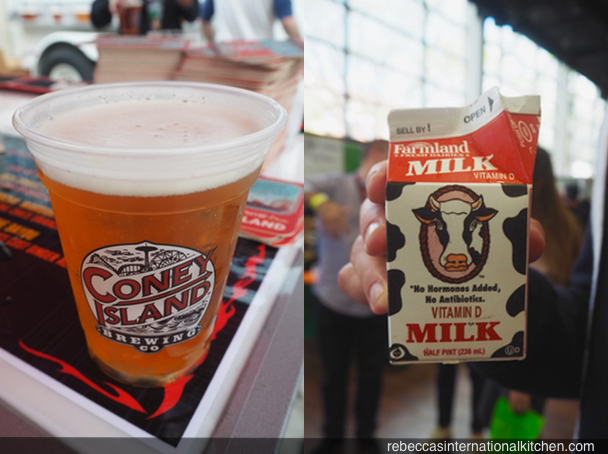 Thermal Imaging Photo Booth
"The Science of Hot" thermal imaging photo booth by GE was really cool, as were the free ice cream sandwiches they were handing out. Be sure to check out the photo gallery. #SEETHEHEAT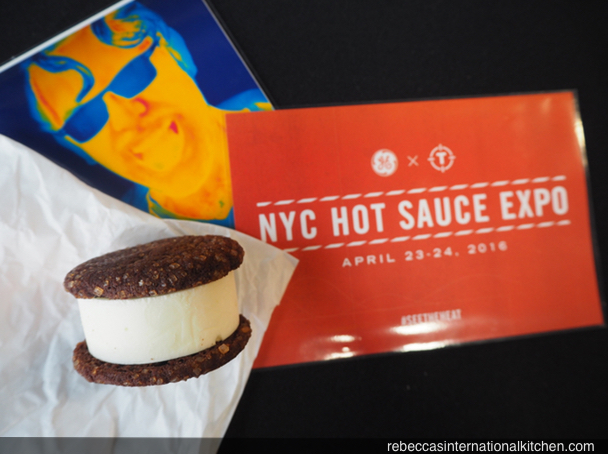 The NYC Hot Sauce Expo was an amazing learning experience. I had a fantastic time trying different hot sauces, salsas, and a wide variety of spicy products and am now better able to define my own personal preferences. Peppers, spiciness levels, consistency, sweetness, and additional ingredients all play a part. I also met owners of hot sauce companies from all across the country, all of them passionate about the products they've created.
I'm already planning to return next year, so I'll be sure to share the latest details about The 5th Annual NYC Hot Sauce Expo in 2017 as soon as they're available. 'See you there?