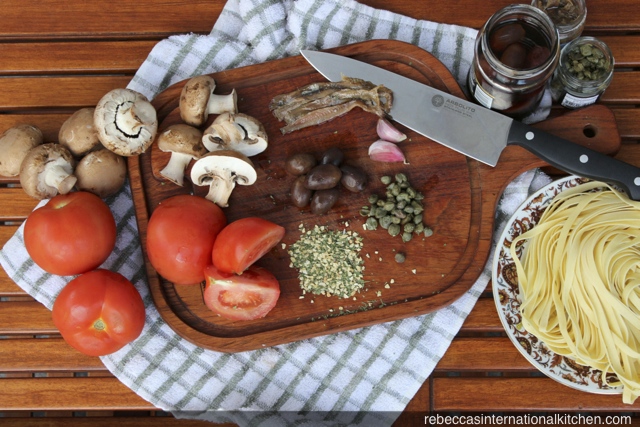 I love ingredients with strong, distinct flavors. In this Italian dish, the tanginess of the capers, anchovies, and black olives is perfectly balanced by the pasta and tomatoes.
It is fragrant, fresh, and has endless variations. The sauce can be as simple as tomatoes, olives, and capers. I love anchovies, but they are omitted in some versions of this same recipe. I added mushrooms, but you will not find mention of them in more traditional recipes. Almost every ingredient can be "optional."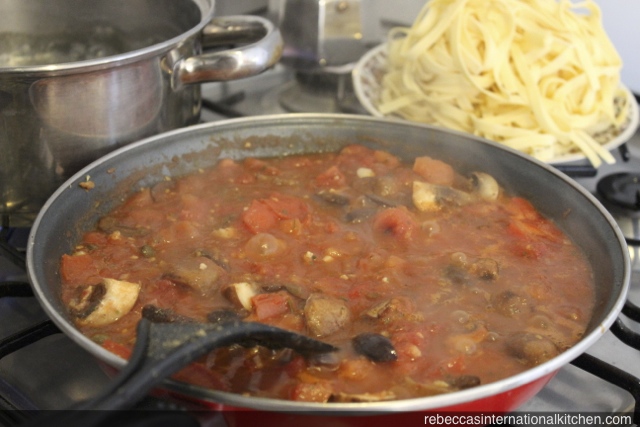 Originally served over spaghetti, you can also use fettuccine, penne, or any favorite pasta. The secret is trying to either make or buy fresh pasta. In Argentina, there are many stores that specialize in making fresh pasta. There is one down the street that I frequent, and the taste is truly magical. Even in the States, I found a Whole Foods that had a fresh pasta section hidden among the specialty meats and cheeses. If you have the opportunity to buy fresh pasta, you should. You will be amazed at the difference in taste and texture.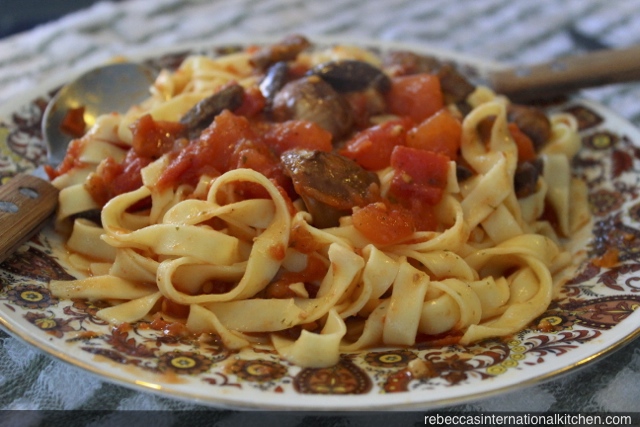 While making this recipe, I began to understand the strong connection between Italian and Argentinian cooking. From the many Italian immigrants who moved to Argentina, recipes such as this are just as predominant here as they are in Italy. Like family stories, I imagine this recipe being passed down from previous generations in Italy, carried across the ocean, and changed a bit by each person. This is my favorite version; feel free to experiment and create your own.
Pasta a la Putanesca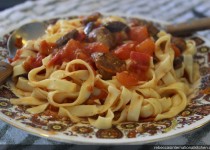 Prep Time:

15 minutes

Cook time:

15 minutes

Yield:

2-4 servings
Ingredients:
Instructions:
1. In a large skillet, sauté the garlic and anchovies in olive oil until they begin to brown.
2. Add the chopped tomatoes, tomato purée, capers, black olives, mushrooms, salt, and pepper. Simmer until the sauce has reduced.
3. Boil a pot of water and cook the fettuccine or other pasta according to the directions.
4. Serve the sauce over the pasta and sprinkle with parsley. Enjoy!