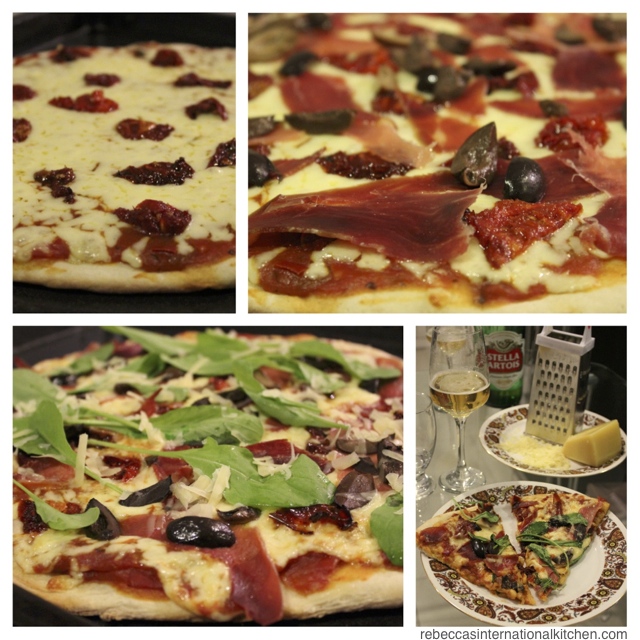 While most people usually think of Italy when they think of pizza, those who have been to Argentina will most likely remember the incredible pizzas found here. From the ever-present line at the gigantic, two-story pizzeria down the street, I've gathered that pizza is not only popular, but an integral part of the food culture here in Argentina. There are numerous pizzerias that sell hot pizzas to eat immediately or ready-made, cold pizzas to bake at home. Grocery stores and bakeries sell "prepizza" or pre-made pizza crust ready to be finished with sauce and toppings.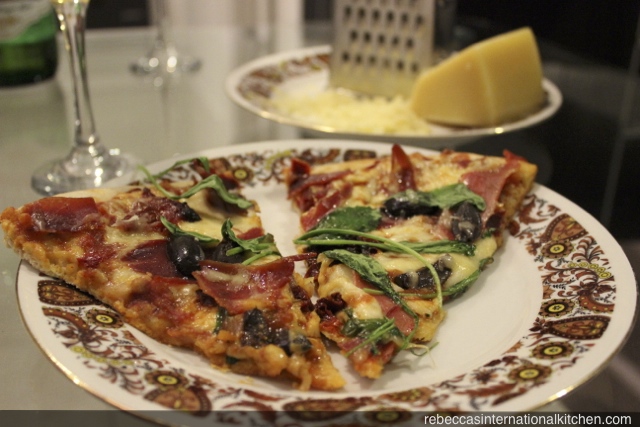 There is nothing better than making pizza on a Friday night, especially one like this that is easy to make and loaded with tasty ingredients. This recipe below is for two medium pizzas, including the dough (which is so easy and delicious) and the toppings. Be sure to make the dough ahead of time, as it takes 2 hours to rise. Serve with a salad and you've got a fantastic Friday night meal.
Pizza with Prosciutto and Arugula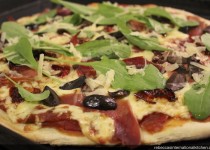 Prep Time:

02h 30min

Cook time:

25 minutes

Yield:

2 pizzas
Ingredients:
Instructions:
1. Dough: Mix together the water and yeast. Cover, and set aside. In a large bowl, mix the flour and salt together. Form a ring with the dry ingredients, and pour the yeast and water in the middle. Incorporate all the ingredients together, first mixing with a spoon and then kneading with your hands. Add extra flour as needed. Cover the dough and let rise for 2 hours.
2. This recipe makes enough dough for 2 pizzas, so knead the dough on a floured surface and divide into two equal balls of dough. Stretch the balls of dough out onto two pizza pans that have been rubbed with a little olive oil. Press the dough flat until it is less than 1 cm thick.
3. Toppings: Cover each pizza with the tomato sauce. Then, add 1 cup of mozzarella to each. Bake in the oven for about 20 minutes, or until the edges begin to brown and the cheese melts.
4. Add the sun-dried tomato, prosciutto, and black olives to each pizza. Bake for 3-5 more minutes.
5. Cover with arugula and parmesan cheese. Finish with a bit of  black pepper, and drizzle with olive oil.
6. Serve and enjoy!