I've been obsessed with Buenos Aires' incredible street art from the moment I arrived almost a year ago. It often takes me twice as long to walk somewhere simply because I can't walk by street art without getting a closer look. This means that I'm frequently zigzagging from one side of the street to another, making detours for murals I've spotted down the road. While I pass some works of street art daily, there are many that I only stumble upon once (such as my #GraffitiMystery).
Even before I started doing any research, I began recognizing different artists' works around the city. I wondered what the artists' stories were as well as the "why" behind each piece. My curiosity led me to go on graffiti tours, visit street art galleries, and follow local artists on Facebook, Instagram, and Twitter. I've enjoyed getting to know Buenos Aires more intimately through the city's walls, where walking down the street can easily turn into a serious history lesson or a fun game of I Spy.
This article is intended to give an overview of the different types and uses for graffiti, as well as to showcase my favorite street artists in Buenos Aires.
Types of Graffiti
Tags
Starting with the basics, the spray painted names that are found all over the world's walls are called tags. While I first thought that tags were just ugly, scribbled names, learning more about them helped to change my thinking. It turns out that almost every great street artist starts with a tag; even Banksy started out by simply writing his name on walls.
Now I've started paying more attention to the tags while walking around Buenos Aires. Walking to work or to the grocery store has become a constant game of I Spy, and I always get excited when I recognize someone's tag.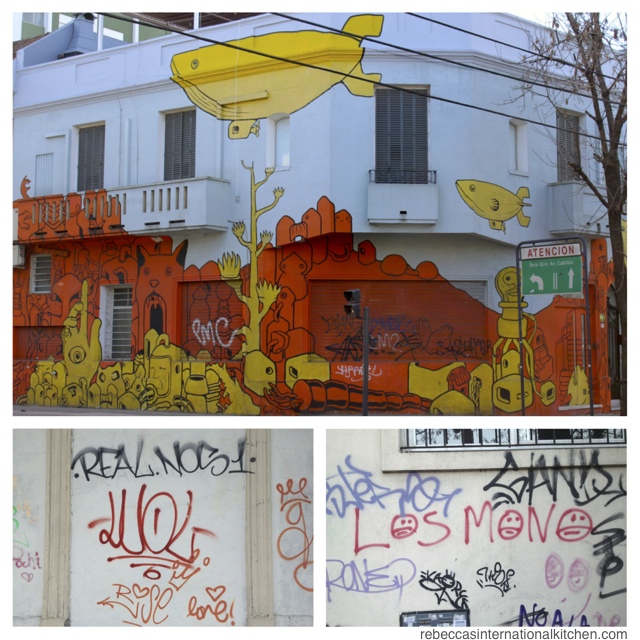 If you're in Palermo Hollywood, keep your eyes open for RealNos1 (bottom left). I lost count how many times I've seen his tag.
Letter Based Graffiti
A step beyond a tag is letter based graffiti. This is when the artist writes his name using multiple colors, intricate designs, and advanced techniques. While I had a hard time reading these names initially, the trick is to find the artist's signature somewhere else on the painting. Once you know the name of the artist, the letters reveal themselves.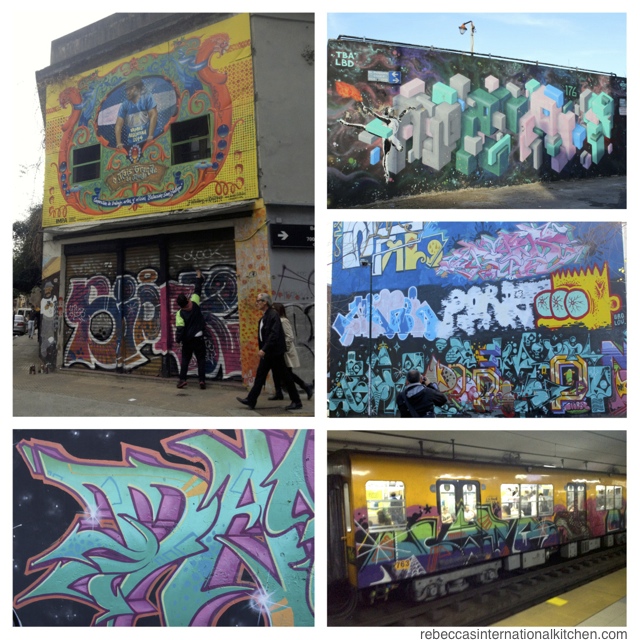 Incredible works by talented artists like Nerf (top right) and Dano (bottom left) can be found throughout Buenos Aires.
Wall Art
The wall art in Buenos Aires is what first caught my attention and got me interested in urban art. Many artists get commissioned to paint walls, houses, and even entire sides of apartment buildings. These murals can be done with aerosol spray paint, latex paint, or a mix of both.
With wall art, there is usually some message the artists wants to convey, so take time, step back, and observe closely. What the artist's message is can be up to you; however, going on a graffitimundo tour and reading about the artists can help give you knowledge to make even better observations.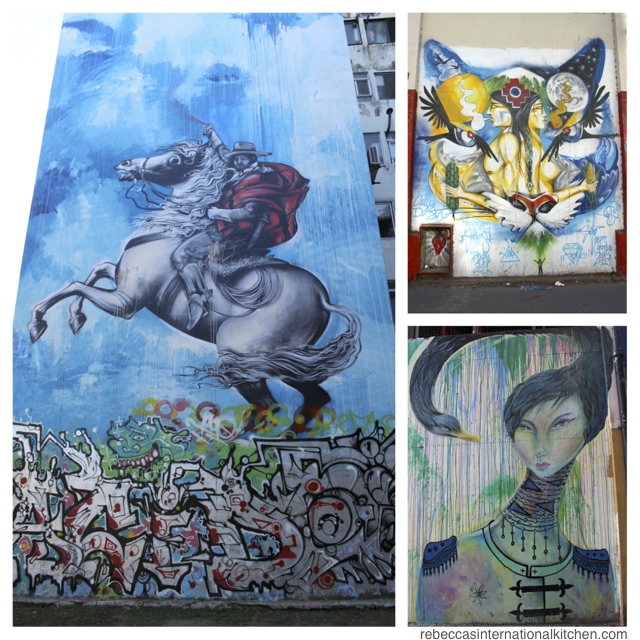 Wall Art Collaboration
A good thing to know when looking at wall art is that it is very common for artists to work together on a piece. When I first saw the pink wall (top right), I saw it as one artist's work; however, it was actually done by a whole group of artists. I know, now it's obvious! Be sure to look for the signatures to give you a clue.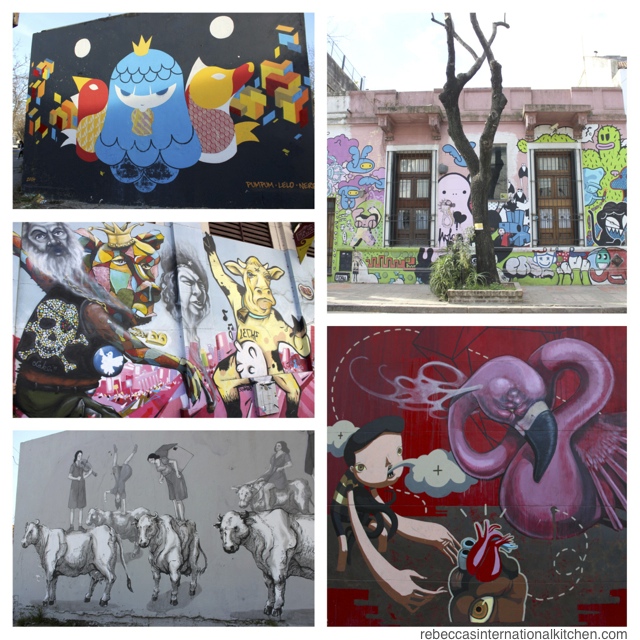 Wall art collaboration by Pum Pum, Lelo, and Nerf (top left); Kid Gaucho, Erik, and Lake (middle left); and Jaz and Hyuro (bottom left).
Stencils
I fell in love with stencils while in Buenos Aires. Stencils are used because they're a fast way for artists to repeat an image or message all over the city. They can be simple images that just use a single color (like my favorite, Yeims Bondi which sounds like James Bond in Spanish), two colors (like the face by bs.as.stncl), or multiple colors (like the boy by Cabaio). Stencils can also be overlapped to create incredible works of art.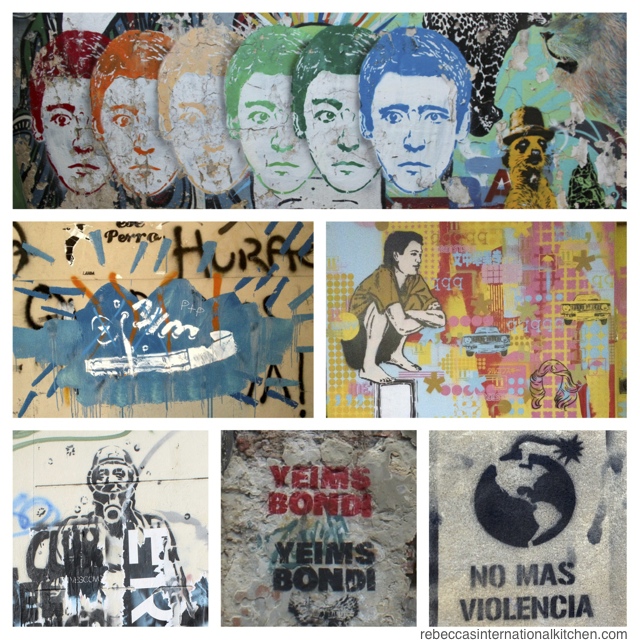 Like tags, I find myself constantly on the look out for my favorite stencil designs (like the converse shoe that is all over Palermo Hollywood in different colors and sizes).
Wheatpaste Posters
Wheatpaste posters are a type of graffiti where artists make posters in their home or studio, then use paste to stick them to walls. Like stencils, artists can easily repeat an image and quickly place them on walls, reducing their chances of getting caught in the act. Also, since the posters are temporary, artists caught posting wheatpaste posters are given lesser charges than when caught doing other types of graffiti. Wheatpaste posters have gained popularity in Buenos Aires, and can be seen throughout the city.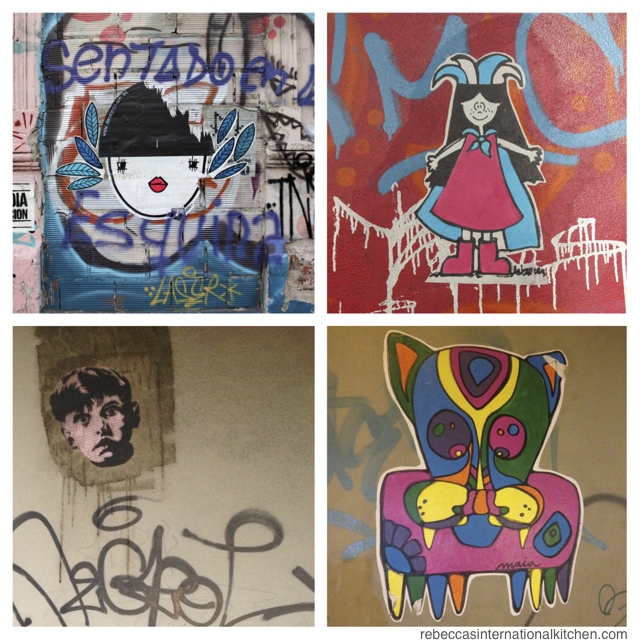 #Arturo, the wheatpaste poster of a little boy, has quickly become a Palermo favorite. Read the article Unraveling the Palermo Mystery: Who Is #Arturo? by Sorcha O'Higgins to learn more. You can also follow the artist Zulu on Instagram.
Uses for Graffiti
Graffiti Used for Politics and Propaganda
One of the lessons I learned on the graffitimundo tour was that graffiti in Argentina represents the return of democracy, including citizens' right to free speech, a right that citizens in Argentina did not regain until the late 1980s.
Some of the oldest examples of this use of graffiti are the white head scarfs of the Asociación Madres de Plaza de Mayo (Mothers of Plaza de Mayo) whose sons and daughters were abducted and killed in the Guerra Sucia (Dirty War) from 1976-1983. The white scarfs painted on the ground of Plaza de Mayo and on walls throughout the city serve as reminders of their anger, pain, and loss. 
Learn as much as you can about Argentina's history and key political figures, such as what the Islas Malvinas (Falkland Islands) are, what Peronismo is, and who Néstor Kirchner was, and the political messages throughout the city will begin to make sense.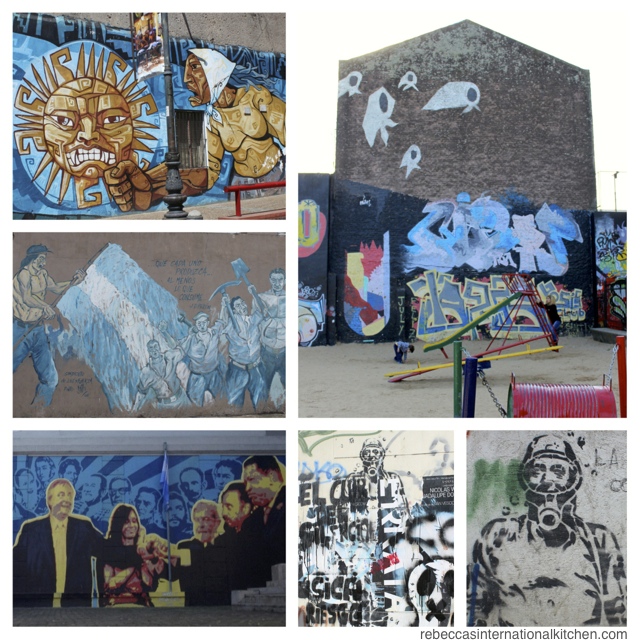 One of my favorite is El Nestornauta (bottom right stencils). Read the article El Nestornauta by graffitimundo to learn more.
Graffiti Used for Advertising
Very similar to political propaganda, street art can be used in advertising campaigns, whether it's for a television channel (like Warner Brothers), a brand (like Adidas), or even a musical group. These advertisements are usually done with a stencil, but I've occasionally seen wall murals painted as well.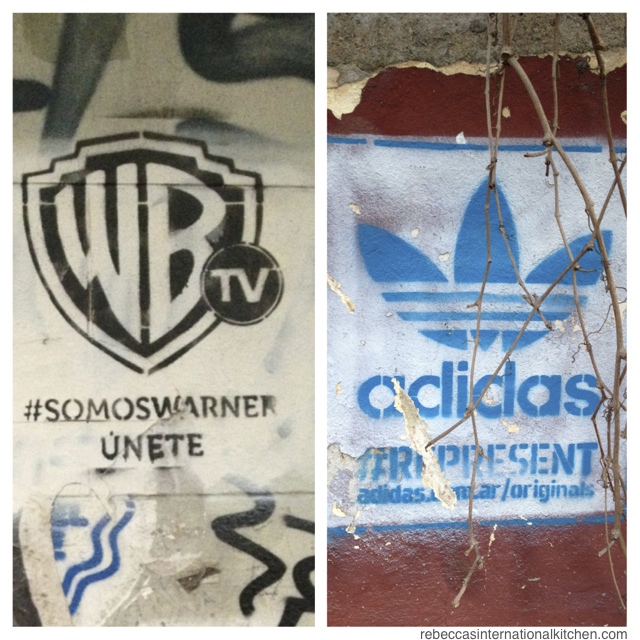 Graffiti Used for Business
Street artists are often commissioned to paint the walls of restaurants, bars, and stores. My favorite example of this is Cabaio's overlapping stencil design that covers the inside and outside walls of Fukuro Noodle Bar in Palermo Hollywood. I also love Full City Coffee House's goat eating the coffee plant berries, an allusion to the legend of how coffee was first discovered. Whether used for decoration or to advertise what the business does (like the pottery shop, bottom left), it's always fun to come across businesses that understand the power and beauty of street art.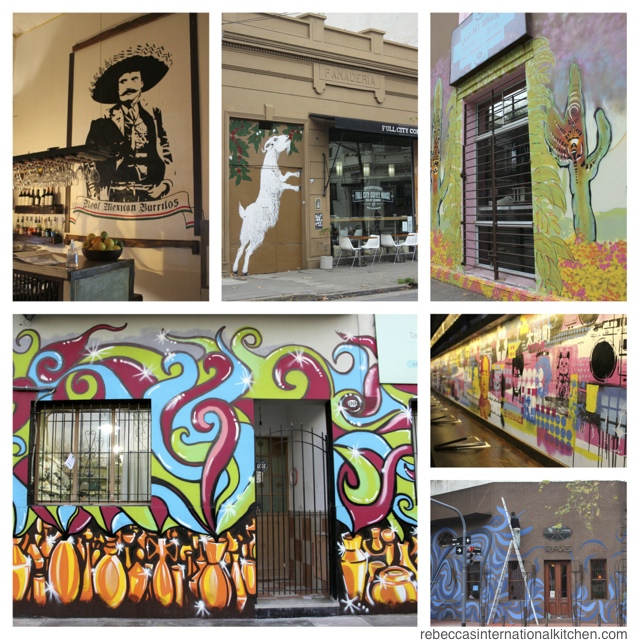 Graffiti Used for Personal Messages
Whether a sweet "Te Amo" or blunt "Meat is Murder," graffiti is commonly used to write personal messages. To understand this type of graffiti in Buenos Aires, you often just need a basic understanding of Spanish (Google Translate helps too). However, sometimes you need to know a little about the culture in Argentina to understand the message. Such is the case with the graffiti argument between fans of River Plate (red) and Boca Juniors (black), the two major football teams in Buenos Aires.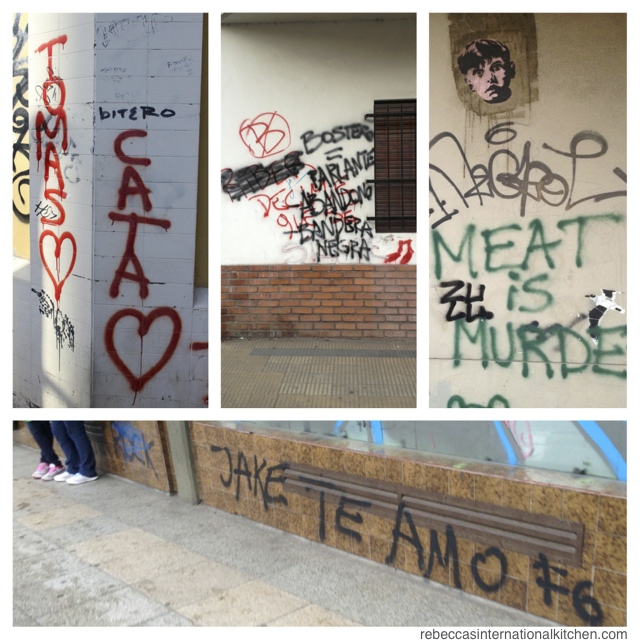 Graffiti Used for Entertainment and Decoration
Many times, artists paint walls to beatify the city, to make people smile, or "just because." Maybe there's a deep meaning behind the mural and maybe there's not. There is no doubt, however, that this city's urban art scene is as varied as it is talented, making the streets of Buenos Aires an awesome place to explore.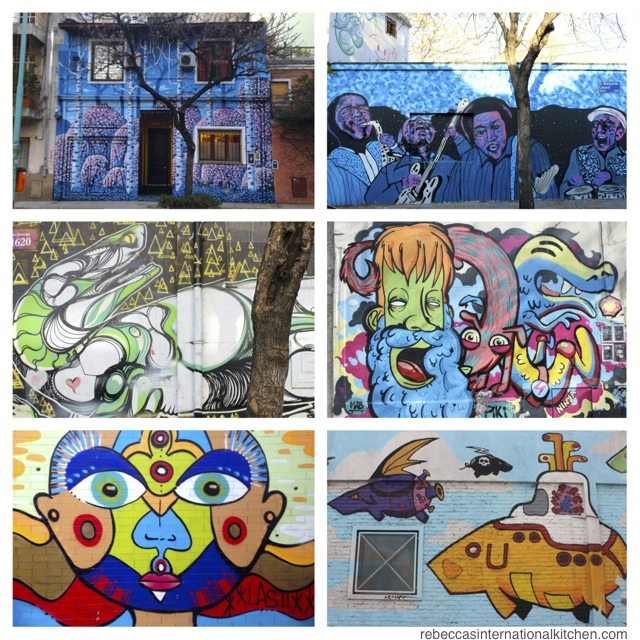 My Favorite Buenos Aires Street Artists
Cabaio
I've made references to Cabaio throughout this article because I love the work that he does. His use of overlapping stencils and bright colors create interesting and complex works of art that make me happy to discover and look at.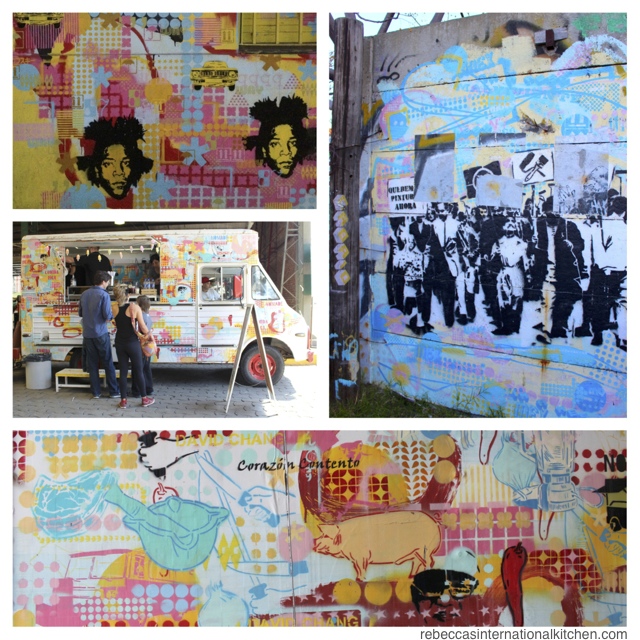 Cabaio
About the Artist: graffitimundo.com/artists/cabaio/
Flickr: www.flickr.com/photos/[email protected]
Website: www.cabaio.org/

Pum Pum
I love Pum Pum's work, easily recognizable by her use of bright colors and her cute yet punk characters.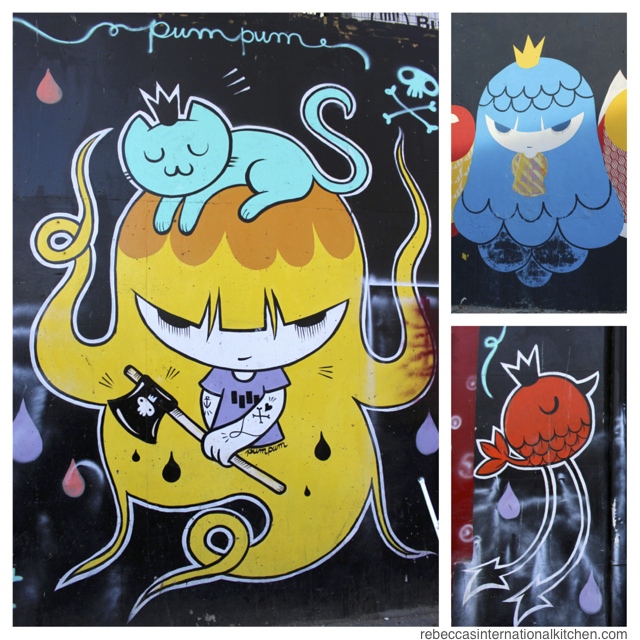 Pum Pum
About the Artist: graffitimundo.com/artists/pum-pum/
Flickr: www.flickr.com/photos/pum_pum/with/14647702150/
Instagram: instagram.com/holapumpum
Twitter: twitter.com/_pumpum
Facebook: www.facebook.com/holapumpum
Jaz
Jaz is best known for his half-man, half-animal creatures, as well as his unusual techniques and materials (asphaltic paint mixed with petrol). Read the article Jaz – urban watercolours to learn more.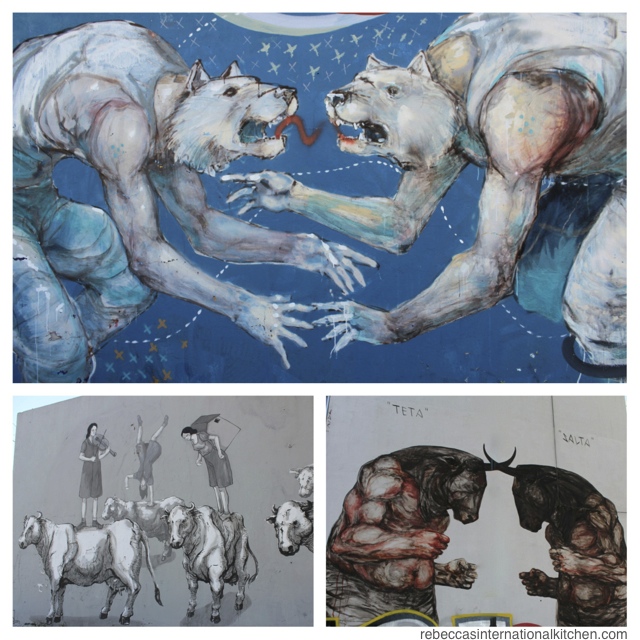 Jaz (Franco Fasoli)
About the Artist: graffitimundo.com/artists/jaz/
Flickr: www.flickr.com/photos/franco-jaz-fasoli
Website: www.francofasoli.com.ar/
Instagram: instagram.com/francofasolijaz
Facebook: www.facebook.com/FrancoFasoliJaz
Ever
Ever was among the first artist I began to recognize in Buenos Aires; I think it was the eyes that gave him away. His incredible work has always held me captive. Read the article Neo-muralism: Intriguing new piece from Ever by graffitimundo to learn more.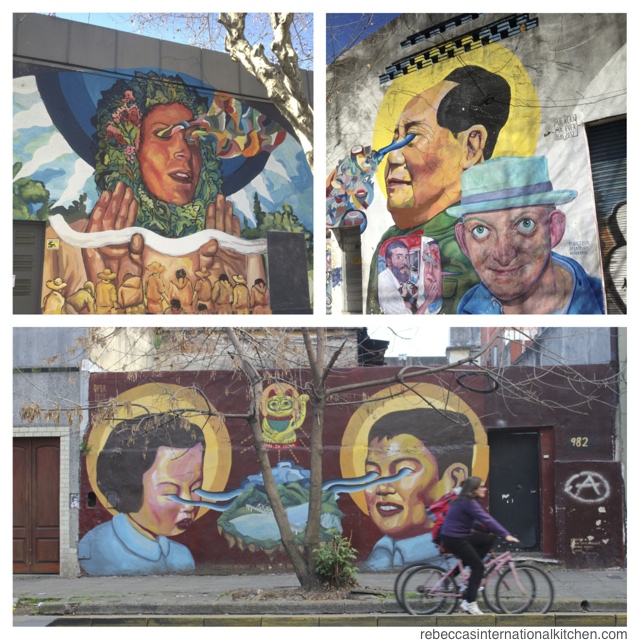 Ever (Nicolás Romero)
About the Artist: graffitimundo.com/artists/ever/
Flickr: www.flickr.com/photos/ever_dsr/with/9781073381
Website: eversiempre.com/
Instagram: http://instagram.com/eversiempre
Facebook: www.facebook.com/pages/Eversiempre/240167292819256?fref=ts
Stencil Land
I love coming across work done by Stencil Land. From what I've seen, Stencil Land has fun incorporating their work into another artists' murals, like "Bicirafa" on top of an existing mural (top) and the ballerina nestled into Nerf's letter based graffiti (bottom left).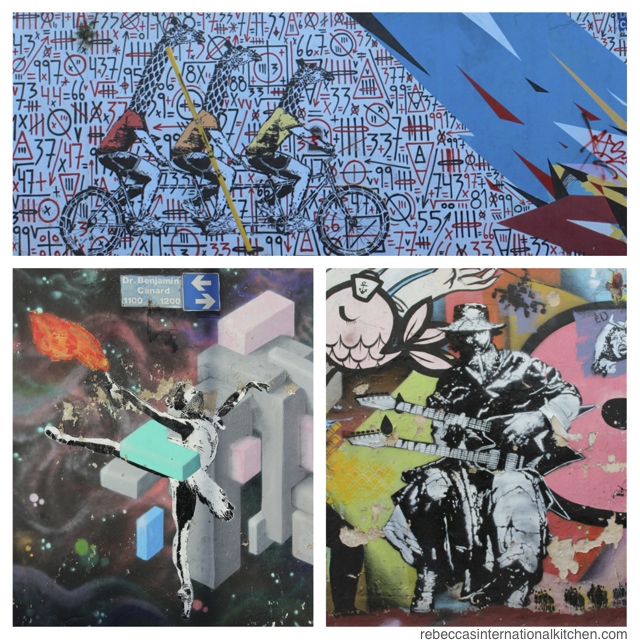 Stencil Land
About the Artist: graffitimundo.com/artists/stencil-land/
Flickr: www.flickr.com/photos/stencilland/with/13958496107
Facebook: www.facebook.com/stencilland
Gaulicho
The first of Gaulicho's work that I saw was a fish with two brains coming out of its mouth; a little weird, but well done. Gaulicho's murals remind me of a strange, futuristic world. He's another artist whose work is easy to recognize and fun to look at.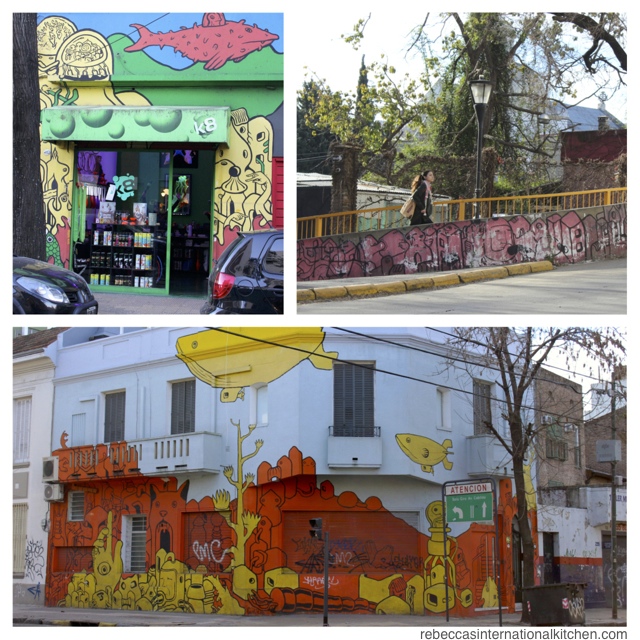 Gaulicho
About the Artist: graffitimundo.com/artists/gualicho/
Flickr: www.flickr.com/photos/gualicho
Website: www.gualicho.cc/
Facebook: www.facebook.com/gualicho.art
Nerf
Nerf is well known for his ability to create intricate geometric designs freehand (without tape, rulers, or guides). He often teams up with other artists, as seen by the work below.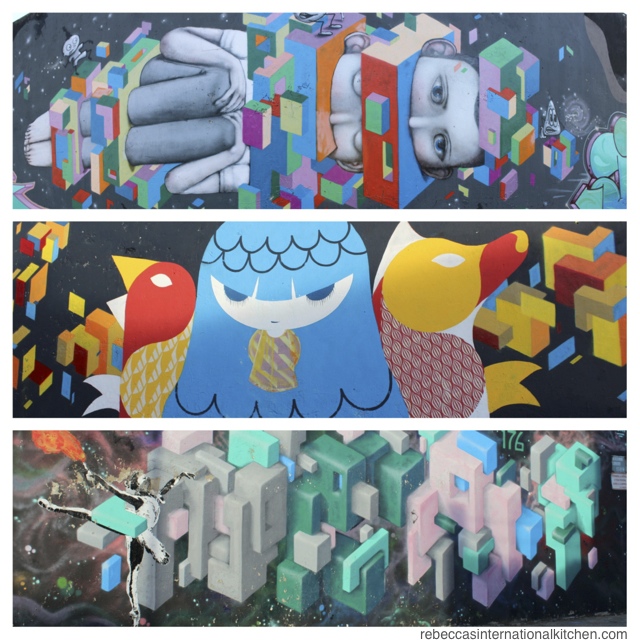 Nerf
About the Artist: graffitimundo.com/artists/nerf/
Flickr: www.flickr.com/photos/nerfff
Facebook: www.facebook.com/pages/Nerf/155187621176517
A Word About the Photos
All of these photographs were taken by me in Buenos Aires; some are from the graffitimundo North City Tour and the others are from my time living in this amazing city. I always take a picture of the art I see, for I've learned that a) street art doesn't last forever and b) I may never be able to find it again. I will continue to add more photos throughout my time in Buenos Aires. There's no stopping me now. I'm obsessed.
Update: @graffitimundo helped me solve my #GraffitiMystery. The artist is Fintan Magee, and it's located on El Salvador between Carranza and Bonpland. 
Want to learn more about street art and graffiti in Buenos Aires? Read my article Street Art & Graffiti Tours, Galleries, and Restaurants in Buenos Aires, Argentina.
Planning a trip? Check out all my articles about Buenos Aires here!